30 June 1975: The last operational Douglas C-47 Skytrain transport in the United States Air Force, 43-49507, was retired and flown to the National Museum of the United States Air Force at Wright-Patterson Air Force Base, Ohio. A C-47D, it is on display in the World War II Gallery, painted and marked as C-47A-80-DL 43-15213 of the 91st Troop Carrier Squadron, 439th Troop Carrier Group, World War II. At the time it was withdrawn from service, 43-49507 had flown a total of 20,831 hours.
43-49507 (Douglas serial number 26768) was built as a C-47B-15-DK Skytrain. The C-47B differed from the C-47A in that it was powered by Pratt & Whitney Twin Wasp S3C4-G (R-1830-90) engines. These engines were equipped with two-speed superchargers for improved high-altitude performance. Following World War II, the second speed ("high blower") was either disabled or removed. Following this modification, the airplane was redesignated C-47D.
The Douglas C-47 Skytrain is an all-metal, twin-engine, low-wing monoplane transport with retractable landing gear. It was operated by a minimum flight crew of two pilots, a navigator and a radio operator. The airplane's control surfaces are covered with doped-fabric. The primary differences between the civil DC-3 and military C-47 airframes was the addition of a cargo door on the left side of the fuselage and a strengthened floor in the cabin.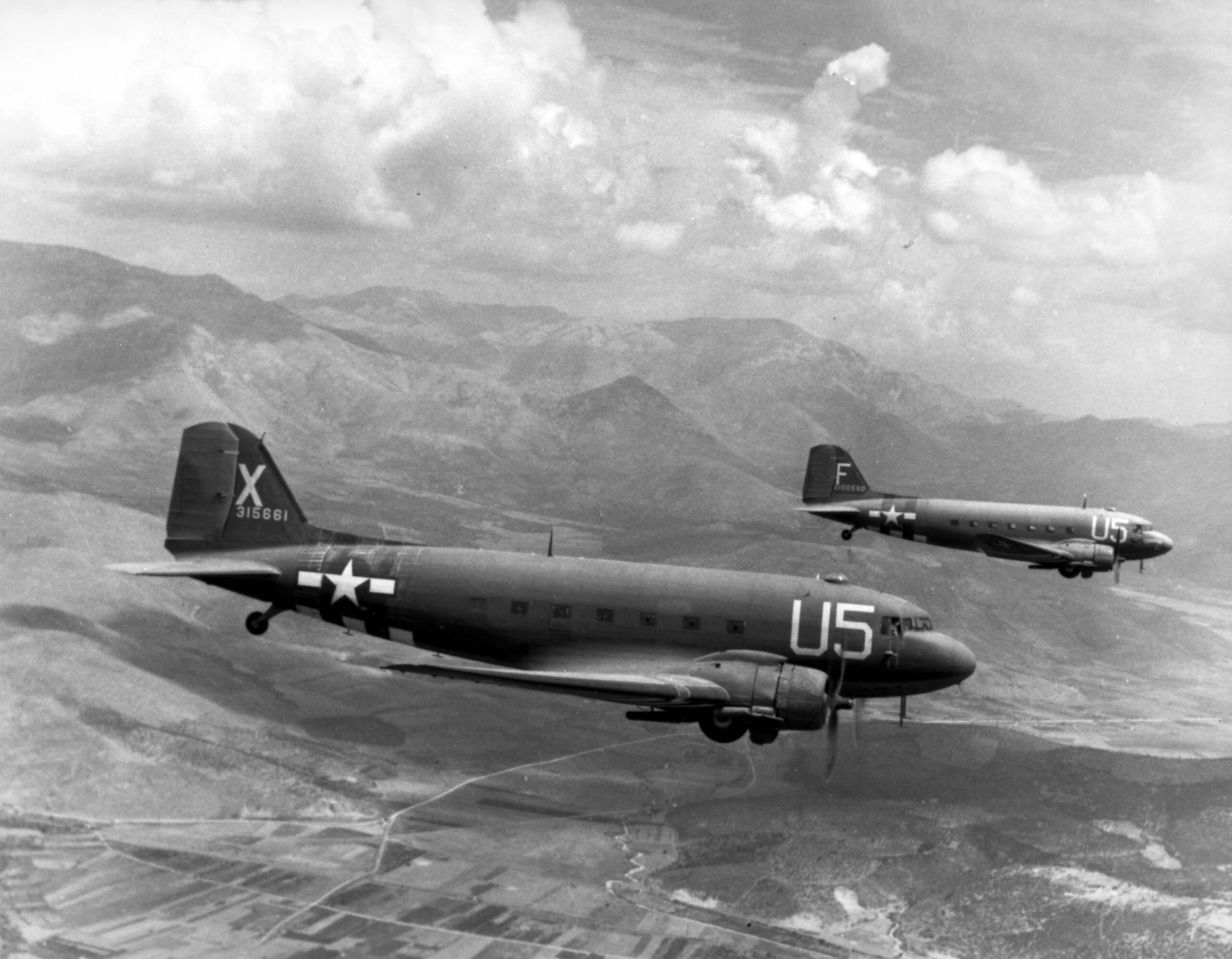 The C-47 is 64 feet, 5½ inches (19.647 meters) long with a wingspan of 95 feet (28.956 meters) and height of 17 feet (5.182 meters). Empty weight of the C-47A is 17,257 pounds (7,828 kilograms) and the maximum takeoff weight is 29,300 pounds (13,290 kilograms).
The C-47A was powered by two 1,829.4-cubic-inch-displacement (29.978 liter) air-cooled, supercharged R-1830-92 (Pratt & Whitney Twin Wasp S1C3-G) two-row 14-cylinder radial engines with a compression ratio of 6.7:1. These were rated at 1,060 horsepower at 2,550 r.pm., up to 7,500 feet (2,286 meters), maximum continuous power, and 1,200 horsepower at 2,700 r.p.m. at Sea Level for takeoff. Each engine drives a three-bladed Hamilton Standard Hydromatic constant-speed full-feathering propeller with a diameter of 11 feet, 6 inches (3.505 meters) through a 16:9 gear reduction. The R-1830-92 is 48.19 inches (1.224 meters) long, 61.67 inches (1.566 meters) in diameter, and weighs 1,465 pounds (665 kilograms).
The specifications of the  Pratt & Whitney Twin Wasp S3C4-G (R-1830-90) installed on the C-47B were nearly the same as the -92 engine of the C-47A. Displacement and compression ratio were identical. The engines' diameters were the same, though the -90 was very slightly longer than the -92—1.85–2.74 inches (4.699–6.960 centimeters), depending on specific variant. Also, the -90 was heavier than the -92 by 25–30 pounds (11.34–13.61 kilograms), again, depending on the specific variant. The R-1830-90 could maintain 1,000 horsepower at 2,550 r.p.m. at 12,500 feet (3,810 meters), and 1,000 horsepower at 2,700 r.p.m. at 14,000 feet (4,267 meters), a significant increase over the -92.
The C-47 has a cruising speed of 185 miles per hour (298 kilometers per hour) at 10,000 feet (3,048 meters) and service ceiling of 24,100 feet (7,346 meters).
The C-47 could carry 6,000 pounds (2,722 kilograms) of cargo, or 28 fully-equipped paratroopers. Alternatively, 14 patients on stretchers could be carried, along with three attendants.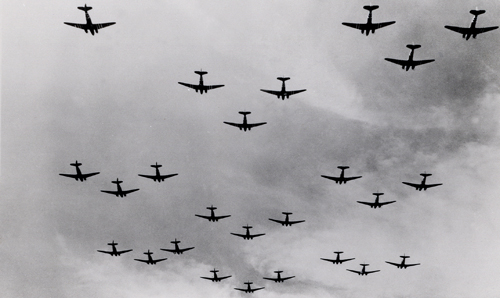 On D-Day, The Sixth of June, 1944, a formation of C-47 Skytrains, nine airplanes abreast, 100 feet (30 meters) from wing tip to wing tip, 1,000 feet (305 meters) in trail, stretching for over 300 miles (483 kilometers), airdropped 13,348 paratroopers of the 82nd and 101st Airborne Divisions, United States Army, and another 7,900 men of the British Army 6th Airborne Division and the 1st Canadian Parachute Battalion, behind the beaches at Normandy, France.
During the Vietnam War, 53 C-47s were converted from their transport role to AC-47 Spooky gunships. These were armed with three fixed, electrically-powered General Electric  GAU-2/A .30-caliber (7.62 NATO) Gatling guns firing out the left side of the fuselage. These aircraft were highly effective at providing close air support. The three Miniguns could fire a total of 12,000 rounds per minute.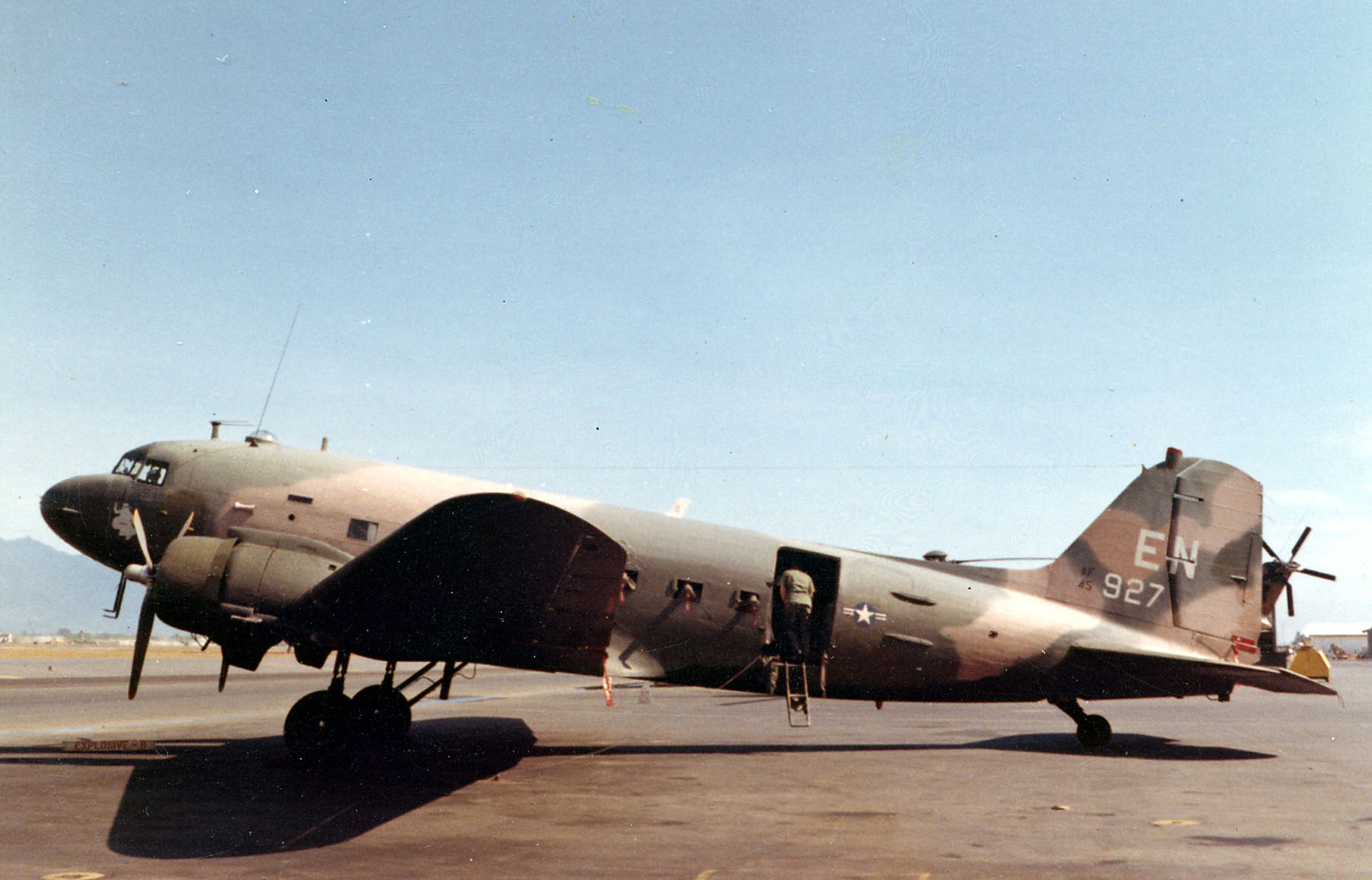 © 2017, Bryan R. Swopes
by