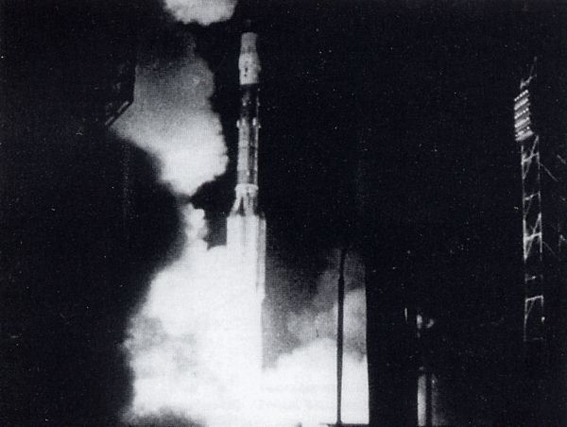 19 February 1986: The core module of the Mir space station (DOS-7) (Dolgovremennaya Orbitalnaya Stanziya) was launched from Site 200 of the Baikonur Cosmodrome aboard a Proton 8K82K rocket. This was the first section of the space station. It consisted of living quarters and environmental systems, engines, and four air locks to which additional modules would be attached.
The Mir was unmanned when it was placed in low Earth orbit. The first two-man crew arrived 15 March 1986 and began bringing the space station systems online. The first expedition stayed aboard for 51 days.
The Mir Core Module was 13.13 meters (43.077 feet) long with a diameter of 4.15 meters (13.616 feet). The solar arrays had a span of 20.73 meters (68.012 feet). The habitable volume of the module was 90 cubic meters (3,178 cubic feet). At launch  it had a mass of 20,400 kilograms (44,974.3 pounds).
The Proton 8K82K was a four-stage liquid-fueled heavy lift rocket. The first stage, Proton K-1, was 21.20 meters (69.554 feet) long with a diameter of 4.15 meters (13.616 feet). Fully fueled, it had a mass of 450,510 kilograms (993,205 pounds). It carried enough hypergolic fuel to power the six RD-253 engines for 124 seconds, producing 67,821.2 kiloNewtons (15,246,812 pounds) of thrust. The second stage, Proton K-2, was 14.00 meters (45.932 feet) long, with the same diameter as the first stage. Its fully-fueled mass was 167,828 kilograms (369,997 pounds). Its four RD-0210 engines burned for 206 seconds, producing 9,596.8 kiloNewtons (2,157,447 pounds) of thrust. The Proton K-3 stage was 6.50 meters (21.326 feet) long, and again, had a diameter of 4.15 meters. The gross mass of the third stage was 50,747 kilograms (111,878 pounds). The single RD-0212 engine burned for 238 seconds, producing 630.2 kiloNewtons (141,675 pounds) of thrust. The final, fourth stage, Proton 11S824, was 5.50 meters (18.045 feet) long with a diameter of 3.70 meters (12.139 feet). Gross mass was 13,360 kilograms (29,454 pounds). It had a single RD-58M engine which burned liquid oxygen and kerosene. It produced 85.02 kiloNewtons (19,113 pounds) of thrust for 610 seconds.
The Proton 8K82K could place a 20,000 kilogram (44,092 pound) payload into low Earth orbit. The rocket was first launched in 1965 and was used until 2003. More than 300 of them were launched.
The Mir space station was continually expanded. It was occupied for 4,592 consecutive days. It remained in orbit until 23 March 2001.

© 2016, Bryan R. Swopes