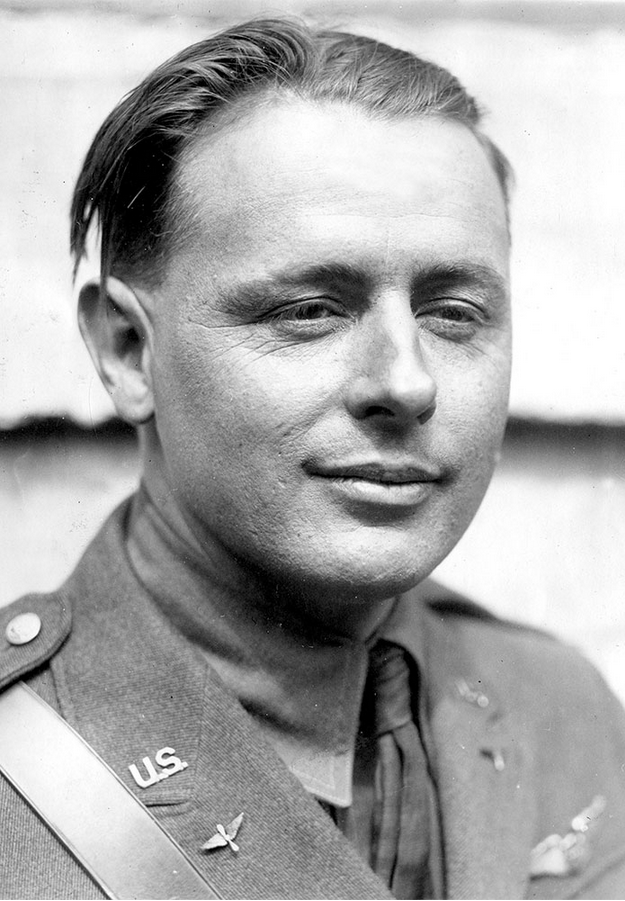 9 May 1932: At McCook Field, Ohio, Captain Albert Francis Hegenberger, Air Corps, United States Army, flew the very first solo instrument approach and landing, using a system which he had developed. The Hegenberger system, which was adopted by both civil and military aviation authorities, used a series of non-directional radio beacons (NDB) and marker beacons on the ground, along with a radio-compass and other gyroscopic instruments and radio receivers aboard the aircraft, a Consolidated NY-2 biplane.
Hegenberger had located one NDB 1,500 feet (457 meters) from the airfield boundary, and another at 1½ miles (2.4 kilometers). They were aligned with the runway centerline. Both had marker beacons which would signal that the airplane was directly overhead. The radio compass aboard the airplane would indicate the direction of the NDB relative to the airplane and lights would illuminate when it passed over the marker beacons. When the airplane was heading directly toward the NDB, the needle pointed to zero.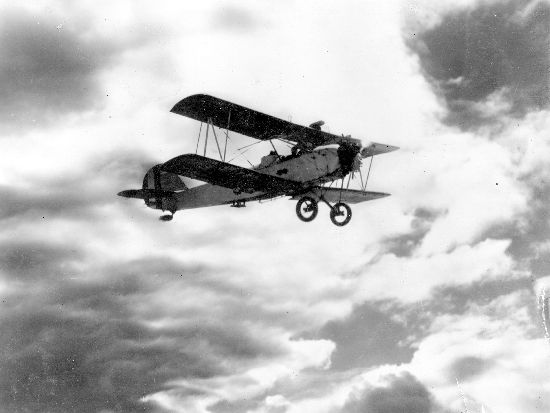 Captain Hegenberger turned toward the inner NDB from a distance of 50 miles (80 kilometers). He passed over it at a pre-planned altitude. When the lights on the instrument panel came on indicating that he was directly over the inner marker beacon, he turned toward the outer NDB. Crossing the outer marker, Hegenberger made a 180° turn back toward the inner NDB and began his descent. As he passed over the inner NDB again, he reduced engine power and placed the airplane in a landing attitude and waited for it to touch down on the runway.
This flight was the first solo blind instrument flight, approach and landing. (Lt. James H. Doolittle had made a blind instrument flight in 1929, but he carried a safety pilot aboard.) For his accomplishment, Captain Hegenberger was awarded an oak leaf cluster (a second award) for his Distinguished Flying Cross, and received the Collier Trophy, an annual award for the greatest achievement in aeronautics in America.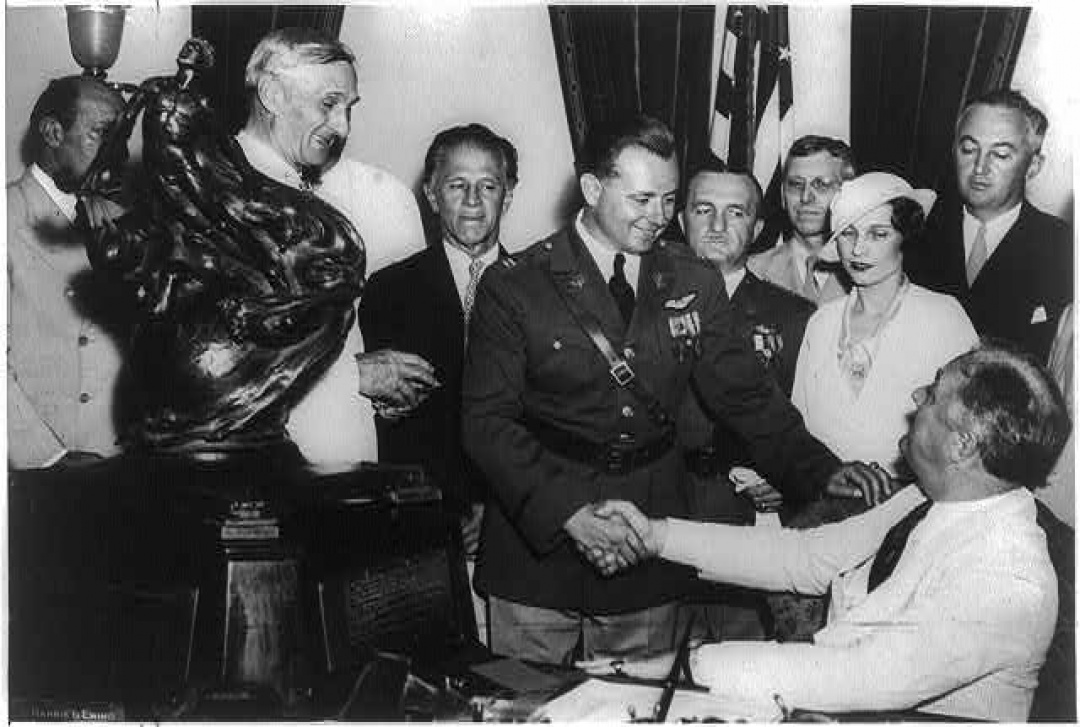 Within one week, the Civil Aeronautics Board created a new pilot rating and required that all commercial pilots demonstrate proficiency in instrument flight. In 1935, the CAB adopted Hegenberger's system and ordered equipment installed at all major airports between New York and Los Angeles.
Albert Francis Hegenberger was born 30 September 1895 at Boston, Massachusetts, United States of America. He was the second of five children of Alphonse Frederick Hegenberger, a clerk and immigrant from Bavaria, and Emma Amanda Buegler Hegenberger, of Switzerland.
In 1913 Hegenberger entered the Massachusetts Institute of Technology (M.I.T.), Cambridge, Massachusetts, as a student of aeronautical engineering.
Following the United States' entry into World War I, Albert F. Hegenberger enlisted as a private in the Aviation Section, Signal Corps, United States Army, 14 September 1917. He was assigned to the School of Military Aeronautics at M.I.T., graduating in December 1917. After flight training at Ellington Field, Houston, Texas, Hegenberger was commissioned a second lieutenant, Aviation Section, Signal Officers Reserve Corps, 6 April 1918. This commission was vacated 19 September 1920, and he was appointed a second lieutenant, Air Service, retroactive to 20 July 1920. He was promoted to the rank of first lieutenant, effective that  that same date.
In October 1918, Second Lieutenant Hegenberger returned to M.I.T., and entered the School of Aeronautical Engineering. He graduated in February 1919.
Lieutenant Hegenberger married Miss Louise B. Berchtold in 1919. They would have two sons, Albert F., Jr., born in 1920, and Robert F., born in 1924.
In October 1923, 1st Lieutenant Hegenberger was assigned to the 72nd Bombardment Squadron, 5th Composite Squadron, at Luke Field on the Island of Oahu, Territory of Hawaii. The squadron was equipped with the DH-4 and the twin-engine Martin NBS-1 bomber. In March 1925, Lieutenant Hegenberger was transferred to the 23rd Bombardment Squadron, 5th Composite Group.
Lieutenant Hegenberger was next assigned as chief of the Equipment Branch, Material Division, at McCook Field, Dayton Ohio. He served in that position from October 1926 until June 1927, when became chief of the Instrument and Navigation Unit.
At 7:09 a.m., Pacific Daylight Time, 28 June 1927, 1st Lieutenant Lester J. Maitland and 1st Lieutenant Albert F. Hegenberger, Air Service, United States Army, took off from Oakland Municipal Airport, California, aboard an Atlantic-Fokker C-2, serial  number A.S. 26-202, Bird of Paradise. Their destination was Wheeler Field, Honolulu, Territory of Hawaii, 2,407 miles (3,874 kilometers) across the Pacific Ocean.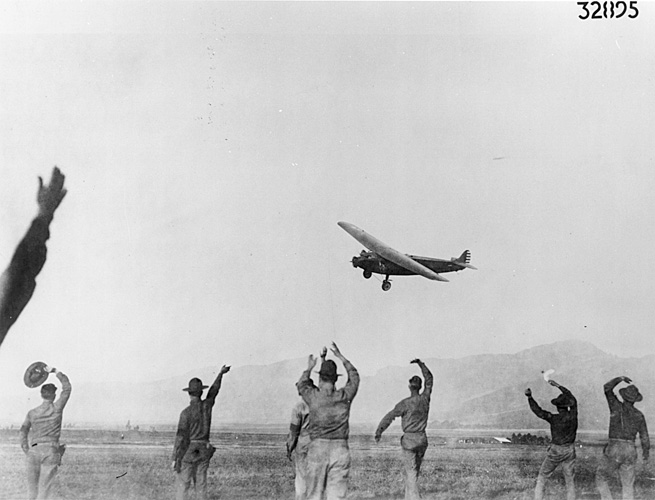 After 25 hours, 50 minutes of flight, Bird of Paradise landed at Wheeler Field, 6:29 a.m., local time, 29 June 1927. It had completed the first Transpacific Flight.
For their achievement, both officers were awarded the Distinguished Flying Cross. They were also awarded the Mackay Trophy for the most meritorious flight of the year.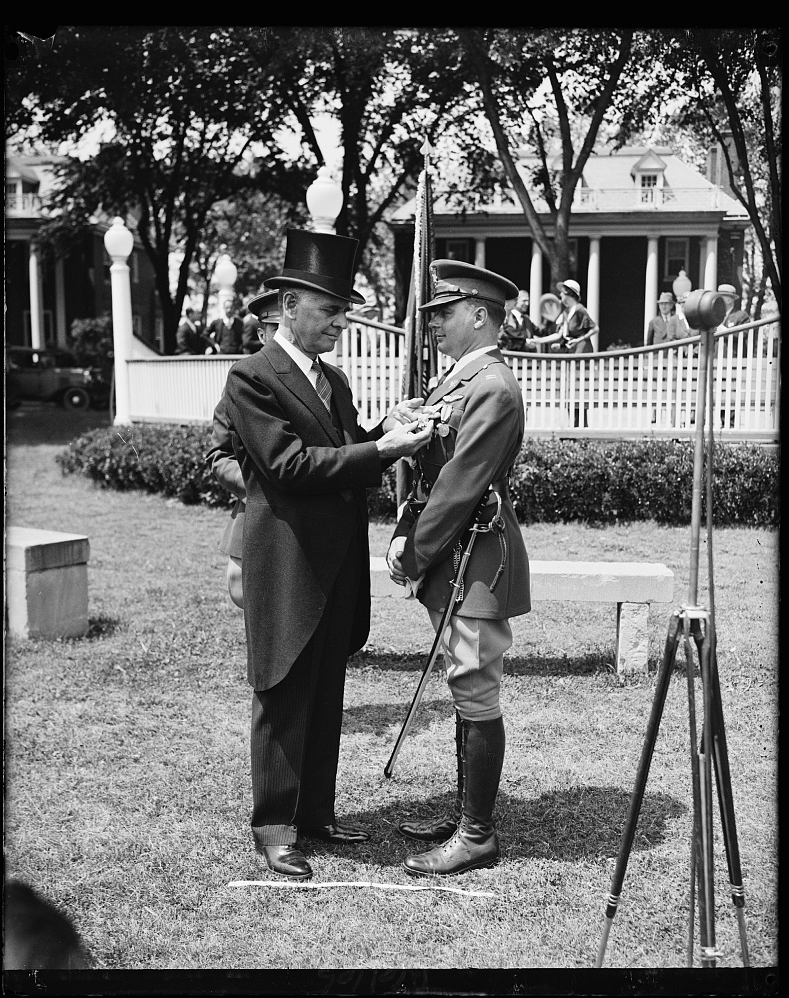 1st Lieutenant Hegenberger continued in his technical assignments at McCook and Wright Fields. On 3 January 1932, he was promoted to the rank of captain.
Mrs. Hegenberger died 7 August 1933.
In August 1935, Captain Hegenberger was assigned to the 30th Bombardment  Squadron at Rockwell Field, San Diego, California. The squadron moved to March Field, near Riverside, California, and transitioned to the Martin B-10. Captain Hegenberger was advanced to the rank of major (temporary), 2 October 1935.
On 22 July 1937, Major Hegenberger married Ms. Jewel Lilly Van Houten (née Jewel Lilly Baker) at Detroit, Michigan.
From August 1937 to June 1939, Major Hegenberger was assigned to the Air Corps Tactical School, Maxwell Field, Montgomery, Alabama. Upon graduation, he was assigned to the 5th Bombardment Group at Hickam Field, Honolulu, Territory of Hawaii. The 5th was equipped with Keystone B-3 and B-4 bombers.
Major Hegenberger was appointed operations officer of the 18th Wing at Hickam, and then in November 1940, became assistant chief of staff for operations of the Hawaiian Air Force, headquartered at Fort Shafter, near Honolulu. Hegenberger was promoted to lieutenant colonel (temporary), on 30 December 1940. This rank became permanent 18 December 1941.
In April 1941, Lieutenant Colonel Hegenberger took command of the 11th Bombardment Group. The group was equipped with Douglas B-18 Bolo, but began receiving Boeing B-17 Flying Fortresses the following month.
Hegenberger was promoted to colonel (temporary), 5 January 1942. He took command of 18th Bombardment Group and Seventh Bomber Command. He was appointed Colonel, Army of the United States (A.U.S.), 8 June 1942. Returning to the continental United States, Colonel Hegenberger became assistant chief of staff for operations, Second Air Force, and commanding officer, II Bomber Command, at Fort George Wright, Spokane, Washington. In October 1942, Colonel Hegenberger took command of the 21st Bombardment Wing, based at Smoky Hill Army Air Field, Salina, Kansas, and later, Topeka Army Air Field, Topeka, Kansas.
Colonel Hegenberger was promoted to the rank of brigadier general, A.U.S., 18 September 1943. In January 1944, he was appointed Chief of Staff, Second Air Force, at Colorado Springs Army Air Field, Colorado Springs, Colorado.
The following year, January 1945, Brigadier General Hegenberger became Chief of Staff, Fourteenth Air Force, based at Chunking, China.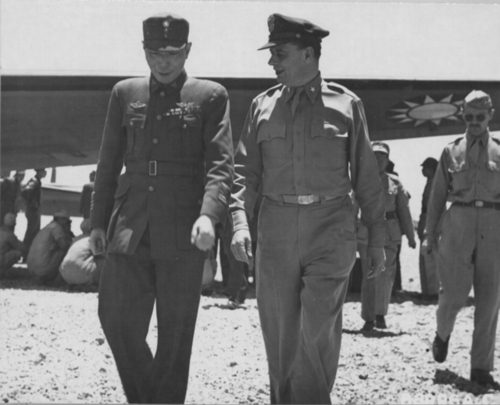 Hegenberger became commanding general, Tenth Air Force, also based in China, in August 1945. He was promoted to major general, A.U.S., 7 September 1945. From December 1945 to July 1946, Major General Hegenberger served at Headquarters Army Air Forces. He was then assigned to Pacific Air Command, United States Army (PACUSA), in Japan. He assumed command of the 1st Air Division, Kadena Army Air Base, Okinawa, in July 1946.
In December 1947, Hegenberger was assigned to the Weapons Group, Headquarters, U.S. Air Force. He then served on the staff of the Assistant Deputy Chief of Staff, Operations, for Atomic Energy. On 19 February 1948, Hegenberger's previous rank of brigadier general, United States Air Force, became permanent, with date of rank retroactive to 19 September 1943. (He continued in the temporary rank of major general.)
Major General Hegenberger retired from the U.S. Air Force on 31 August 1949 after nearly 32 years of military service. During his career, he was awarded the Distinguished Service Medal, Legion of Merit, Distinguished Flying Cross with one oak leaf cluster (two awards), World War I Victory Medal, American Defense Service Medal, American Campaign Medal, World War II Victory Medal, Asiatic-Pacific Campaign Medal; Order of the Cloud and Banner (Republic of China); and Grande Ufficiale dell'Ordine della Corona d'Italia (Grand Officer, Order of the Crown of Italy).
Major General Albert Francis Hegenberger, United States Air Force (Retired) died at Goldenrod, Florida, 31 August 1983, at the age 87 years. He was buried at All Faiths Memorial Park, Casselbury, Florida.
© 2018, Bryan R. Swopes