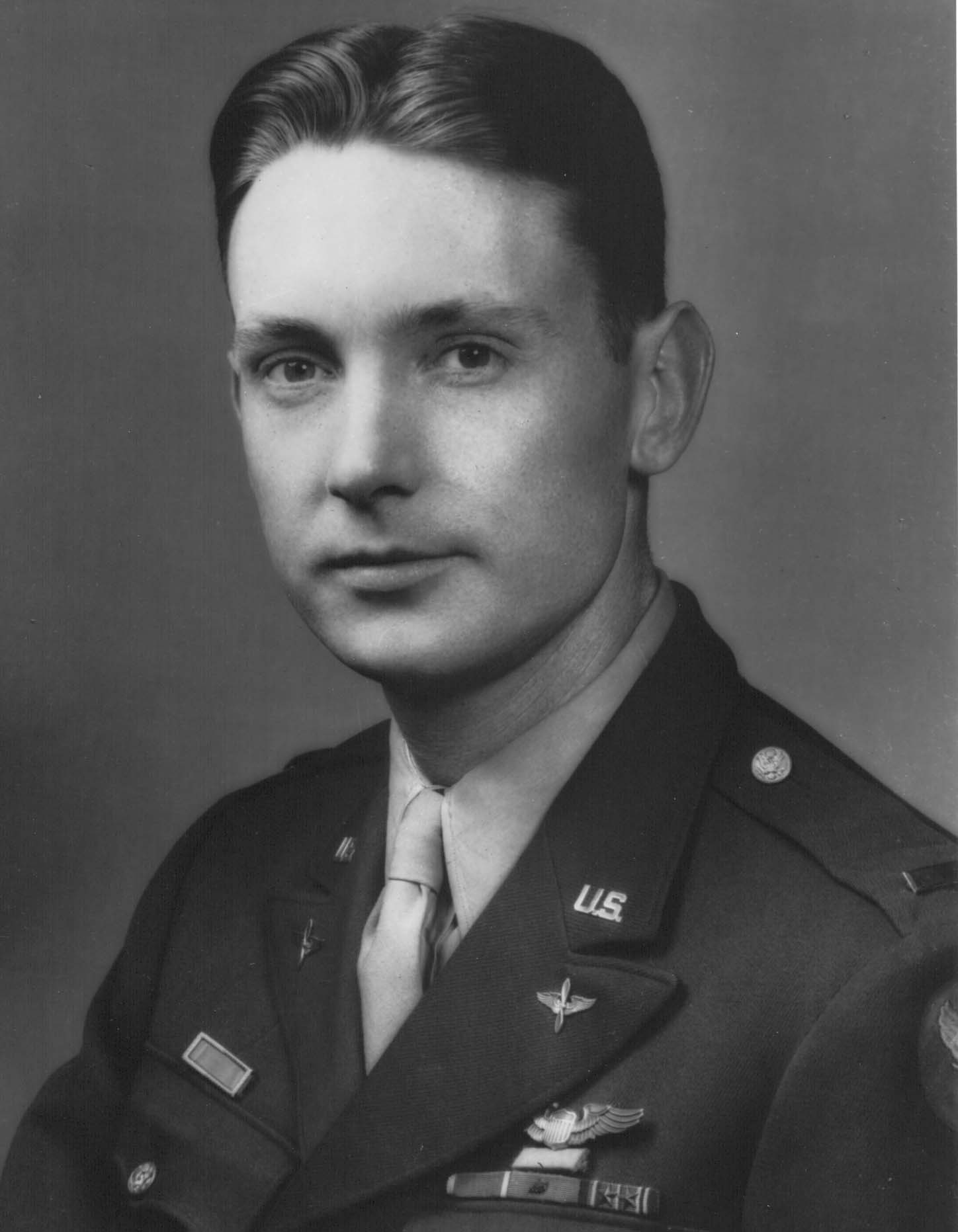 MEDAL OF HONOR
FIRST LIEUTENANT WILLIAM ROBERT LAWLEY, JR.
The President of the United States of America, in the name of Congress, takes pleasure in presenting the Medal of Honor to First Lieutenant (Air Corps) William Robert Lawley, Jr., United States Army Air Forces, for conspicuous gallantry and intrepidity in action above and beyond the call of duty, 20 February 1944, while serving as pilot of a B-17 aircraft in the 364th Bombardment Squadron, 305th Bombardment Group (H), Eighth Air Force, on a heavy bombardment mission over enemy-occupied continental Europe. Coming off the target he was attacked by approximately 20 enemy fighters, shot out of formation, and his plane severely crippled. Eight crewmembers were wounded, the copilot was killed by a 20-mm shell. One engine was on fire, the controls shot away, and First Lieutenant Lawley seriously and painfully wounded about the face. Forcing the copilot's body off the controls, he brought the plane out of a steep dive, flying with his left hand only. Blood covered the instruments and windshield and visibility was impossible. With a full bomb load the plane was difficult to maneuver and bombs could not be released because the racks were frozen. After the order to bail out had been given, one of the waist gunners informed the pilot that two crewmembers were so severely wounded that it would be impossible for them to bail out. With the fire in the engine spreading, the danger of an explosion was imminent. Because of the helpless condition of his wounded crewmembers First Lieutenant Lawley elected to remain with the ship and bring them to safety if it was humanly possible, giving the other crewmembers the option of bailing out. Enemy fighters again attacked but by using masterful evasive action he managed to lose them. One engine again caught on fire and was extinguished by skillful flying. First Lieutenant Lawley remained at his post, refusing first aid until he collapsed from sheer exhaustion caused by loss of blood, shock, and the energy he had expended in keeping control of his plane. He was revived by the bombardier and again took over the controls. Coming over the English coast one engine ran out of gasoline and had to be feathered. Another engine started to burn and continued to do so until a successful crash landing was made on a small fighter base. Through his heroism and exceptional flying skill, First Lieutenant Lawley rendered outstanding distinguished and valorous service to our Nation.
General Orders: War Department, General Orders No. 64, August 8, 1944
Action Date: February 20, 1944
Service: United States Army Air Forces
Rank: First Lieutenant
Company: 364th Bombardment Squadron
Regiment: 305th Bombardment Group (H)
Division: 8th Air Force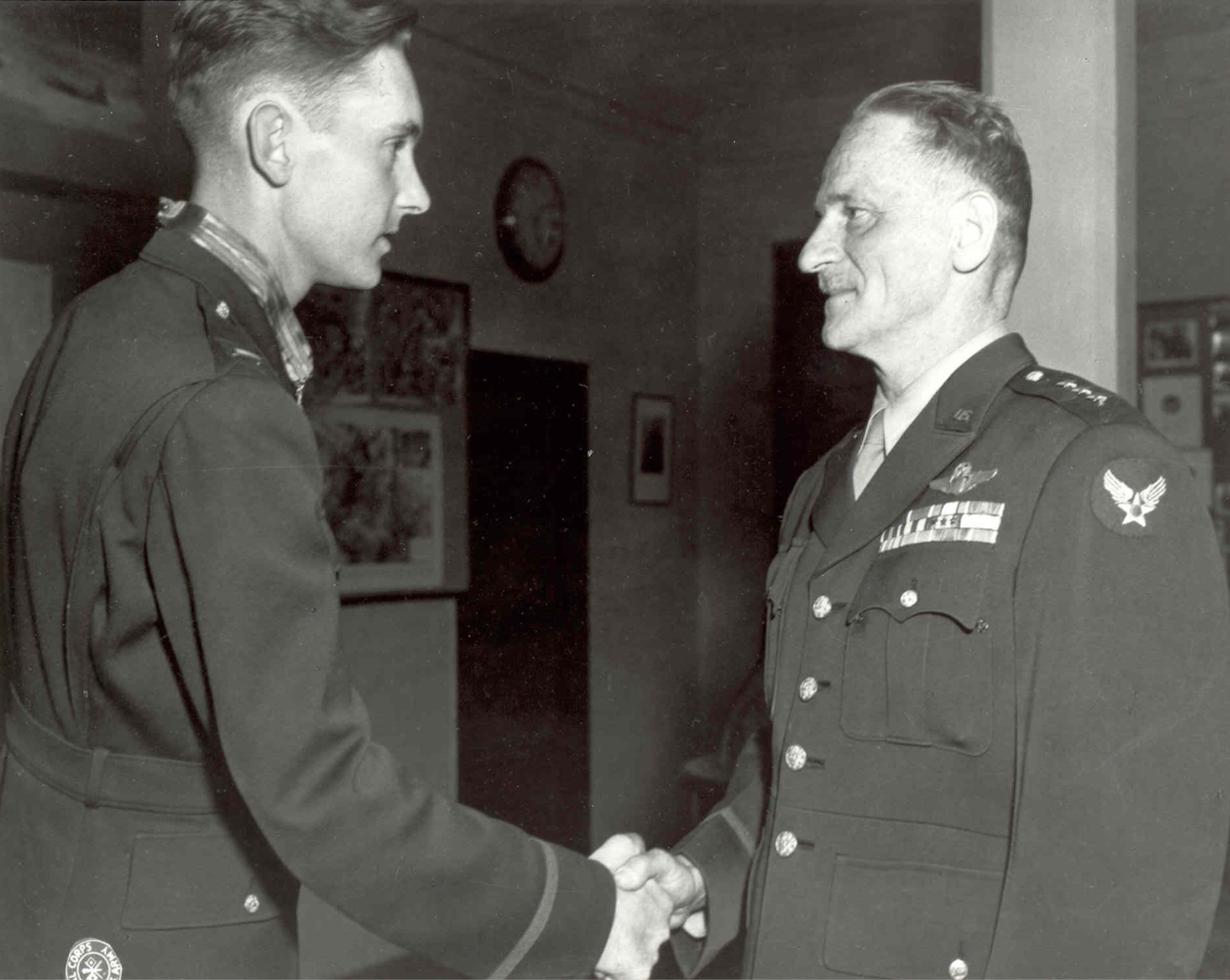 William Robert Lawley, Jr., was born 23 August 1920 at Leeds, Alabama. He was the fourth child of William Robert Lawley, a retired lieutenant colonel and a Baptist minister, and Emma Elizabeth Hazelwood Lawley.
"W.R." Lawley attended Leeds High School, where he was considered an average student. He played the position of pitcher on the school's baseball team. He graduated in 1938, and although he wanted to go on to college, he needed to work to support his family. Lawley drove a truck for the Sinclair Oil Company. His supervisor said, "W.R. drove an oil truck for me in 1941. He was extremely quiet and always very friendly. The most I ever saw him do was to work. He's worked at something just about all of his life, I reckon."
Lawley enlisted as a private in the Air Corps, Army of the United States (A.U.S.), at Birmingham, Alabama, 9 April 1942. The young man was 6 feet, 1 inch (1.85 meters) tall, weighed 168 pounds (76.2 kilograms), and had brown hair and hazel eyes.
On 25 August 1942, Private Lawley was appointed an aviation cadet and sent to Altus Army Air Field, Oklahoma, for flight training. On completion of training, 21 April 1943, Aviation Cadet Lawley married Miss Amelia Dodd of Dennison, Texas, in the base chapel at Altus A.A.F. The ceremony was performed by a U.S. Army chaplain. The following day, 22 April 1943, he was commissioned a second lieutenant, Air Corps, A.U.S.
2nd Lieutenant Lawley trained as a B-17 Flying Fortress pilot. In November 1943 he was sent to England with the 364th Bombardment Squadron (Heavy), 305th Bombardment Group (Heavy), based at RAF Chelveston (Air Force Station 105). He was promoted to the rank of first lieutenant, A.U.S., 6 February 1944.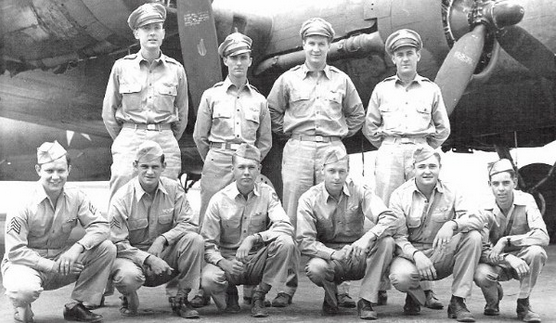 1st Lieutenant Lawley was on his tenth combat mission 20 February 1944. He and his crew were flying a new Douglas-built B-17G-25-DL Flying Fortress, 42-38109, named Cabin in the Sky, after a popular musical of the time.  This was the bombers very first combat mission. It carried the identification letters WF P on its fuselage.
42-38109 had built by the Douglas Aircraft Company at its Long Beach, California, plant. The new airplane was sent to the modification center at Denver, Colorado, 15 December 1943 where the latest combat modifications were installed. It was then sent to the heavy bomber training squadrons at Mitchell Army Air Field, Mitchell, South Dakota, 20 January 1944. Flown across the North Atlantic Ocean, 42-38109 arrived at Chelveston 10 February 1944.
Following the 20 February 1944 mission, 42-38109 never flew again. Damaged beyond repair, it was salvaged by the 2nd Strategic Air Depot, 23 February 1944.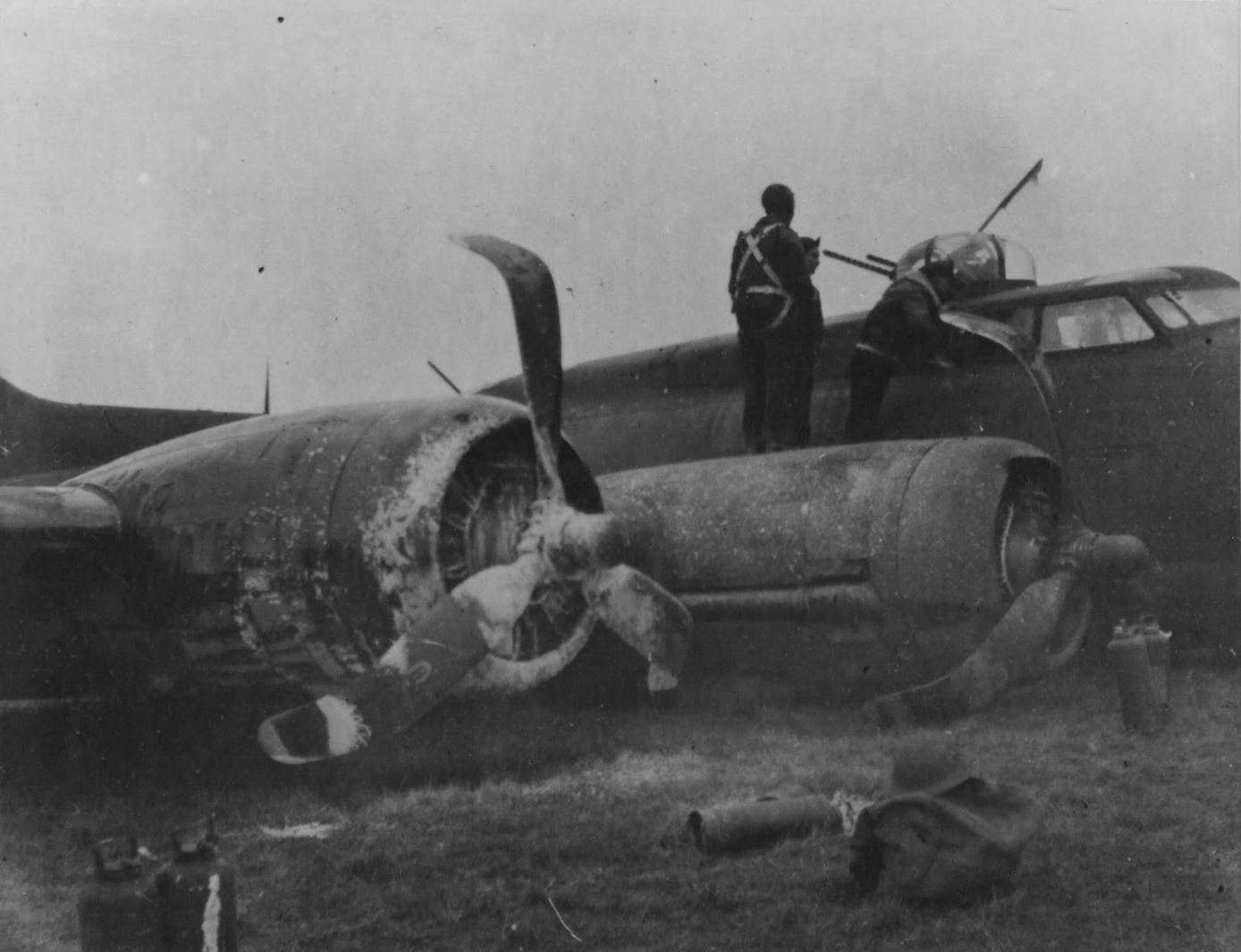 Lieutenant Lawley flew 14 additional combat missions, He was returned to the United States in September 1944. On 9 January 1945, he was promoted to captain, A.U.S.
Following the end of the War, Captain Lawley remained in the Air Corps. On 5 July 1946, he was appointed to the permanent rank of 1st lieutenant, Air Corps, United States Army (U.S.A.). His rank was retroactive to 22 April 1946.
Captain Lawley was promoted to major in August 1949.
Lawley's official United States Air Force biography reads:
He returned to the United States in September 1944, serving as a public relations officer at Hendricks Field, Fla. Promoted to captain in January 1945, he completed the public relations course at Craig Field, Ala. and the Air Tactical School at Tyndall AFB, Fla., serving during part of this time as aide to Gen. Muir S. Fairchild at Maxwell Field Ala. He then went to HQ USAF in Washington as administrative assistant to Maj. Gen. David M. Schlatter in a special weapons assignment, with promotion to major in August 1949.
Major Lawley, in February 1950, held special assignments to the CG of ARDC, completing the Navy Language School at Fort Myer, Va., and the Strategic Intelligence School in Washington, D.C. He then went to Brazil, with promotion to lieutenant colonel, as Asst. Air Attache. He served until 1954. Coming home, he attended the Air Command and Staff School at Air University, Maxwell AFB, Ala., and on graduation was assigned as commander of the 55th Air Refueling Squadron at Forbes AFB, Kan. He stayed at Forbes as Aircrew Maintenance Staff Officer for the 21st Air Division, as Deputy Base Commander, and as Deputy Vice Commander of the 815th Combat Support Group. He was promoted to colonel March 27, 1959. In January 1963, he became Assistant Phase Chief. Director of Curricular, at the Air War College at Maxwell AFB.
—Air Force Historical Support Division, Fact Sheets, Lawley—1st Lt William R. Lawley Jr
Colonel William Robert Lawley, Jr., United States Air Force, died  29 May 1999 at Montgomery, Alabama. He remains were interred at Greenwood Serenity memorial Gardens, in Montgomery.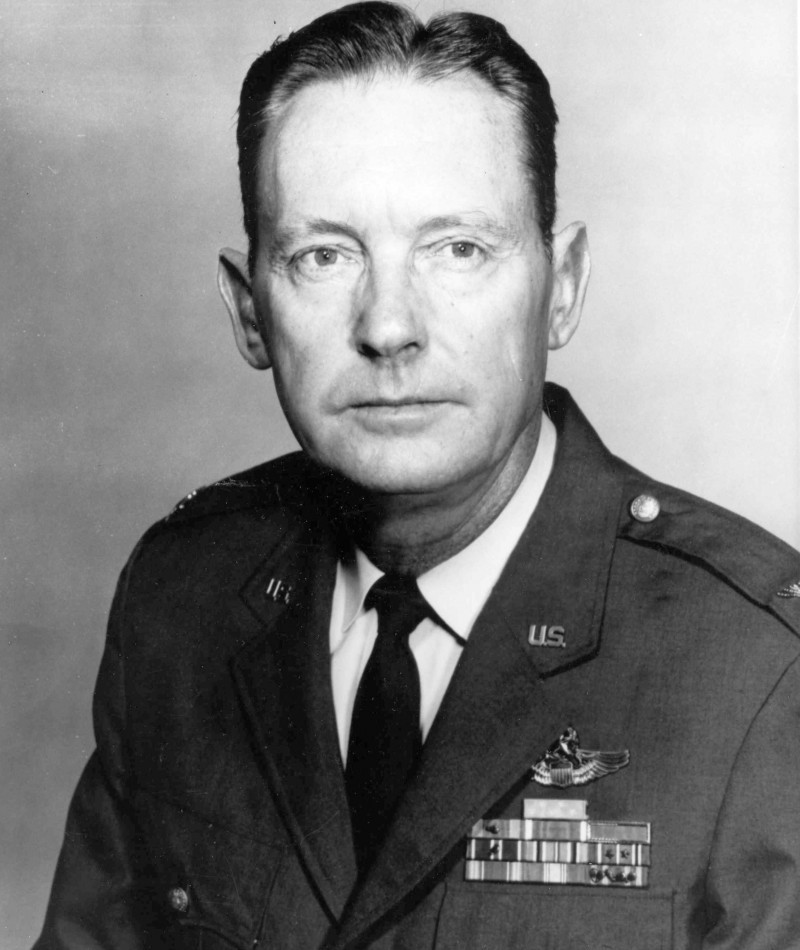 © 2021, Bryan R. Swopes