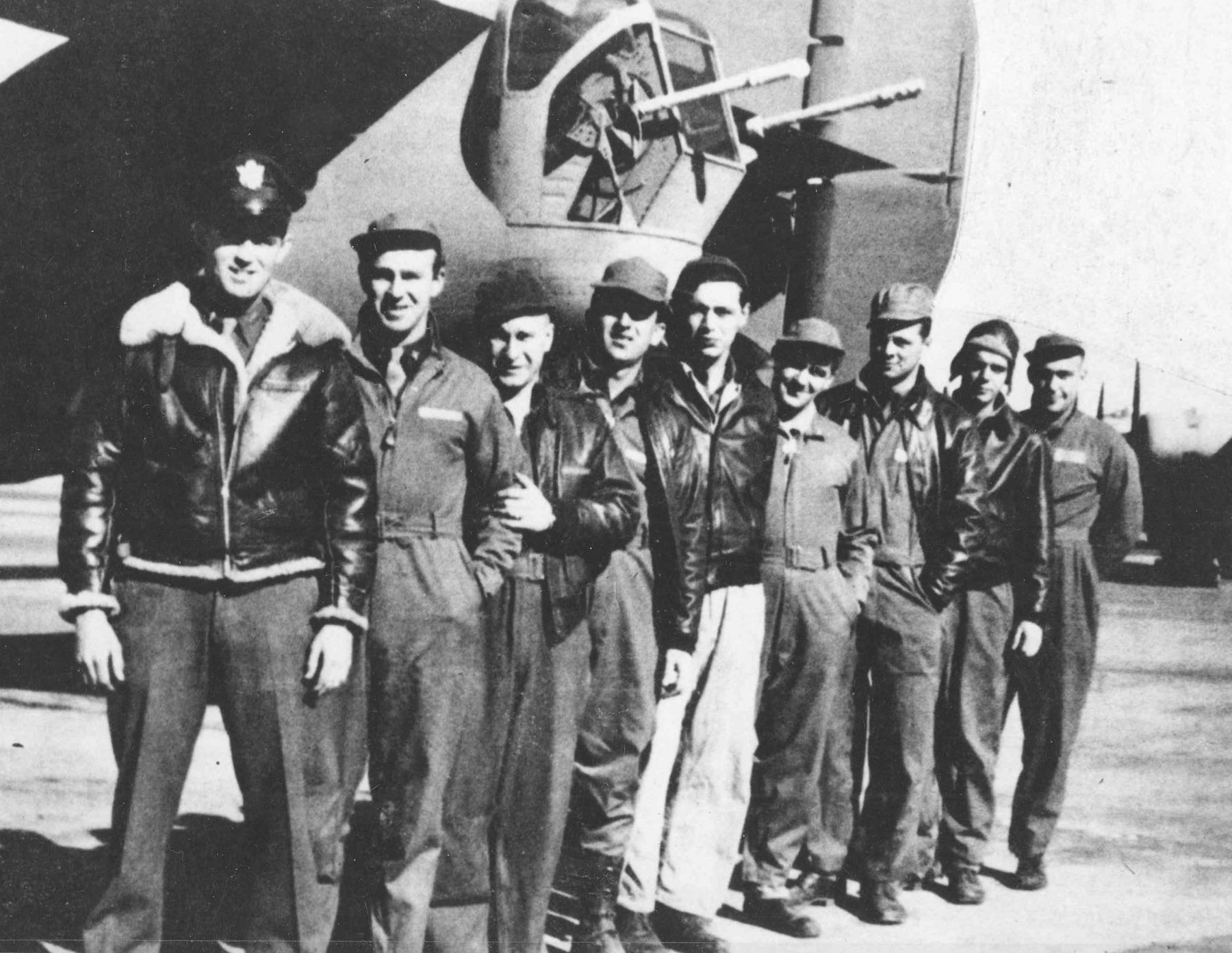 4 April 1943: A brand-new crew with a brand-new airplane, assigned to the 514th Bombardment Squadron, 376th Bombardment Group, Ninth Air Force, departed Soluch Field (now, Benina International Airport) on their first combat mission, a night attack on Naples, Italy. First Lieutenant William J. Hatton, U.S. Army Air Corps, and his crew of eight men were flying Lady Be Good, a Consolidated B-24D-25-CO Liberator long-range heavy bomber, serial number 41-24301. They would never be seen alive again.
High winds and poor visibility broke up the 25-plane formation, and eventually only two made it all the way to Naples, arriving over the city at about 7:50 p.m. Bad weather made bombing difficult, so the B-24s dropped their bombs into the Mediterranean Sea and started home. By this time, Lieutenant Hatton and his men were alone.
The flight crew became lost on the return flight and overflew their home base. They  continued south into the darkness of the desert night. Eventually, the bomber began to run out of fuel. When two of the four engines stopped, the nine men bailed out into the darkness. The pilots had trimmed the bomber to fly with just two engines operating before abandoning their airplane. The B-24 continued south on its own.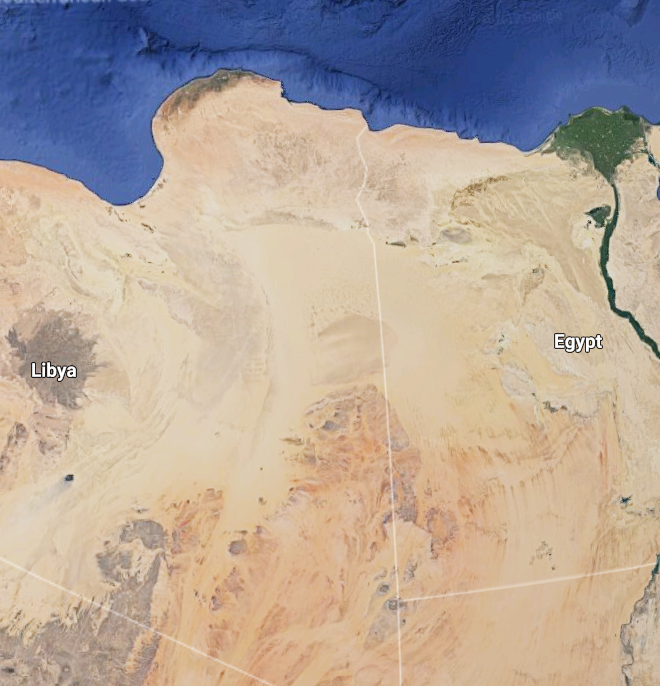 Fifteen years later, an oil exploration team discovered the wreckage of 41-24301 in the Calanscio Sand Sea (سرير كلنسيو الرملي الكبير, Kalanshiyū ar Ramlī al Kabīr, Sarīr) of the Libyan Sahara Desert. The Lady Be Good had come to earth 440 miles (708 kilometers) south of its base at Soluch. (N. 26°42'45.7″, E. 24°01'27")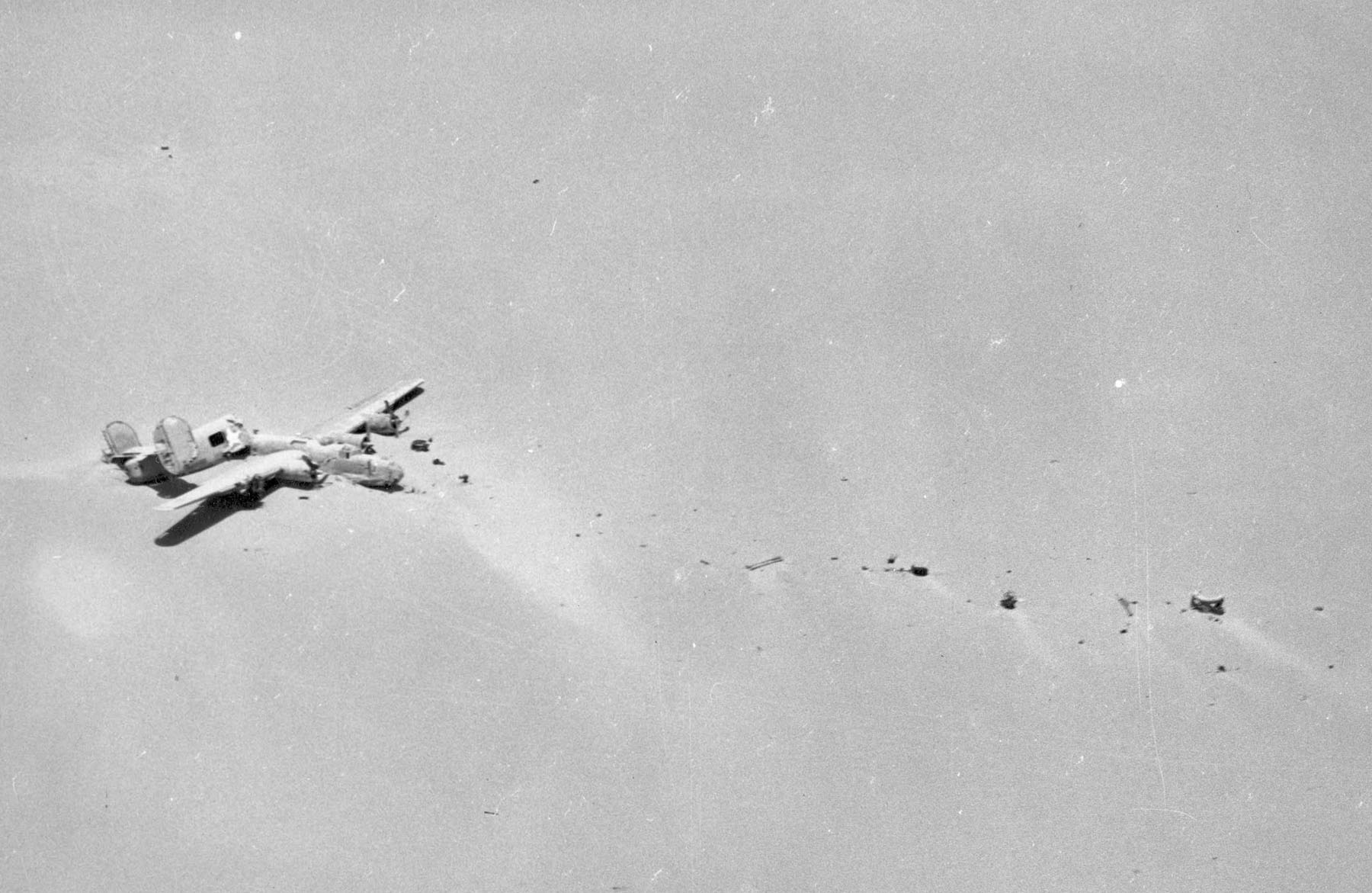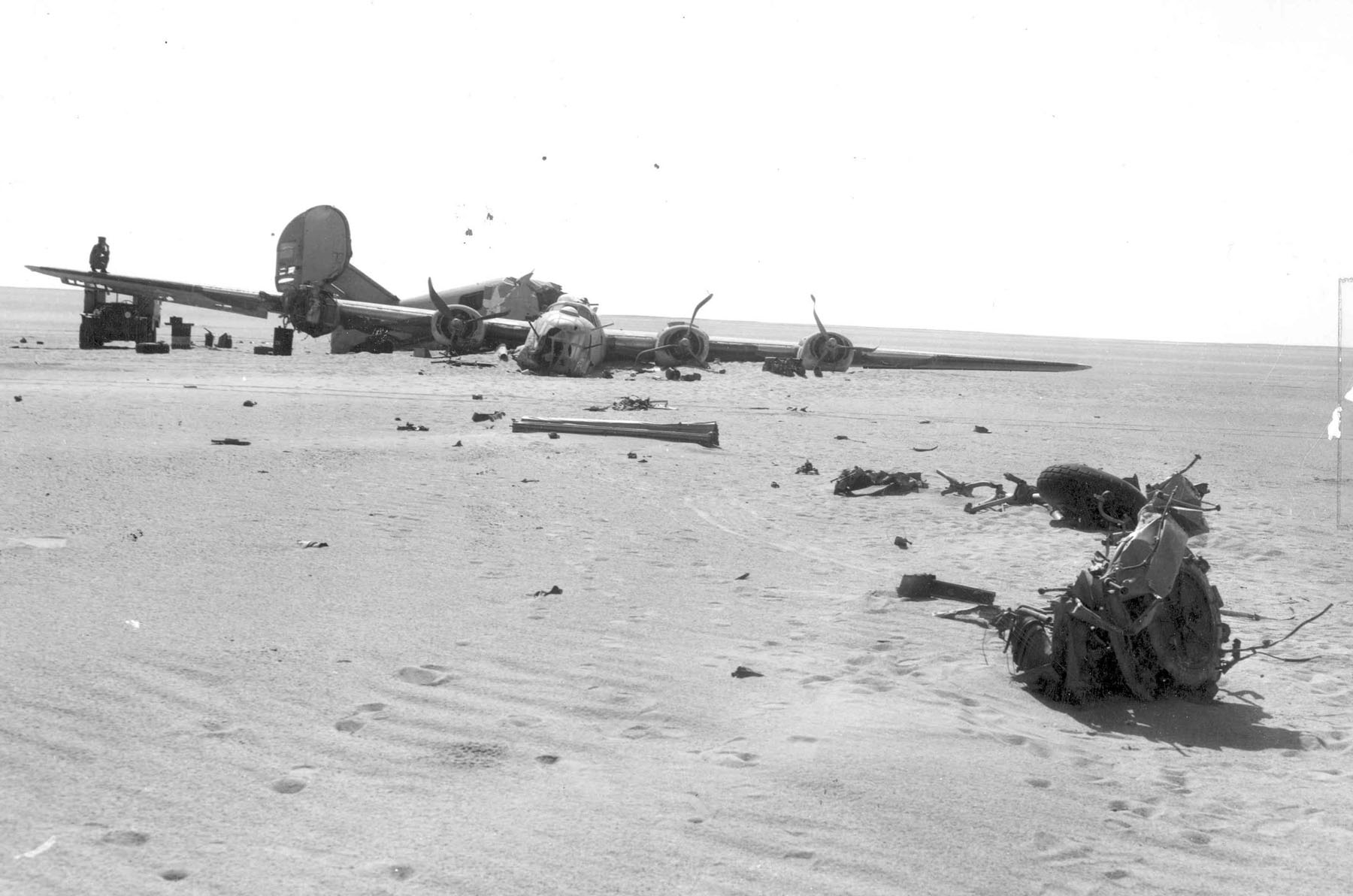 The wreckage of Lady Be Good is stored at Gamal Abdul El Nasser Air Base, Libya.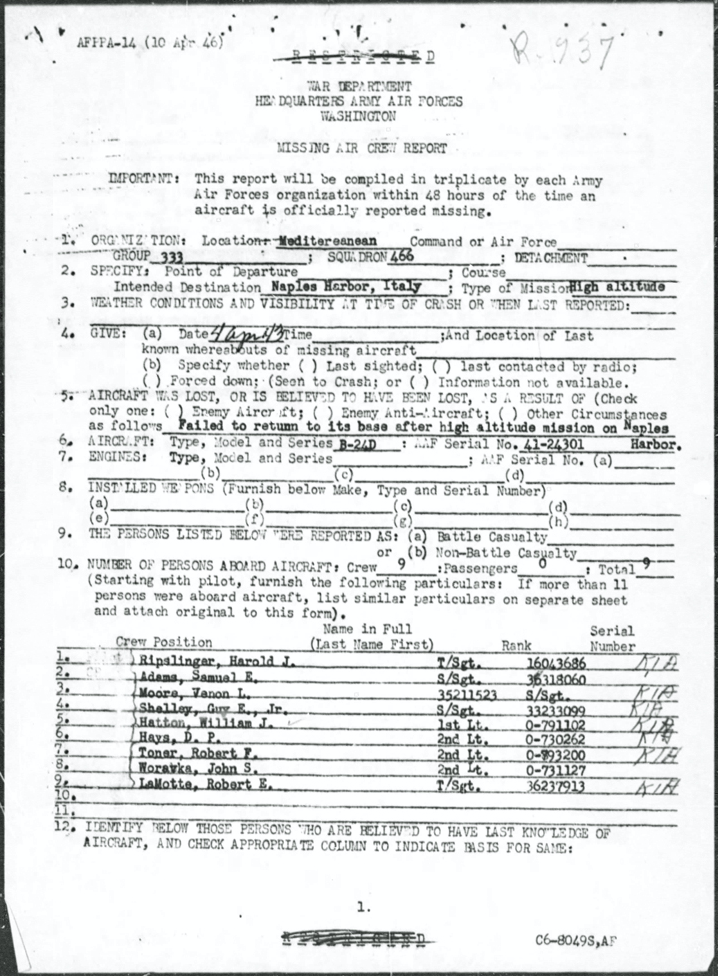 The Consolidated B-24D Liberator was a four-engine long-range heavy bomber. It had a high "shoulder-mounted" wing, twin vertical fin/rudders, and retractable landing gear. The bomber was operated by a flight crew of two pilots, bombardier, navigator, radio operator, flight engineer and four gunners. It was 66 feet, 4 inches (20.218 meters) long, with a wingspan of 110 feet, 0 inches (33.528 meters), and overall height of 17 feet, 11 inches (5.461 meters). The airplane had an empty weight of 32,605 pounds (14,789 kilograms), and maximum takeoff weight of 64,000 pounds (29,030 kilograms).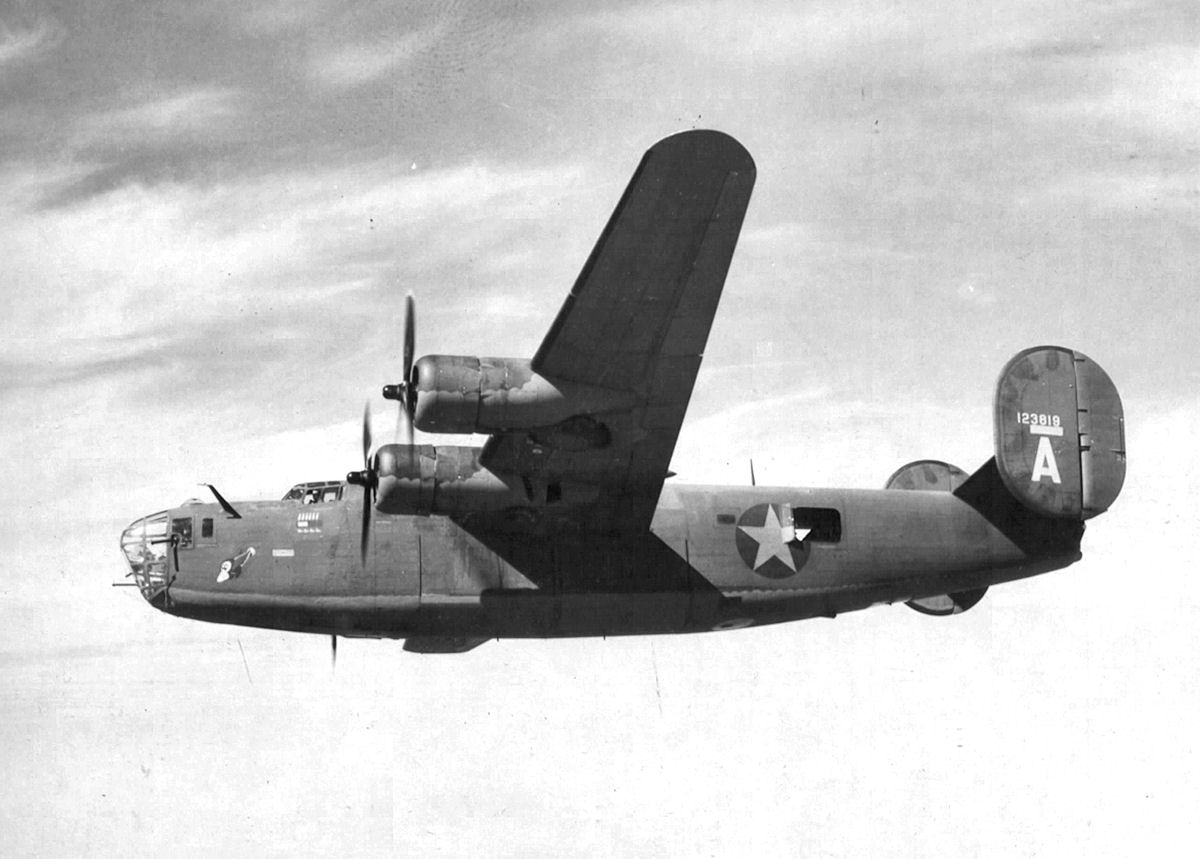 The B-24D was powered by four air-cooled, turbosupercharged, 1,829.389-cubic-inch-displacement (29.978 liters) Pratt & Whitney Twin Wasp TSC4-G (R-1830-43) two-row, fourteen-cylinder radial engines. The R-1830-43 had a compression ratio of 6.7:1 and required 100-octane aviation gasoline. The turbocharger was limited to 21,300 r.p.m. The engine's Normal Power rating was 1,040 horsepower at 2,550 r.p.m. at Sea Level, and 1,100 horsepower at 2,550 r.p.m. from 6,200 to 25,000 feet (1,890 –7,620 meters). Takeoff Power was 1,200 horsepower at 2,700 r.p.m. This was also its Military Power rating, which it could maintain to 23,400 feet (7,132 meters). The R-1830-43 drove three-bladed Hamilton Standard constant-speed, full-feathering propellers through a 16:9 gear reduction. The engine was 3 feet, 10.56 inches (1.183 meters) in diameter, 5 feet, 2.59 inches (1.590 meters) long and weighed 1,500 pounds (680 kilograms).
The B-24D had a maximum true airspeed of 307 miles per hour (494 kilometers per hour) at 25,000 feet (7,620 meters) with Military Power. The service ceiling was 34,000 feet (10,363 meters) when lightly loaded, and it could reach that altitude in 40 minutes, 6 seconds. Its maximum range was 2,380 miles (3,830 kilometers) at 210 miles per hour (338 kilometers per hour).
Various combinations of Browning AN-M2 .50-caliber machine guns were installed for defense. The standard arrangement was 1 in the nose, 2 in a power-operated dorsal turret, two at the waist, 1 in a ventral position and 2 in the tail turret. (In later models, a ball turret similar to that of the B-17, replaced the ventral gun.)
The B-24D could carry eight 1,100 pound (499 kilogram) bombs in the bomb bay, or one 4,000 pound (1,814 kilogram) bomb in an external rack under each wing.
The B-24 was the most produced bomber in history, with a total of 18,482 airplanes built by Consolidated at San Diego, California, and Fort Worth, Texas; North American at Dallas, Texas; Douglas at Tulsa, Oklahoma; and Ford at Willow Run, Michigan. 2,378 of these were B-24Ds. Ford built 6,972 B-24s, and produced kits for another 1,893 to be assembled by the other manufacturers.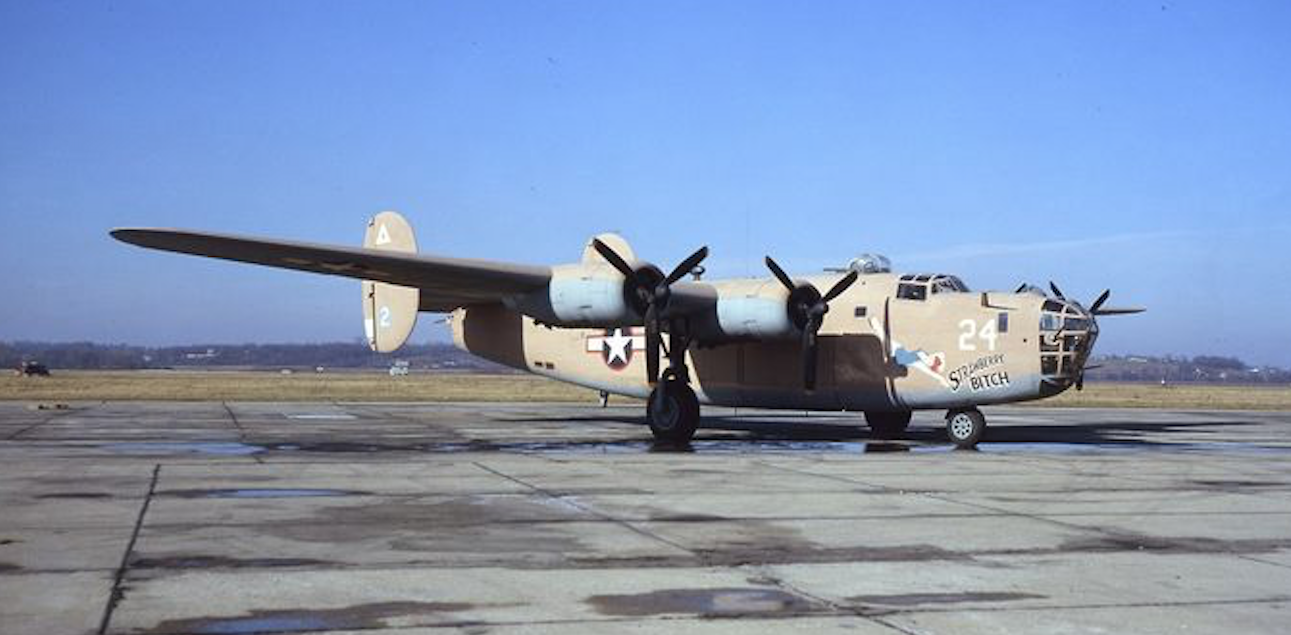 © 2018, Bryan R. Swopes