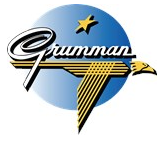 19 April 1960: Grumman Aircraft Engineering Corporation test pilot Robert K. Smyth made the first flight of the prototype YA2F-1 Intruder, Bu. No. 147864, at the Grumman Peconic River Airport (CTO), Calverton, Long Island, New York. During the flight, Smyth climbed to 15,000 feet (4,572 meters). The landing gear remained extended during the flight. At one point, Smyth attempted to retract it, but a malfunction was indicated, so they remained down and locked. The first flight lasted one hour.
During follow-on flights, Bob Smyth and project test pilot Ernie von der Heyden (who flew the photo-chase plane during the first flight) alternated left and right seats.
Bu. No. 147864 was painted gray with U.S. Navy markings before being accepted by the Navy on 29 April 1960. The airplane was lost 31 May 1960.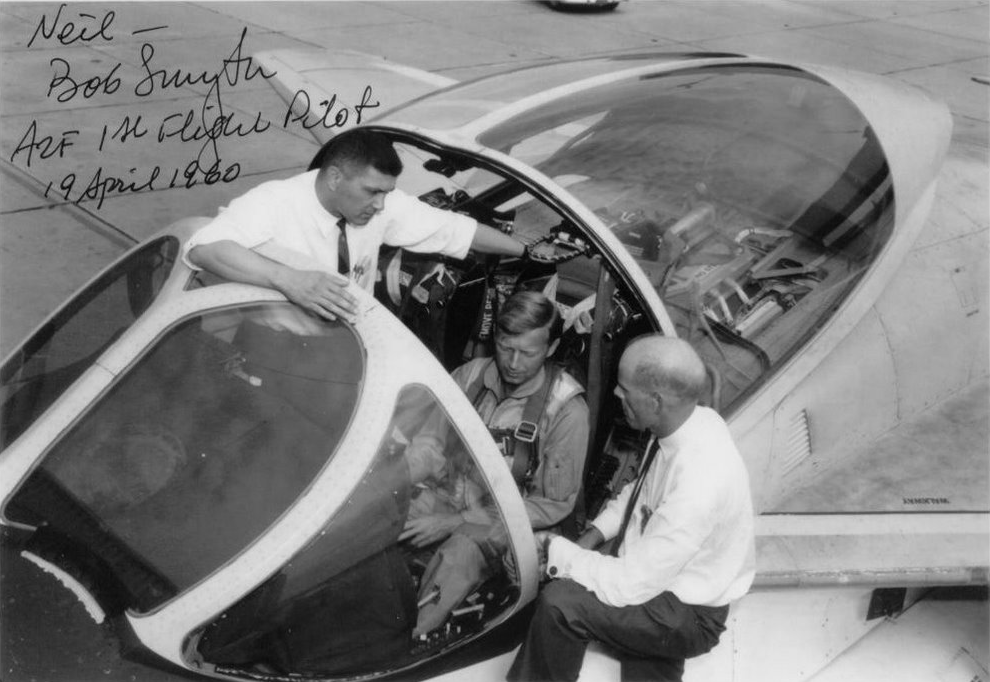 Eight Grumman YA2F-1 Intruders were built for the test program.  They were redesignated A-6A Intruder in 1962.
The Grumman A-6A Intruder was a carrier-based, all-weather attack bomber powered by two turbojet engines. It was operated by a pilot and a bombardier/navigator, or "b/n," in a side-by-side cockpit. The wings were slightly swept.
The A2F-1 was 53 feet, 3 inches (16.231 meters) long with a wing span of 53 feet, 0 inches (16.154 meters) and overall height of 15 feet, 2 inches (4.623 meters). The wings had a total area of 528.9 square feet (49.14 square meters) and were swept aft to 25° at 25% chord. The aircraft had an empty weight of 23,412 pounds (10,620 kilograms) and maximum takeoff weight of 53,278 pounds (24,166 kilograms).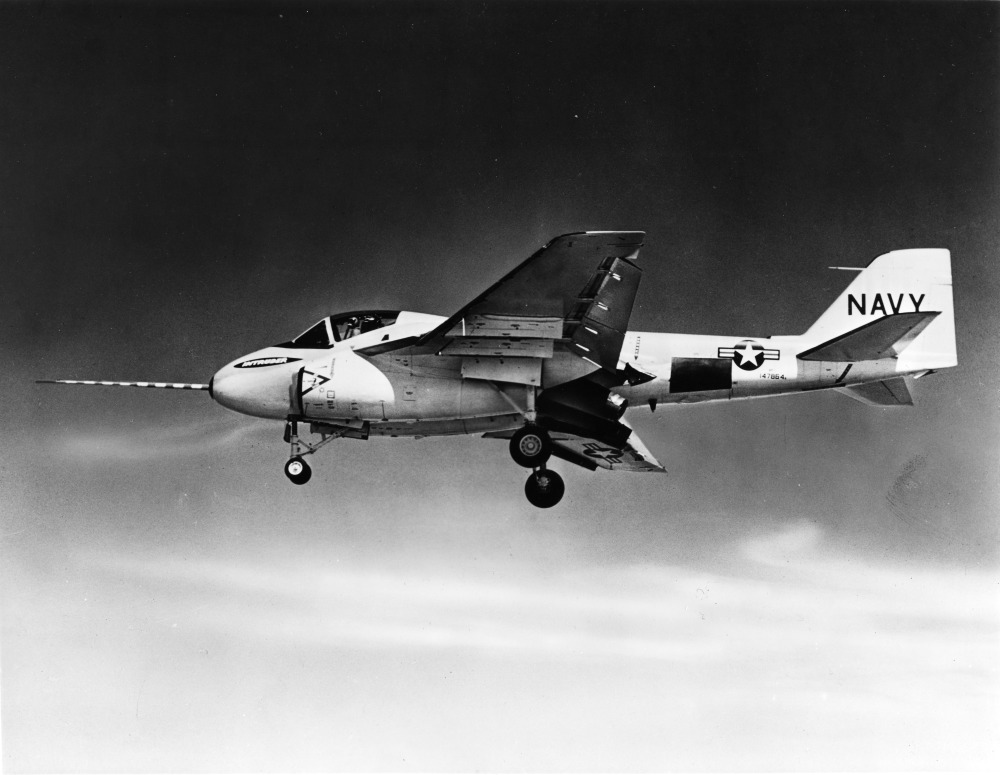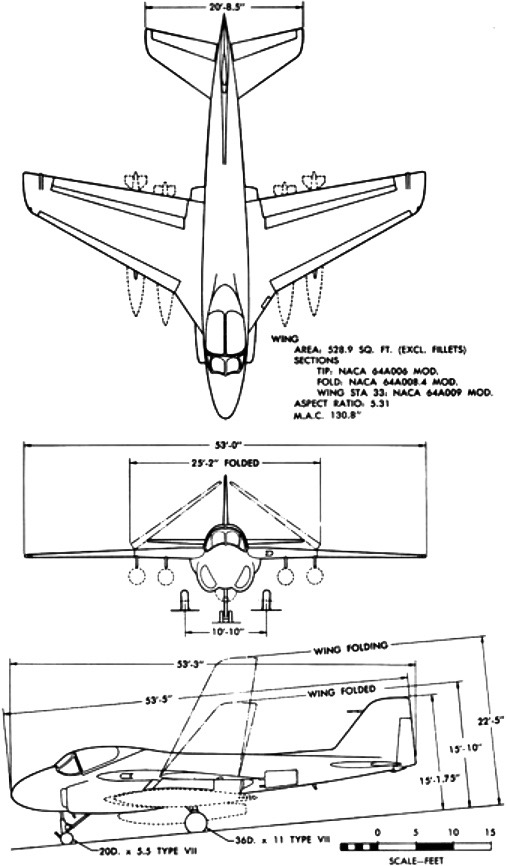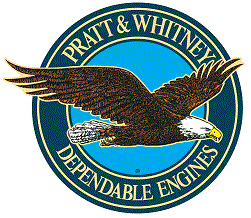 The prototypes were powered by two Pratt & Whitney J52-P-6 turbojet engines which had previously been used on the North American Aviation AGM-28 Hound Dog cruise missile. The J52 was a two-spool, axial-flow turbojet with a 12-stage compressor section (5 low- and 7 high-pressure stages) and 2-stage (1 high- and 1-low pressure stages). The engines had a normal power rating of 7,500 pounds of thrust (33.36 kilonewtons) at 11,400 r.p.m., and a maximum of 8,500 pounds (37.81 kilonewtons) at 11,650 r.p.m. The J52-P-6 was 31 inches (0.787 meters) in diameter, 127 inches (3.226 meters) long, and weighed 2,056 pounds (933 kilograms) The engine incorporated an exhaust nozzle that could be swiveled downward 23° to assist in short field takeoffs.
The A-6A had a cruise speed of 429 knots (493 miles per hour/795 kilometers per hour) at 44,450 feet (13,548 meters) and a maximum speed of 566 knots (651 miles per hour/1,048 kilometers per hour) at Sea Level. The service ceiling was 48,250 feet (14,707 meters), and the maximum range was 2,061 nautical miles (2,372 statute miles/3,817 kilometers).
The initial production Intruders could carry 18,000 pounds ( kilograms) of bombs on hardpoints under the wings. It could also carry AIM-9 Sidewinder air to air, or AGM-12 Bullpup air to ground missiles. "Special Weapons" that could be carried included Mk. 28 or Mk. 43 thermonuclear bombs.
The Intruder was a very successful combat aircraft with 693 built in attack, tanker and electronic warfare variants. They remained in service with the United States Navy until 1997.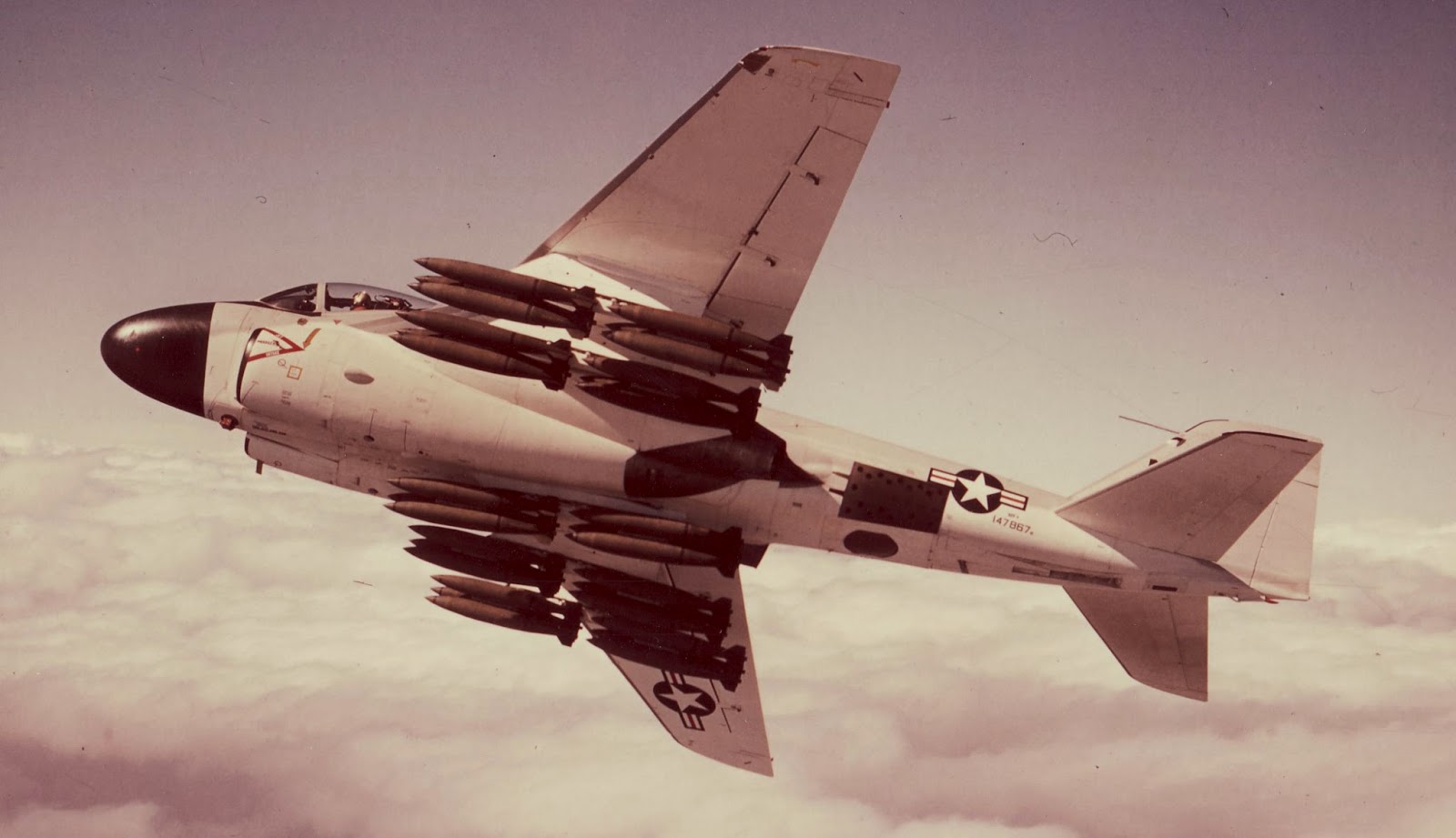 © 2019 Bryan R. Swopes