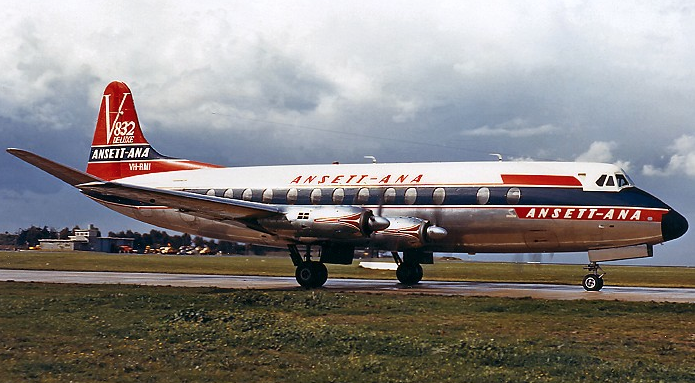 22 September 1966: Ansett-ANA Flight 149, a Vickers Viscount Type 832 medium-range airliner, registration VH-RMI, departed Mount Isa Airport (ISA) at 12:08 p.m., enroute to Longreach Airport (LRE), both located in Queensland, Australia. Captain John Kenneth Cooper was in command, with First Officer John Gillam. The two flight attendants ("air hostesses") were Beverly Heeschen, aged 24, and Narell Davis, 19. There were twenty passengers aboard.
At 12:52 p.m., Flight 149 reported, "Longreach this is Romeo Mike India on emergency descent." Two minutes later it reported that there were fire warnings for both the Number 1 and Number 2 engines. Captain Cooper radioed, "I have an engine on fire. The other is stopped and I can't feather it. Request permission to divert to Winton." [Winton Airport, WIN]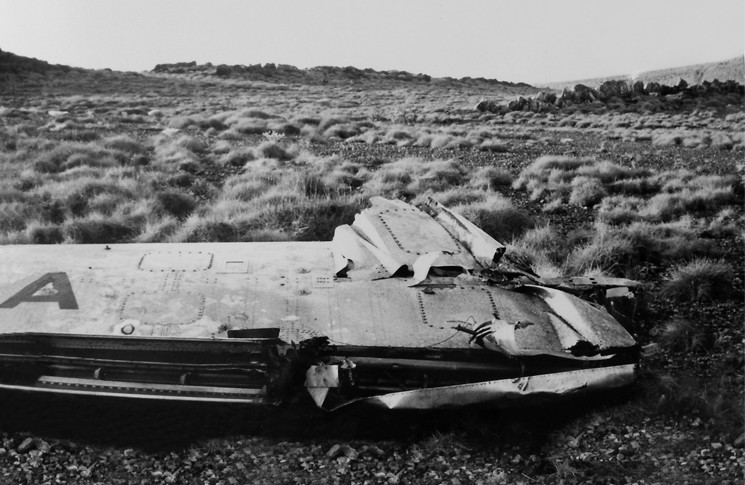 While descending between 4,000 and 3,500 feet (1,200 and 1,067 meters) above ground level (AGL) at 170 knots, the airliner's left wing failed between the Number 1 and Number 2 engines. The wing folded up and over, striking the top of fuselage which was cut open by the propeller of the Number 1 engine. The mid-cabin structure above the floor was torn away and the rear of the fuselage broke off. Air Hostesses Davis and Heeschen, along with several passengers, were pulled out of the cabin by the slipstream.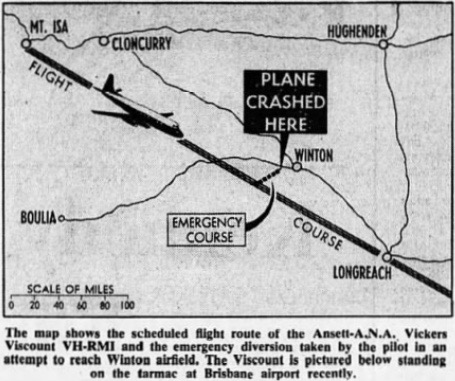 The remainder of the airplane—the forward fuselage, lower mid fuselage, right wing with engines 3 and 4, impacted the ground 11 miles (17.7 kilometers) west southwest of Winton, Queensland. The wreck was engulfed in flames. All those aboard were killed.
The accident investigation determined that the probable cause of the crash was:
The means of securing the oil metering unit to the no.2 cabin blower became ineffective and this led to the initiation of a fire within the blower, which propagated to the wing fuel tank and substantially reduced the strength of the main spar upper boom. It is probable that the separation of the oil metering unit arose from an out-of-balance condition induced by rotor break-up but the source of the rotor break-up could not be determined.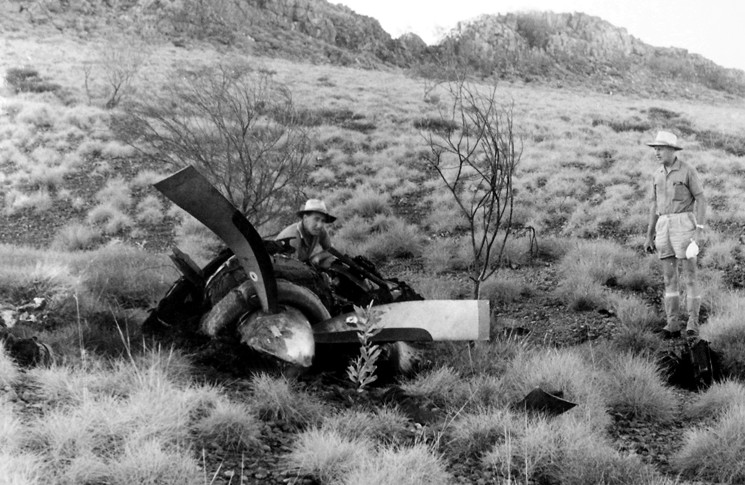 Captain Cooper had flown Consolidated PBY Catalina flying boats with the Royal Australian Air Force during World War II. He joined Ansett-ANA in 1951. At the time of the accident, he had a total of approximately 14,300 flight hours. Captain Roland E. Black, who had conducted Cooper's last airline proficiency check, described him as a "well above average pilot."

The Vickers Viscount was a four-engine turboprop-powered civil transport which first flew in 1948. It was in production from 1948 to 1963 with 445 airplanes built. VH-RMI was a  Vickers Viscount Type 832, one of three built for Ansett-ANA in 1959 by Vickers-Armstrongs, Ltd., at Bournemouth-Hurn Airport, Dorset, England. It was operated by a flight crew of 2 and had 56 passenger seats, of which 4 were in a rear lounge. In the seven-and-a-half  years since its first flight, VH-RMI had accumulated 18,634 flight hours.
The airliner was 85 feet, 6 inches (26.060 meters) long with a wingspan of 93 feet, 8 inches (29.464 meters) and overall height of 26 feet, 9 inches (8.153 meters). Empty weight of the similar Type 810 was 41,276 pounds (18,723 kilograms) and its maximum takeoff weight was 67,500 pounds (30,618 kilograms).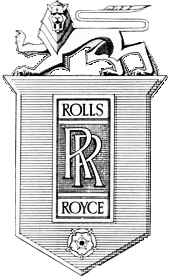 The Type 832 Viscount was powered by four Rolls-Royce RB.53 Dart Mk.525 (RDa.7/1) turboprop engines. The Dart was an axial-flow engine with a 2-stage centrifugal compressor, 7 combustion chambers and a 3-stage turbine. The Mk.525 was rated at 1,910 shaft horsepower at 15,000 r.p.m., with 470 pounds of residual thrust (2.09 kilonewtons). It was derated to 1,800 s.h.p. for takeoff. The Dart Mk.525 is 8 feet, 1.6 inches (2.479 meters) long, 3 feet, 1.9 inches (0.963 meters) in diameter and weighed 1,207 pounds (547.5 kilograms). The turboprop engines drove four-bladed Rotol constant-speed propellers which had a diameter of 10 feet (3.048 meters).
The Viscount had a maximum speed of 352 miles per hour (567 kilometers per hour), range of 1,380 miles (2,221 kilometers) and service ceiling of 25,000 feet (7,620 meters).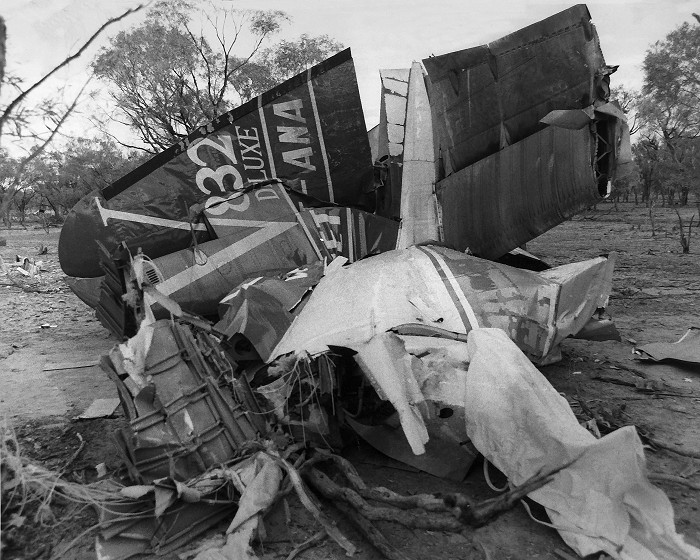 © 2018, Bryan R. Swopes