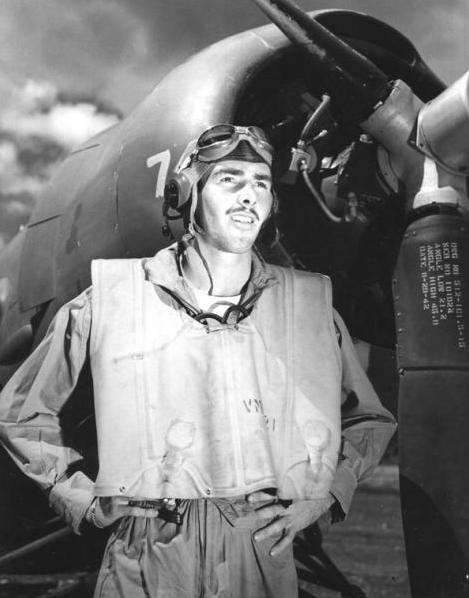 The President of the United States takes pleasure in presenting the MEDAL OF HONOR to
FIRST LIEUTENANT JAMES E. SWETT
UNITED STATES MARINE CORPS RESERVE
for service as set forth in the following CITATION:
For conspicuous gallantry and intrepidity at the risk of his life above and beyond the call of duty, as a division leader in Marine Fighting Squadron TWO TWENTY-ONE in action against enemy Japanese aerial forces in the Solomon Islands Area, April 7, 1943. In a daring flight to intercept a wave of 150 Japanese planes, First Lieutenant Swett unhesitatingly hurled his four-plane division into action against a formation of fifteen enemy bombers and during his dive personally exploded three hostile planes in mid-air with accurate and deadly fire. Although separated from his division while clearing the heavy concentration of anti-aircraft fire, he boldly attacked six enemy bombers, engaged the first four in turn, and unaided, shot them down in flames. Exhausting his ammunition as he closed the fifth Japanese bomber, he relentlessly drove his attack against terrific opposition which partially disabled his engine, shattered the windscreen and slashed his face. In spite of this, he brought his battered plane down with skillful precision in the water off Tulagi without further injury. The superb airmanship and tenacious fighting spirit which enabled First Lieutenant Swett to destroy eight enemy bombers in a single flight were in keeping with the highest traditions of the United States Naval Service.
/S/ FRANKLIN D. ROOSEVELT
James Elms Swett was born at Seattle, Washington, 15 June 1920, the first of three children of George Elms Swett, an electrical engineer and U.S. Marine Corps reservist, and Nellie Emily Burns Swett. He grew up in San Mateo, California, where he attended San Mateo High School and the College of San Mateo. While in college, Swett learned to fly through the Civilian Pilot Training Program.
Swett enlisted in the United States Navy as a Seaman 2nd Class, 26 August 1941. He had brown hair and blue eyes, was 5 feet, 11 inches (1.803 meters) tall and weighed 154 pounds (69.9 kilograms). Seaman Swett was assigned to flight training as an Aviation Cadet at NAS Corpus Christi, Texas. While in training, Sweet elected to serve as a U.S. Marine Corps officer. On completion of flight training, James Swett was awarded the gold wings of a Naval Aviator and commissioned a Second Lieutenant, United States Marine Corps Reserve, 1 April 1942. He was then sent to MCAS Quantico at Quantico, Virginia, for advanced training.
In July 1942, 2nd Lieutenant Swett was placed under arrest for a period of ten days for "diving and zooming over traffic" below 500 feet (152 meters), along U.S. Route 1. He was then transferred to an air station in Florida.
Swett was next assigned to Marine Fighting Squadron 221 (VMF-221), Marine Air Group 21 (MAG-21), 1st Marine Air Wing, Fleet Marine Force. In March 1943, the squadron deployed from Hawaii to the South Pacific aboard the Bogue-class escort carrier USS Nassau (CVE-16), arriving at Espiritu Santo, New Hebrides, in late March. VMF-221 then flew on to Henderson Field, Guadalcanal, in the Solomon Islands.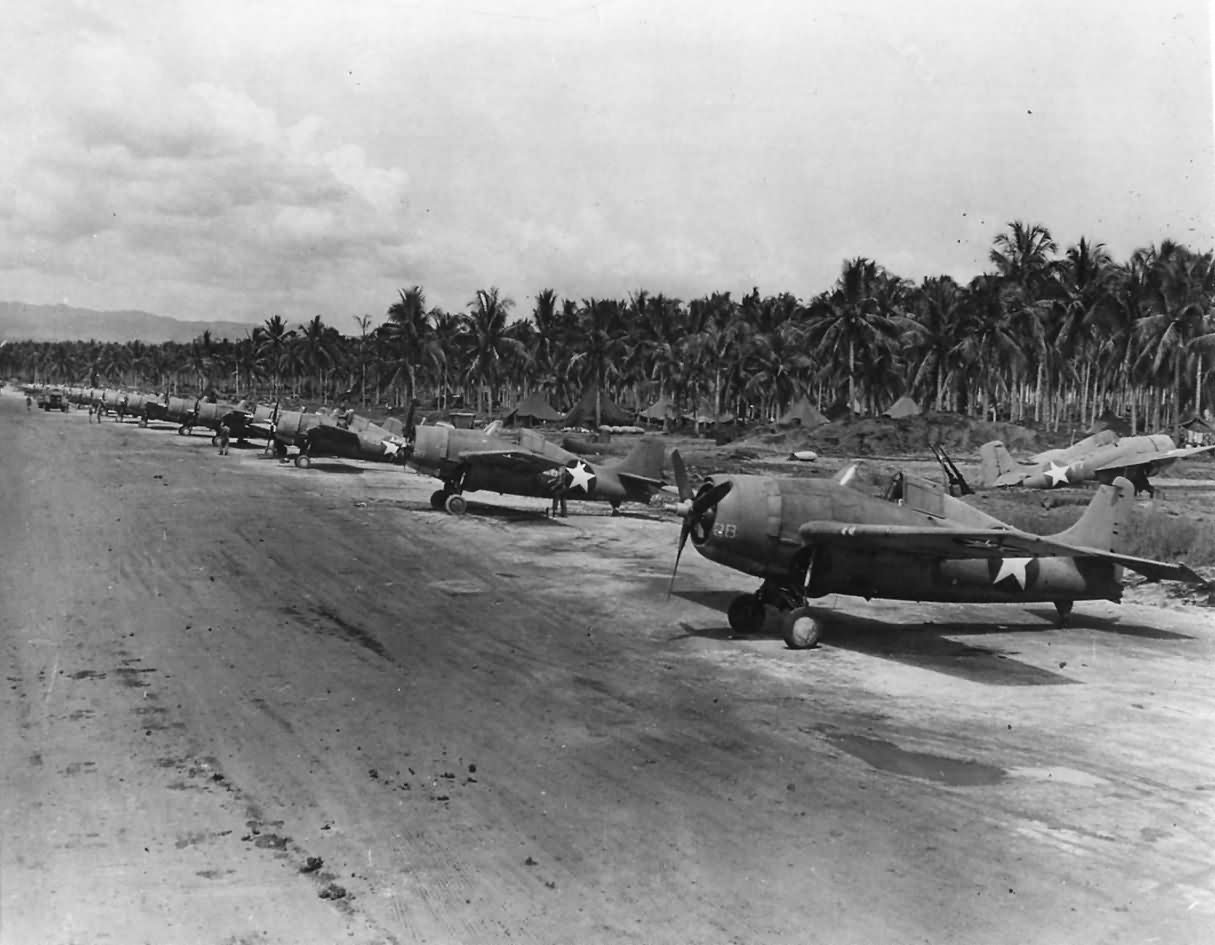 On the morning of 7 April 1943, Lieutenant Swett led a four-plane flight of Wildcats on a patrol, then returned to refuel at Henderson Field. While his fighter, Grumman F4F-4 Wildcat, Bu. No. 12084, was being serviced, word came of a large group of enemy aircraft approaching from the north. Swett and his flight joined a number of other fighters to intercept the attacking enemy aircraft.
Near the Russell Islands, about 30 miles (48 kilometers) northwest of Guadalcanal, the American fighters came in contact with an estimated 150 enemy aircraft. Swett, in combat for the first time, quickly engaged three Aichi D3A Type 99 (American reporting name, "Val") dive bombers. He shot them down. Becoming separated from his flight, he continued to engage the enemy, shooting down several more. His right wing was damaged by American anti-aircraft guns, but he continued. Having shot down seven Vals, he engaged an eighth. The Val's gunner fired his two 7.7 mm machine guns in defense. By this time, Swett was running out of ammunition, but his final bullets killed the enemy gunner and set the Aichi on fire. Machine gun bullets fired from the Val damaged his windshield, punctured an engine oil cooler and set the Wildcat on fire.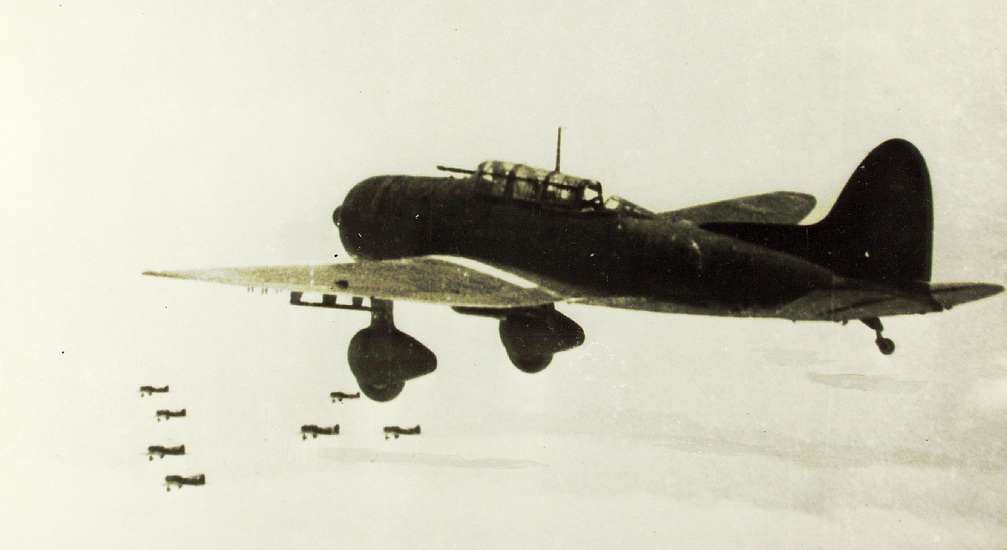 Unable to make it back to Henderson, Swett ditched in the ocean near Tulagi. The airplane quickly sank. It was about 25 feet (7 meters) down before Swett was able to escape from the Wildcat's cockpit. He was picked up by a U.S. Coast Guard patrol boat. Lieutenant Swett was listed as wounded in action.
During only fifteen minutes, 2nd Lieutenant Swett destroyed seven enemy aircraft and damaged an eighth.¹ He had become an "Ace in One Day."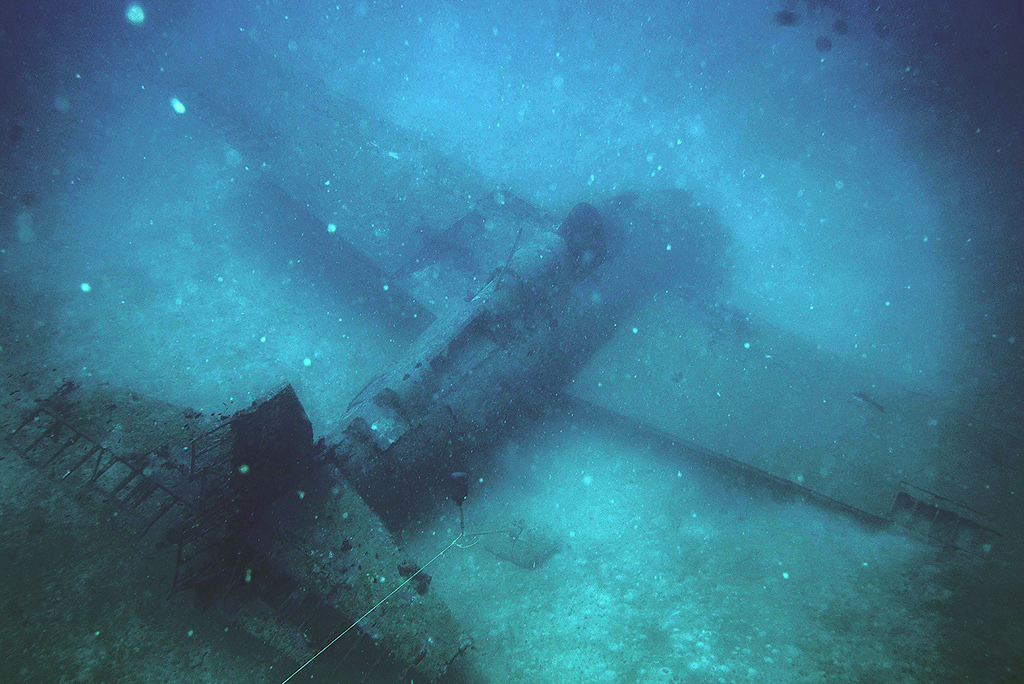 Swett was promoted to 1st Lieutenant and transitioned to the Chance Vought F4U-1 Corsair. He shot down four Mitsubishi G4M "Betty" twin-engine medium bombers and an A6M Zero, before being shot down again near New Georgia, 10 July 1943. He returned to combat in October, shot down two more Val dive bombers and a Kawasaki Ki-61 Hien Type 3 fighter, known to Allied forces as "Tony."
During a ceremony held at Espiritu Santo, 10 October 1943, Major General Ralph Johnson Mitchell, commanding the 1st Marine Air Wing, presented First Lieutenant James Elms Swett, United States Marine Corps Reserve, the Medal of Honor.
In 1944, Captain Swett was returned to the United States, and was training with VMF-221 at MCAS Santa Barbara, California. He would meet President Franklin D. Roosevelt at the White House during the Spring.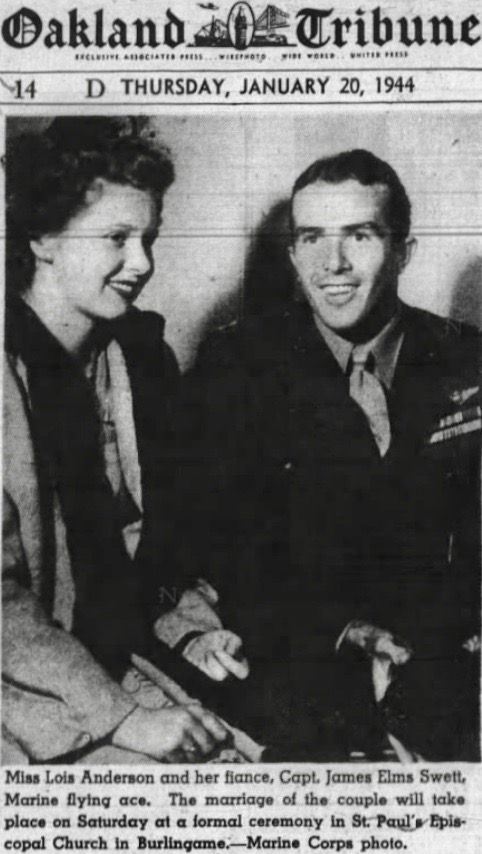 Captain Swett married Miss Lois Aileen Anderson 22 January 1944 at St. Paul's Episcopal Church in Burlingame, California. They would later have two sons, both of whom would go on to become Marine Corps officers.
After retraining in Southern California, VMF-221 returned to the War, assigned to the Essex-class aircraft carrier USS Bunker Hill (CV-17) in the western Pacific.
On the morning of 11 May 1945, Captain Swett was flying a combat air patrol in an F4U-1D Corsair, when the fleet was attacked by kamikaze suicide aircraft. Swett shot down a Yokosuka D4Y Suisei ("Judy") dive bomber.
During this attack, Bunker Hill was hit by two successive kamikazes and suffered catastrophic damage. 346 men were killed in action, 43 missing in action and 264 wounded. The carrier would survive, but was out of action for the remainder of the war.
Unable to land aboard their carrier, Captain Swett organized the airplanes still airborne and led them to USS Enterprise (CV-6).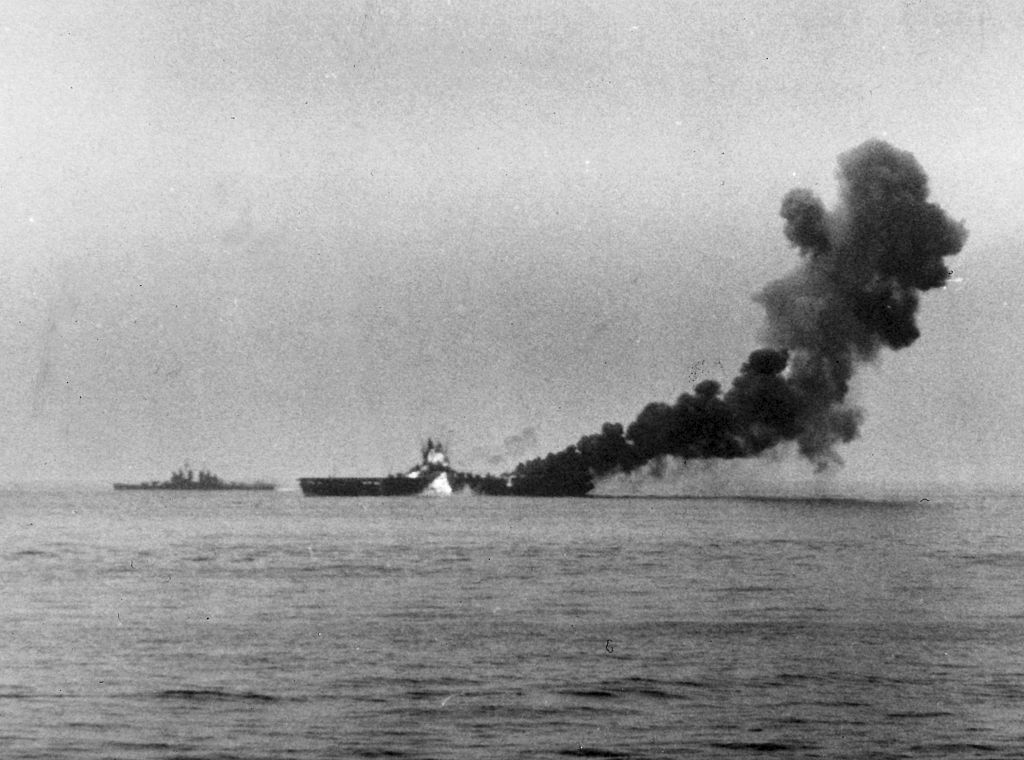 During World War II, Major Swett flew 103 combat missions. He is officially credited with 15.5 aerial victories.
Following World War II, Major Swett remained in the Marine Corps Reserve. In 1949, he took command of Marine Fighting Squadron 141 (VMF-141) at NAS Oakland. He was recalled to active duty during the Korean War, but was not sent to the war zone.
James Swett rose to the rank of Colonel. He retired from the Marine Corps in 1970.
In addition to the Medal of Honor, during his career in the Marine Corps, Colonel Swett was awarded the Distinguished Flying Cross with gold star (2 awards); Purple Heart with gold star (2 awards); Air Medal with 4 gold stars (5 awards); Navy Combat Action Ribbon; Presidential Unit Citation with 2 bronze stars (3 awards); Navy Unit Commendation Ribbon; Asiatic-Pacific Campaign Medal with 1 gold star and 1 silver star (6 campaigns); World War II Victory medal; and the Armed Forces Reserve Medal with silver hourglass device (20 years of service).
Colonel James Elms Swett, United States Marine Corps Reserve (Retired), died at Mercy Medical Center in Redding, California, 18 January 2009, at the age of 88 years. He was buried at the Northern California Veterans Cemetery, Igo, California.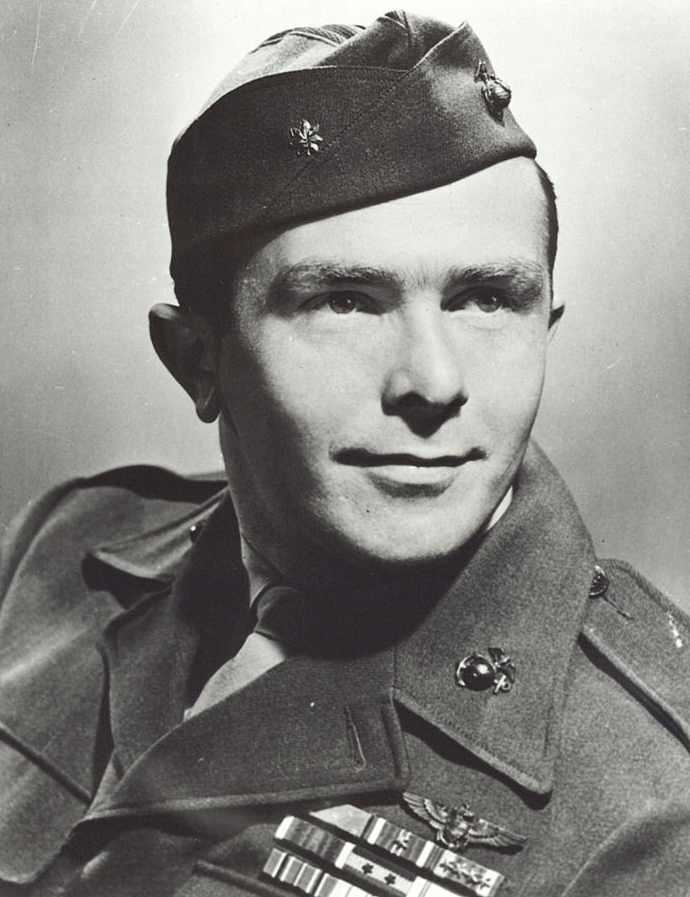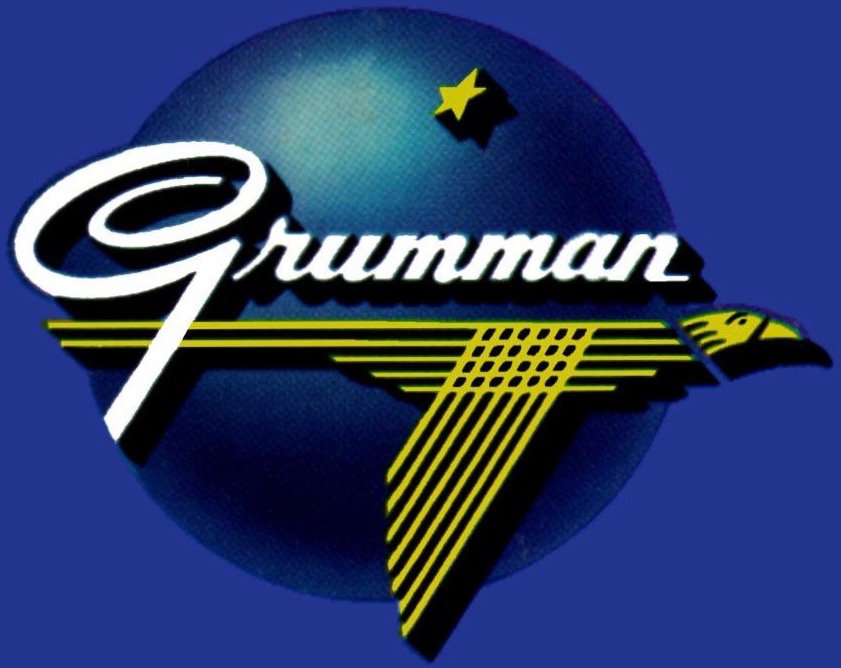 The Grumman F4F-4 Wildcat was a single-engine, single place mid-wing monoplane with retractable landing gear, designed for operations from United States Navy aircraft carriers. The wings could be fold alongside the fuselage for storage.
The F4F-4 was 28 feet, 10-5/8 inches (8.804 meters) long with a wingspan of 38 feet, 0 inches (11.582 meters) and height of 12 feet, 1-3/8 inches (3.693 meters). The Wildcat's wing had 0° angle of incidence. The fixed, inner wing has 0° dihedral, while the outer wing panels have 5° dihedral. There is no sweep. The width of the airplane with its wings folded was 14 feet, 6 inches (4.420 meters). The fighter's empty weight was 5,895 pounds (2,674 kilograms), and the gross weight, 7,975 pounds (3,618 kilograms).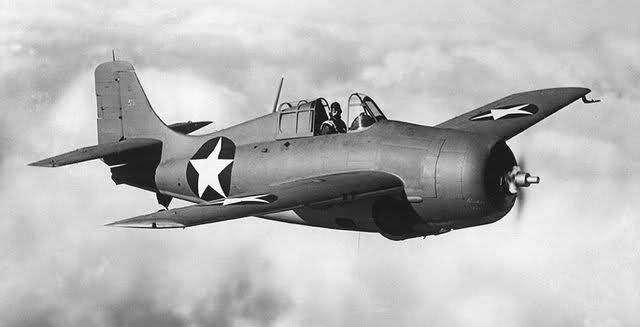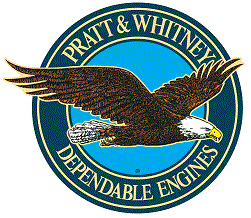 The F4F-4 was powered by an air-cooled, supercharged, 1,829.399-cubic-inch-displacement (29.98 liter) Pratt & Whitney Twin WaspSSC7-G (R-1830-86) two-row, fourteen cylinder radial engine with a compression ratio of 6.7:1. The R-1830-86 was rated at 1,100 horsepower at 2,550 r.p.m. at 3,500 feet (1,067 meters), 1,000 horsepower at 2,550 r.p.m. at 19,000 feet (5,791 meters), and 1,200 horsepower at 2,700 r.p.m. for takeoff, burning 100-octane gasoline. The engine drove a three-bladed Curtiss Electric propeller with a diameter of 9 feet, 9 inches (2.972 meters) through a 3:2 gear reduction. The R-1830-86 was 5 feet, 7.44 inches (1.713 meters) long, 44 feet, 0.19 inches (1.224 meters) in diameter, and weighed 1,560 pounds (708 kilograms).
The F4F-4 Wildcat had a maximum speed 275.0 miles per hour (442.6 kilometers per hour) at Sea Level, and 318.0 miles per hour (511.8 kilometers per hour) at 19,400 feet (5,913 meters). Its service ceiling was 34,800 feet (10,607 meters), and it had a maximum range of 765 miles (1,231 kilometers).
The F4F-4 was armed with six air-cooled Browning AN-M2 .50-caliber machine guns mounted in the wings with 1,440 rounds of ammunition.
Between February 1940 and August 1945, 7,898 Wildcats were produced by the Grumman Aircraft Engineering Corporation, Bethpage, New York, and General Motors Eastern Aircraft Division at Linden, New Jersey.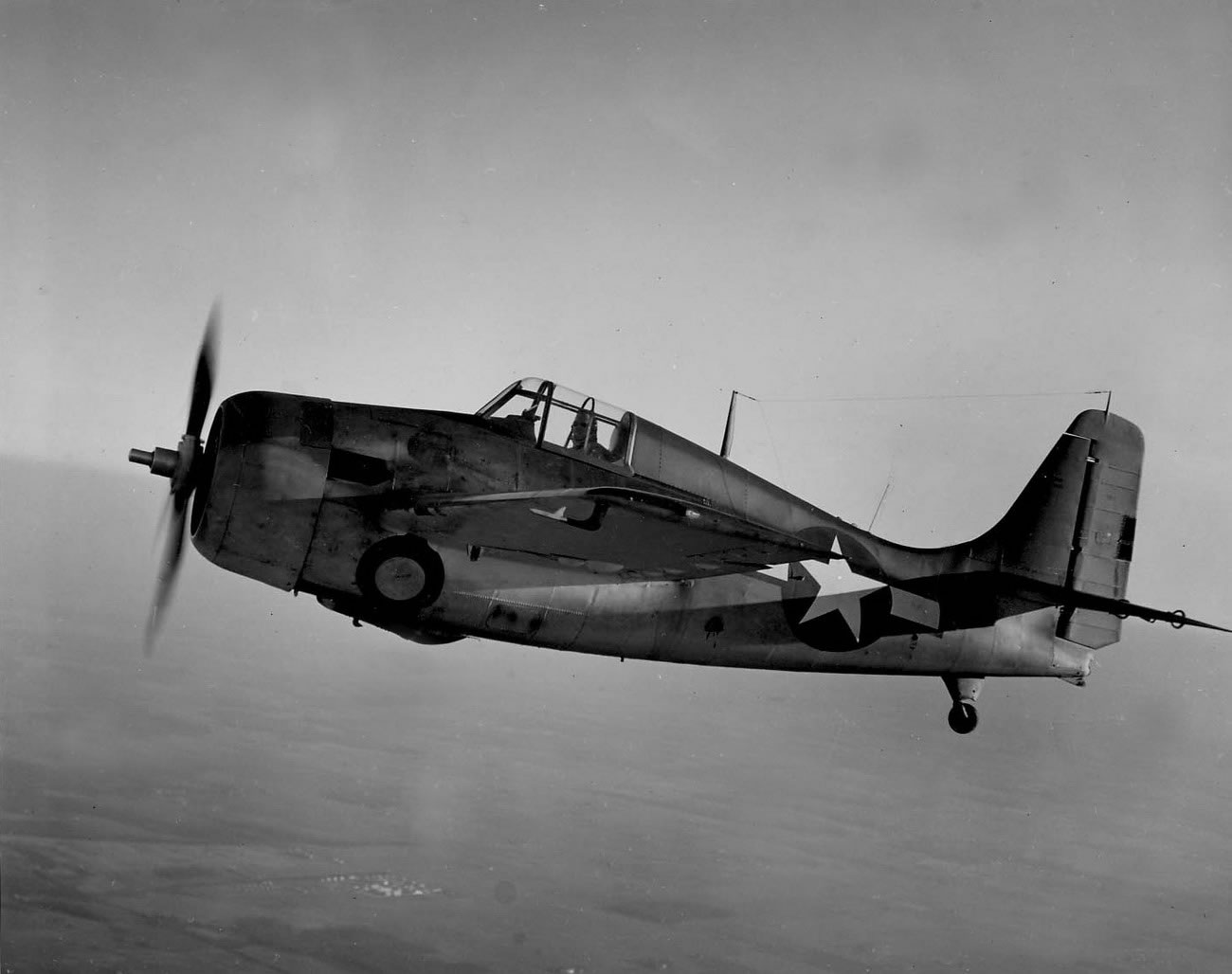 ¹ Various reliable sources give different values for the number of enemy aircraft shot down by 2nd Lieutenant Swett on 7 May 1943, with the most common being five. Swett claimed eight destroyed, and this is reflected in his Medal of Honor citation. The intelligence officer who investigated determined that his claims were valid. The USMC History Division credits seven enemy aircraft destroyed: "Colonel James Elms Swett, of San Mateo, California, earned the Medal of Honor in World War II for shooting down seven Japanese bombers within 15 minutes."
© 2018, Bryan R. Swopes