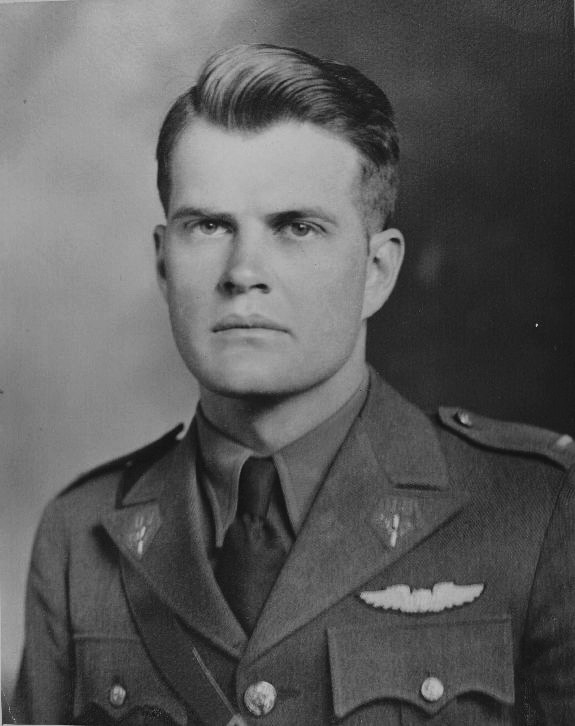 18 September 1948: The first delta-winged aircraft took flight for the first time when Consolidated-Vultee Aircraft Corporation test pilot Ellis D. "Sam" Shannon lifted off from Muroc Dry Lake with the prototype delta-wing XF-92A, serial number 46-682. For the next 18 minutes he familiarized himself with the new aircraft type, before landing back on the lake bed.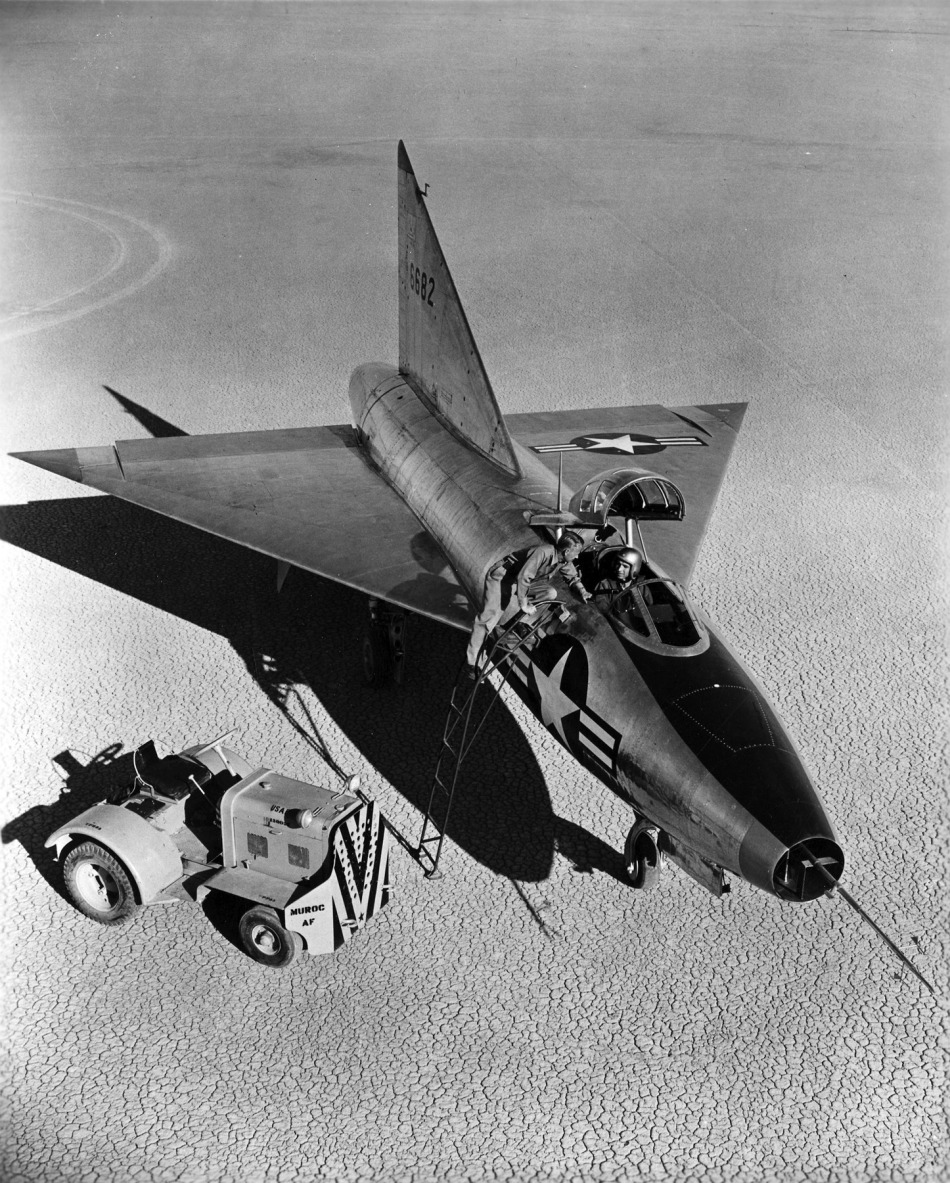 Later, with Captain Chuck Yeager flying, the XF-92A reached Mach 1.05. Yeager found that the airplane's delta wing made it nearly impossible to stall, even with a 45° angle of attack. He was able to land the airplane at nearly 100 miles per hour slower than the designers had predicted.
The XF-92A was a difficult airplane to fly. NACA test pilot Scott Crossfield commented, "Nobody wanted to fly the XF-92. There was no lineup of pilots for the airplane. It was a miserable flying beast." Scotty made 25 flights in the experimental delta-winged aircraft. On its last flight, 14 October 1953, the airplane's nose gear collapsed after landing. The XF-92A was damaged and never flew again.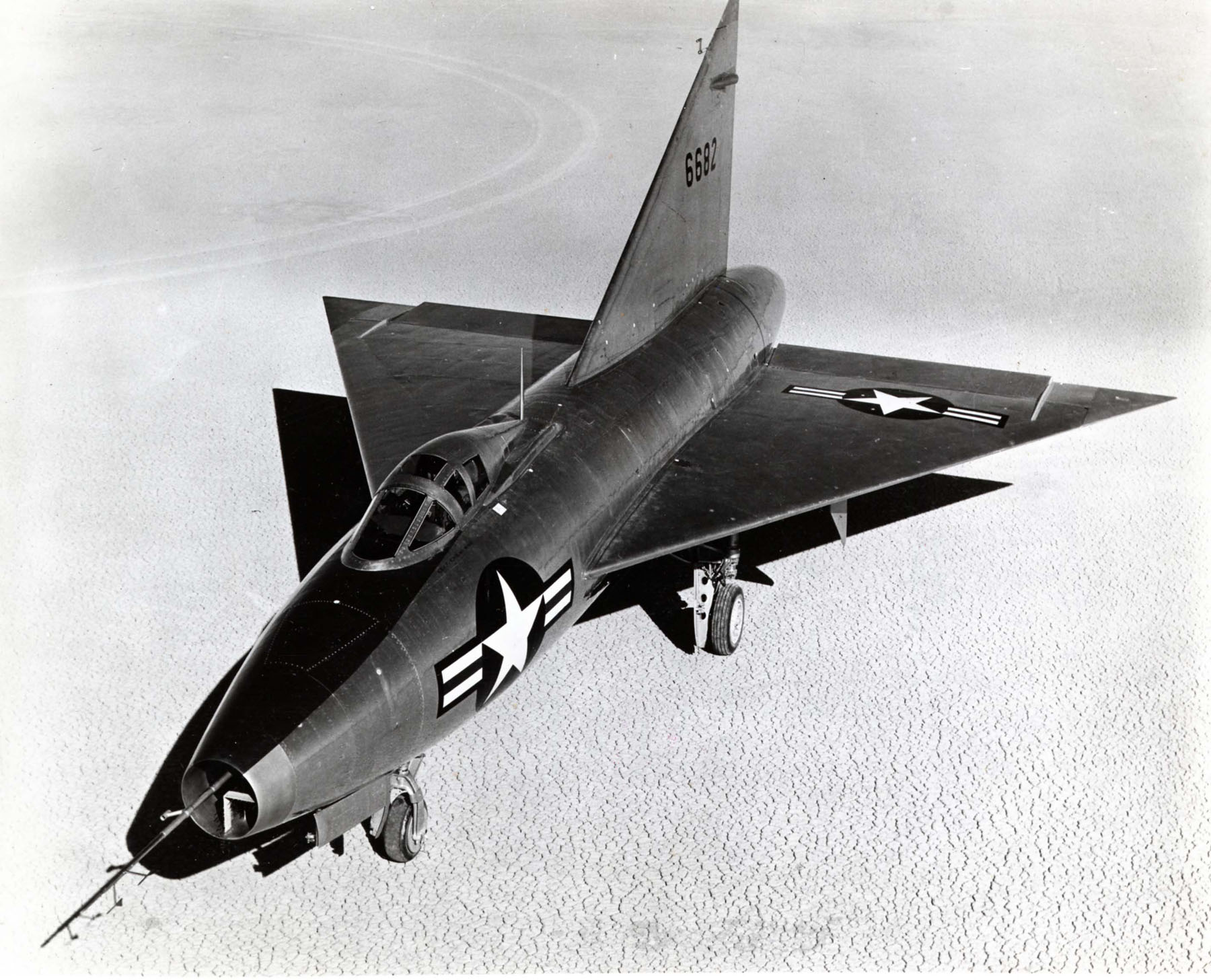 The XF-92A (Consolidated-Vultee Model 7-002) was a single-place, single-engine prototype fighter. The airplane was 42 feet, 6 inches (12.954 meters) long with a wingspan of 31 feet, 4 inches (9.550 meters) and overall height of 17 feet, 9 inches (5.410 meters). It had an empty weight of 9,078 pounds (4,118 kilograms) and gross weight of 14,608 pounds (6,626 kilograms).
The prototype was originally powered by an Allison J33-A-21 turbojet engine with a single-stage centrifugal flow compressor and single-stage turbine. It produced 4,250 pounds of thrust at 11,500 r.p.m. at Sea Level. The engine was 8 feet, 6.9 inches (2.614 meters) long, 4 feet, 2.5 inches (1.283 meters) in diameter, and weighed 1,850 pounds (839 kilograms). This was later replaced by a more powerful J33-A-29 (7,500 pounds thrust).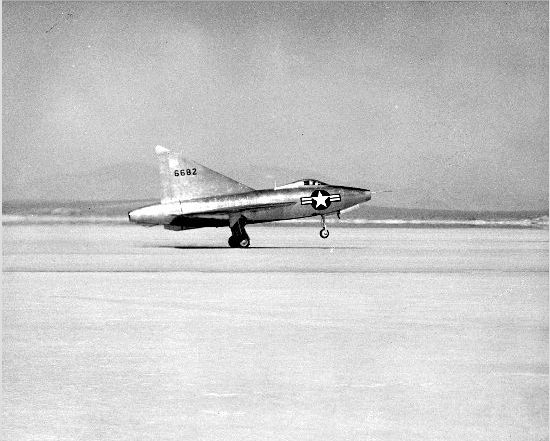 The XF-92A had a maximum speed of 718 miles per hour (1,156 kilometers per hour) and a service ceiling of 50,750 feet (15,469 meters).
The XF-92A was not put into production. It did appear in several motion pictures, including "Toward The Unknown" (one of my favorites) and "Jet Pilot." It is in the collection of the National Museum of the United States Air Force. This was the first of several Convair delta-winged aircraft, including the F2Y Sea Dart, F-102A Delta Dagger and F-106A Delta Dart supersonic interceptors, and the B-58A Hustler four-engine Mach 2+ strategic bomber.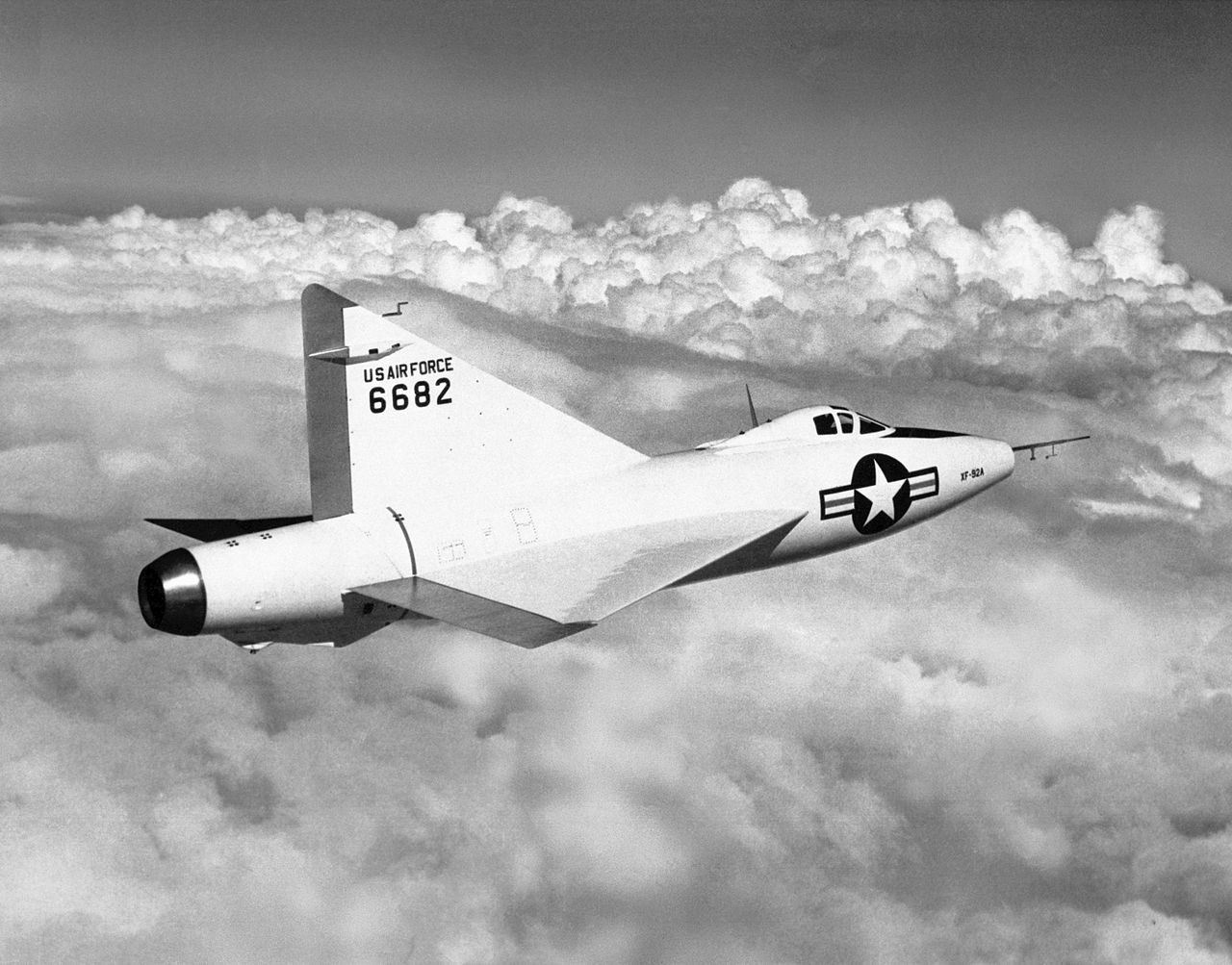 Consolidated-Vultee XF-92A 46-682 is displayed at the National Museum of the United States Air Force, Wright-Patterson Air Force Base, Ohio.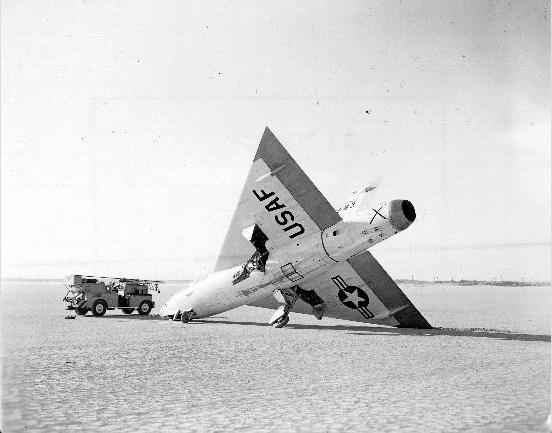 Ellis Dent Shannon was born at Andalusia, Alabama, 7 February 1908. He was the third of five children of John William and Lucy Ellen Barnes Shannon.
He was commissioned as a second lieutenant the Alabama National Guard (Troop C, 55th Machine Gun Squadron, Cavalry) 21 May 1926. He transferred to the U.S. Army Air Corps in 1929. In 1930, he was stationed at Brooks Army Airfield, Texas.
In 1932 Shannon was employed was assigned as a flight instructor and an advisor to the government of China.
On 24 December 1932, Shannon married Miss Martha Elizabeth Reid at Shanghai, China. They had son, Ellis Reid Shannon, born at Shanghai, 24 August 1934, and a daughter, Ann N. Shannon, born at Baltimore, Maryland, in 1940.
Shannon and his family returned to the United States in 1935 aboard SS Bremen, arriving at New York.
He was employed by the Glenn L. Martin Co., at Baltimore, Maryland, in 1936 as a test and demonstration pilot. He travel throughout Latin America for the company, demonstrating the company's aircraft. As a test pilot he flew the Martin Model 187 Baltimore, the B-26 Marauder, PBM Mariner and the Martin JRM Mars.
In February 1943, Shannon started working as a Chief of Flight Research for the Consolidated Aircraft Company at San Diego, California. While there, made the first flights of the Consolidated XB-24K, a variant of the Liberator bomber with a single vertical tail fin; the XR2Y-1, a prototype commercial airliner based on the B-24 Liberator bomber; the XB-46 jet-powered medium bomber; the XP5Y-1 Tradewind, a large flying boat powered by four-turboprop-engines; the Convair 340 Metropolitan airliner; and the XF2Y Sea Dart, a delta-winged seaplane powered by two turbojet engines. Shannon also participated in the flight test program of the YF-102A Delta Dart.
After retiring from Convair in 1956, Ellis and Martha Shannon remained in the San Diego area. Ellis Dent Shannon died at San Diego, California, 8 April 1982 at the age of 74 years.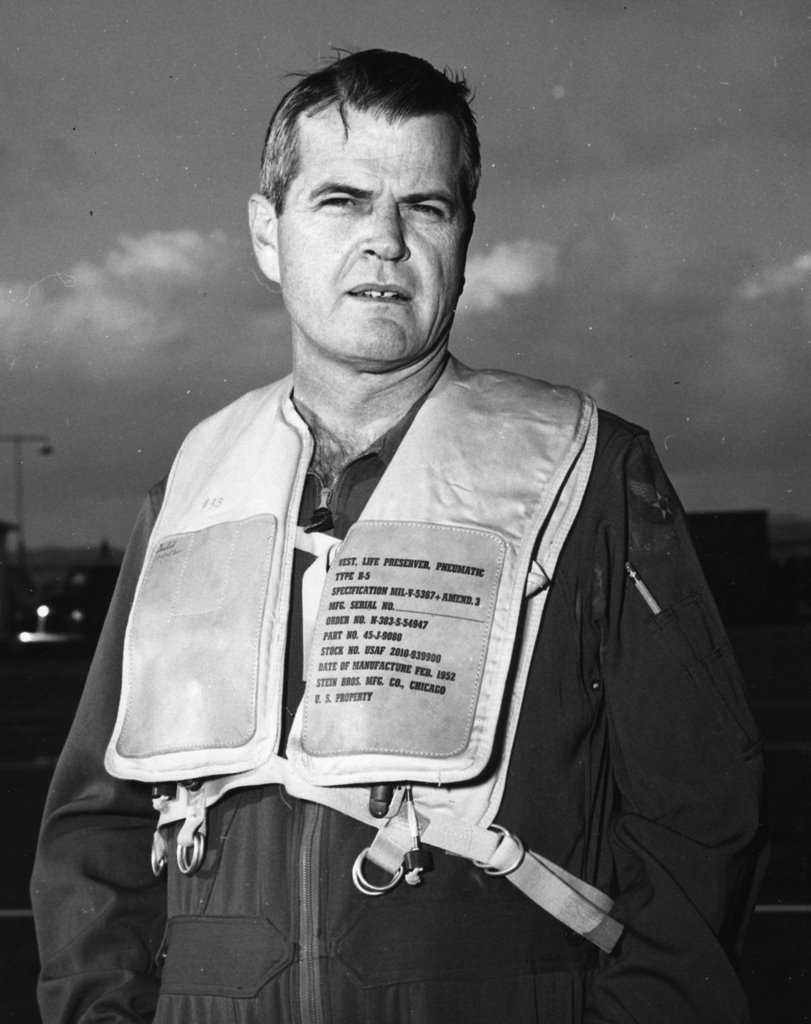 © 2017, Bryan R. Swopes