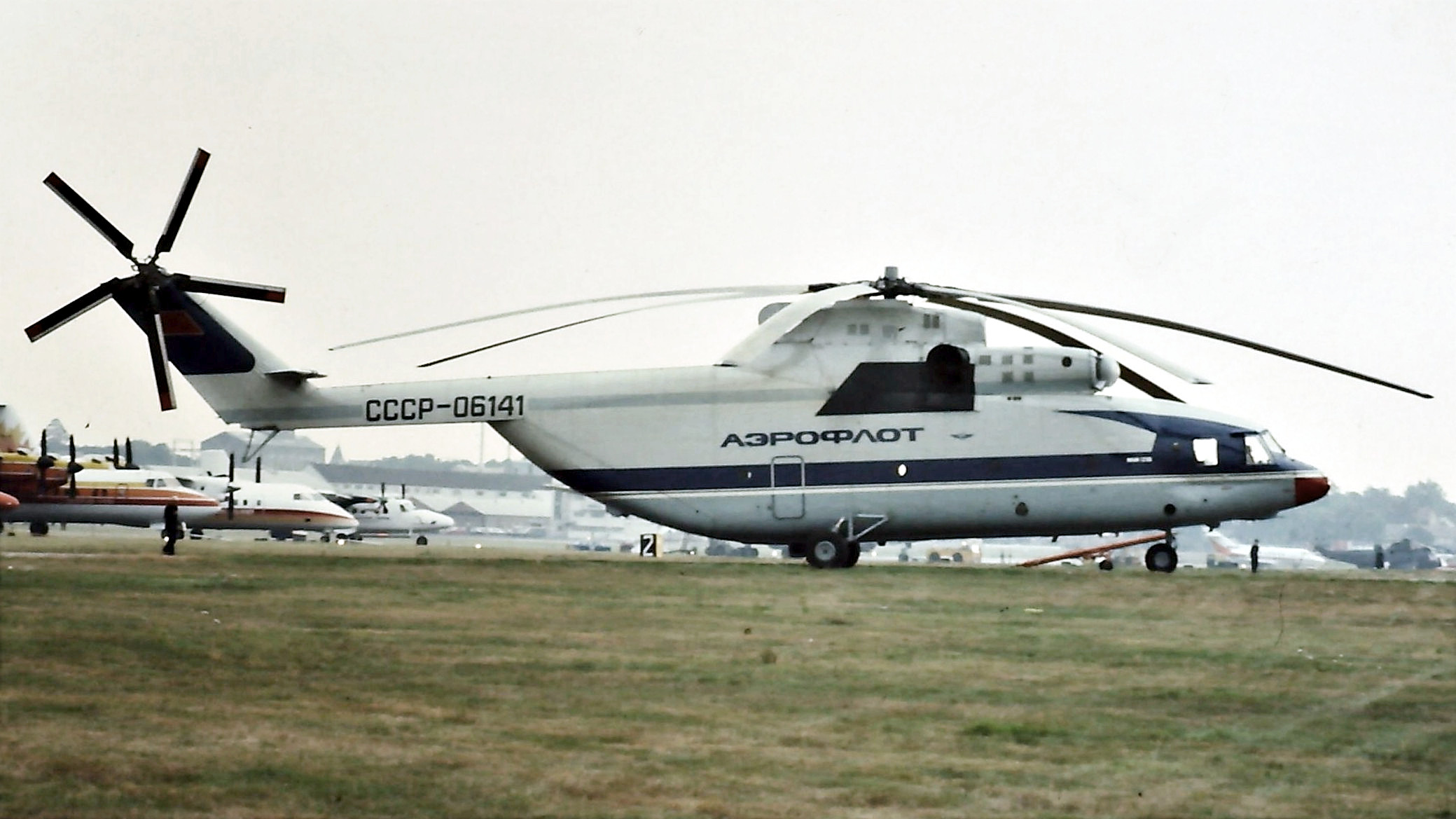 2–4 February 1982: Over a three-day period, several flight crews set a series of Fédération Aéronautique Internationale (FAI) payload-to-altitude world records at Podmoskovnoe. They flew an OKB Mil Design Bureau Mi-26 heavy lift helicopter.
On 4 February, Colonel Sergey V. Petrov and A. Chetverik lifted 15,000 kilograms (33,069.4 pounds) to 5,600 meters (18,373 feet).¹ On the same day, A. Kholoupov flew the helicopter to 4,600 meters (15,092 feet) with a payload of 20,000 kilograms(44,092.5 pounds).²
The Mil Mi-26 (NATO code name: Halo) first flew on 25 October 1977. It is a twin-engine heavy-lift helicopter, normally operated by a flight crew of five, and can carry up to 90 passengers.
The Mi-26 is 40.025 meters (131 feet, 3¾ inches) long, with all rotors turning, and has a height of 8.145 meters (26 feet, 8¾ inches). The eight-bladed main rotor has a diameter of 32.00 meters (105 feet) and turns clockwise, as seen from above. (The advancing blade is on the left.) A five-bladed tail rotor is mounted on a pylon, to the right side of the aircraft, in a tractor configuration. It turns clockwise, as seen from the helicopter's left.
The helicopter has an empty weight of 28,200 kilograms (62,170 pounds), gross weight of 49,600 kilograms (109,350 pounds) and maximum weight of 56,000 kilograms (123,450 pounds). The fuel capacity is 12,000 liters (3,200 gallons).
The Mi-26 is powered by two Lotarev D-136 turboshaft engines which are rated at 8,500 kW (11,299 shaft horsepower), each. It's cruise speed is 255 kilometers per hour (158 miles per hour) and the maximum speed is 296 kilometers per hour (183 miles per hour). Range is 620 kilometers (385 miles). The service ceiling is 4,500 meters (14,765 feet).
320 Mil Mi-26 helicopters have been built.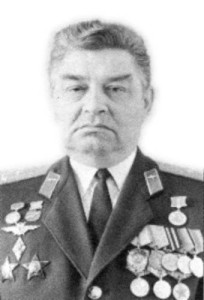 Colonel Sergey V. Petrov, Ph.D., was born at Tsaritsin (now, Volgograd), 15 October 1923. He graduated from the Air Force Special School at Stalingrad in 1941. In 1942, 7th VASHPOL, and 1943, Krasnodar WOW. From 1943to 1946, Petrov was a flight instructor for the 6th Aviation Regiment and then an instructor at Stalingrad Military Aviation College. In 1954, Petrov graduated from the N.E. Zhukovsky Air Force Engineering Academy.
From 1953 to 1984, Colonel Petrov was a test pilot at the Gosudarstvenny Krasnoznamyonnyy Air Force Scientific Research Institute. He flew the Mikoyan Gurevich MiG-19SU rocket-boosted high-altitude interceptor and the MiG 21F, the L-29 Delfin jet trainer, as well as gliders and competition sail planes. Switching to helicopters, he tested the Mil Mi-6 PZh fire-fighting helicopter, Mi-24 "Hind" attack helicopter and the Mi-26. He investigated Vortex Ring State in the Mi-8 and low-altitude autorotations in the Mi-2, Mi-4 and Mi-8. He also flew the aerobatic Yakovlev Yak-18P, the Yak-25 interceptor, the Antonov Ant-2, An-12, An-26 and Ilyushin Il-76 transports.
In 1976, Sergey Petrov was awarded the Lenin Prize, one of the the Soviet Union's most prestigious honors.
Retiring from flight status in 1984, Colonel Petrov continued to work as an engineer at OKB Mil Design.
Sergey V. Petrov died 14 December 1998 at the age of 75 years. He had been awarded the Order of the Red Banner of Labor, and twice the Order of the Red Star. He was an Honored Test Pilot of the Soviet Union.
¹ FAI Record File Number 9904
² FAI Record File Number 9906
© 2018, Bryan R. Swopes