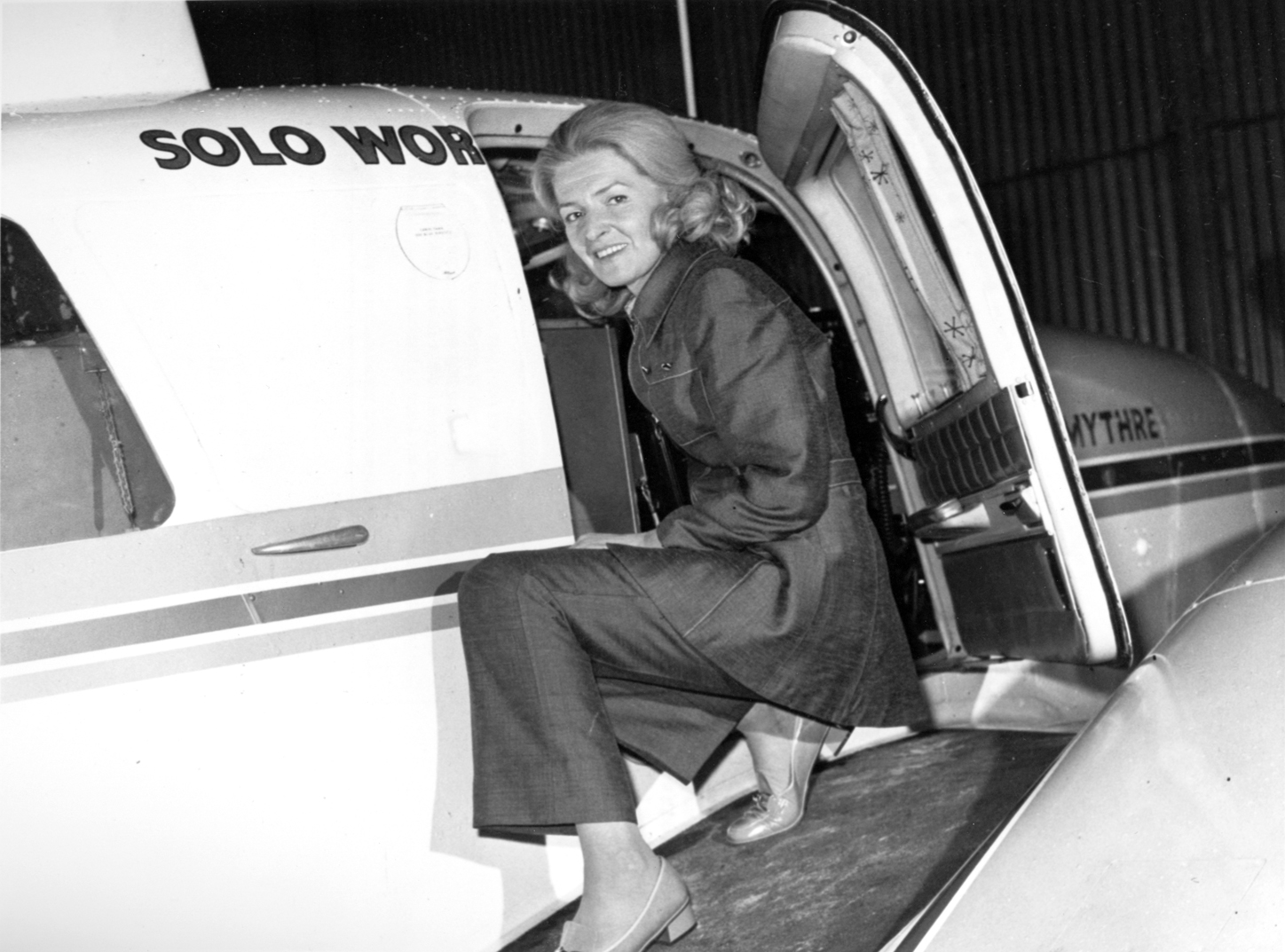 11 June 1971: Sheila Scott O.B.E. (née Sheila Christine Hopkins) departed Nairobi, Kenya, on her third solo around-the-world flight. On this flight she used a new airplane, a twin-engine Piper PA-23-250 Aztec D which she named Mythre. It carried United Kingdom registration G-AYTO. Scott used a NASA navigation and locator communication system to constantly relay her position to a Nimbus weather satellite, and from there to a ground station.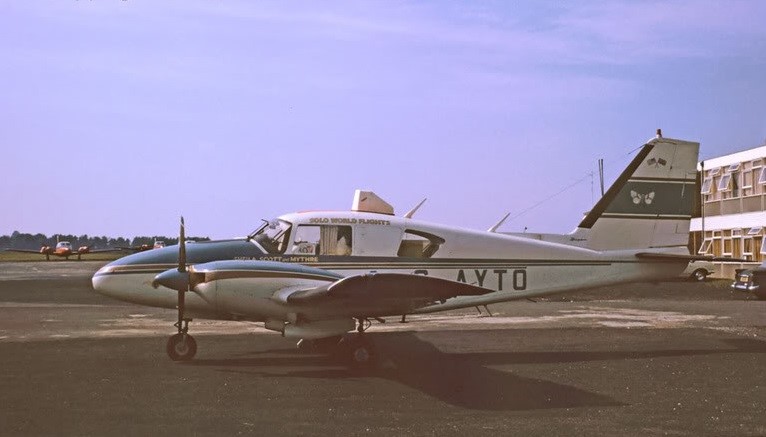 Sheila Scott planned to not only fly around the world, but to fly from the Equator, over the North Pole, and back to the Equator again. She flew her Aztec from London, England, to Nairobi, Kenya, where she began the Equator–North Pole–Equator portion of the flight.
Scott took off from Nairobi on 11 June 1971 and headed northward to Khartoum, Sudan; Bengazi, Libya; Malta; arriving back at London on 21 June. From there she continued to Bodø, Norway; Andøya, Norway; Station Nord, Greenland; across the North Pole on 28 June; then southward to Barrow, Alaska; arriving at Anchorage, Alaska, on 3 July; San Francisco, California, to Honolulu, Hawaii, on 11 July. She recrossed the Equator heading south to Canton Island. On 23 July, Mythre arrived at Nadi, Viti Levu, Fiji, and then flew on to Noumea, New Caledonia. After a stop at Townsville, Queensland, Scott arrived at Darwin, Northern Teritory, Australia, 1 August. From there she continued to Singapore; Madras, India; Karachi, Pakistan; Bahrain; Athens, Greece; and finally completed her journey at London on 4 August. The trip took 55 days.
During the circumnavigation, Sheila Scott set seven Fédération Aéronautique Internationale (FAI) World Records for Speed Over a Recognized Course: Andøya, Norway, to Station Nord, Greenland, 213.61 kilometers per hour (132.73 miles per hour) ¹; Nord to Barrow, Alaska, 183.73 km/h (114.16 mph) ²; San Francisco, California, to Honolulu, Hawaii, 236.56 km/h (146.99 mph) ³; Darwin, Northern Territory, Australia, to London, England, 160.19 km/h (99.54mph). ⁴ Three of these records remain current. ⁵

Ms. Scott's airplane was a 1971 Piper 23-250 Aztec ("Aztec D"), serial number 27-4568. The airplane was assigned the United Kingdom registration G-AYTO on 3 March 1971. The Aztec D was a six-place twin-engine light airplane based on the earlier PA-23-235 Apache, with a larger cabin and more powerful engines. It was of all-metal construction and had retractable tricycle landing gear. The Aztec D is 31 feet, 2.625 inches (9.516 meters) long with a wingspan of 37 feet, 1.750 inches (11.322 meters) and overall height of 10 feet, 3.875 inches (3.146 meters). The wing has 5° dihedral. The Aztec D has an empty weight of 3,042 pounds (1,380 kilograms) and a gross weight of 5,200 pounds (2,359 kilograms).
The Aztec D is powered by two air-cooled, fuel-injected, 541.511-cubic-inch-displacement (8.874 liter) AVCO Lycoming IO-540-C4B5 6-cylinder, horizontally-opposed, direct-drive engines. The -C4B5 has a compression ratio of 8.5:1 and a Maximum Continuous Power/Takeoff rating of 250 horsepower at 2,575 r.p.m. It weighs 374 pounds (170 kilograms). The engines drive two-bladed Hartzell constant-speed propellers with a diameter of 6 feet, 2 inches (1.880 meters).
The PA-23-250 Aztec D has a maximum structural cruising speed (VNO) of 172 knots (198 miles per hour/319 kilometers per hour) at 7,500 feet (2,286 meters) and maximum speed (VNE) of 216 knots 249 miles per hour (400 kilometers per hour). The service ceiling is 19,800 feet (6,035 meters). With standard fuel capacity of 144 gallons (545 liters) the airplane's range is 1,055 miles (1,698 kilometers). Mythre carried an auxiliary fuel tank in the passenger cabin.
After the around-the-world flight, Scott returned Mythre to the Piper Aircraft Company at Lock Haven, Pennsylvania, for overhaul. Following Tropical Storm Agnes in June 1972, the Piper factory was flooded to a depth of 16 feet (4.9 meters) and Scott's airplane, along with many others and much of the tooling for aircraft manufacture, was destroyed.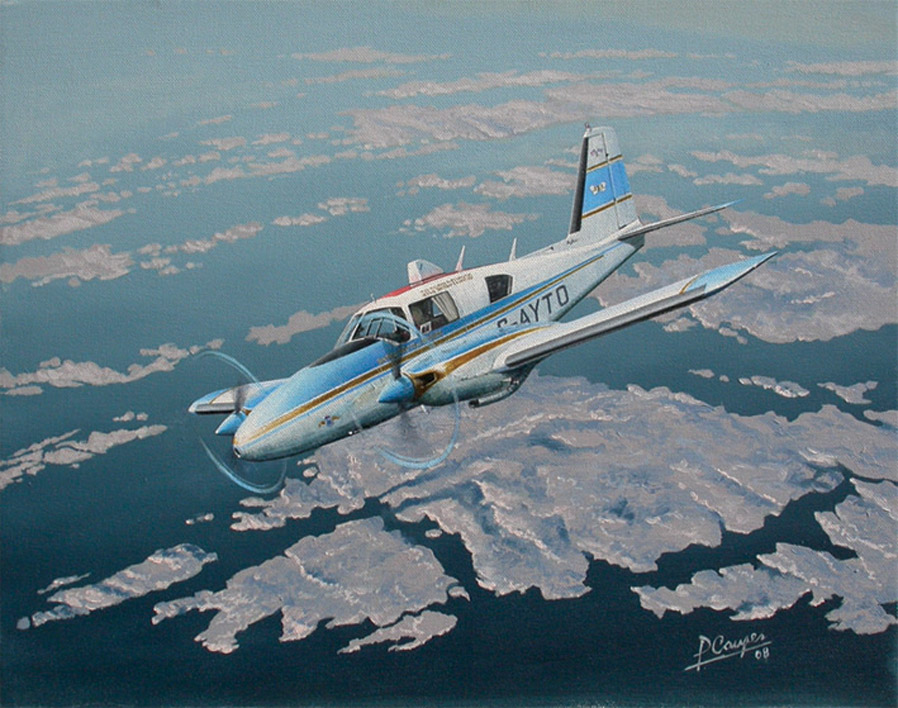 This painting is available from the Guild of Aviation Artists at:
http://www.gava.org.uk/index.php?option=com_phocagallery&searchterm=Paul%20Couper&view=category&id=12&Itemid=534&picsearch=simple
Sheila Christine Hopkins was born 27 April 1922 at 12 Park Avenue, Worcester, Worcestershire, England. She was the daughter of Harold Reginald Hopkins and Edyth Mary Kenward Hopkins.
Miss Hopkins married Rupert Leamon Bellamy at Kensington, in late 1945. The marriage was dissolved in 1950.
Sheila Scott had been a nurse at Haslar Naval Hospital during World War II. She was an actress on the stage, in films and on television. In 1959 she followed a lifetime ambition and learned to fly. She owned or leased several airplanes which she entered in races or used to establish flight records.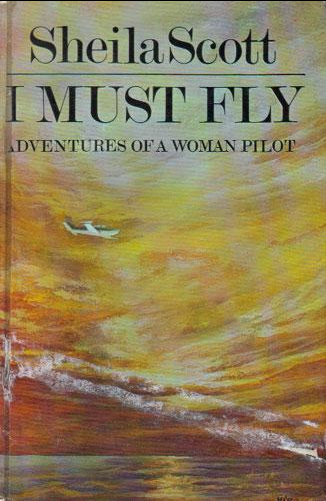 Scott was a commercial pilot, rated in single and multi-engine airplanes, seaplanes and helicopters. She was a member of The Ninety-Nines, founding and serving as governor of the British branch. She was also a member of the Whirly-Girls and the International Association of Licensed Women Pilots.
Sheila Scott was the author of I Must Fly and On Top of the World (Barefoot With Wings in the United States).
Sheila Scott, O.B.E., died of cancer at Royal Marsden Hospital, Chelsea, London, 20 October 1988, at the age of 66 years. ¹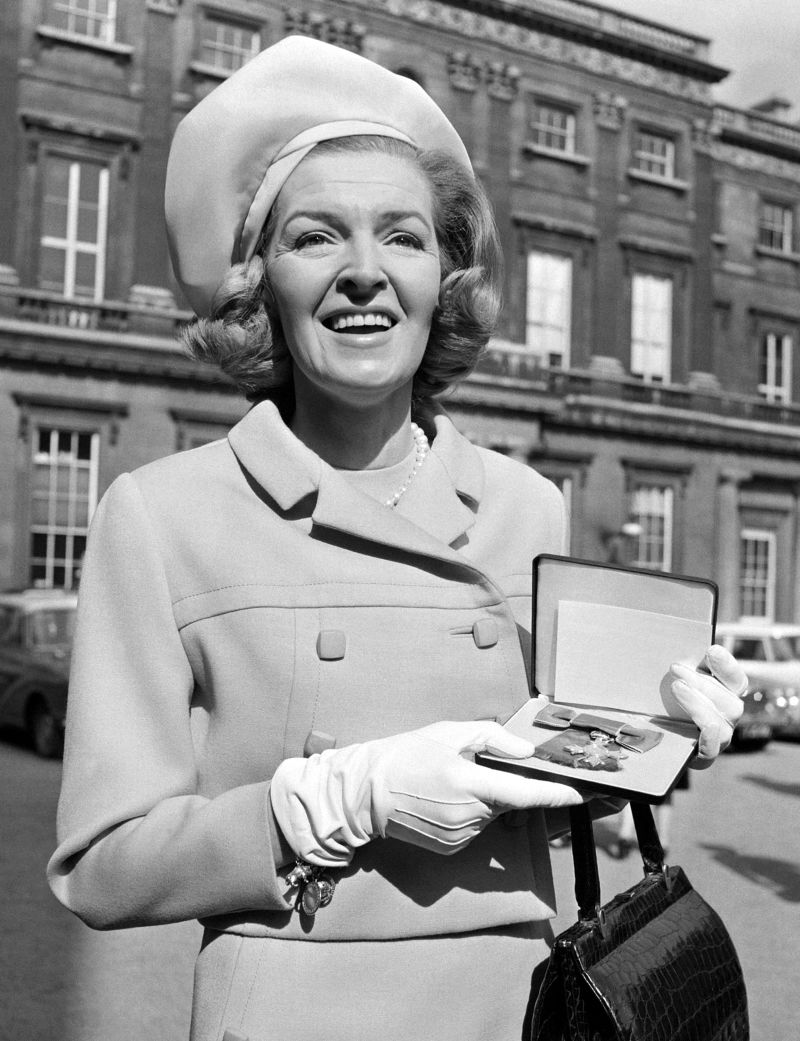 ¹ FAI Record File Numbers 4622, 4623
² FAI Record File Number 14203
³ FAI Record File Numbers 4626, 4627
⁴ FAI Record File Numbers 4624, 4625
⁵ FAI Record File Numbers 4622, 4626, 14203
© 2020, Bryan R. Swopes