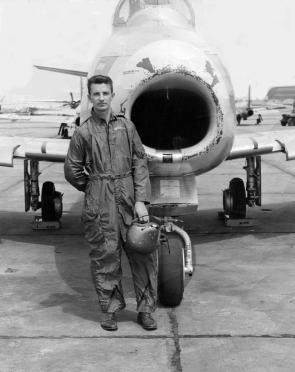 15 September 1948: Major Richard L. Johnson, U.S. Air Force, Air Materiel Command, set a new Fédération Aéronautique Internationale (FAI) World Record Speed Over a 3 Kilometer Course,¹ flying the sixth production North American Aviation F-86A-1-NA Sabre, serial number 47-611, at Muroc Air Force Base, California (renamed Edwards AFB in 1949).
The air temperature was 70° F. (21° C.) with very little wind. Making four consecutive passes at an altitude of 75–125 feet (23 to 38 meters), the Sabre averaged 1,079.84 kilometers per hour (670.98 miles per hour) — 0.889 Mach. The slowest pass was 669.830 miles per hour and the fastest was 672.762 miles per hour (1,077.987 and 1,082.705 kilometers per hour, respectively) — 0.8875–0.8914 Mach.
This was Major Lowe's second attempt for the speed record. At the National Air Races in Cleveland, Ohio, on 5 September, official timers clocked the wrong airplane, and then on a repeat pass, a timing camera jammed. During that attempt, Major Johnson flew under a light airplane which had wandered onto the course, missing it by about ten feet (3 meters).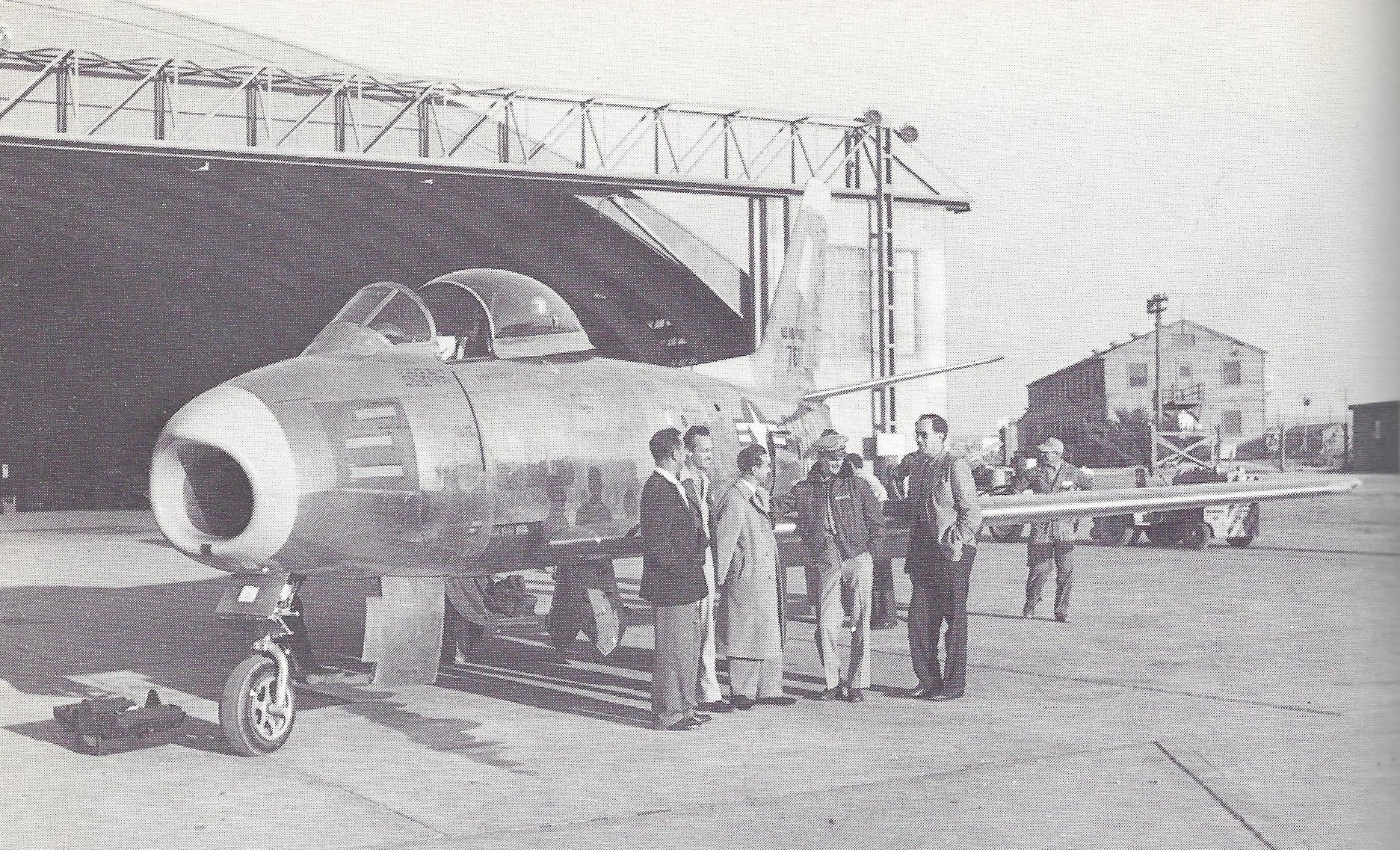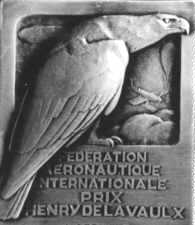 Major Johnson was awarded the De la Vaulx Medal by the Fédération Aéronautique Internationale.
North American Aviation claimed that any F-86 coming off the assembly line could beat this world record speed. This record stood until 1952 when it was broken by an F-86D Sabre.
The Associated Press reported:
Air Force Tells Of New Speed
     NEW YORK — (AP) — The Air Force announced Saturday a new world speed record of 670.981 miles an hour, made with a fully armed standard jet fighter, the North American F-86.
     The mark was set Wednesday. It is 20 miles an hour faster than the record set in August, 1947, by a Navy research plane, the Douglas D-558.
     It was the first world speed mark in history for a production model aircraft ready to fight.
     The pilot was Maj. Richard L. Johnson, slender quiet-spoken test flier for the Air Material Command at Wright-Patterson Airbase near Dayton Ohio. He flew the course at Muroc Lake, Calif., where the record was raised three times last year.
     Gen. Hoyt S. Vandenberg, Air Force chief of staff, announced the new mark at Mitchel Field, Long Island, where he participated in one of the numerous shows being held in observance of the first anniversary of the Air Force.
— Eugene Register-Guard, Saturday, 18 September 1948, Page 1, Column 7.
Major Johnson had made a previous speed record attempt flying a different Sabre, but due to a technical problem with the timing equipment, that attempt was disqualified.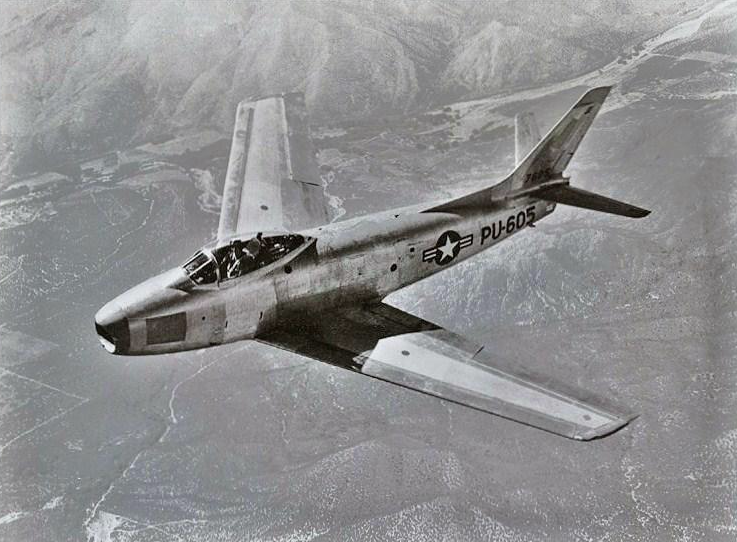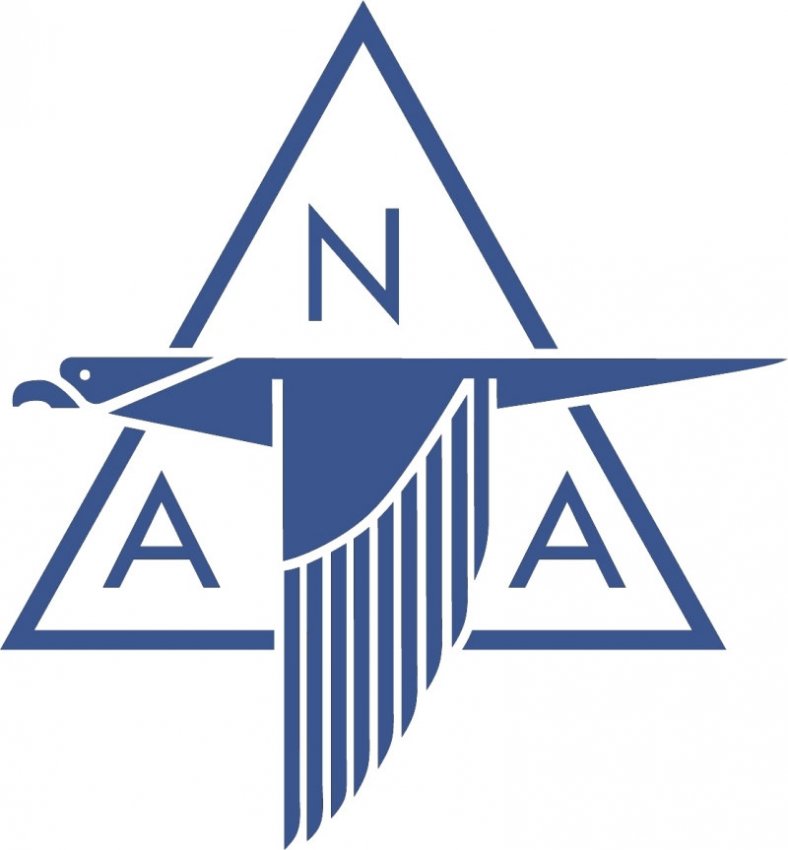 47-611 was from the first production block of thirty-three F-86A-1-NA Sabres (originally designated P-86A) and was built at North American Aviation's Inglewood, California, plant. Its NAA serial number was 151-38438. The airplane was withdrawn from service 16 November 1955 and assigned as a ground trainer for the California Air National Guard at Van Nuys, California.
The F-86A was a single-seat, single-engine, swept-wing day fighter, powered by a turbojet engine. The airplane's design team was headed by Edgar Schmued, who was also responsible for North American's legendary P-51 Mustang of World War II.
The F-86A had the same dimensions as the prototype XP-86 which had first flown almost two years earlier. The F-86A was 37 feet, 6.6 inches (11.445 meters) long with a wingspan of 37 feet, 1.4 inches (11.313 meters) and overall height of 14 feet, 8.9 inches (4.493 meters). It had an empty weight of 10,093 pounds (4,578 kilograms) and the maximum takeoff weight was 15,876 pounds (7,201 kilograms).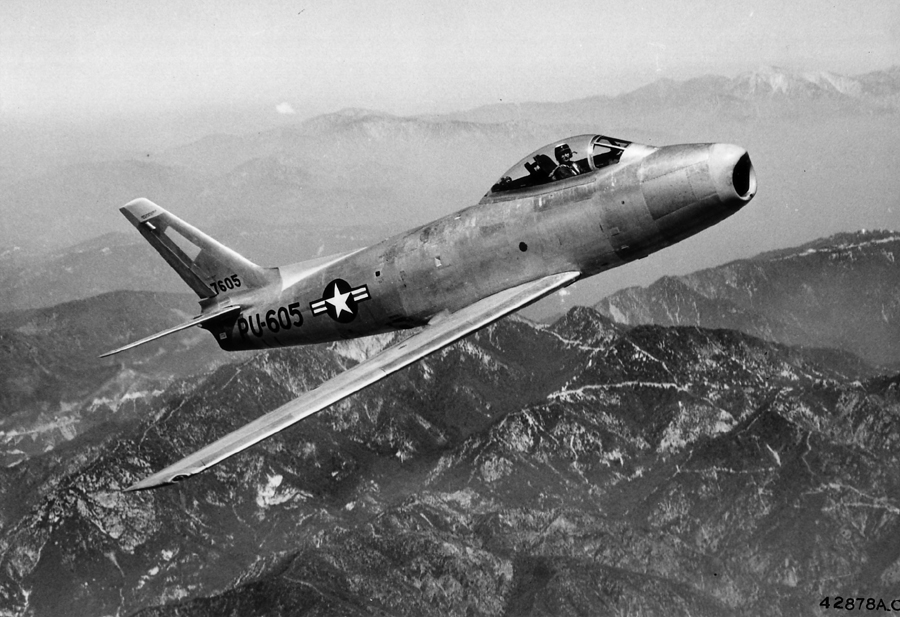 The F-86 wings' leading edges were swept to 35° and included leading edge slats, which automatically extended at low speed to provide an increase in lift.
The F-86A was initially powered by a General Electric TG-190A (J47-GE-1) turbojet engine. This was a major improvement over the Chevrolet-built J35-C-3 that had powered the prototype, and it produced almost 25% greater thrust. The J47-GE-1 was rated at 4,850 pounds of thrust (21.57 kilonewtons), or 5,820 pounds (25.89 kilonewtons) with water injection. The J47 was an axial-flow turbojet with a 12-stage compressor, eight combustion chambers, and single-stage turbine. The engine was 12 feet, 0.0 inches (3.658 meters) long, 3 feet, 3.0 inches (0.991 meters) in diameter and weighed 2,475 pounds (1,123 kilograms).
Early in F-86A production, the engine was standardized with the J47-GE-13, which was rated at 5,200 pounds of thrust (23.13 kilonewtons) and 6,000 pounds (26.69 kilonewtons) "wet." The -13 had the same exterior dimensions as the -1 engine, but weighed 50 pounds (23 kilograms) more.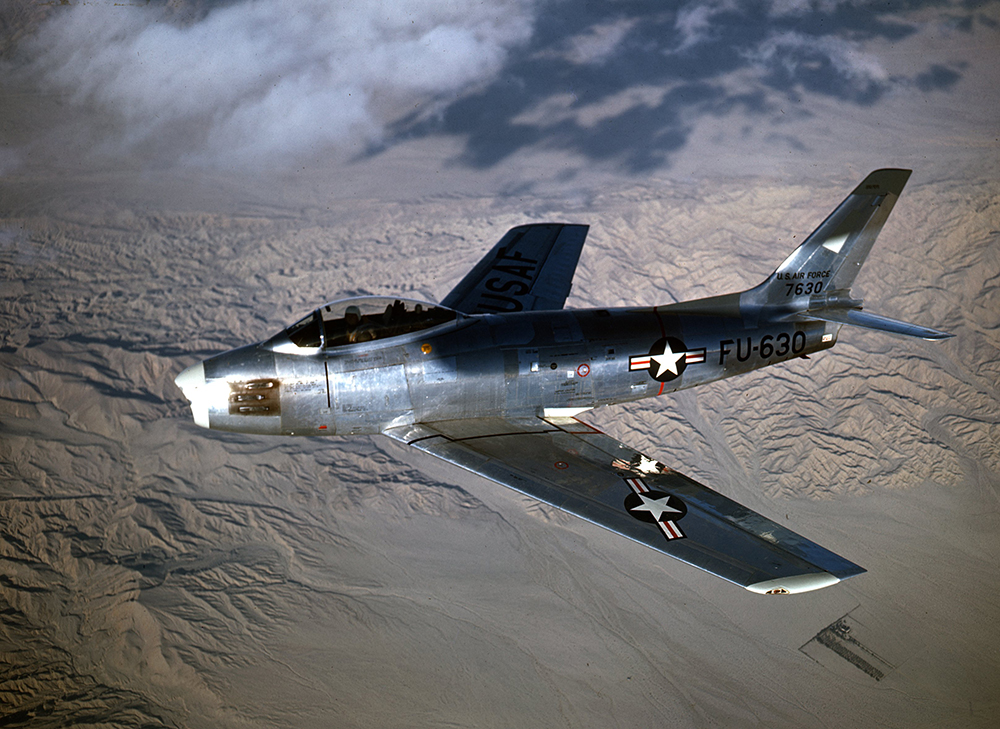 The F-86A had a maximum speed of 679 miles per hour (1,093 kilometers per hour) at Sea Level, and 601 miles per hour (967 kilometers per hour) at 35,000 feet (10,668 meters). The service ceiling as 48,000 feet (14,630 meters) and it could climb to 40,000 feet (12,192 meters) in 10 minutes, 24 seconds. It had a range of 1,200 miles (1,931 kilometers).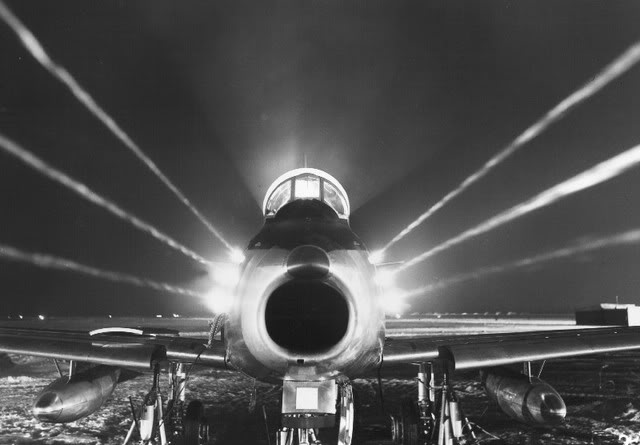 Designed as a day fighter, the F-86 Sabre was armed with six air-cooled Browning AN-M3 .50-caliber aircraft machine guns with 267 rounds of ammunition per gun. These guns had a rate of fire of 1,200 rounds per minute. The F-86A-1-NA had electrically-actuated doors covering the gun ports to maintain the aerodynamically clean surface. Because of their complexity, these doors were deleted beginning with the F-86A-5-NA aircraft.
The fighter could also carry bombs or rockets.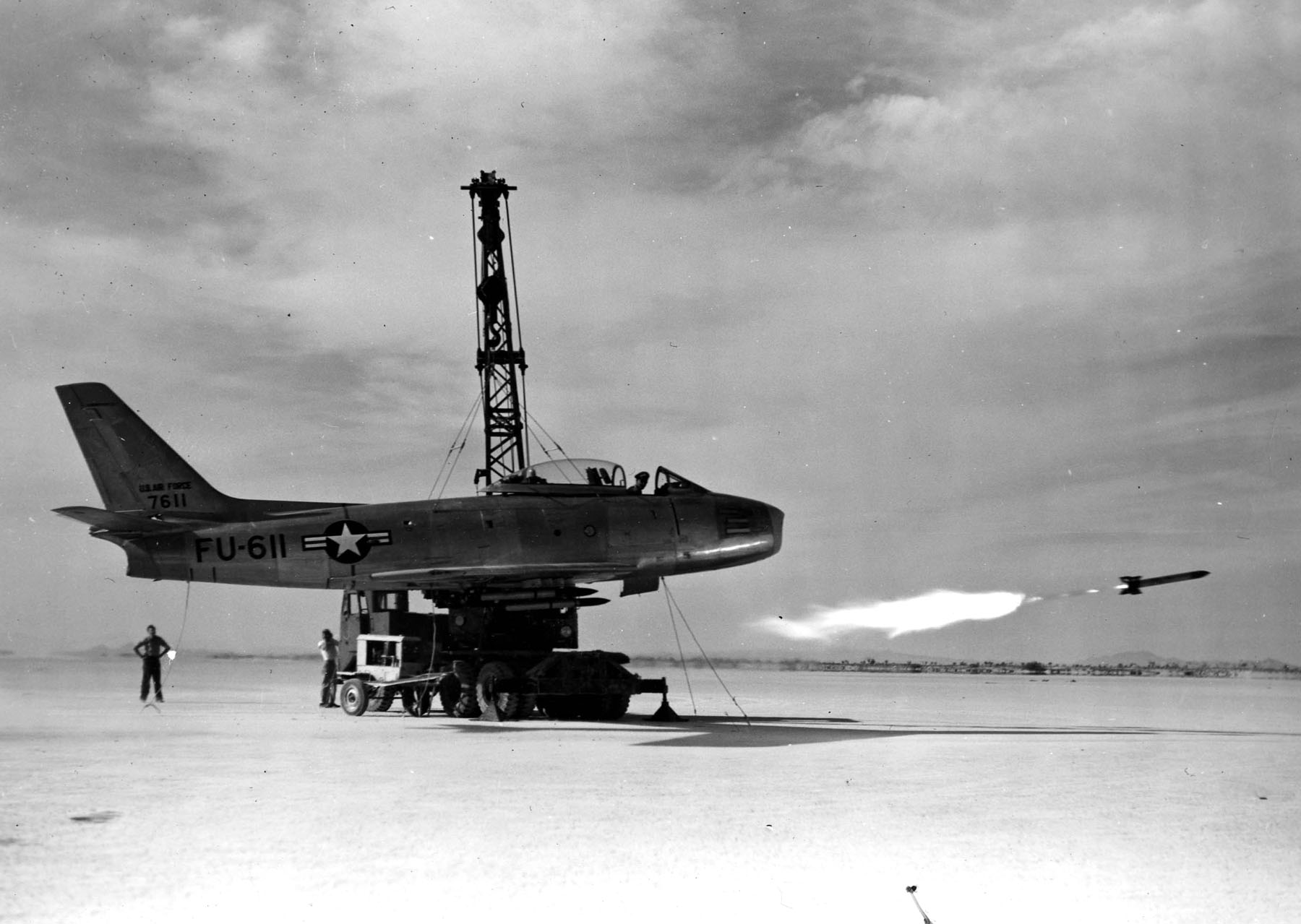 Richard Lowe Johnson ² was born at Cooperstown, North Dakota, 21 September 1917. He was the eighth of nine children of Swedish immigrants, John N. Johnson, a farmer, and Elna Kristina Helgesten Johnson, a seamstress.
Dick Johnson attended Oregon State College at Corvallis, Oregon, as a member of the Class of 1943. He was a member of the Sigma Alpha Epsilon (ΣΑΕ) fraternity.
Dick Johnson was a pitcher for the college baseball team, and later, played for the Boston Red Sox "farm" (minor league) system.
On 18 June 1942, Johnson enlisted as a private in the Air Corps, United States Army. On 5 November, he was appointed an aviation cadet and assigned to flight training.
Aviation Cadet Johnson married Miss Juanita Blanche Carter, 17 April 1943, at Ocala, Florida. The civil ceremony was officiated by Judge D. R. Smith.
After completing  flight training, on 1 October 1943, Richard L. Johnson was commissioned as a second lieutenant, Army of the United States (A.U.S.).
Lieutenant Johnson was assigned to the 66th Fighter Squadron, 57th Fighter Group, Twelfth Air Force, in North Africa, Corsica, and Italy, flying the Republic P-47 Thunderbolt. He was promoted to first lieutenant, A.U.S., 9 August 1944, and just over three months later, 26 November 1944, to the rank of captain, A.U.S. On 14 May 1945, Captain Johnson was promoted to the rank of major, A.U.S. (Major Johnson was assigned a permanent rank of first lieutenant, Air Corps, United States Army, on 5 July 1946, with a date of rank retroactive to 21 September 1945.)
During World War II, Major Johnson flew 180 combat missions with the 66th Fighter Squadron. He is officially credited with one air-to-air victory, 1 July 1944. Johnson was awarded the Silver Star, the Distinguished Flying Cross with two oak leaf clusters (3 awards), and the Air Medal with twelve oak leaf clusters (thirteen awards).
In 1946, was assigned to the Air Materiel Command Engineering Test Pilot School at the Army Air Forces Technical Base, Dayton, Ohio (Wright-Patterson Air Force Base). He was the second U.S. Air Force pilot to be publicly acknowledged for breaking the "sound barrier."
A few weeks after arriving at Dayton, Major Johnson met Miss Alvina Conway Huester, the daughter of an officer in the U.S. Navy. Dick Johnson and his wife Juanita were divorced 8 January 1947, and he married Miss Huester in a ceremony in Henry County, Indiana, 10 January 1947. They would have three children, Kristie, Lisa and Richard.
During the Korean War, Major Johnson was sent to the war zone to supervise field installations of improvements to the F-86 Sabre. He was "caught" flying "unauthorized" combat missions and was sent home.
Lieutenant Colonel Johnson resigned from the Air Force in 1953 to become the Chief Test Pilot for the Convair Division of General Dynamics. He made the first flights of the YF-102 on 24 October 1953, the F-106A Delta Dart, 26 December 1956. He made the first flight of the F-111 on 21 December 1964.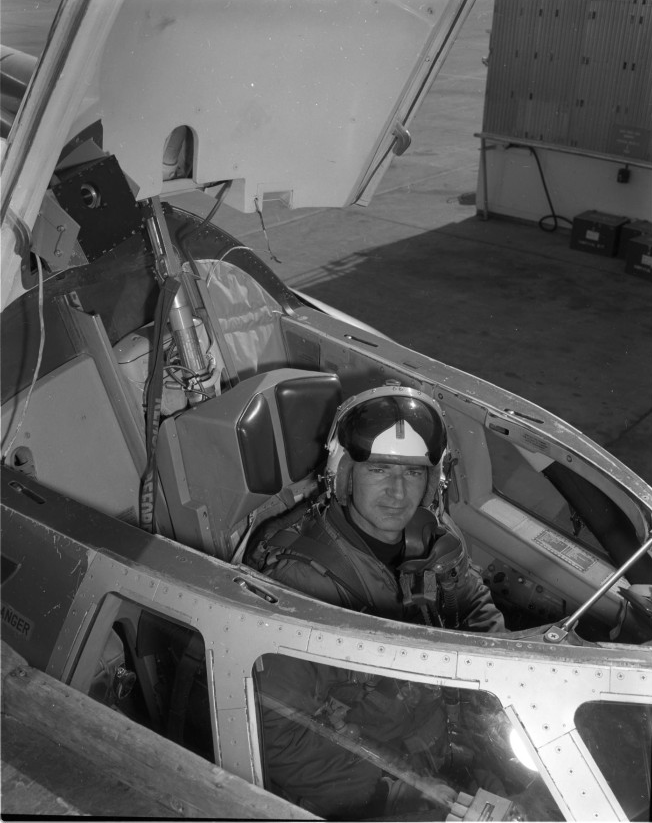 in 1955, Johnson was one of the six founding members of the Society of Experimental test Pilots.
Dick Johnson was Chief Engineering Test Pilot for the General Dynamics F-111 "Aardvark." In 1967, the Society of Experimental Test Pilots awarded Johnson its Iven C. Kincheloe Award for his work on the F-111 program. In 1977, Dick Johnson, now the Director of Flight and Quality Assurance at General Dynamics, retired.
In 1998, Dick Johnson was inducted into the Aerospace Walk of Honor at Lancaster, California. His commemorative monument is located in front of the Lancaster Public Library on W. Lancaster Boulevard, just West of Cedar Avenue. ³
Lieutenant Colonel Richard Lowe Johnson, United States Air Force, (Retired), died 9 November 2002 at Fort Worth, Texas. He was buried at Arlington National Cemetery, Arlington, Virginia, on 7 January 2003.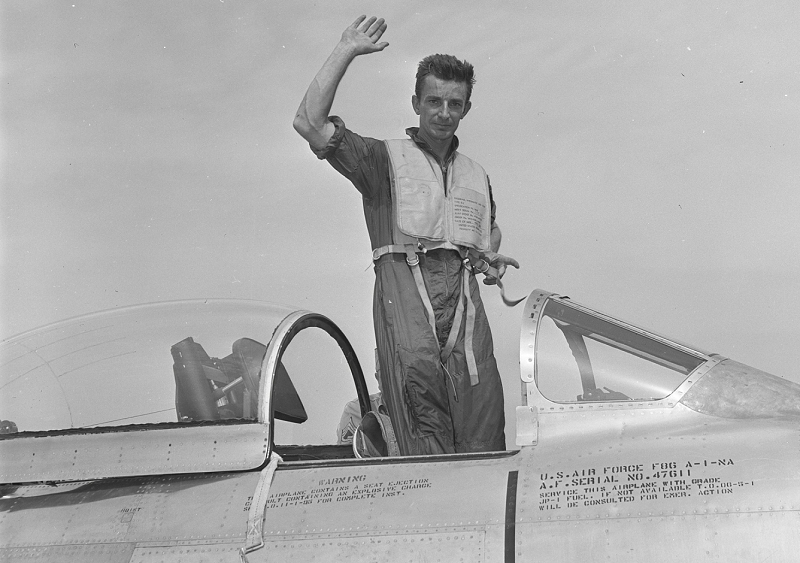 ¹ FAI Record File Number 9866
² Several sources spell Johnson's middle name as "Loe."
³ Various Internet sources repeat the statement that "Richard Johnson has been honored with. . . the Thompson Trophy, Mackay Trophy, Flying Tiger Trophy, Federation Aeronautique Internationale Gold Medal and Golden Plate Award of the American Academy of Achievement. . . ." TDiA has checked the lists of awardees of each of the appropriate organizations and has not found any support for the statement.
© 2018, Bryan R. Swopes