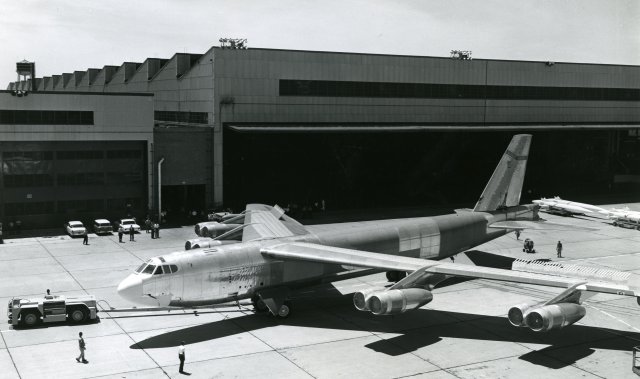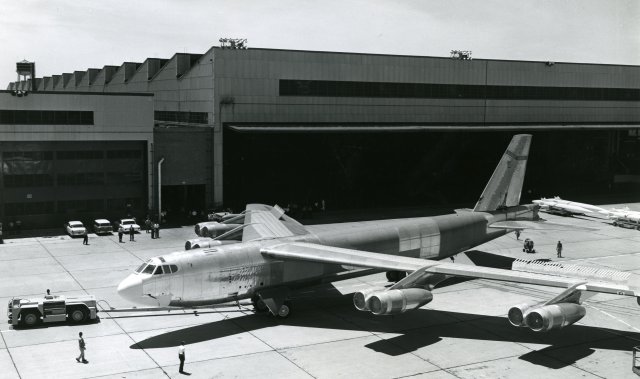 22 June 1962: The last of 744 Boeing B-52 Stratofortress strategic bombers, B-52H-175-BW, serial number 61-0040, was rolled out at the Boeing Military Airplane Company plant in Wichita, Kansas.
The U.S. Air Force contracted 62 B-52H Stratofortresses, serial numbers 60-0001 through 60-0062, on 6 May 1960. A second group of 40, serials 61-0001 through 61-0040, were ordered later. All were built at the Boeing Wichita plant.
The B-52H, like the B-52G, is a re-engineered aircraft, structurally different from the XB-52, YB-52, and B-52A–B-52F Stratofortress variants. It is lighter, carries more internal fuel, giving it a longer unrefueled range, and is strengthened for low-altitude flight. The shorter vertical fin is intended to prevent the losses caused by the original tall fin in turbulent air. The B-52H is equipped with quieter, more efficient turbofan engines.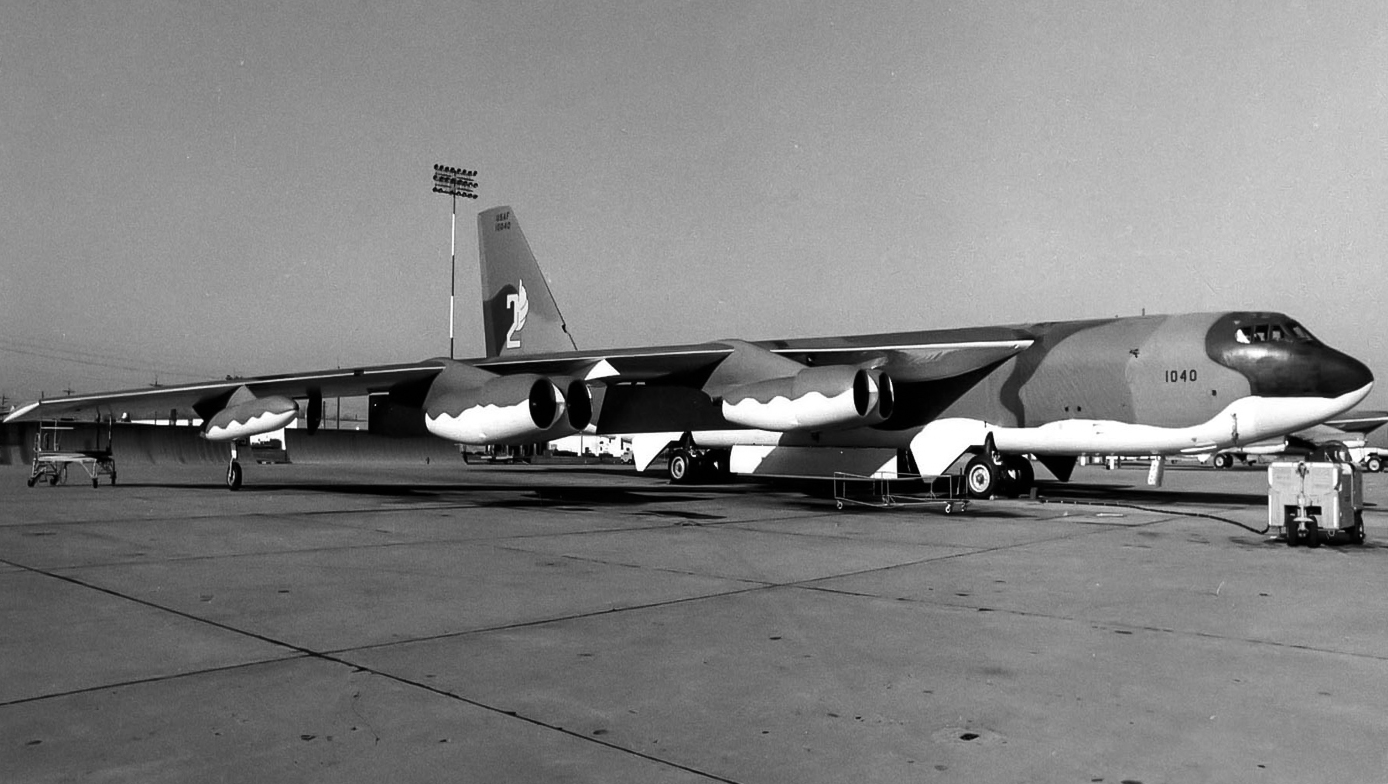 The B-52H was developed to carry four Douglas GAM-87 Skybolt air-launched ballistic missiles on pylons mounted under the wings, inboard of the engines. The Skybolt was armed with a 1-megaton W-59 thermonuclear warhead. The program was cancelled, however, and the North American Aviation AGM-28 Hound Dog air-launched cruise missile was used instead. (Interestingly, the Hound Dog's Pratt & Whitney J52-P-3 turbojet engine could be used to supplement the B-52's takeoff thrust, and then refueled from the bomber's tanks before being air-launched.)
The B-52H is a sub-sonic, swept wing, long-range strategic bomber. It was originally operated by a crew of six: two pilots, a navigator and a radar navigator, an electronic warfare officer, and a gunner. (The gunner was eliminated after 1991). The airplane is 159 feet, 4 inches (48.565 meters) long, with a wing span of 185 feet (56.388 meters). It is 40 feet, 8 inches (12.395 meters) high to the top of the vertical fin. The B-52H uses the vertical fin developed for the B-52G, which is 22 feet, 11 inches (6.985 meters) tall. This is 7 feet, 8 inches (2.337 meters) shorter than the fin on the XB-52–B-52F aircraft, but the fin's chord is longer.
The wings of the B-52H have a total area of 4,000 square feet ( square meters). The leading edges are swept aft to 36° 58′. The angle of incidence is 6°, and there is 2° 30′ dihedral. (The wings are very flexible and exhibit pronounced anhedral when on the ground.) To limit twisting in flight, the B-52 has spoilers on top of the wings rather than ailerons at the trailing edges.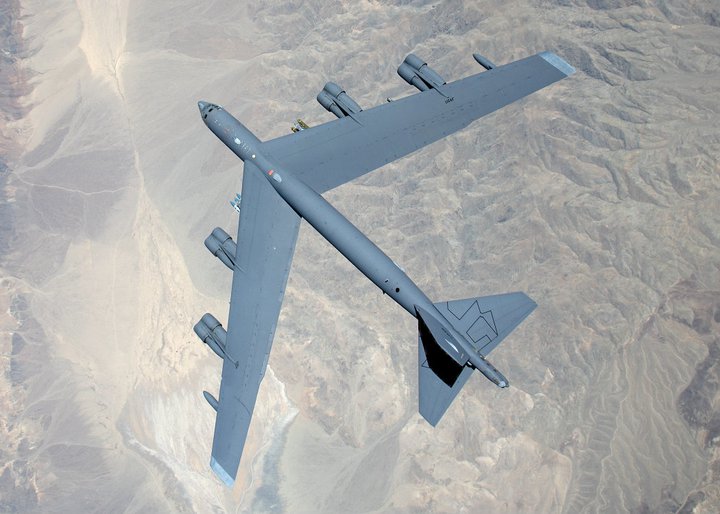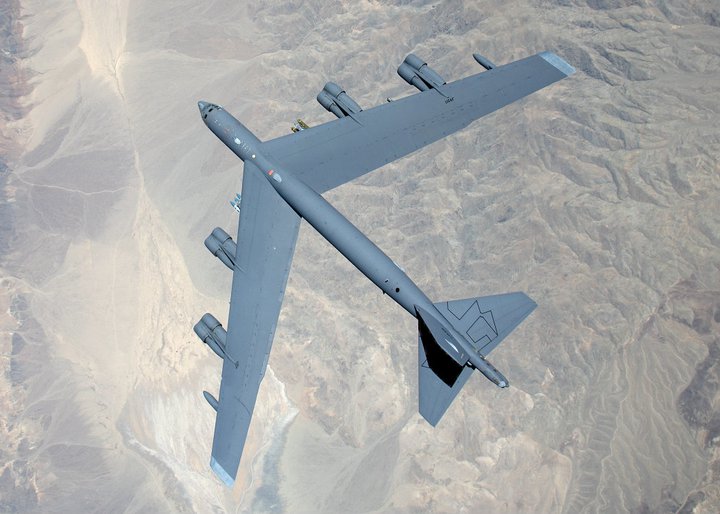 The bomber has an empty weight of 172,740 pounds (78,354 kilograms) and its Maximum Takeoff Weight (MTOW) is 488,000 pounds (221,353 kilograms).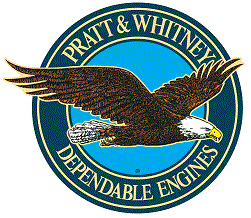 The most significant difference between the B-52H and the earlier Stratofortresses is the replacement of the eight Pratt & Whitney J57-series turbojet engines with eight Pratt & Whitney Turbo Wasp JT3D-2 (TF33-P-3) turbofans, which are significantly more efficient. They are quieter and don't emit the dark smoke trails of the turbojets. The TF-33 is a two-spool axial-flow turbofan engine with 2 fan stages, a 14-stage compressor section (7-stage intermediate pressure, 7-stage high-pressure) and and a 4-stage turbine (1-stage high-pressure, 3-stage low-pressure). The TF33-P-3 has a maximum continuous power rating of 14,500 pounds of thrust (64.499 kilonewtons) at 9,750 r.p.m., N1. Military Power, limited to 30 minutes, is 16,500 pounds (73.396 kilonewtons) at 10,000 r.p.m., N1. Each engine produces a maximum of 17,000 pounds of thrust (75.620 kilonewtons) at 10,050 r.p.m., N1, with a 5-minute limit. The TF33-P-3 is 11 feet, 4.32 inches (3.4625 meters) long, 4 feet, 4.93 inches (1.3442 meters) in diameter and weighs 3,900 pounds (1,769 kilograms).
The B-52H has a cruise speed of 456 knots (525 miles per hour/845 kilometers per hour). It has a maximum speed, with Military Power, of 555 knots (639 miles per hour/1,028 kilometers per hour) at 20,700 feet (6,309 meters)—0.906 Mach. The service ceiling is 46,900 feet (14,295 meters). The unrefueled range is 8,000 miles (12,875 kilometers). With inflight refueling, its range is limited only by the endurance of its crew.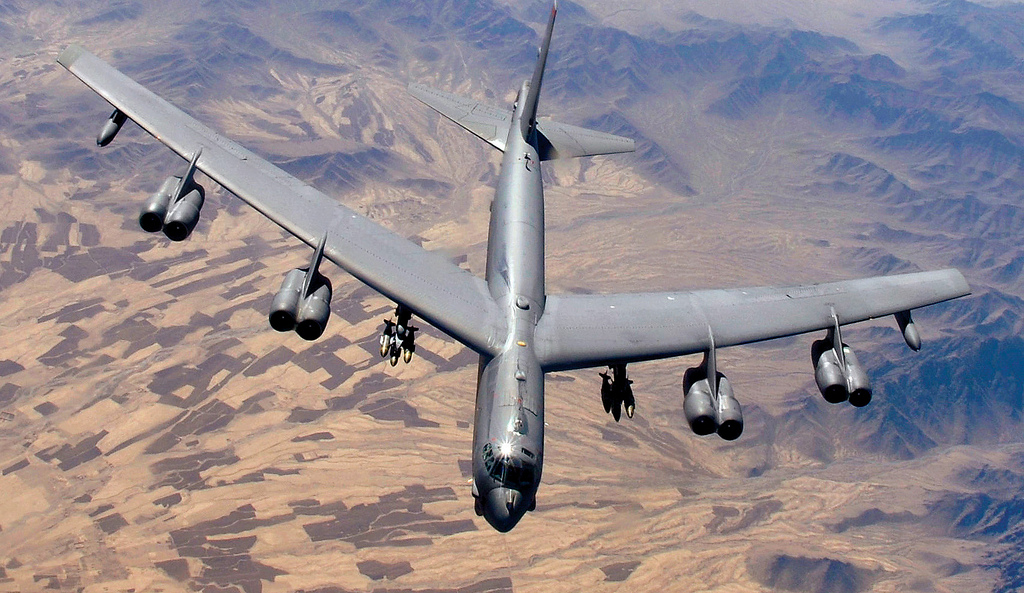 The B-52H can carry a wide variety of conventional free-fall or guided bombs, land-attack or anti-ship cruise missiles, and thermonuclear bombs or cruise missiles. These can be carried both in the internal bomb bay or on underwing pylons. The bomb load is approximately 70,000 pounds (31,751 kilograms).
The B-52H was equipped with a General Electric M61 Vulcan 20 mm six-barreled rotary cannon (a "Gatling gun") in a remotely-operated tail turret. The gun had a rate of fire of 4,000 rounds per minute, and had a magazine capacity of 1,242 rounds. After 1991, the gun and its radar system were removed from the bomber fleet. The flight crew was reduced to five.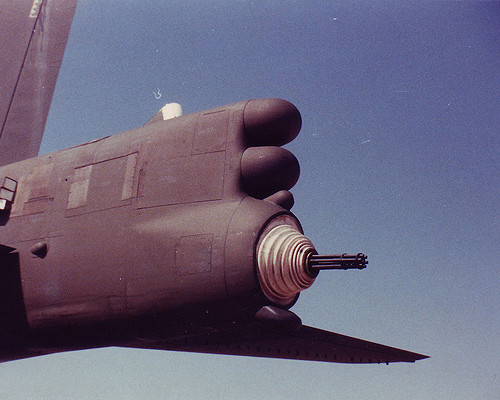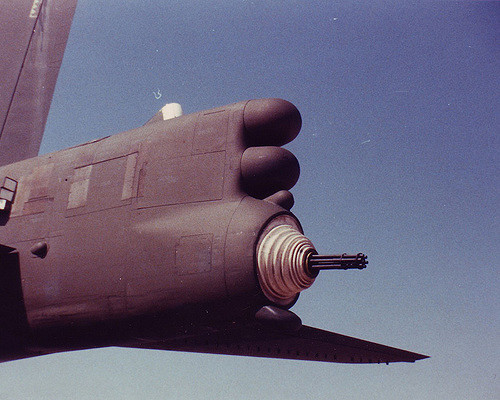 102 B-52Hs were built by Boeing Wichita. Beginning in 2009, eighteen B-52H bombers were placed in climate-controlled long term storage at Tinker Air Force Base, Oklahoma.  In 2014, the entire fleet began a major avionics upgrade. As of December 2015, fifty-eight of the bombers remained in the active fleet of the United States Air Force and eighteen are assigned to the Air Force Reserve.
Recently, a B-52H-156-BW Stratofortress, 61-0007, Ghost Rider, was returned to operational status after eight years in storage at Davis-Monthan Air Force Base, Tucson, Arizona. 45,000 man-hours were required to restore the bomber.
The B-52H is expected to remain in service until 2040.
58 years after roll-out, 61-0040 is still in service with the United States Air Force, assigned to the 23rd Bomb Squadron, 5th Bomb Wing, at Minot Air Force Base, North Dakota.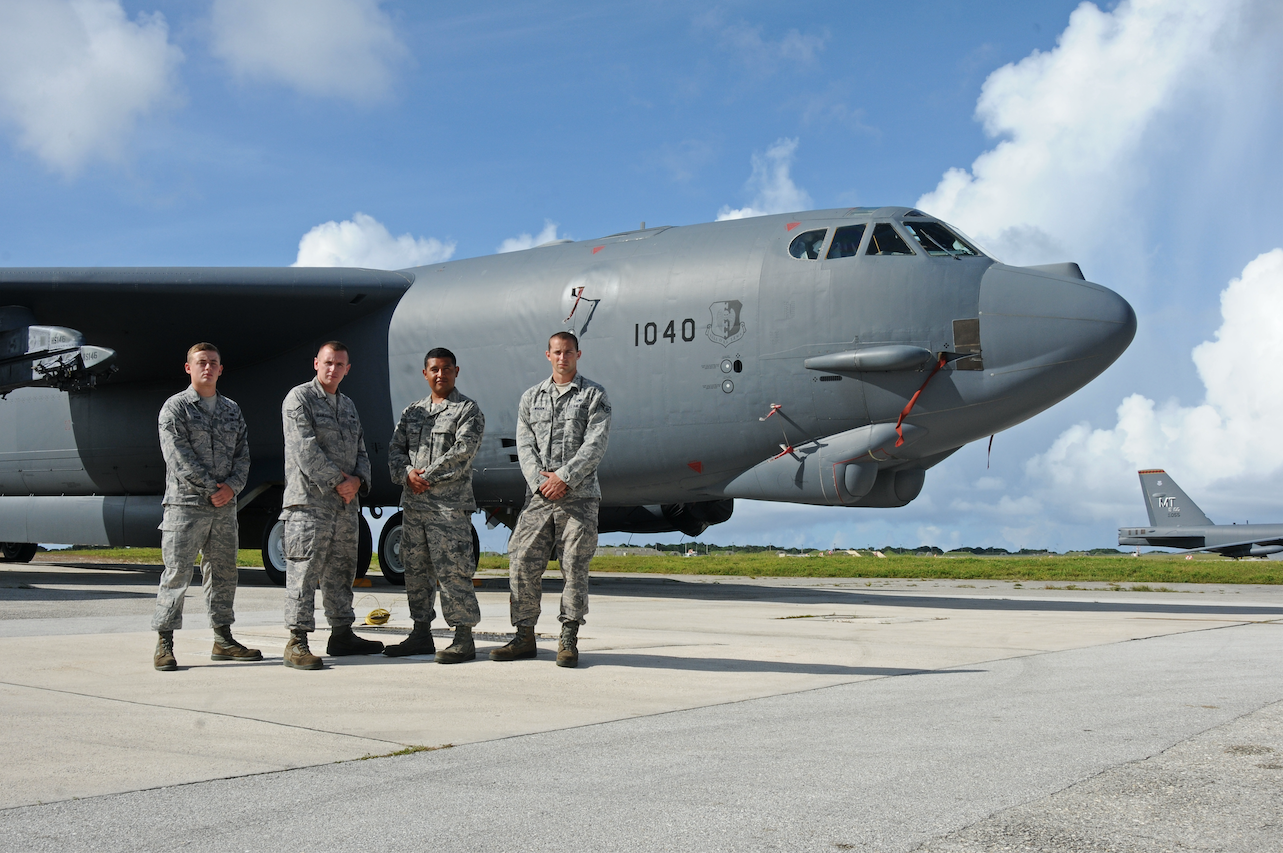 © 2020 Bryan R. Swopes