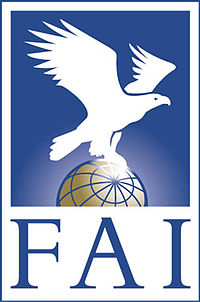 6 June 1955: Société nationale des constructions aéronautiques du Sud-Est  (SNCASE) Chief Test Pilot Jean Boulet set two Fédération Aéronautique Internationale (FAI) World Records for Altitude Without Payload when he flew the number two prototype SE.3130 Alouette II to an altitude of 8,209 meters (26,932 feet) near Buc, France.¹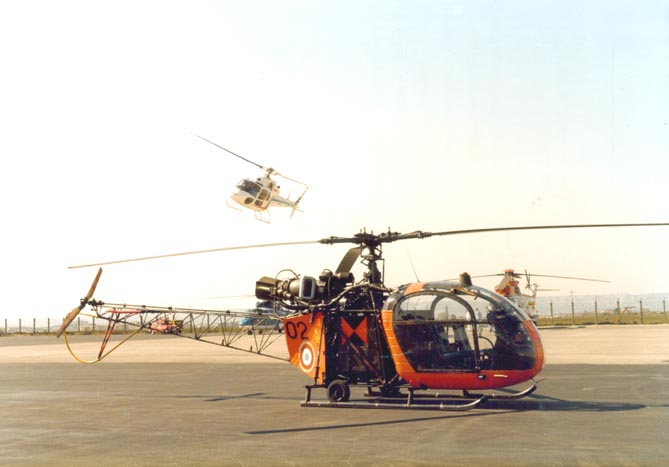 FLIGHT and Aircraft Engineer briefly mentioned the flight:
". . . On the same day S.N.C.A.S.E. claimed the world's helicopter height record when the Alouette II, powered by a Turboméca Artouste, reached 27,100ft. The machine took off from Buc, near Paris, climbed for 42 min and landed at Montesson. The pilot was M. Jean Boulet."
—FLIGHT and AIRCRAFT ENGINEER, No. 2420 Vol. 67. Friday, 10 June 1955, at Page 784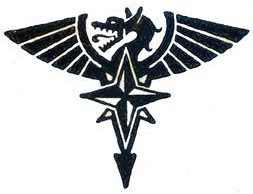 Powered by a Turboméca Artouste IIB1 turboshaft engine, the Alouette II was the first gas turbine helicopter to enter series production. SNCASE would become Aérospatiale, later, Eurocopter, and is now Airbus Helicopters.
The Alouette II is a 5-place light helicopter operated by a single pilot. The fuselage is 9.66 meters (31 feet, 9 inches) long. The three-bladed fully-articulated main rotor has a diameter of 10.20 meters (33 feet, 6 inches). It turns clockwise, as seen from above. (The advancing blade is on the left side of the helicopter.) Normal main rotor speed, NR, is 350–360 r.p.m. The two-blade anti-torque rotor is 1.81 meters (9 feet, 11.25 inches) in diameter and turns clockwise, as seen from the helicopter's left side. (The advancing blade is below the helicopter.) It turns at 2,020 r.p.m.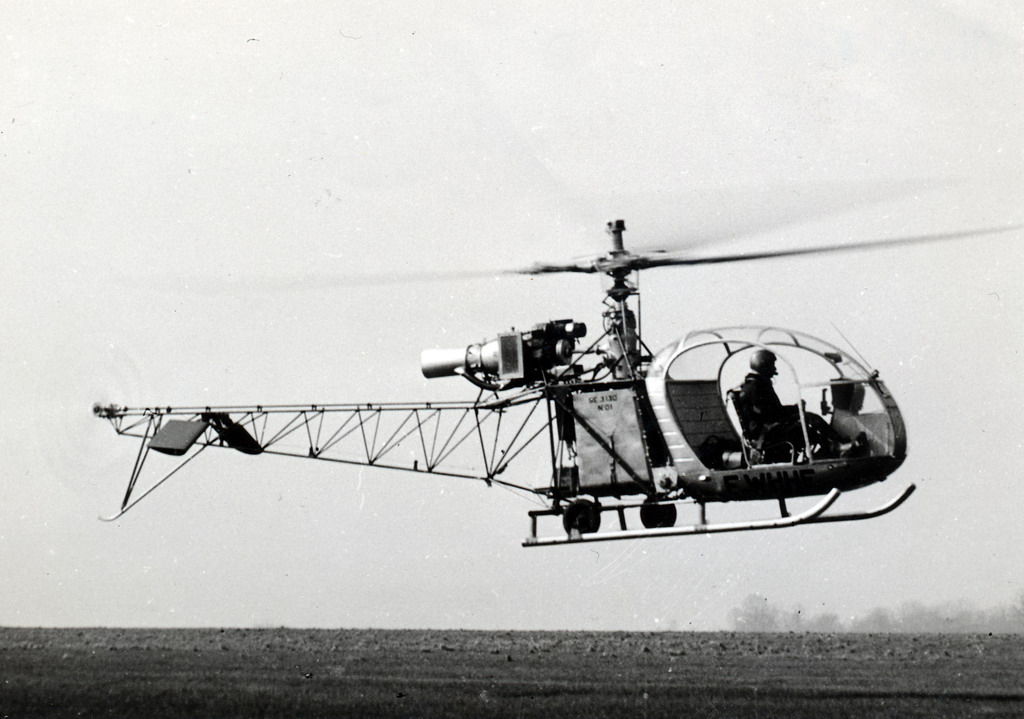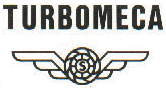 The SE.3130 has an empty weight of 895 kilograms (1,973 pounds) and a maximum takeoff weight (MTOW) of 1,600 kilograms (3,527 pounds). The prototype was powered by one Turboméca Artouste IIB1 turboshaft engine which produced 400 horsepower, but was derated to 360 horsepower for installation in the Alouette II.
The helicopter has a cruise speed 175 kilometers per hour (109 miles per hour) at Sea Level, and a maximum speed of 185 kilometers per hour (115 miles per hour) at Sea Level. VNE is 195 kilometers per hour (121 miles per hour.)
The service ceiling is 4,000 meters (13,123 feet) at 1,500 kilograms (3,307 pounds) gross weight. The absolute ceiling is 4,500 meters (14,764 feet). At 1,350 kilograms (2,976 pounds) the Alouette II has a hover ceiling in ground effect, HIGE, of 3,400 meters (11,155 feet) and hover ceiling out of ground effect of 1,900 meters (6,234 feet). At 1,500 kilograms the Alouette II's HIGE is 2,000 meters (6,560 feet) and HOGE is 600 meters (1,968 feet).
The SE.3130 Alouette was in production from 1956 until 1975. More than 1,300 of these helicopters were built.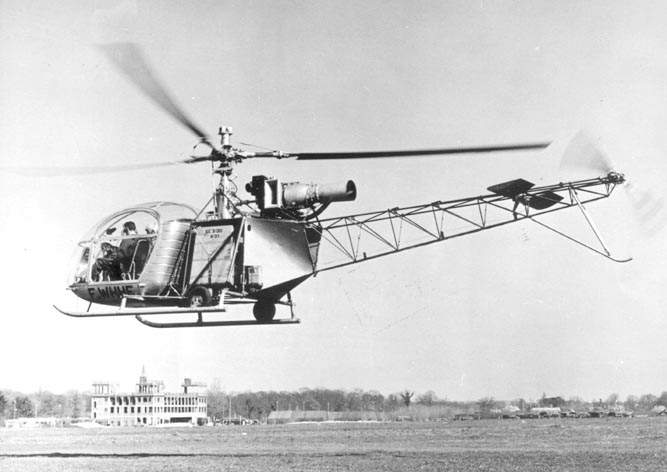 Jean Boulet was born 16 November 1920, in Brunoy, southeast of Paris, France. He graduated from Ecole Polytechnique in 1940 and the Ecole Nationale Supérieure de l'aéronautique In 1942. As an officer of the Armée de l'Air (French Air Force) he was sent to the United States for training as a fighter pilot, and later as a helicopter pilot. In 1947 he  joined Société nationale des constructions aéronautiques du Sud-Est (SNCASE) as an engineer and test pilot. As a test pilot he made the first flight in every helicopter produced by SNCASE, which would become Sud-Aviation and later Aérospatiale (then, Eurocopter, and now, Airbus Helicopters). He set 24 Fédération Aéronautique Internationale world records for speed, distance and altitude. While flying a SE 530 Mistral fighter, 23 January 1953, he entered an unrecoverable spin and became the first French pilot to escape from an aircraft by ejection seat during an actual emergency. Médaille de l'Aéronautique. In 1972 he was appointed Officier de la Légion d'honneur. He had more than 9,000 flight hours with over 8,000 hours in helicopters.
Jean Boulet died at Aix-en-Provence, 15 February 2011, at the age of 90.
¹ FAI Record File Numbers 9876, 9877
© 2018, Bryan R. Swopes