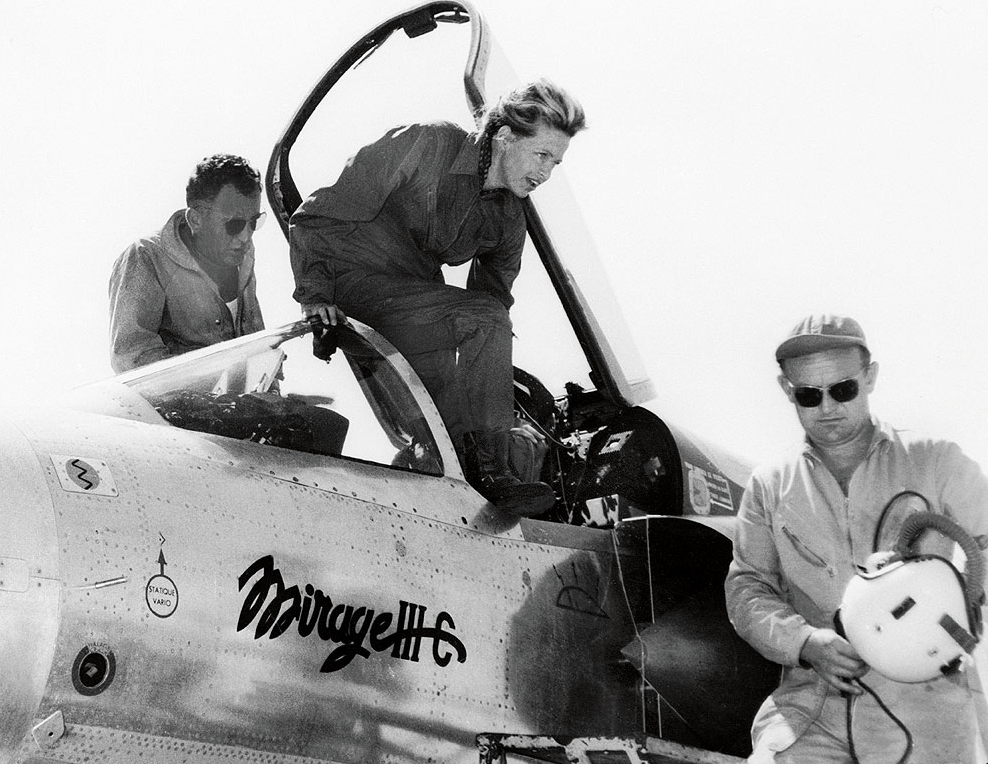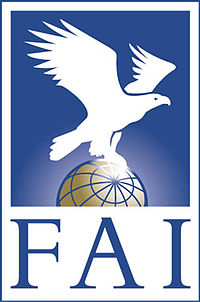 22 June 1962: At Istres, France, Société des Avions Marcel Dassault test pilot Jacqueline Marie-Thérèse Suzanne Douet Auriol flew a delta-winged Dassault Mirage III C interceptor to set a new Fédération Aéronautique Internationale (FAI) World Record for Speed Over a Closed Circuit of 100 Kilometers. Her average speed over the course was 1,850.2 kilometers per hour (1,149.7 miles per hour).¹ Mme. Auriol broke the record set 6 October 1961 by Jacqueline Cochran with a Northrop T-38A Talon.²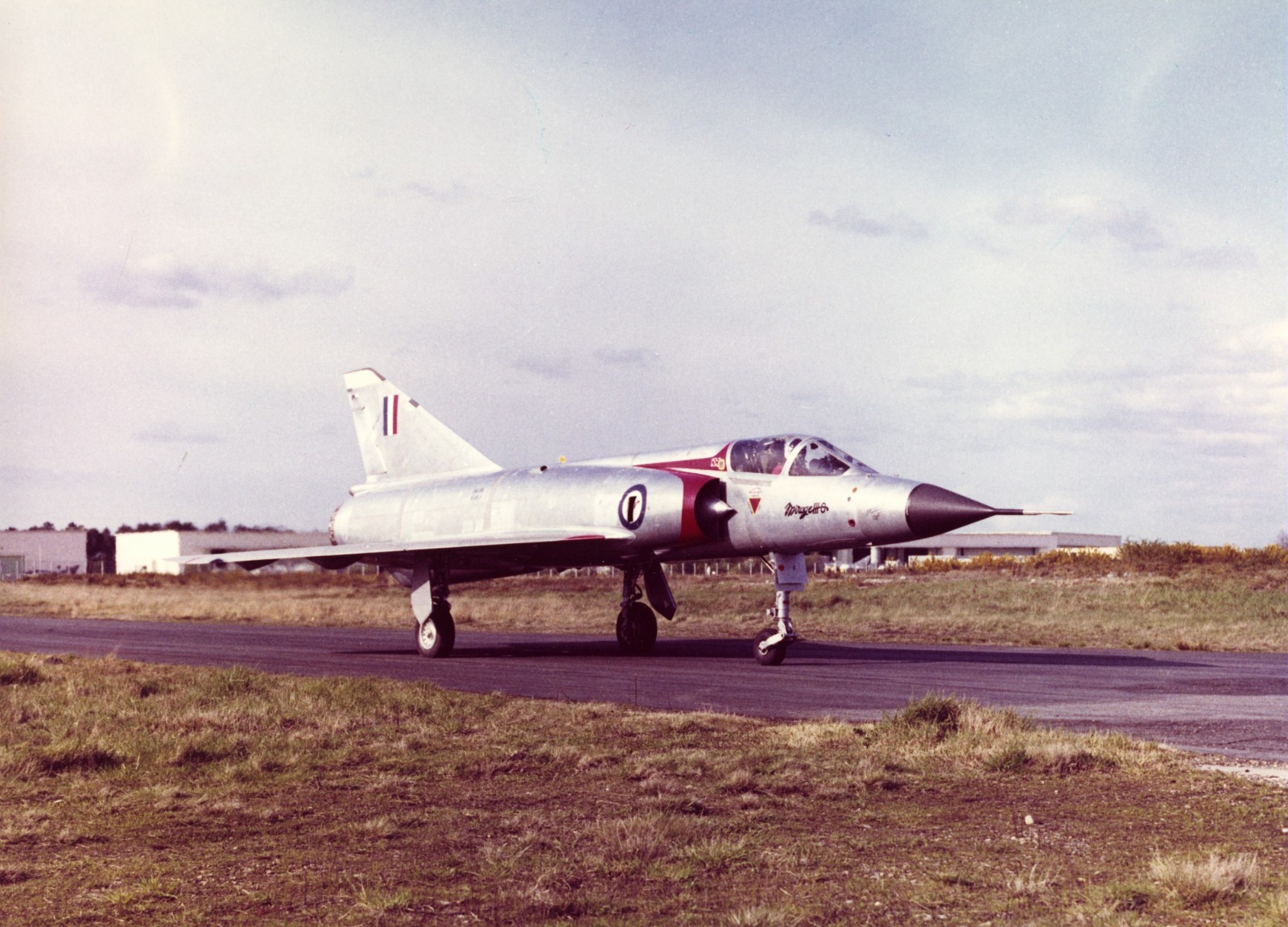 The Dassault Mirage III C was the first production variant of the Mirage series. It was a single-place, single-engine tailless-delta-wing interceptor designed for Armée de l'air (the French air force), with variants for export. It was designed as a light-weight fighter capable of Mach 2 speeds.
The Mirage III C was 45 feet, 5 inches (13,843 meters) long with a wingspan of 27 feet, 0 inches (8.230 meters) and height of 14 feet, 9 inches (4.496 meters.) The fuselage had a horizontal ellipse cross section and incorporated the Area Rule, similar to the delta wing Convair F-102A. The Mirage IIIC had an empty weight of 12,350 pounds (5,602 kilograms) and maximum takeoff weight of  max gross 22,860 pounds (10,369 kilograms).
The interceptor's low-mounted delta wings used trailing edge flight controls, with ailerons outboard, elevators at the center and small trim tabs inboard. The leading edges were swept aft to 60° 34′ and there was 2° 30′ anhedral. The total wing area was 366 square feet (34.00 square meters).

The Mirage III C was powered by a Société nationale d'études et de construction de moteurs d'aviation (SNECMA) Atar 09C single shaft, axial-flow turbo-réacteur (turbojet engine) with afterburner. The engine used a 9-stage compressor section and 2-stage turbine. It was rated at 9,430 pounds of thrust (41.947 kilonewtons), and 13,669 pounds (60.803 kilonewtons) with afterburner. The Atar 09C was 5.900 meters (19 feet, 4.28 inches) long, 1.000 meters (3 feet, 3.37 inches) in diameter and weighed 1,456 kilograms (3,210 pounds).
When configured as a high-altitude interceptor, the Mirage could be equipped with a hypergolic liquid fueled Société d'Études pour la Propulsion par Réaction SEPR 841 rocket engine mounted under the rear fuselage. When the booster pack not used, a small additional fuel tank would be mounted in the same position.
The Dassault Mirage III C could climb to 30,000 feet (9,144 meters) in 3 minutes, 60,000 feet (18,288 meters) in 6 minutes, 10 seconds, and reach 72,000 feet (21,946 meters) in 9 minutes. It had an economical cruise speed of 0.9 Mach at 40,000 feet (12,192 meters), and maximum speed of Mach 2.3 at 36,000 feet (10,973 meters). The maximum range with external fuel tanks was 1,850 miles (2977 kilometers).
The interceptor was equipped with search radar and a missile targeting computer. Armament consisted of a modular gun pack with two Direction des Études et Fabrications d'Armement (DEFA) 5-52 autocannon with 125 rounds of ammunition per gun (the targeting computer had to be removed for this installation). A Nord AA.20 guided air-to-air missile could be carried under the fuselage on a centerline hardpoint, or a AS.30 air-to-ground missile. Both of these were controlled by the pilot through a cockpit joystick. Alternatively, two Sidewinder infrared-homing air to air missiles were carried on underwing pylons.
95 Mirage III Cs were built. The served with the Armée de l'air from 1961 to 1988.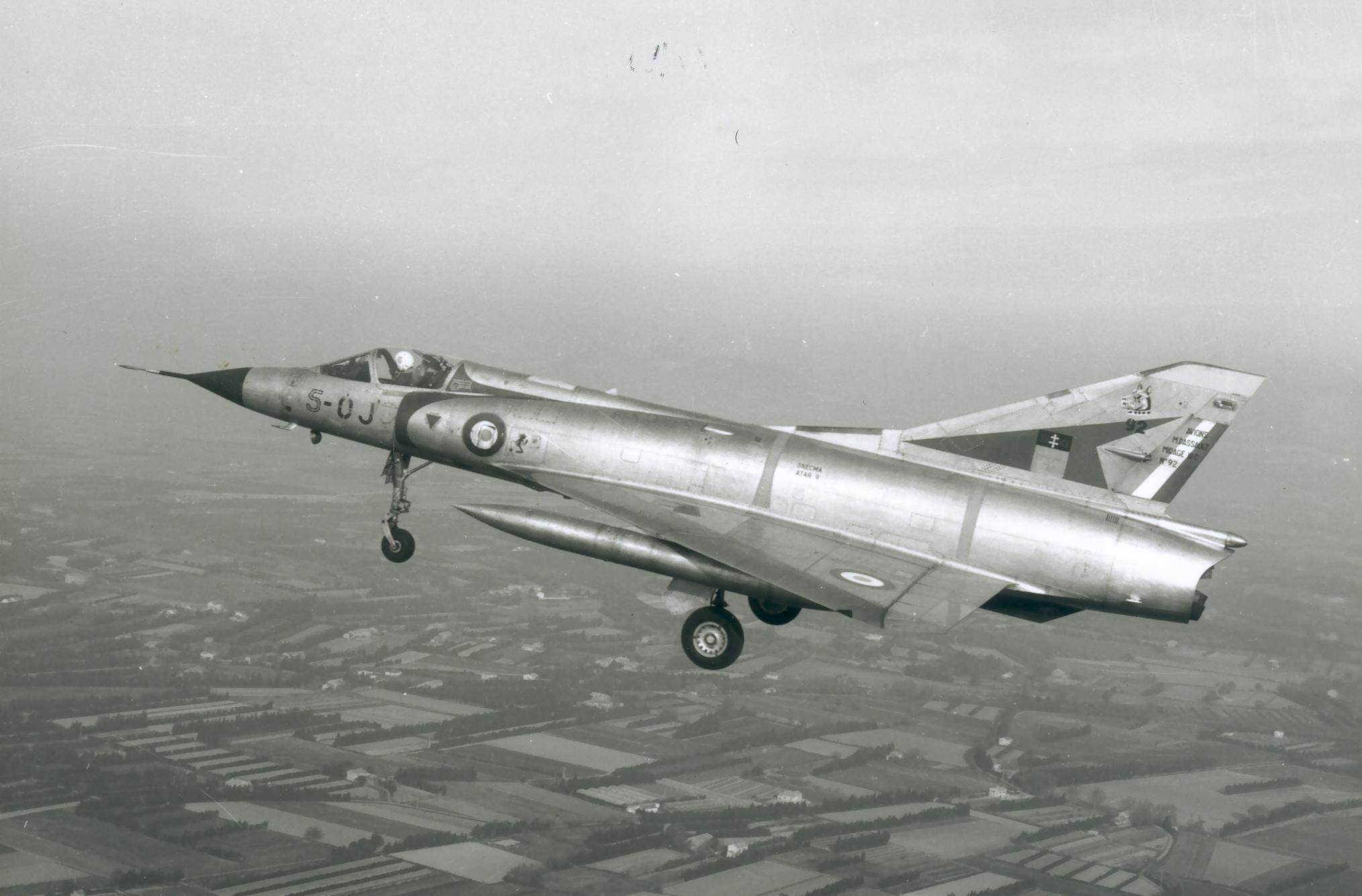 ¹ FAI Record File Number 12391.
² FAI Record File Number 13036: 1,262.19 km/h (784.29 miles per hour)
© 2018, Bryan R. Swopes