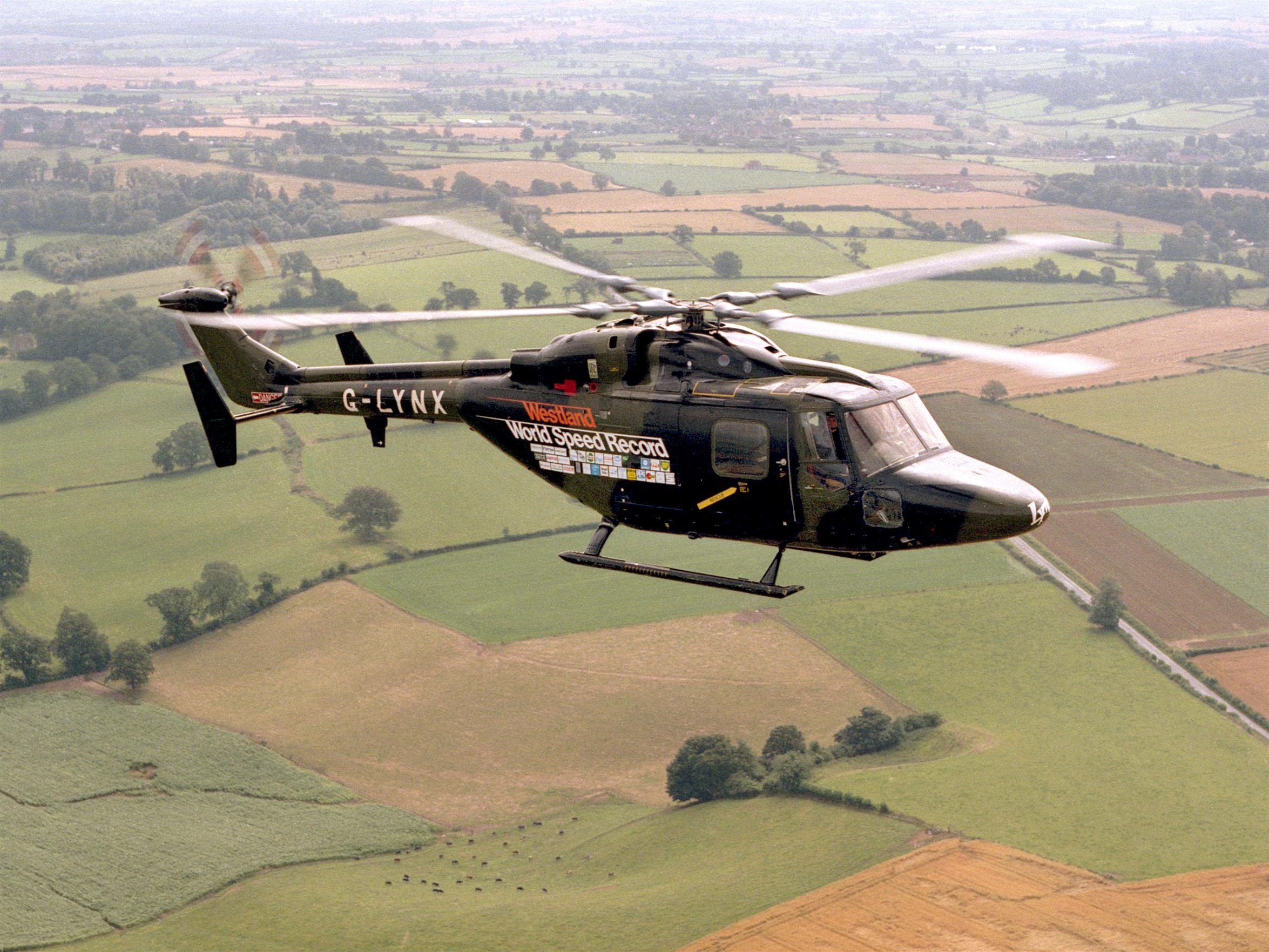 11 August 1986: A modified factory demonstration Westland Lynx AH.1 helicopter, civil registration G-LYNX, piloted by Chief Test Pilot John Trevor Egginton and Flight Test Engineer Derek J. Clews, set a Fédération Aéronautique Internationale (FAI) Absolute Record for Speed for helicopters over a straight 15/25 km course with an average speed of 400.87 kilometers per hour (249.09 miles per hour) over a measured 15 kilometer (9.32 miles) course near Glastonbury on the Somerset Levels and Moors, Southwest England.¹ ² ³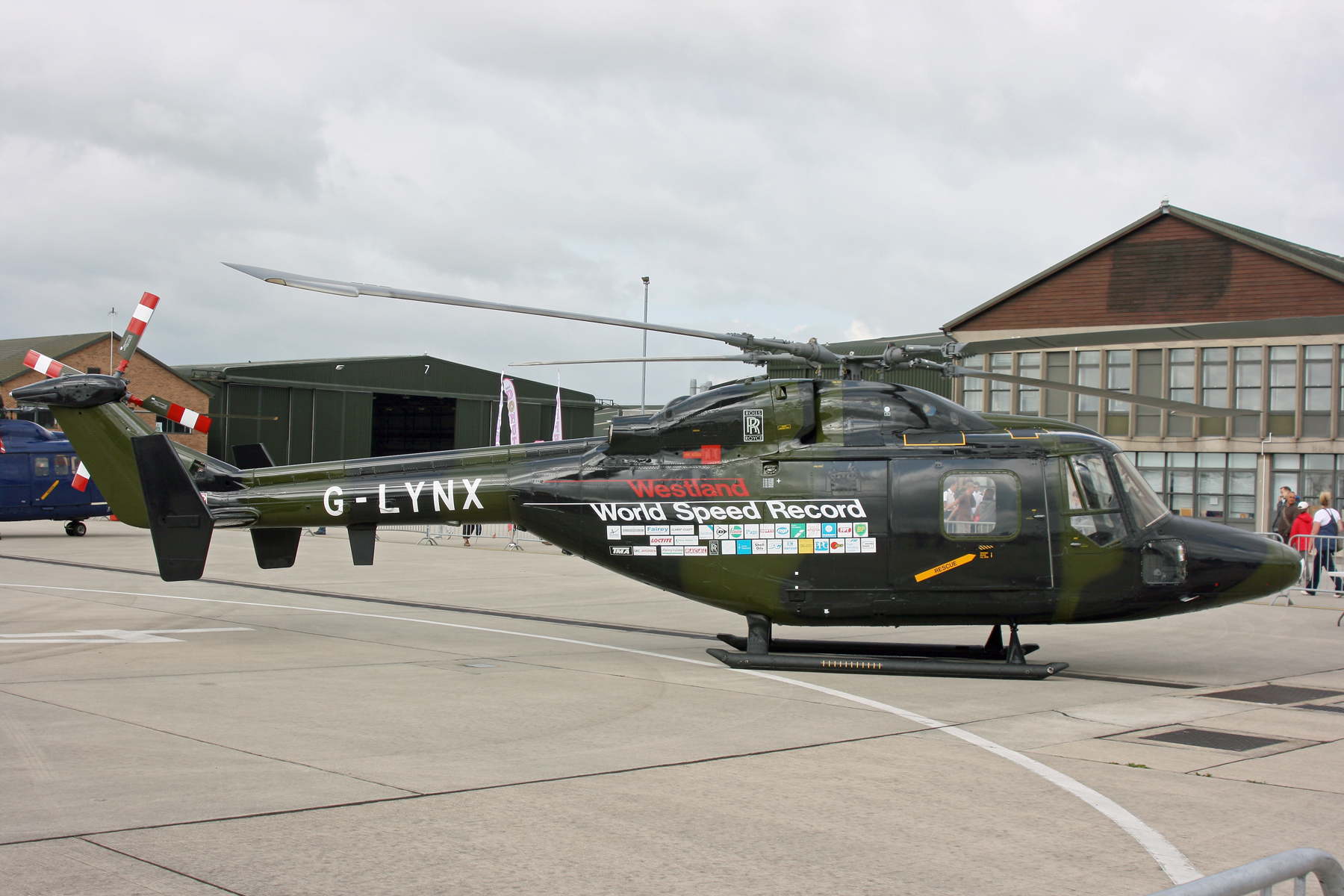 The helicopter was equipped with experimental BERP main rotor blades and two Rolls Royce Gem 60 turboshaft engines with digital electronic fuel control and water-methanol injection, producing 1,345 shaft horsepower, each. The engines' exhausts were modified to provide 600 pounds of thrust (2,669 Newtons). The horizontal tail plane and vertical fins from a Westland WG.30 were used to increase longitudinal stability and to unload the tail rotor in forward flight. In an effort to reduce aerodynamic drag, items such as steps, antennas and windshield wipers were removed.
During the speed runs, the main rotor blade tips reached a speed of 0.97 Mach.
Four passes over the course were made at an altitude of 500 feet (150 meters). The results of the two best successive passes were averaged. This set records for helicopters; helicopters in the 3,000–4,500 kilogram weight class; and an Absolute World Record for Rotorcraft. Thirty-two years later, these official speed records still stand.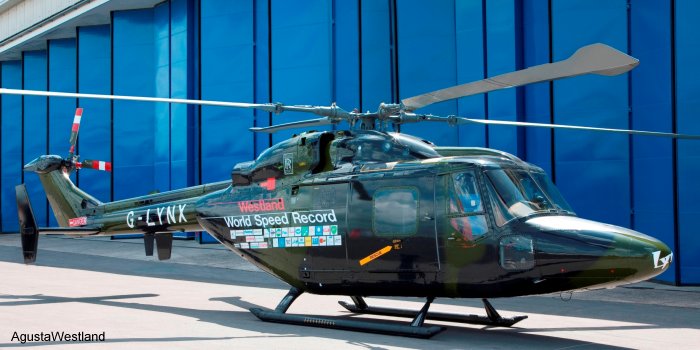 Another Westland AH.1 Lynx, flown by then Westland Chief Pilot Leonard Roy Moxham and Michael Ball, had set two FAI World Records for Speed, 20 and 22 June 1972. Flying over a straight 15/25 kilometer course, the Lynx averaged 321.74 kilometers per hour (199.92 miles per hour).⁴ Two days later, the Lynx flew a closed 100 kilometer circuit at an average speed of 318.50 kilometers per hour (197.91 miles per hour).⁵ Both of these records were for helicopters in the 3,000–4,500 kilogram weight class.
Westland WG.13 c/n 102 made its first flight in May 1979. After setting the speed record, G-LYNX was used as a demonstrator and as a test platform, before finally being retired in 1992. Beginning in 2007, AgustaWestland restored the Lynx to its speed record configuration, withe more than 25,000 man hours expended on the project.
G-LYNX was unveiled on 11 August 2011, the 25th anniversary of the world record flight. Today, it is on display at The Helicopter Museum, Weston-super-Mare, Somerset, South West England.
On 25 September 2014, the Institution of Mechanical Engineers bestowed its Engineering Heritage Award on G-LYNX. John Wood, chairman of the Institution said,
"The G-Lynx helicopter is a remarkable example of British engineering and vision. It is a testament to the cutting-edge modifications made to the helicopter, that the world speed record still stands 28 years later.
"This award is in recognition of all the people in making the 1986 record possible, but also to the AgustaWestland apprentices who restored the helicopter in 2011 and the Helicopter Museum who continue to maintain the craft in such excellent condition."
The Engineering Heritage Award was accepted by Elfan Ap Rees, founder of the Helicopter Museum, and John Trevor Egginton, pilot of the world record helicopter.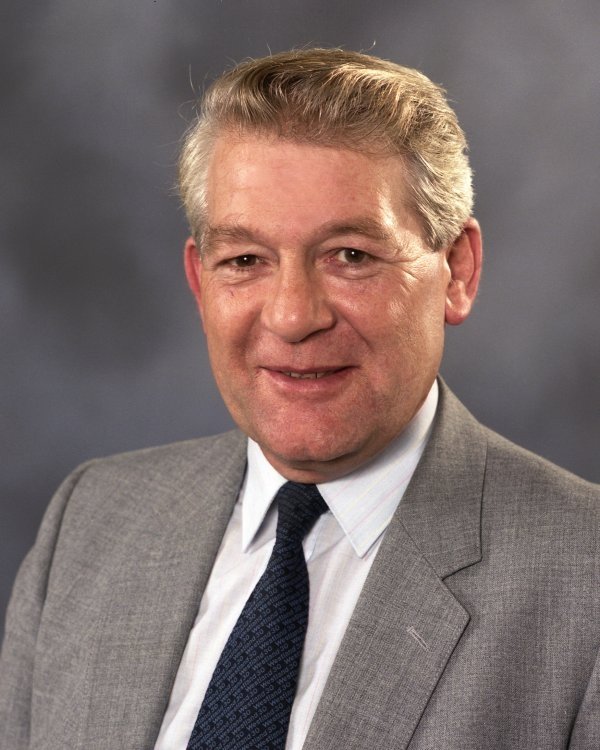 John Trevor Egginton was born in Birmingham, England, 14 March 1933. He was the second child of Alfred T. Egginton and Emma Hammond Egginton. John attended the George Dixon Grammar School at Edgbaston, a suburb of Birmingham.
In 1951, Egginton joined the Royal Air Force. On 7 May 1952, he was appointed a cadet pilot, with date of service from 2 January 1952. He was sent to the United States for flight training, and returned to England aboard RMS Queen Elizabeth, arriving at Southampton, 17 November 1953. He flew the Canadair CL-13 Sabre Mk.4 with No. 67 Squadron and the Hawker Hunter with Nos. 222 and 63 Squadrons.
In December 1956, Pilot Officer Egginton married Miss Joan Mary Wheeler at Bromsgrove, near Birmingham. They would have three children, Jane, Michael and Frazer.
Pilot Officer Egginton was promoted to the rank of Flight Lieutenant, 2 October 1957. His commission was made permanent, 31 August 1961.
Following an overseas tour of duty in the Colony of Aden, Flight Lieutenant Egginton transitioned to helicopters, training in the Bristol Sycamore. He was then assigned to No. 22 Squadron at RAF Chivenor, on the north coast of Devon, as a search and rescue pilot. The squadron was equipped with the Westland Whirlwind HAR.2, a licensed variant of the Sikorsky S-55. In August 1962, the unit upgraded to the turboshaft-powered Whirlwind HAR.10.
On the night of 2–3 November 1962, the French fishing trawler Jeanne Gougy, with a crew of 18 men, went aground at Land's End, Cornwall. A Royal Air Force helicopter from RAF Chivenor and a lifeboat from the Sennen Cove life boat station went to the scene. The lifeboat was unable to approach the wreck because of the heavy weather, but recovered two dead fishermen offshore. The helicopter also recovered a body. No other sailors were seen, the the two rescue craft returned to there bases with the remains.
Later that morning, observers from the shore saw several men inside the Jeanne Gougy's pilot house. A helicopter and the Penlee lifeboat, Soloman Brown, hurried to the scene, but conditions were still too extreme for the lifeboat to approach the trawler.
The Westland Whirlwind, flown by Flight Lieutenants John Lorimer Neville Canham, D.F.C., and John Trevor Egginton, hovered over the capsized fishing trawler while the winch operator, Sergeant Eric Charles Smith, was lowered to the ship's pilot house. A rescue line was also rigged to the nearby rocks. Sergeant Smith rigged two men for hoisting to the hovering helicopter and continued searching for additional survivors. Four sailors were rescued by the line to the shore. 12 of the fishermen did not survive.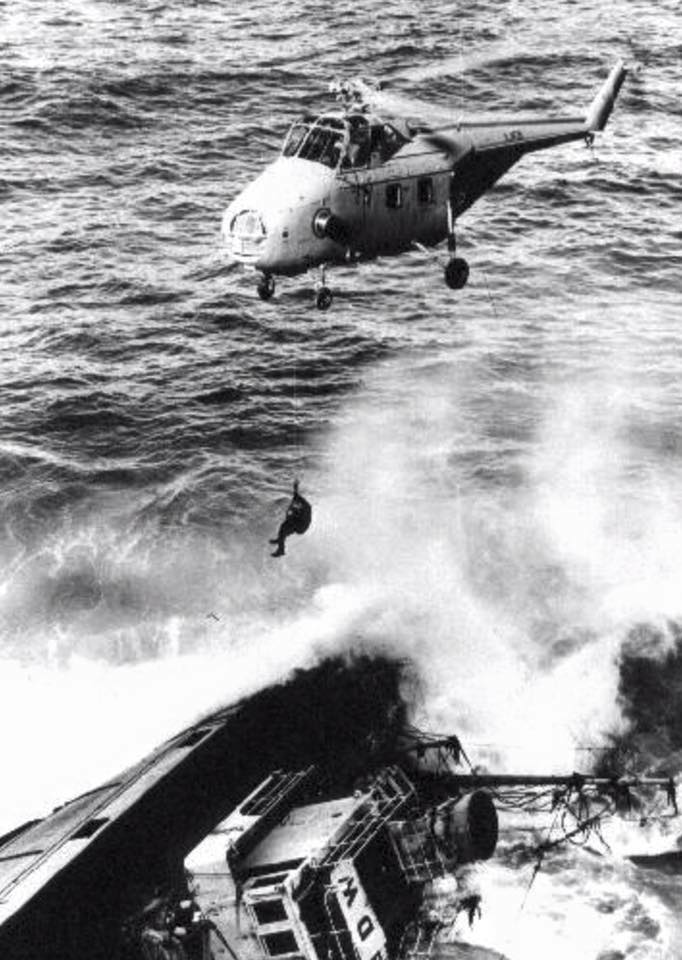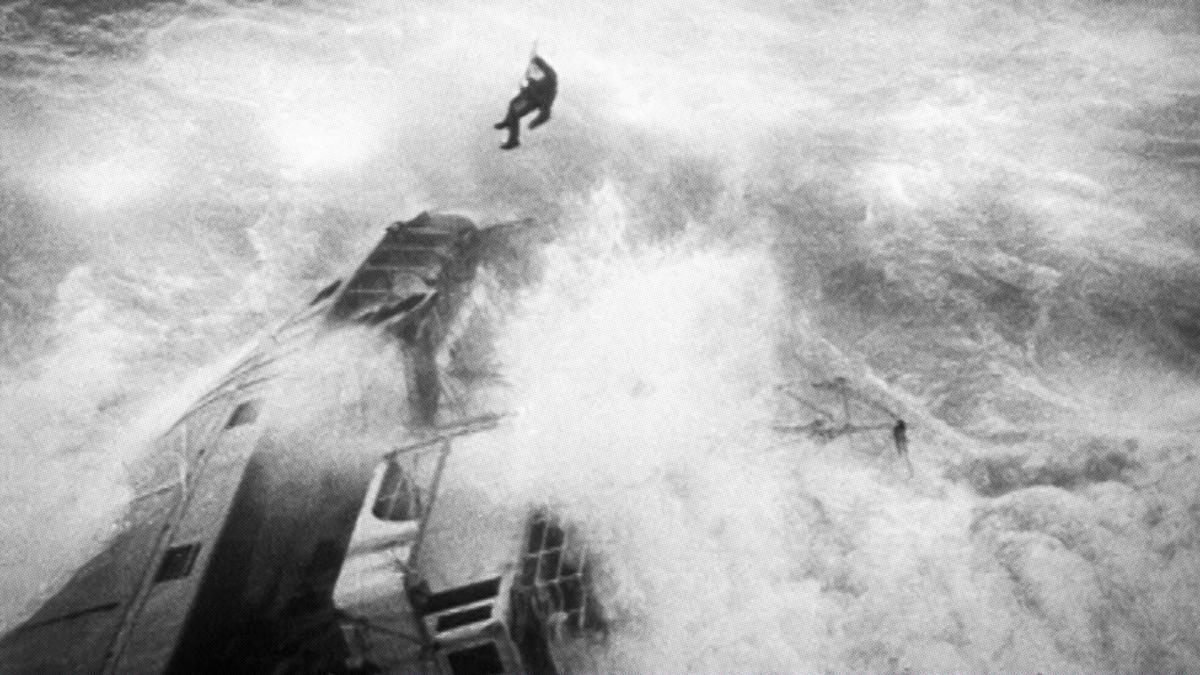 For his bravery during the rescue, Sergeant Smith was awarded the George Medal by Queen Elizabeth II. He was also awarded the Silver Medal of the Société des Hospitalers Sauveteurts Bretons.
The President of the French Republic, Charles de Gaulle, conferred the honor of Chevalier du Mérite Maritime on Flight Lieutenant Canham, Flight Lieutenant Egginton, and Sergeant Smith. On 13 June 1964, Egginton was awarded the Air Force Cross.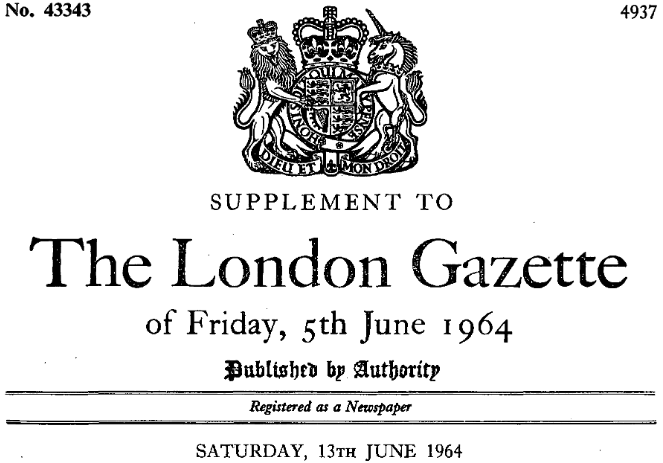 In 1965, Flight Lieutenant Egginton attended the Empire Test Pilots' School at RAF Boscombe Down. On graduation, he was assigned as a helicopter test pilot with D Squadron (now the Rotary Wing Test and Evaluation Squadron, or RWTES). In 1969, Egginton returned to the Test Pilots' School as a helicopter flight instructor.
Squadron Leader Egginton retired from the Royal Air Force in 1973. He was awarded the Queen's Commendation for Valuable Service in the Air, 2 June 1973. (London Gazette No. 45984 at Page 6463)
Egginton joined Westland Helicopters at Yeovil as deputy chief test pilot, and later became the company's chief test pilot. He from Westland retired after 15 years.
In the 1989 New Year's Honours List, Squadron Leader Egginton was appointed an Officer of the Most Excellent Order of the British Empire (O.B.E.):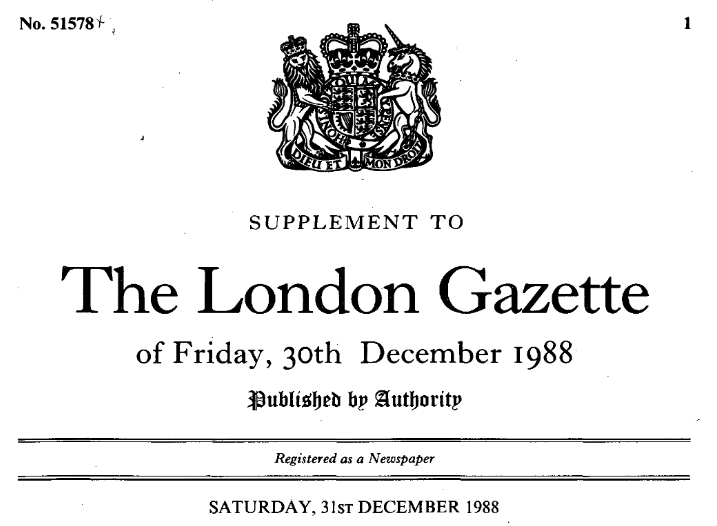 Squadron Leader John Trevor Egginton, O.B.E., A.F.C., F.R.Ae.S., Q.C.V.S.A., Chevalier du Mérite Maritime, died at his home in Yeovil, 23 November 2014. He was 81 years of age.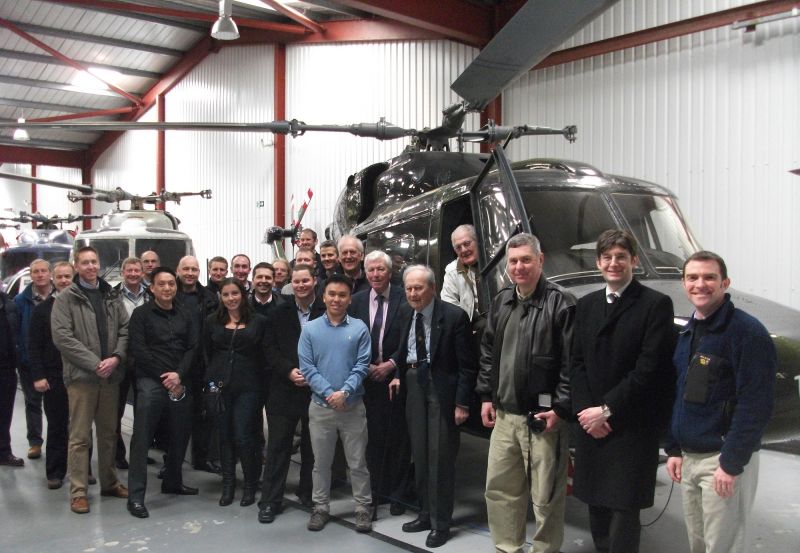 ¹ FAI Record File Number 11659: Rotorcraft, Absolute Record for Speed Over a 15–25 Kilometer Straight Course
² FAI Record File Number 1842: Rotorcraft, Helicopters, Subclass E-1e, 3,000–4,500 kilograms (6,613.9–9,920.8 pounds), takeoff weight
³ FAI Record File Number 1843: Rotorcraft, Helicopters, Subclass E-1
⁴ FAI Record File Number 1826: Rotorcraft, Helicopters, Subclass E-1e
⁵ FAI Record File Number 1853: Rotorcraft, Helicopters, Subclass E-1e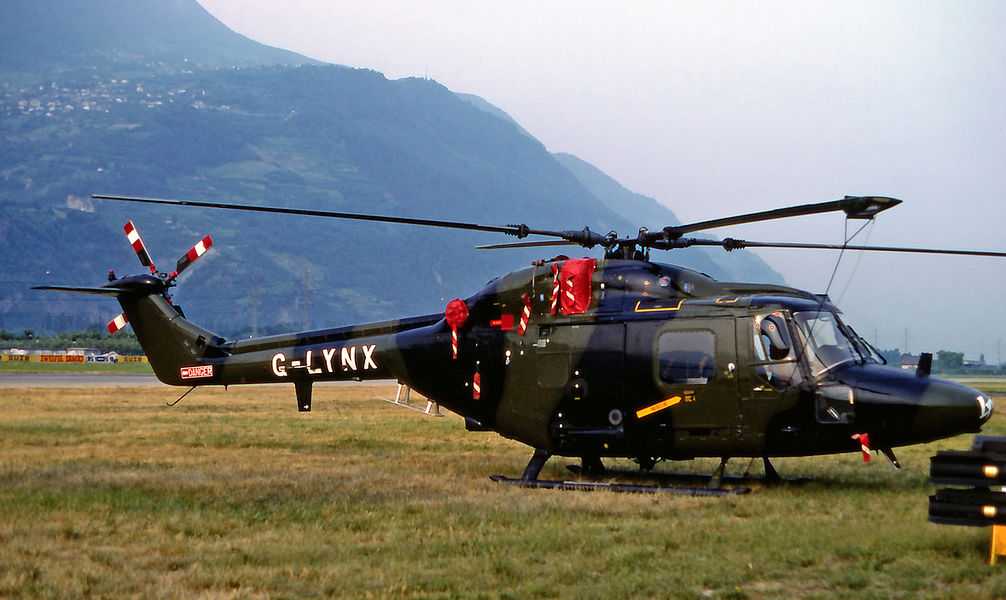 © 2018, Bryan R. Swopes