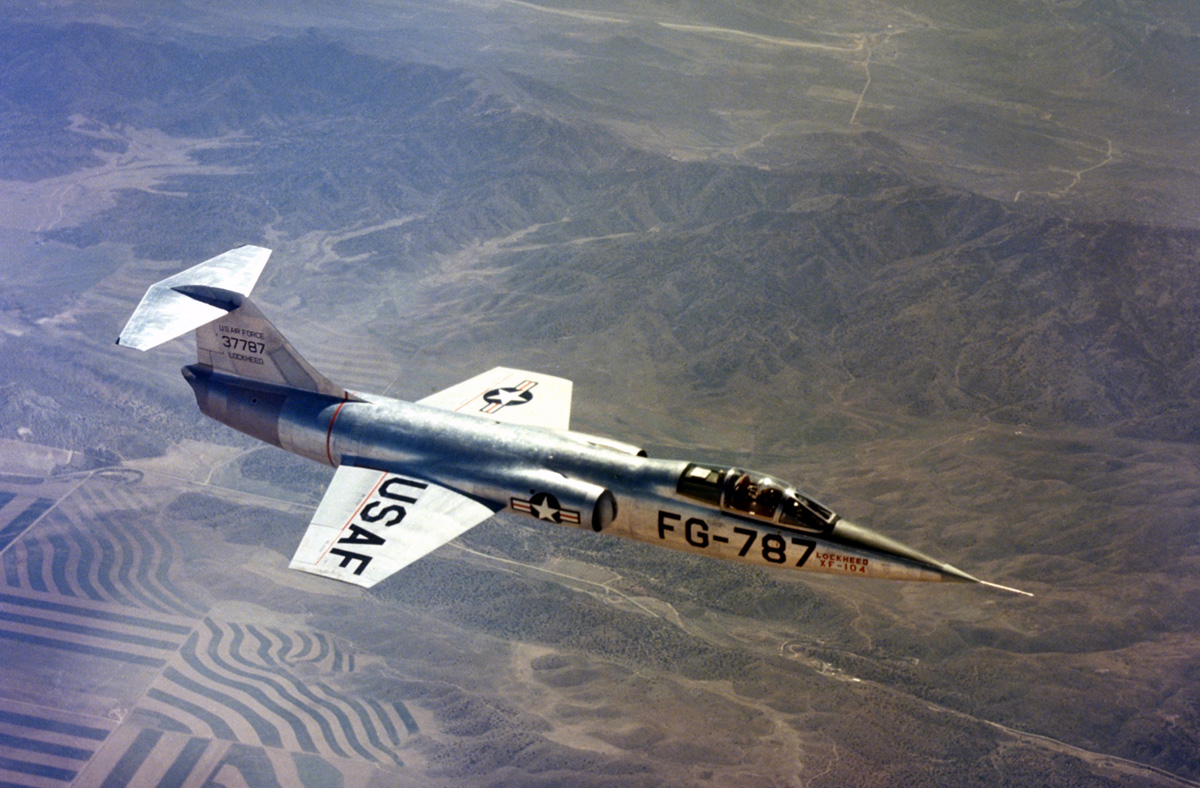 19 April 1955:¹ Lockheed test pilot Herman Richard ("Fish") Salmon was flying the second prototype Lockheed XF-104 interceptor, 53-7787, conducting tests of the General Electric T171 Vulcan gun system.
At 47,000 feet (14,326 meters), Salmon fired two bursts from the T171. On the second burst, vibrations from the gun loosened the airplane's ejection hatch, located beneath the cockpit, resulting in explosive decompression.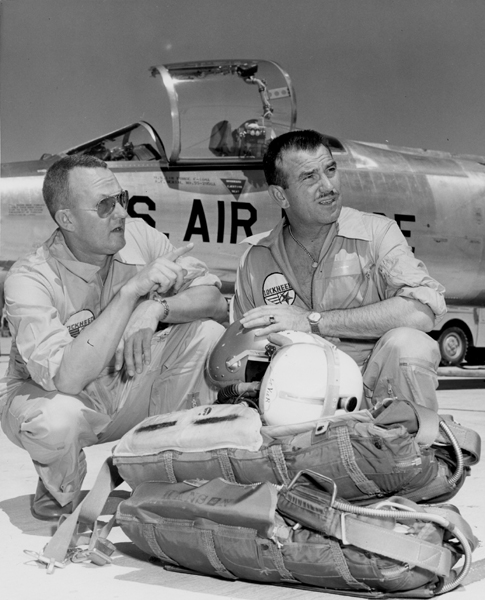 The Associated Press reported:
Test Pilot Leaps From New Jet
     INYOKERN, Calif., April 20 (AP)—Herman R. (Fish) Salmon, former racing pilot and now a top test pilot, bailed safely from one of the Air Force's hot new F104 jet fighters over the Mojave dessert[sic]Tuesday.
He was  spotted on the desert after a two-hour search by military planes and brought to the Naval ordinance [sic] test station here for a physical examination. A preliminary checkup indicated he was not injured.
     Salmon, 41, was on a routine test flight when he hit the silk. Authorities gave no hint what happened to the supersecret plane to make the bailout necessary. The craft's height at the time it was abandoned was not given. The plane's top speed has been unofficially estimated at 1,200 m. p. h.
     Wreckage of the F104, one of two prototypes now being tested by Lockheed Aircraft Corp. for the Air Force, was found several miles south of the China Lake area.
     A Lockheed spokesman said Salmon, of Van Nuys, Calif., was spotted by a search plane and apparently picked up by a Navy helicopter and flown here. Salmon took off on the test flight from Palmdale, about 70 miles south of here.
— Reno Evening Gazette, Volume LXXIX, Number 21, Wednesday, 20 April 1955, Page 24 at Columns 5–7.
Fish Salmon was wearing a David Clark Co. T-1 capstan-type partial-pressure suit and International Latex Corporation (I.L.C. Dover) K-1 helmet for protection in just such an emergency. The capstans are pneumatic tubes surrounded by fabric lacings, running along the arms, torso and legs. As the tubes inflated, the lacings pulled the fabric of the suit very tight and applied pressure to his body as a substitute for normal atmospheric pressure. The partial-pressure garment also enclosed his head, with a fiberglass helmet and a clear visor or face plate providing for vision.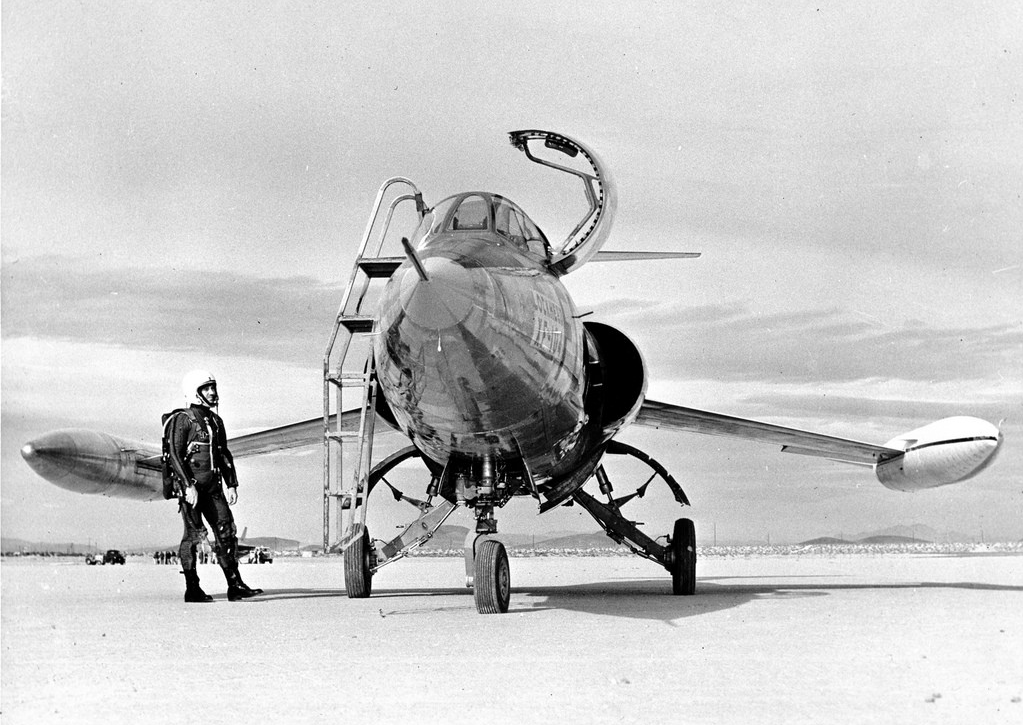 The sudden loss of cabin pressure and drop to subfreezing temperatures caused Salmon's face plate to fog over. Inflating air bladders pushed his helmet high on his head.  The cockpit was filled with dust, fiberglass insulation and other debris. All this restricted his visibility, both inside and outside the airplane. The very tight pressure suit restricted his movements.
Fish Salmon cut the throttle, opened the speed brakes and began a descending turn to the left to reach a lower altitude. By the time he had reached 15,000 feet (4,572 meters) he had been unable to find a place on the desert floor to make an emergency landing. It was time to leave the crippled XF-104.
At 250 knots (288 miles per hour/463 kilometers per hour) the ejection seat fired Salmon out of the bottom of the cockpit. He had to open his parachute manually (the seat timer did not operate) and he made a safe landing.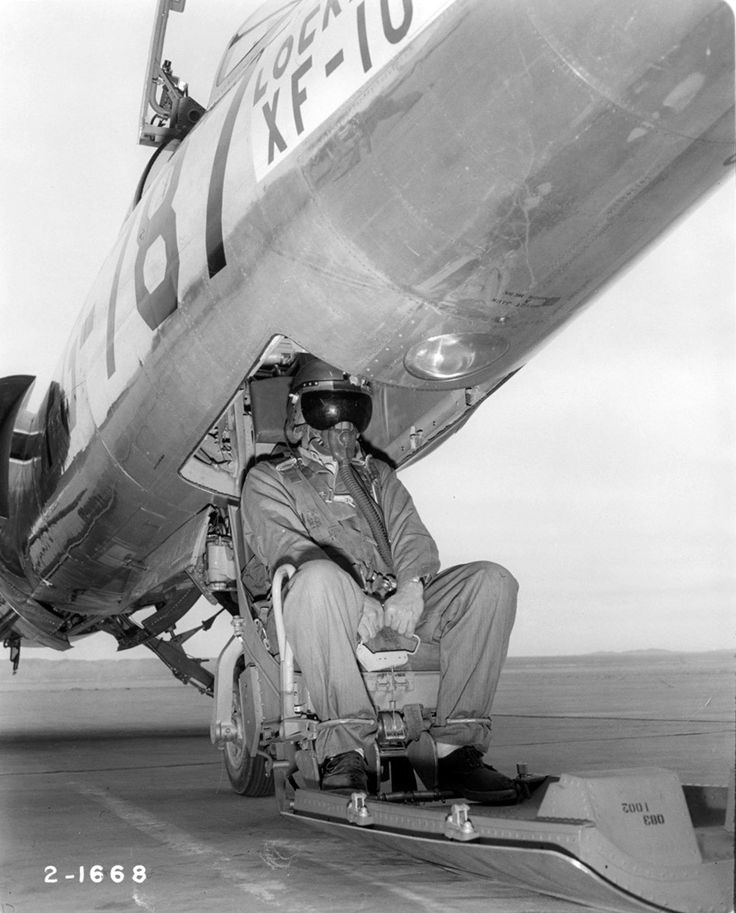 The prototype XF-104 impacted the desert approximately 73 miles (117 kilometers) east-northeast of Edwards Air Force Base. It was completely destroyed. Fish Salmon landed about 2 miles (3.2 kilometers) away. He was found two hours later and rescued by an Air Force helicopter.
Occasionally, a satisfied user thanked the researchers at the Aero Medical Laboratory. One of these was Lockheed test pilot Herman R. "Fish" Salmon. On April 14, 1955, ¹ Salmon was flying the second XF-104 (53-7787) at 47,500 feet while wearing a T-1 suit, K-1 helmet, and strap-fastened boots. As he triggered the General Electric M61 Vulcan 20 mm cannon for a test firing, severe vibrations loosened the floor-mounted ejection hatch and the cockpit explosively depressurized at the same time as the engine flamed out. The suit inflated immediately. Repeated attempts to restart the engine failed, and Salmon ejected at 15,000 feet. Fish reported, "I landed in a field of rocks ranging from one foot to five feet in diameter. My right arm was injured and my head struck a rock. The K-1 helmet hard shell was cracked, but there was no injury to my head. It took me 10 to 15 minutes to get out of the suit with my injured arm. Rescue was effected [sic] by helicopter approximately two hour after escape." Salmon reported that the K-1 helmet was excellent for rugged parachute landings, and his only complaint was that the visor may impair vision at extreme altitudes."
—Dressing for Altitude: U.S. Aviation Pressure Suits—Wiley Post to Space Shuttle, by Dennis R., Jenkins, National Aeronautics and Space Administration SP–2011–595, Washington, D.C., 2012, Chapter 4 at Page 141.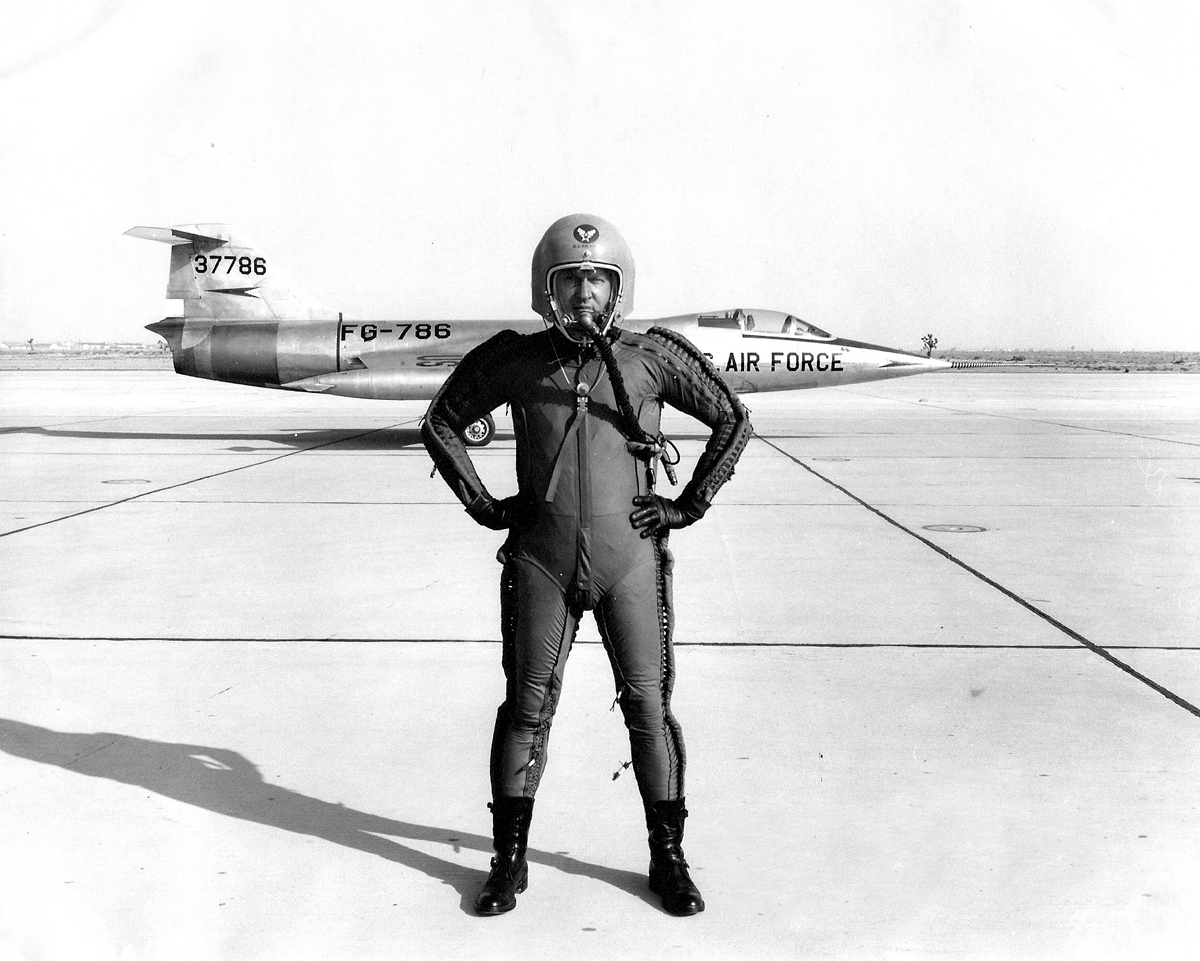 There were two Lockheed XF-104 prototypes. Initial flight testing was performed with 083-1001 (USAF serial number 53-7786). The second prototype, 083-1002 (53-7787) was the armament test aircraft. Both were single-seat, single-engine supersonic interceptors. The XF-104 was 49 feet, 2 inches (14.986 meters) long with a wingspan of 21 feet, 11 inches (6.680 meters) and overall height of 13 feet, 6 inches (4.115 meters). The prototypes had an empty weight of 11,500 pounds (5,216 kilograms) and maximum takeoff weight of 15,700 pounds (7,121 kilograms).
The production aircraft was planned for a General Electric J79 turbojet but that engine would not be ready soon enough, so both prototypes were designed to use a Buick-built J65-B-3, a licensed version of the British Armstrong Siddeley Sapphire turbojet engine. XF-104 53-7787 had been built with an afterburning Wright J65-W-7 turbojet, rated at 7,800 pounds of thrust, and 10,200 pounds of thrust with afterburner.
The XF-104 had a maximum speed of 1,324 miles per hour (2,131 kilometers per hour), a range of 800 miles (1,287 kilometers) and a service ceiling of 50,500 feet (15,392 meters).
The General Electric T171 Vulcan was a prototype 6-barrelled 20 mm "Gatling Gun" automatic cannon. The barrels were rotated at high speed by a hydraulic drive. The gun is capable of firing 6,000 rounds per minute. The initial production version was designated M61. The cannon system was installed in a weapons bay on the left side of the F-104, between the cockpit and engine intakes.
The first prototype Lockheed XF-104, 53-7786, was also destroyed, 11 July 1957, when the vertical fin was ripped off by uncontrollable flutter. The pilot, William C. Park, safely ejected.
¹ Reliable sources give the date of this incident as both 14 April and 19 April. Contemporary news reports, published Wednesday, 20 April 1955, say that the accident took place "yesterday" and "Tuesday," suggesting that the correct date is 19 April.
© 2017, Bryan R. Swopes