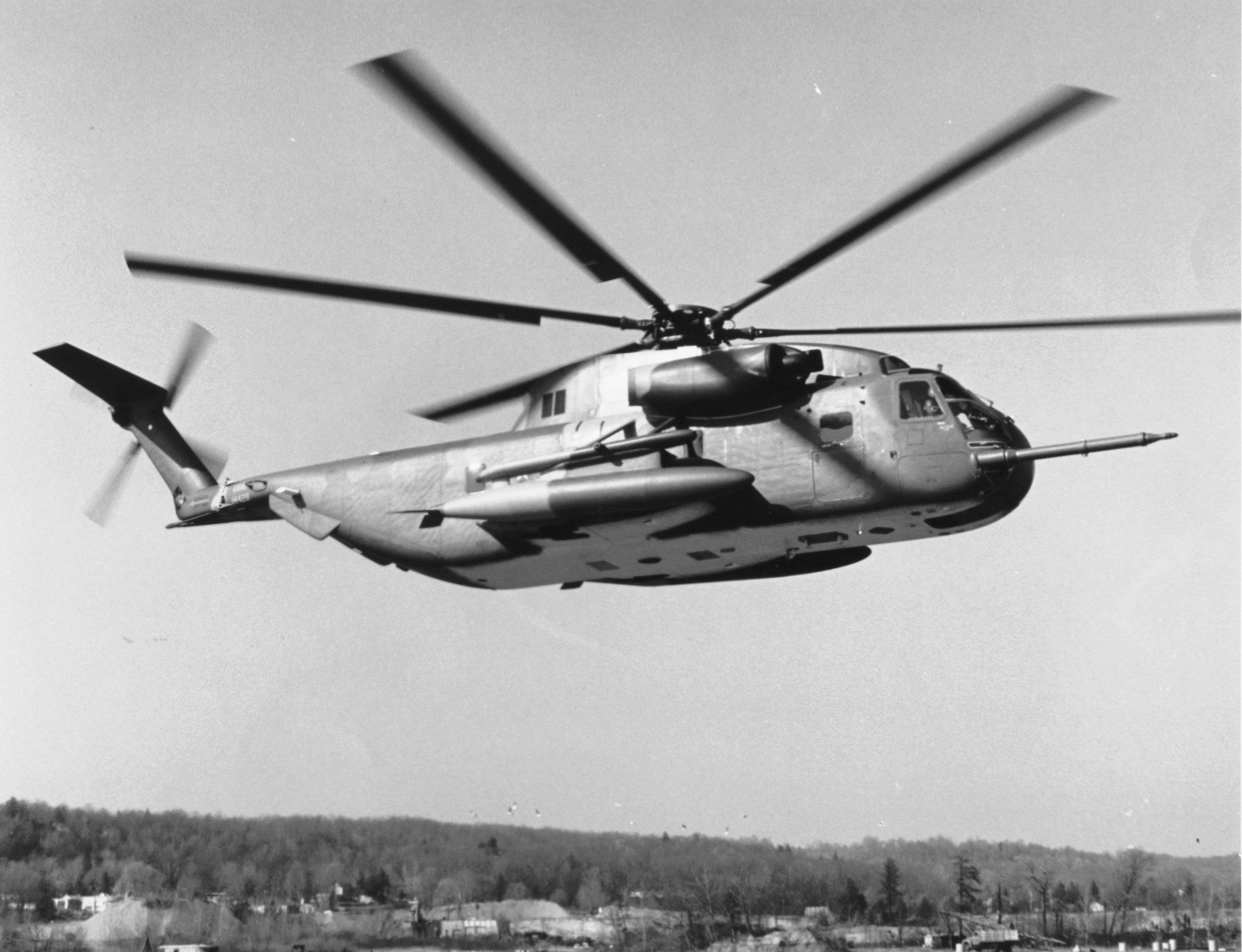 15 March 1967: The first Sikorsky HH-53B, 66-14428, made its maiden flight at Stratford, Connecticut. In the cockpit were Sikorsky test pilots James R. ("Dick") Wright and Patrick A. Guinn. The helicopter would be called the "Super Jolly Green Giant."
A variant of the United States Navy/Marine Corps CH-53A Sea Stallion, the Super Jolly Green Giant was the largest, most powerful, and fastest helicopter in the United States Air Force inventory. Configured for combat search and rescue (CSAR) and special operations, the HH-53B was equipped for inflight refueling and was armed with three General Electric GAU/2A 7.62 mm miniguns or .50-caliber Browning machine guns. The HH-53B can be visually distinguished from other H-53s by the two diagonal sponson support struts on each side of the fuselage.
The HH-53B Super Jolly Green Giant was flown by two pilots and was crewed by a flight engineer/gunner, two additional gunners, and one or two pararescue jumpers ("PJs"). It has an overall length of 88 feet, 2.4 inches (26.833 meters) with rotors turning. With the refueling boom extended the total length of the helicopter is 91 feet, 11.34 inches (28.025 meters). The fuselage is 67 feet, 2.4 inches (20.483 meters) long and 8 feet (2.438 meters) wide. The height to the top of the main rotor pylon is 17 feet, 1.68 inches (5.224 meters). The maximum height (rotors turning) is 24 feet, 10.88 inches (7.592 meters).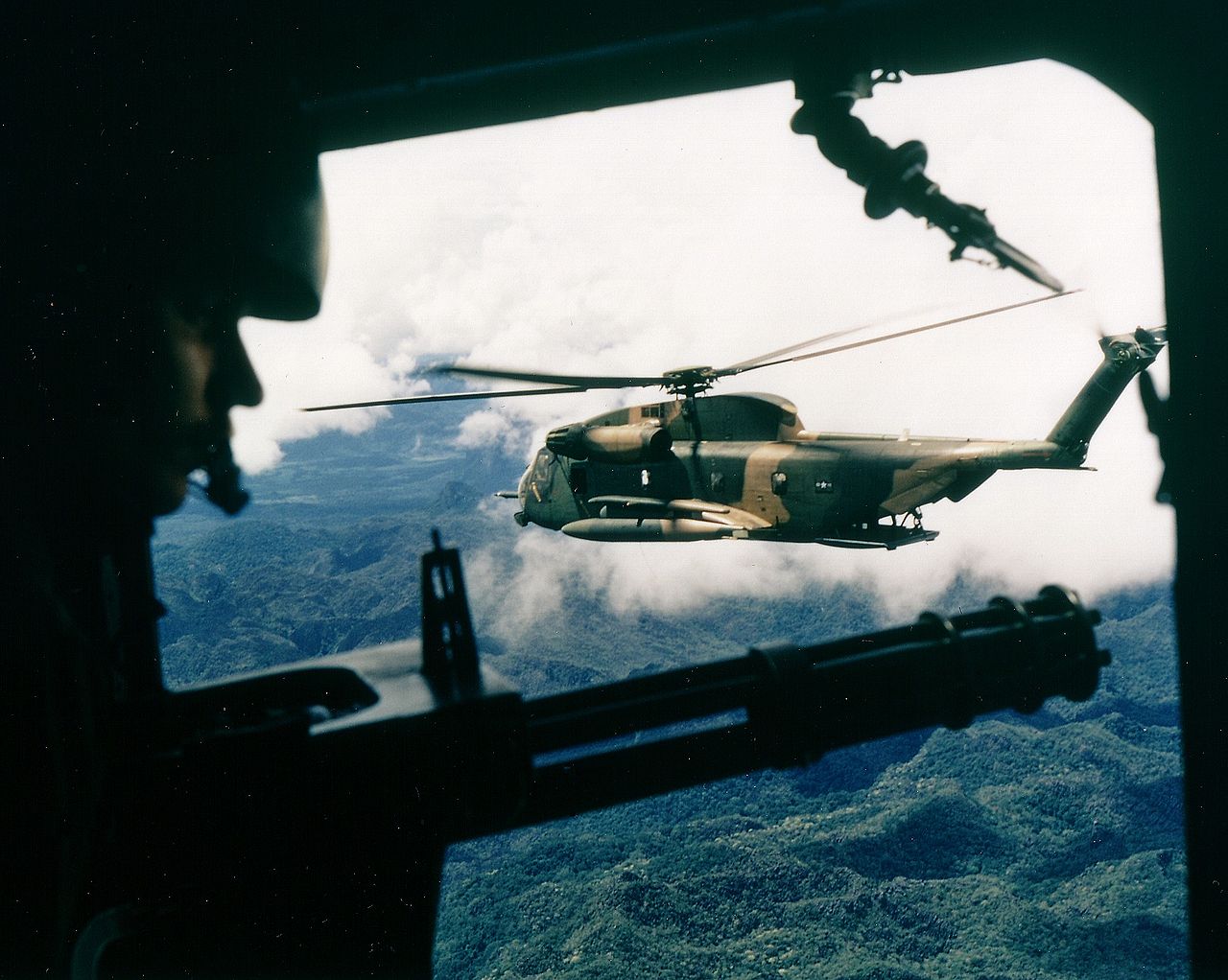 The HH-53B's fully-articulated 6-blade main rotor has a diameter of 72 feet, 2.7 inches (22.014 meters). The main rotor turns counter-clockwise at 185 r.p.m. (100% Nr), as seen from above. (The advancing blade is on the helicopter's right.) The main rotor blades are built with titanium spars and have -16° of twist. The semi-articulated four-blade tail rotor has a diameter of 16 feet, 0 inches (4.877 meters) and is positioned on the left side of the tail pylon. It turns clockwise at 792 r.p.m., as seen from the helicopter's left side. (The advancing blade is below the axis of rotation.) The gap between rotor arcs is just 4.437 inches (11.270 centimeters).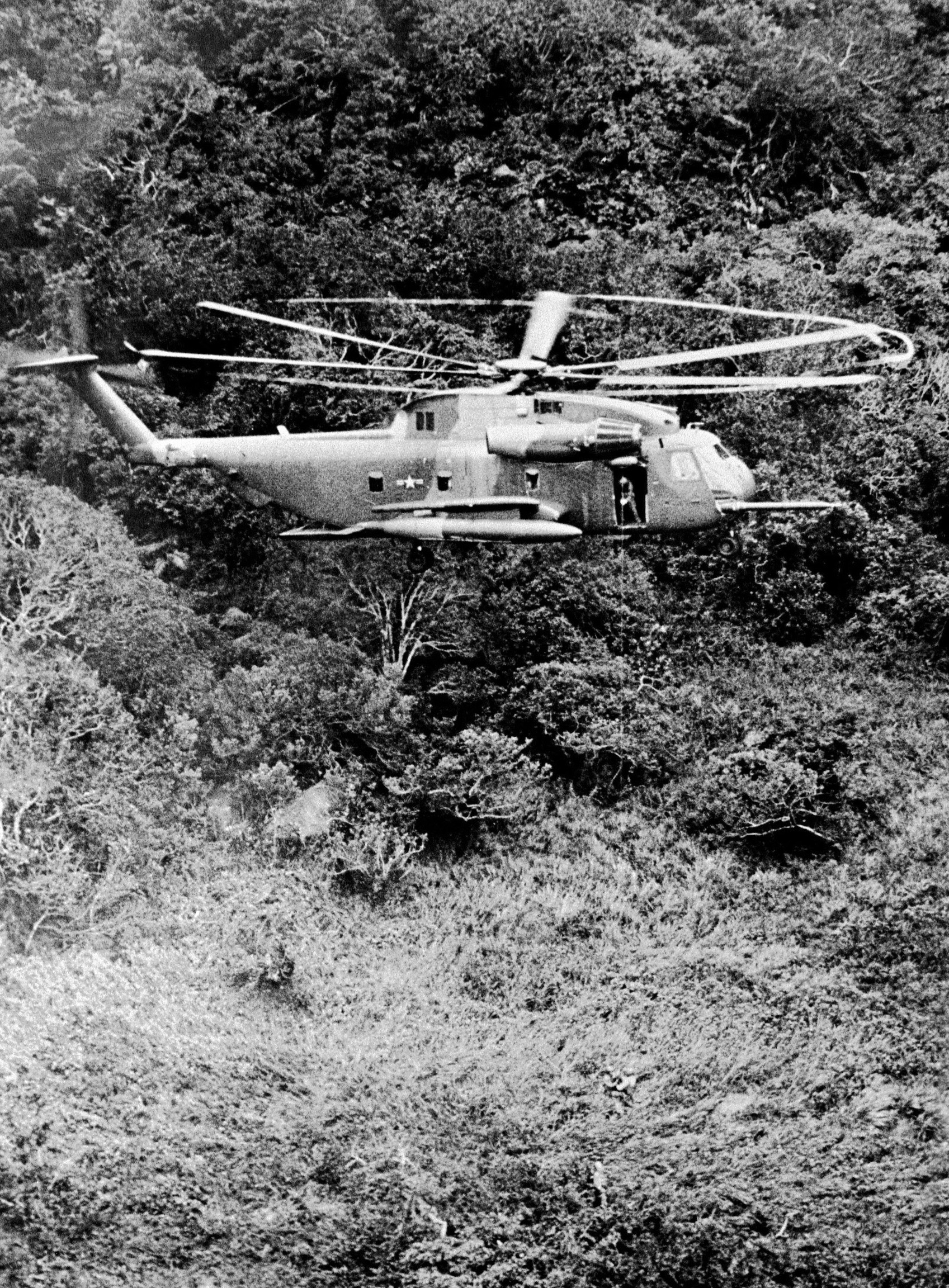 The HH-53B had an empty weight of 26,500 pounds (12,020 kilograms). Its maximum takeoff weight was 42,000 pounds (19,051 kilograms).
The HH-53B was originally equipped with two General Electric T64-GE-3 turboshaft engines, producing 3,080-shaft horsepower, each. The T64 is an axial flow free-turbine turboshaft engine. It has a 14-stage compressor and 4-stage turbine (2 high-pressure and 2 low pressure). The turbine shaft is coaxial with the compressor shaft and delivers power forward.
The helicopter had a cruise speed of 150 knots (173 miles per hour/278 kilometers per hour), and a maximum speed of 170 nautical miles per hour (196 miles per hour/315 kilometers per hour). The service ceiling was 20,400 feet (6,218 meters). Its range is 600 nautical miles (690 statute miles/1,111 kilometers), and it is capable of inflight refueling.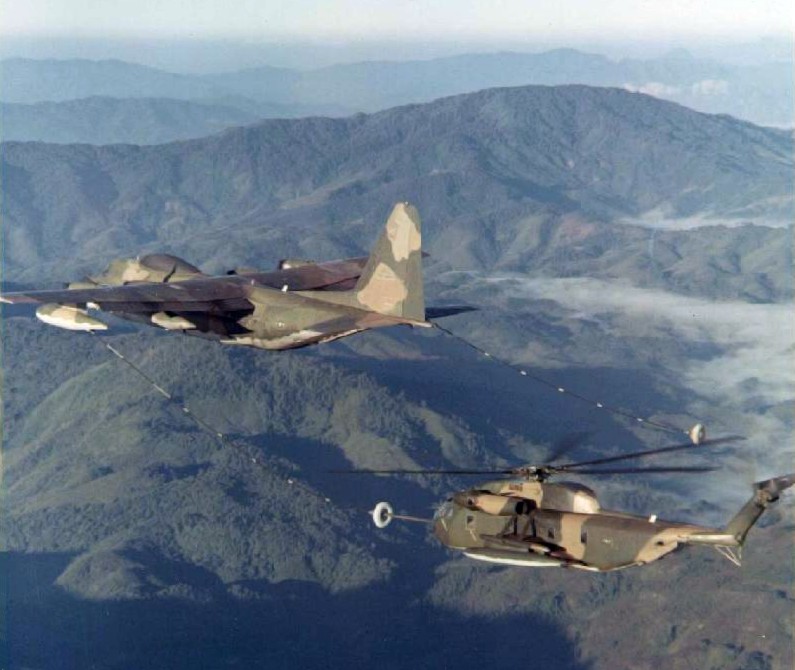 The Air Force ordered eight HH-53Bs, followed by 58 improved HH-53C Super Jolly Green Giants.¹ The first HH-53B, 66-14428, was delivered to the Air Force Air Rescue and Recovery Service at the Sikorsky plant in June 1967. It was flown to Eglin Air Force Base, Florida by Lieutenant Colonel James Dixon and Captain Fredric Donohue of Detachment 2, 37th Air Rescue and Recovery Squadron. For the next two months ARRS crews trained with it at Eglin.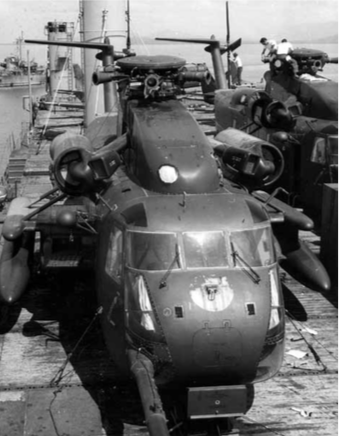 Along with the second HH-53B, the new helicopter was then shipped to Vũng Tàu, Republic of Vietnam, aboard the former U.S. Navy escort carrier, USNS Card (T-AKV-40) for assignment to the 37th Aerospace Rescue and Recovery Squadron at Udorn Royal Thai Air Force Base. They were soon joined by four more HH-53Bs.
As upgraded HH-53Cs became available, the six -53Bs were returned to the United States, where some were used as trainers, and others as test aircraft for the development of the Pave Imp and Pave Low systems. 4428 was one of five HH-53Bs modified to the initial Pave Low configuration. This was followed by the HH-53H Pave Low II configuration.
In 1988, all HH-53 and CH-53 helicopters in the U.S. Air Force inventory began to be modified to the MH-53J Pave Low III Enhanced special operations configuration. The modifications, along with incorporation of a Service Life Extension Program (SLEP) were performed by Naval Air Rework Facility (NARF) at NAS Pensacola, Florida, or by the Marine Corps aviation depot at MCAS Cherry Point, North Carolina.
After nearly 40 years of service, 66-14428 was sent to The Boneyard at Davis-Monthan Air Force Base, Tucson, Arizona, 7 January 2007. By September 2008, all U.S. Air Force Pave Low helicopters had been withdrawn from service.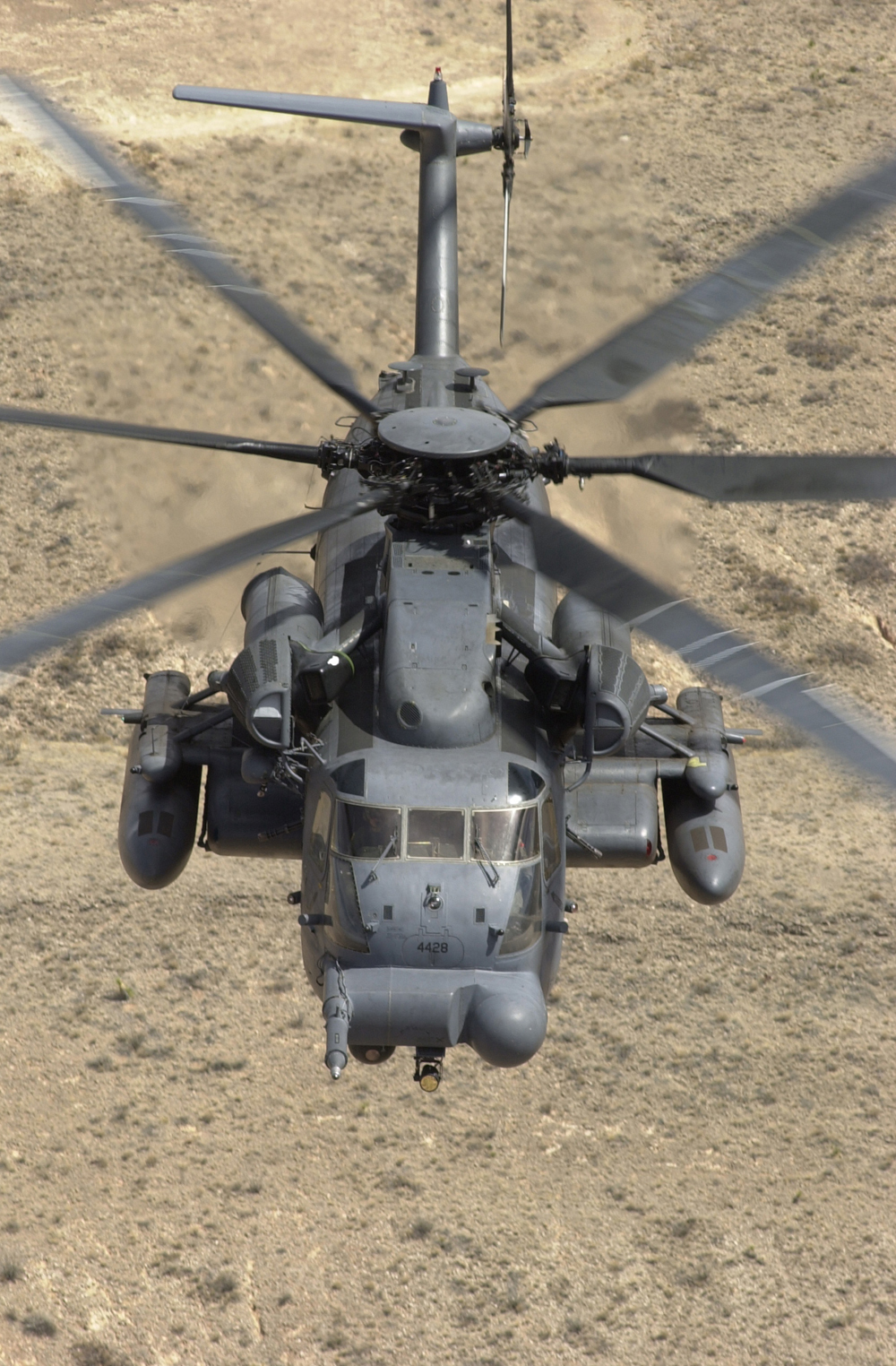 Highly recommended: On A Steel Horse I Ride: A History of the MH-53 Pave Low Helicopters in War and Peace, by Darrel D. Whitcomb, Air University Press, 2012
¹ By the time the United States withdrew from the Vietnam War, Sikorsky had produced 52 HH-53B and -53C Search and rescue helicopters, and 20 CH-53C transports. Of these, 9 HH-53s and 7 CH-53s were destroyed in combat, and 2 HH-53s and 1 CH-53 were lost in accidents in the United States.
© 2023, Bryan R. Swopes