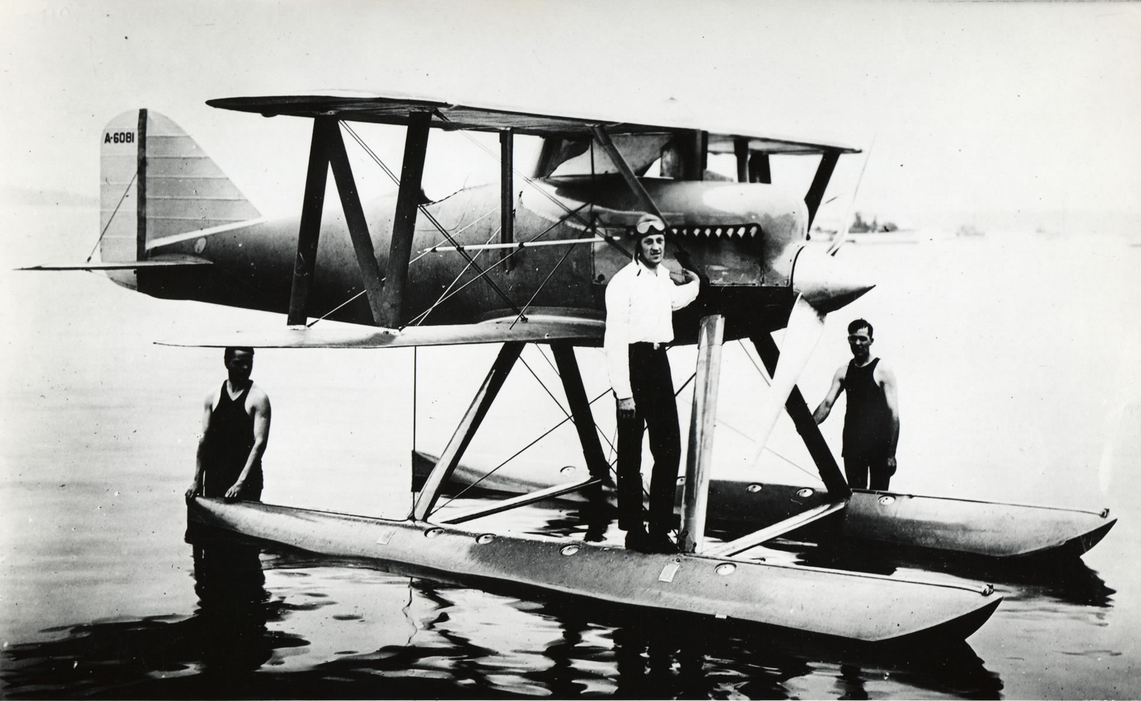 28 September 1923: Lieutenant David Rittenhouse, United States Navy, won the 1923 Coupe d'Aviation Maritime Jacques Schneider (the Schneider Cup) race, held at Cowes, England. Lieutenant Rittenhouse's aircraft was a Curtiss CR-3 seaplane.
The race began at 11:00 a.m. Competitors were required to taxi on the surface across the starting line before becoming airborne. National teams started at 15-minute intervals. The race consisted of five timed laps of a 68.9 kilometer ( 42.8 miles) triangular. The starting teams were: the United States, Great Britain and France. The Italian team had unexpectedly withdrawn a few days before the event. Several mishaps had sidelined airplanes from the remaining teams, and by the 23rd, only four seaplanes were ready for the race.
#3 Curtiss CR-3 A-6080, Lieutenant Irvine, 450-h.p. Curtiss D-12
#4 Curtiss CR-2 A-6081, Lieutenant Rittenhouse, 450-h.p. Curtiss D-12
#7 Supermarine Sea Lion Mark III G-EABH, Captain Biard, 500 h.p. Napier Lion III
#9 Hydroavions C.A.M.S. 38 F-ESFD, Hurel, 380 h.p. Hispano-Suiza 12 Fd

At 11:00 a.m., the two United State Navy Curtiss CR-3 seaplanes started the first lap. 15 Minutes later, the British Supermarine Sea Lion III flying boat followed, and fianally the French Hydroavions C.A.M.S. 38 made its start.
David Rittenhouse's Curtiss was clearly the fastest airplane. He had nearly completed the first lap by the time the British Sea Lion III was starting, and the second as the French C.A.M.S. 38 began its run. Rittenhouse's lap times were: (1) 15 minutes, 6-2/5 seconds; (2). 14 minutes, 22-1/5 seconds; (3) 14 minutes, 24-4/5 seconds; (4) 14 minutes, 22-1/5 seconds; and (5) 14 minutes, 11-1/5 seconds. Rittenhouses' average speed over the final lap was 181.17 miles per hour (291.56 kilometers per hour), and for the race, 177.38 miles per hour (285.47 kilometers per hour).
Rittenhouse also set a Fédération Aéronautique Internationale (FAI) World Record for Speed Over 200 Kilometers with an average speed of 273.41 kilometers per hour (169.89 miles per hour.)¹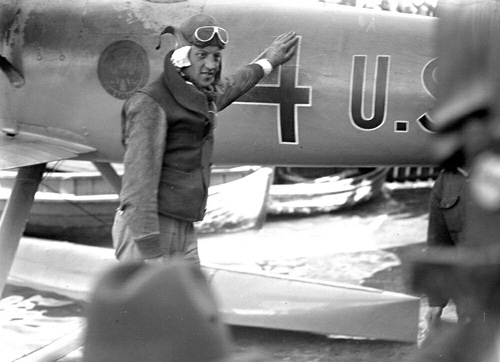 Lieutenant Rutledge Irvine, U.S. Navy, in CR-3 #3, finished in second place, 1 minute, 39 seconds behind Rittenhouse, with an average speed of 173.35 miles per hour (278.98 kilometers per hour). Captain Henry Biard, Royal Air Force, was third with the Sea Lion III, at 157.07 miles per hour (252.78 kilometers per hour). Hurel and the C.A.M.S. 38 dropped out on the second lap with engine trouble and did not finish the race.

The Curtiss CR-3 was a single-place, single-engine racing biplane with two pontoons for takeoffs and landings on water. It was 24 feet, 8 inches (7.518 meters) long with a wingspan of 22 feet, 8 inches (6.909 meters) and overall height of 10 feet, 9 inches (3.277 meters). Its empty weight was 2,119 pounds (961 kilograms), and gross weight, 2,597 pounds (1,178 kilograms).
The CR-3 was powered by a liquid-cooled, normally aspirated 1,145.1-cubic-inch-displacement (18.765 liter) Curtiss D-12 dual overhead cam (DOHC) 60° V-12 engine with four valves per cylinder and a 5.7:1 compression ratio. It was a direct-drive engine, producing 475 horsepower at 2,320 r.p.m. It turned a two-bladed forged aluminum fixed-pitch propeller designed by Sylvanus Albert Reed, Ph.D. The D-12 was 58¾ inches (1.492 meters) long, 34¾ inches (0.883 meters) high and 28¼ inches (0.718 meters) wide. It weighed 671 pounds (304 kilograms). The engine was fueled by a 50/50 mixture of gasoline and benzol.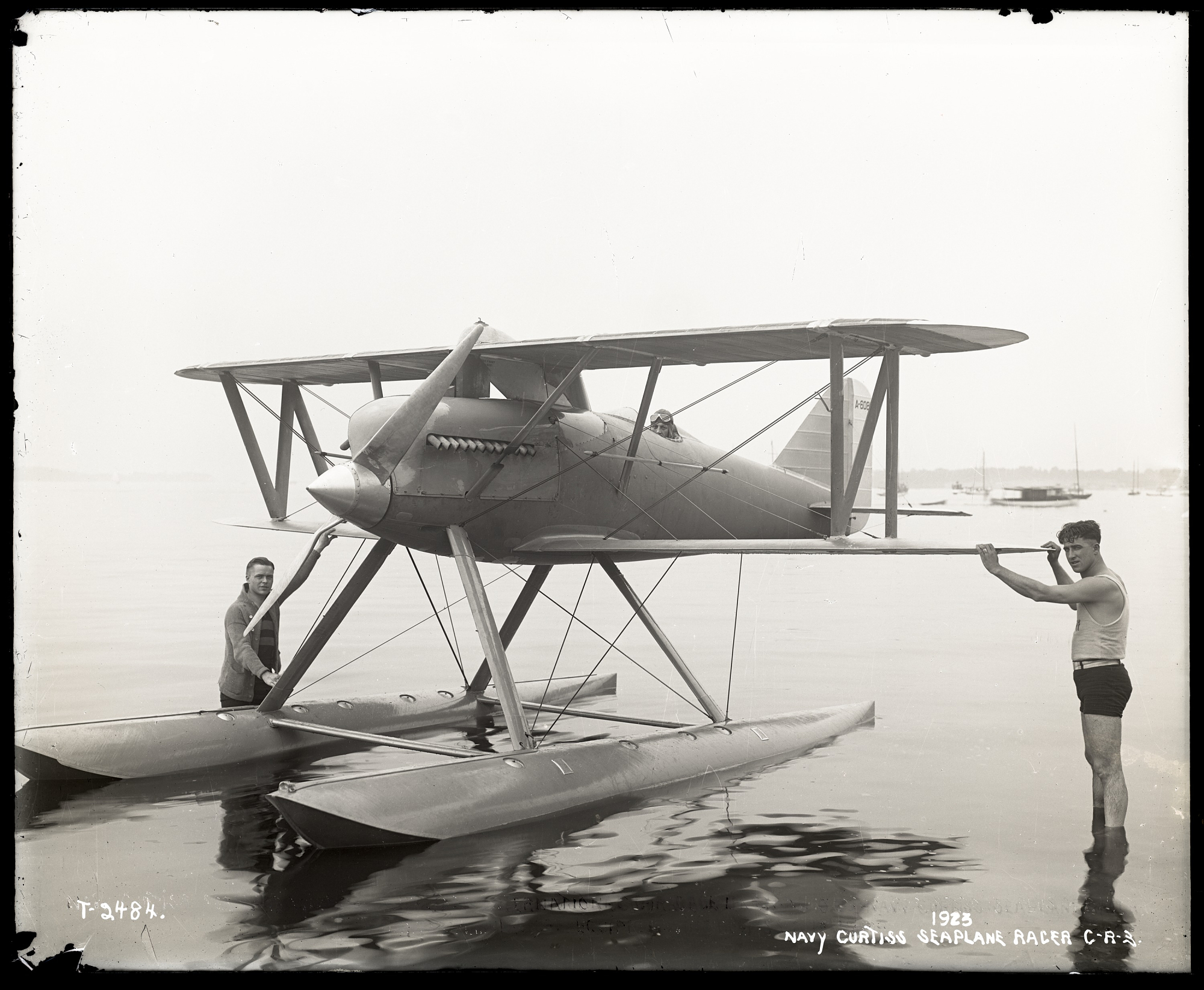 David Rittenhouse was born at St. Paul, Minnesota, 16 June 1894. he was the second child of Charles Edwain Rittenhouse, a banker, and Grace Hubbell Rittenhouse. He was a member of the Class of 1918 at the University of Minnesota, but left before graduating to serve in France during World War I.
Rittenhouse enlisted in the French Army at Paris, 12 March 1917. He served with the 21st Division. He was discharged from the French Army 30 September 1917 and returned to the United States. Shortly after arrive, 5 November 1917, Rittenhouse enlisted in the United States Navy. He underwent aviation ground school at the Dunwoody Institute in Minneapolis, Minnesota, before being sent to Key West, Florida, for flight training. After six weeks there, he received advanced training at Miami and Pensacola.
David Rittenhouse was commissioned an Ensign, United States Navy, 6 September 1918. he was ordered to sea aboard the battleship USS Wyoming (BB-32), and then USS Idaho (BB-42). Ensign Rittenhouse was detached from the Pacific Fleet, 5 May 1922, and transferred to the Naval Air Station, Anacostia, effective 1 June 1922.
Ensign David Rittenhouse married Miss Marie Youngerman, 24 June 1922, at Des Moines, Iowa.
Rittenhouse was promoted to the rank of Commander, 1 August 1938. He retired from the United States Navy in March 1941.
After leaving the Navy, Rittenhouse went to work for the Grumman Aircraft Engineering Corporation at Bethpage, New York.
Commander David Rittenhouse, United States Navy (Retired) died at St. Petersburg, Florida, 29 October 1962, at the age of 68 years. He was buried at the Arlington National Cemetery, Arlington, Virginia.
¹ FAI Record File Number 11427
© 2018 Bryan R. Swopes