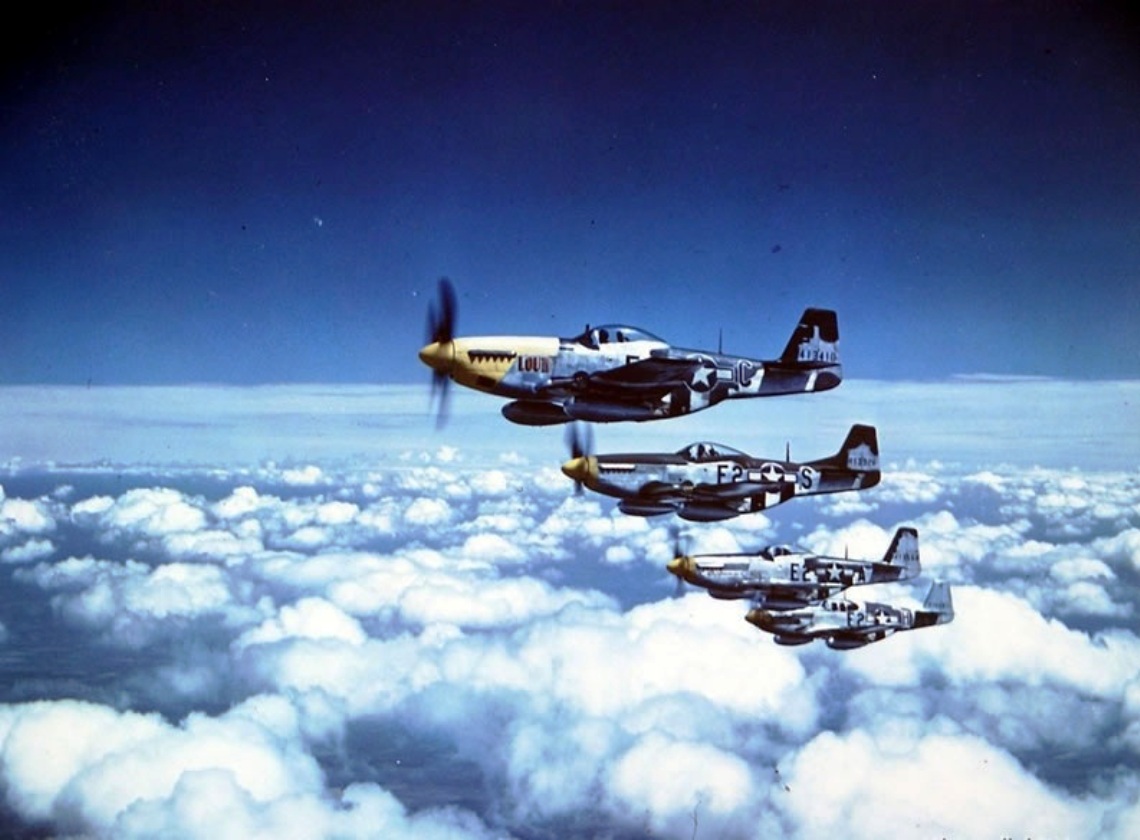 26 July 1944: This iconic World War II photograph, The Bottisham Four, is one of a series depicting a flight of four North American Aviation P-51 Mustang fighters—three P-51Ds and one P-51B—of the 375th Fighter Squadron, 361st Fighter Group, 8th Air Force, based at Air Force Station F-374 (RAF Bottisham), Cambridgeshire, England, as they flew formation with a B-17 Flying Fortress camera ship from the 91st Bombardment Group (Heavy).
None of these aircraft would survive the war. Fourteen days after this photo was taken, 9 August 1944, the number two plane, 44-13926 (E2 S), crashed during a training flight near Stalham, Norfolk, killing the pilot, 2nd Lieutenant Donald D. Dellinger.
Three days later, 12 August 1944, at 1505 hours, 361st Fighter Group commanding officer Colonel Thomas J.J. Christian, Jr., flying the lead plane, Lou IV, was killed and his Mustang destroyed in a dive-bombing attack against the Arras railroad marshaling yards in Boisleux-au-Mont, France.
The number four plane, the P-51B Suzy G, crash-landed following a combat mission and was destroyed, 11 September 1944.
Sky Bouncer, the number three P-51D, crashed on takeoff, near Cambron Casteau, Belgium, 3 April 1945.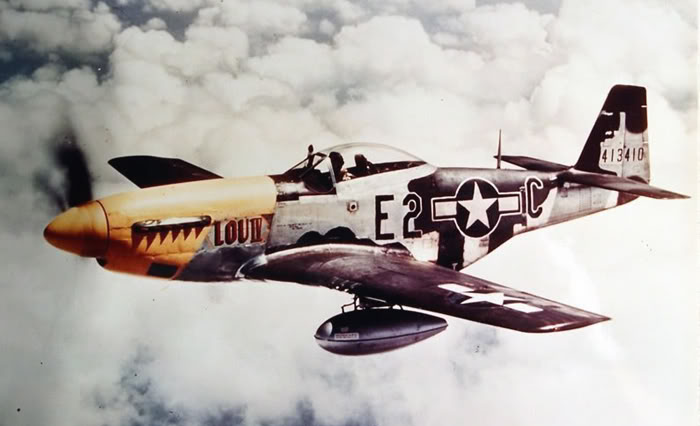 Lead: P-51D-5-NA 44-13410, E2 C, flown by group commander Colonel Thomas J.J. Christian, Jr., and named Lou IV after his wife, Marjorie Lou Ashcroft Christian.
Jack Christian was a 1939 graduate of the United States Military Academy at West Point, New York. He served as a B-17 pilot with the 19th Bombardment Group at Clark Field, Philippine Islands. After the B-17s were destroyed in the attacks of 8 December 1941, Christian was at Bataan before being evacuated to Australia.
While ferrying a Curtiss P-40 Warhawk, he was shot down over Timor and listed as Missing in Action. He eventually made his way to Allied territory.
A few months later, Christian, while flying a Bell P-400 Airacobra with the 67th Pursuit Squadron, was the first U.S. Army Air Corps pilot to land at Henderson Field, on the island of Guadalcanal, 12 August 1942.
On 10 February 1943, Major Christian was given command of the 361st Fighter Group at Richmond, Virginia. The group deployed to England in November 1943.
For his service in World War II, Colonel Christian was awarded the Distinguished Flying Cross with oak leaf cluster (two awards), Air Medal with three oak leaf clusters (four awards) and the Purple Heart.
There is a Special Memorial in honor of Colonel Thomas J.J. Christian, Jr., United States Army Air Corps, at the Faubourg-d'Amiens Cemetery, Arras, Pas-de-Calais, France.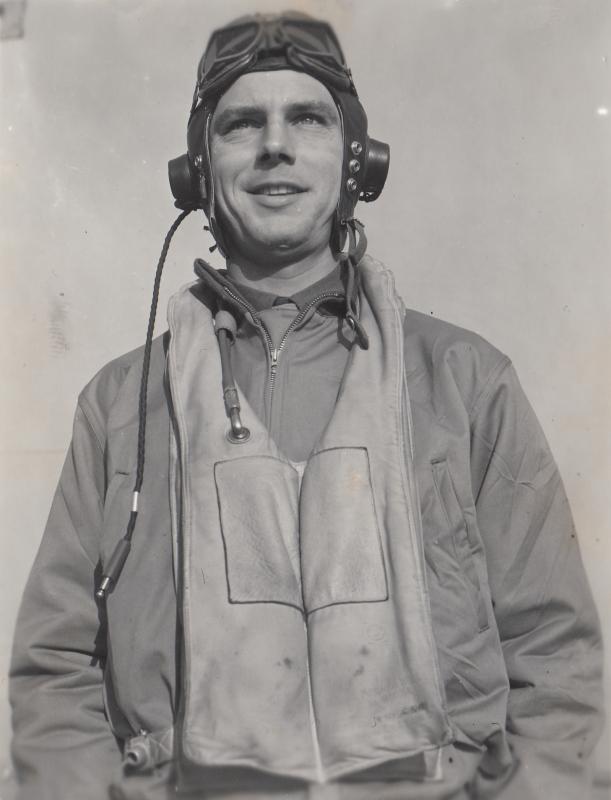 **********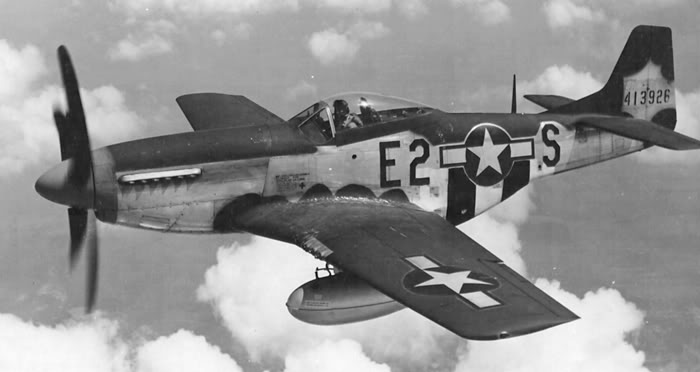 Number Two: P-51D-5-NA Mustang 44-13926, E2 S, assigned to another pilot but flown on this day by Lieutenant Urban L. ("Ben") Drew. (Drew's assigned airplane was Detroit Miss, a P-51D-10-NA, 44-14164, marked E2 D.)
Urban L. Drew joined the U.S. Army Air Corp in 1942 and trained as a P-51 fighter pilot. He joined the 361st Fighter Group in England in October 1943. He flew 75 combat missions with the 361st and shot down six enemy aircraft in aerial combat, two of which were Messerschmitt Me 262 jet fighters, destroyed 7 October 1944. Nominated for the Distinguished Service Cross, the medal was denied because his gun camera failed and the shoot-downs were not recorded. His wingman was shot down during the air battle and captured, so Drew's claims could not be verified. However, the kills were later confirmed with German records, and in 1983, Major Drew was awarded the Air Force Cross. In addition to scoring the first kill of an enemy Me 262 by an Allied pilot, Drew also destroyed the Blohm & Voss BV238-V1, a prototype six-engine flying boat, the world's largest airplane at the time.
In 1945, Ben Drew was transferred to the 413th Fighter Squadron, 414th Fighter Group, 10th Air Force, in the western Pacific, flying Republic P-47 Thunderbolts from the island of Iwo Jima. He was also awarded the Distinguished Flying Cross, twice, and fifteen Air Medals.
Following World War II, Ben Drew joined the Michigan Air National Guard in which he served until 1950.
Major Drew died in 2013 at the age of 89 years.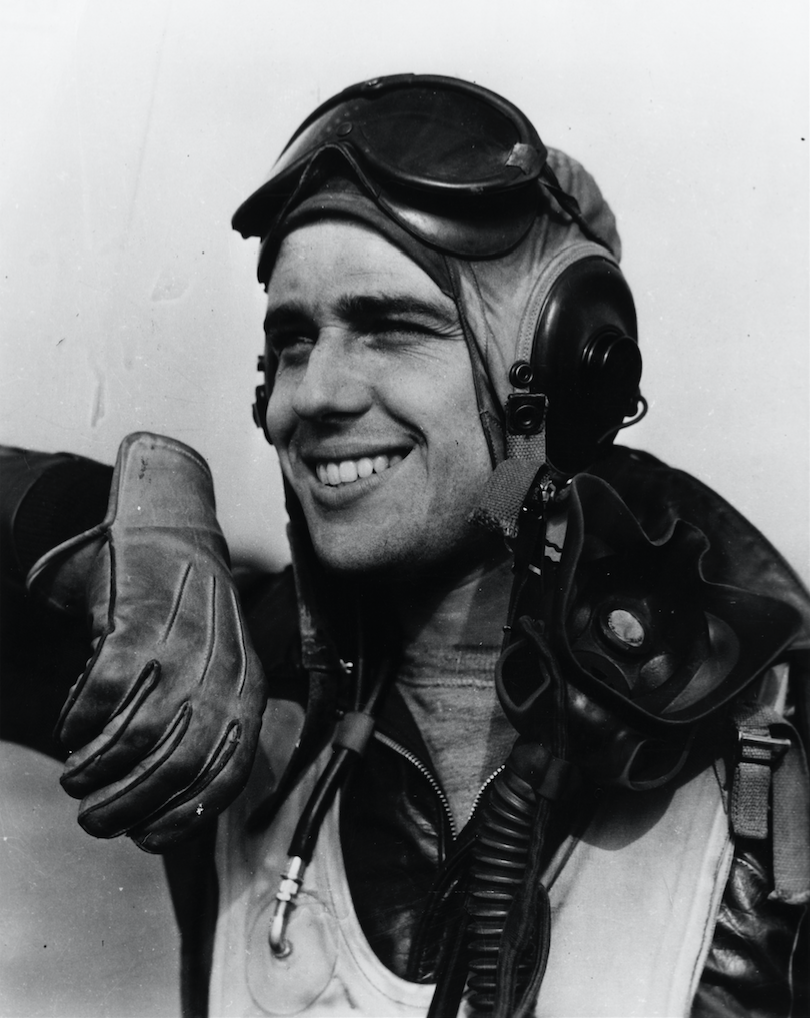 **********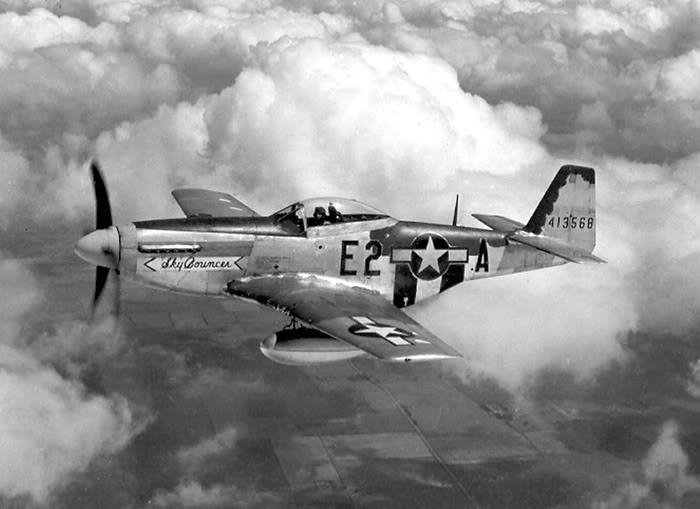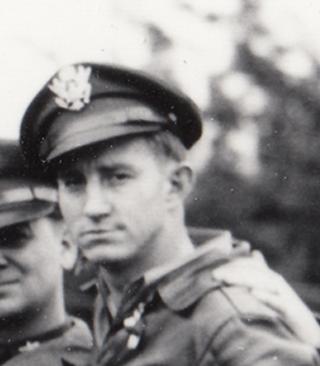 Number Three: P-51-D-5-NA Mustang 44-13568, Sky Bouncer, flown by Captain Bruce W. ("Red") Rowlett, U.S. Army Air Corps, Operations Officer, 375th Fighter Squadron.
Sky Bouncer, flown by Jared M. Lundin, crash-landed after an engine failure on take off at Cambron-Casteau, Belgium, 3 April 1945. The airplane was destroyed.
Colonel Bruce W. Rowlett, United States Air Force, enlisted as a private soldier in the 36th Infantry Division (then part of the Texas National Guard) in 1940, lying about his age. (He was seventeen). He appled for flight training as an aviation cadet in 1942. After earning his wings as an Air Corps fighter pilot, Lieutenant Rowlett was assigned to the 375th Fighter Squadron, initially flying Republic P-47 Thunderbolts. After completing a 50 mission combat tour, Rowlett volunteered for a second tour, just as the squadron was transitioning to the P-51 Mustang. Nearing the end of the second tour, and after flying 109 combat missions, Captain Rowlett was sent back to the United States.
Red Rowlett remained in the Air Force following World War II. He  later flew in the Berlin Airlift. From 1964 to 1967, Colonel Rowlett was Chief of Air Defense Operations, North American Air Defense Command (NORAD), then was assigned to the Pentagon, as Director of Studies and Analysis, Headquarters, U.S. Air Force, 1968–1971.
Colonel Bruce W. Rowlett, United States Air Force, died at Wichita, Kansas, 28 January 1998, at the age of 74 years.
**********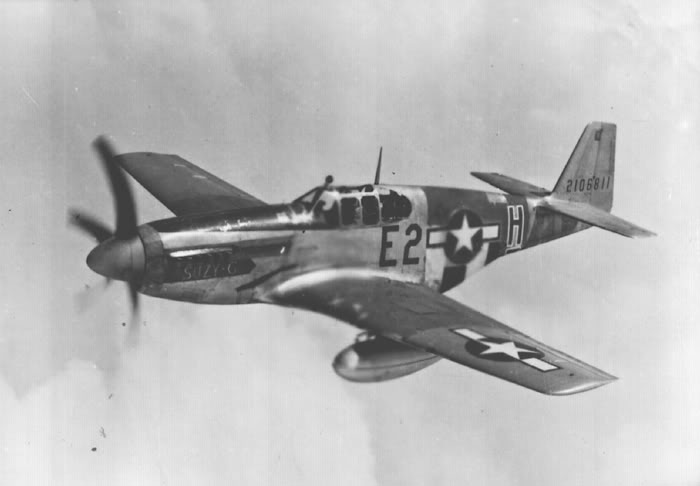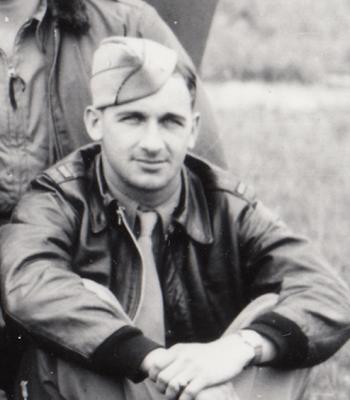 Number Four: P-51B-15-NA Mustang 42-106811, E2 H, flown by Captain Francis T. Glankler and named Suzy G after his wife. The underlined letter H indicates that this airplane is the second in the squadron identified with that letter. Lieutenant Glankler was flight leader of D Flight, 375th fighter Squadron.
Lieutenant Glankler and Suzy G crashed-landed in a farm field at Thorpe Park, near Clacton, Essex, in following a mission on 11 September 1944. The Mustang was damaged beyond repair.
(Some sources indicate that another pilot was flying Suzy G, and that the crash occurred following a dog fight with a P-47 Thunderbolt.)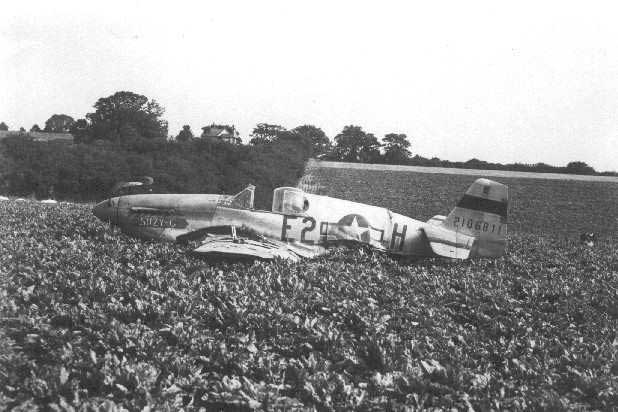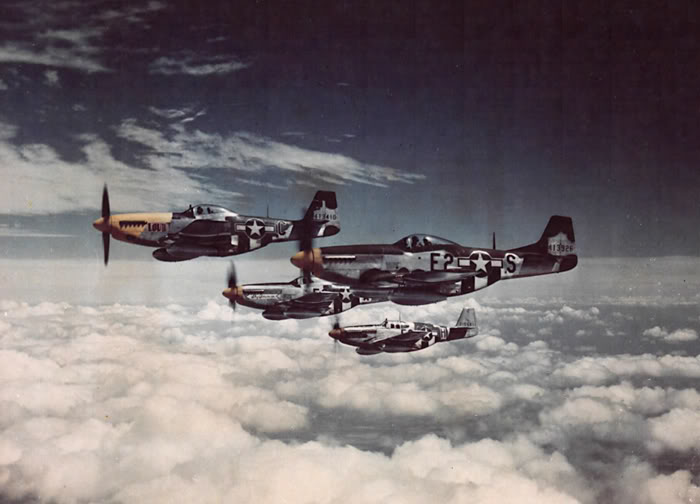 The P-51D was the predominant version of North American Aviation's legendary World War II fighter, with a total of 8,156 produced by North American at Inglewood, California and Dallas, Texas, and 200 by the Commonwealth Aircraft Corporation in Australia. It was a single-seat, single engine fighter, which had first been designed for the Royal Air Force. The most visible difference between the previous P-51B and P-51C Mustangs was the cut down rear fuselage and the one-piece bubble canopy.
The P-51D was 32 feet, 3.5 inches (9.843 meters) long, with a wingspan of 37 feet (11.278 meters). It was 13 feet, 4.5 inches (4.077 meters) high. The fighter had an empty weight of 7,635 pounds (3,463.2 kilograms) and a maximum takeoff weight of 12,100 pounds (5,488.5 kilograms).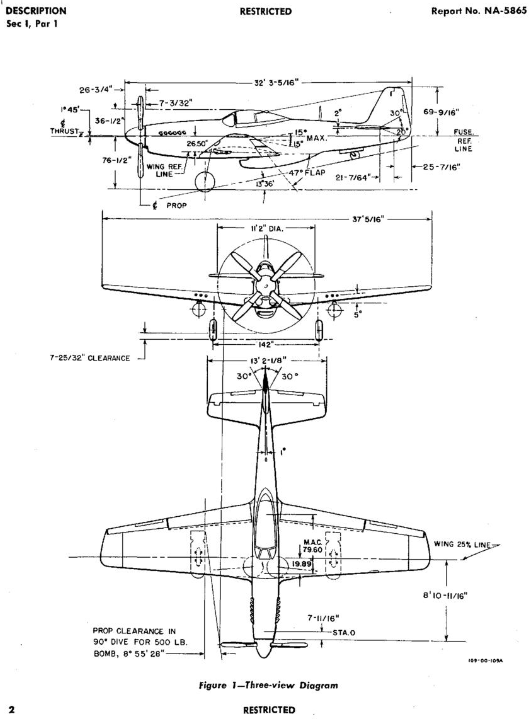 The P-51 B, -C and -D Mustangs were powered by the Packard Motor Car Company's license-built version of the Rolls-Royce Merlin, either a V-1650-3 or V-1650-7. These were right-hand tractor, liquid-cooled, supercharged, 1,649-cubic-inch-displacement (27.04-liter), single overhead cam 60° V-12 engines, rated at 1,380 horsepower at Sea Level, turning 3,000 r.p.m at 60 inches of manifold pressure (V-1650-3), or 1,490 horsepower at Sea Level, turning 3,000 r.p.m. at 61 inches of manifold pressure (V-1650-7). (Military Power rating, 15 minute limit.) These were Packard's versions of the Rolls-Royce Merlin 63 and 66. This engine drove a four-bladed Hamilton Standard Hydromatic constant-speed propeller with a diameter of 11 feet, 2 inches (3.404 meters) through a 0.479:1 gear reduction.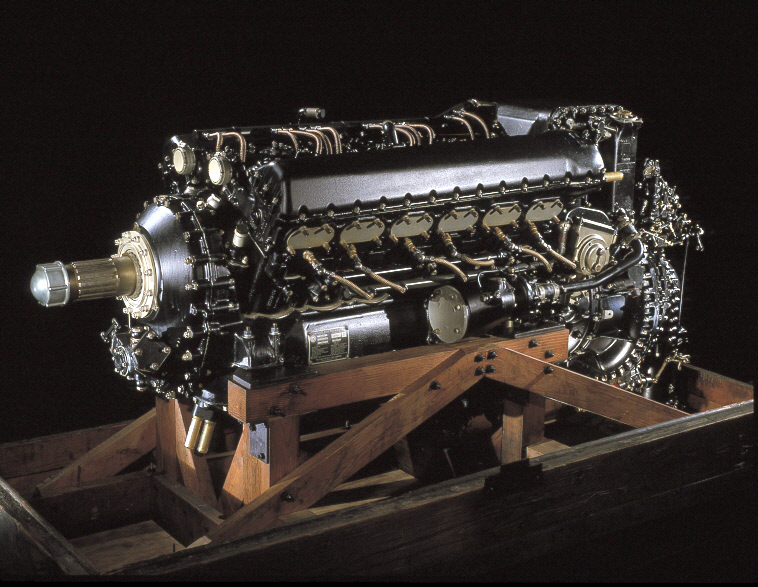 The P-51D was slightly slower than the P-51B/C. It had a maximum speed was 437 miles per hour (703.3 kilometers per hour) at 25,000 feet (7,620 meters). The service ceiling was 41,900 feet (12,771 meters). With internal fuel the maximum range was 1,650 miles (2,655 kilometers).
The P-51B and P-51C were nearly identical, with the B built in California, and the -C in Texas. North American built 1,988 P-51Bs at Inglewood and 1,750 P-51Cs at Dallas. They had a cruise speed of 362 miles per hour (583 kilometers per hour) and their maximum speed was 439 miles per hour (707.5 kilometers per hour) at 25,000 feet (7,620 meters). The service ceiling was also 41,900 feet. With internal fuel, the combat range was 755 miles (1,215 kilometers).
The P-51B/C Mustang's armament consisted of four air-cooled Browning AN-M2 .50-caliber machine guns, mounted two in each wing, with 350 rounds per gun for the inboard guns and 280 rounds per gun for the outboard. The guns were installed leaning outboard from the vertical to reduce the overall height. This arrangement sometimes lead to ammunition feed problems.
The P-51D was armed with six AN-M2 .50-caliber machine guns, with three mounted in each wing. In a change from the earlier airplanes, the guns were mounted vertically to improve ammunition feed. (This resulted in the requirement for a thicker wing.) 400 rounds of ammunition was provided for the inner pair of guns, and 270 rounds for each of the outer two pairs of guns, for a total of 1,880 rounds of ammunition. This was armor piercing, incendiary and tracer ammunition.
The fighter could also carry a 1,000 pound (453.6 kilogram) bomb under each wing, in place of drop tanks, or up to ten rockets.
© 2019, Bryan R. Swopes