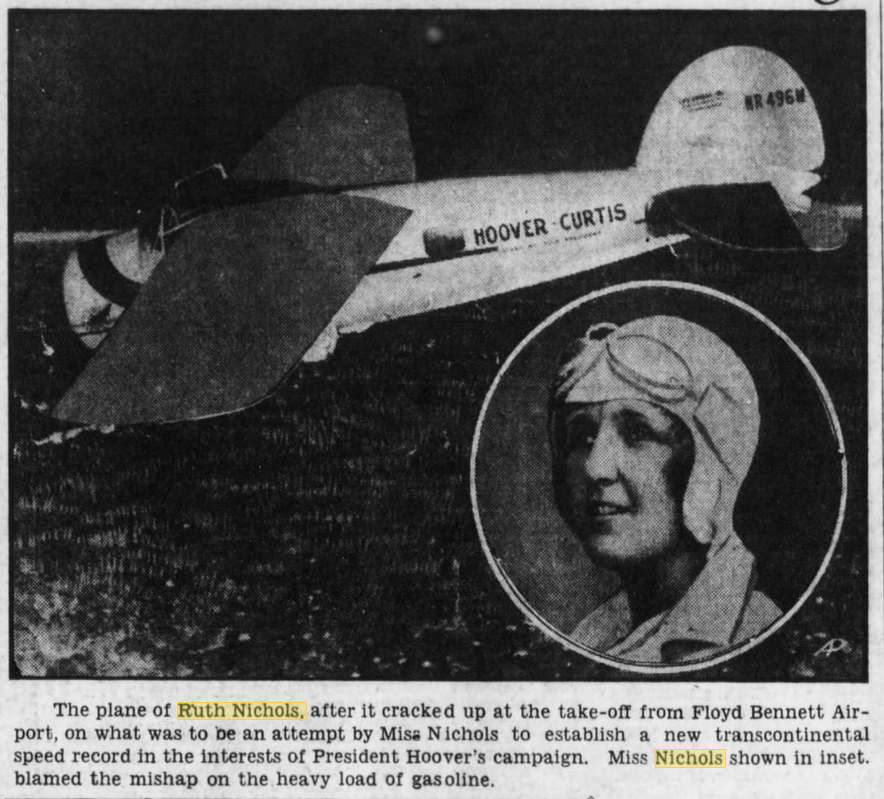 3 November 1932: In the late 1920s through mid-1930s, Miss Ruth Rowland Nichols was one of the best-known American women in aviation. She was the only person to have simultaneously held world records for speed, distance and altitude. She was at Floyd Bennett Airport, Brooklyn, New York, intending to fly across the North American continent to Burbank, California, and break Amelia Earhart's record for the route. The flight was also intended to generate publicity for the re-election campaign of President Herbert Hoover.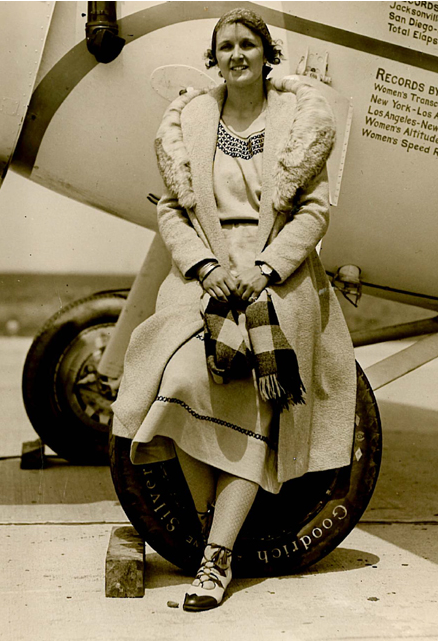 Miss Nichols' airplane was a 1928 Lockheed Vega 5, s/n 619, NR496M, owned by Powell Crosley, Jr., founder of the Crosley Radio Corp. of Cincinnati, Ohio. This was the same airplane that she had crash-landed at a small airport near St. John, New Brunswick, Dominion of Canada, 22 June 1931. She had been severely injured.
At 2:48 a.m., ( UTC) while taking off, the Vega drifted off of the 3,000-foot ( meters) concrete-surfaced runway and the left wheel sank into the soft grass. The airplane spun around and the left wing  hit the ground.
A contemporary newspaper reported:
   Miss Nichols had expected to fly at an average speed of 200 miles an hour and be the first woman to cross the continent without a stop. On her way to Burbank, Cal., she was to drop Hoover leaflets.
     The plane was loaded with 32 gallons of oil besides 650 gallons of gasoline. With Floyd Bennet [sic] Field lighted by the 4,000,000-candlepower flood light at the south end of the field, she started from the south end of he runway.
     After speeding about 700 feet along the concrete runway the plane got out of control and switched off the concrete on to the grass. The girl flier tried desperately to steer it back to the runway, realized that here efforts would be in vain and to avoid an explosion cut off the ignition and pulled the stick.
     The plane went into a loop and rolled over on its side, the left wing burying itself in the ground. The wing, running gears and left side of the fuselage were wrecked. Gasoline spurted in great streams from the fuel tank, forming large pools.
     The small group of observers rushed in alarm to the wrecked plane. . . An ambulance, posted on the field for a possible emergency, hurried to the side of the plane.
     Before they reached it Miss Nichols stepped out, exasperated but smiling and unhurt.
     "Can't hurt an old hand like me,' she said. She added later that she was 'through' with night flying.
     The plane was the same in which Miss Nichols had attempted a transatlantic flight when it crashed in New Brunswick, Canada. At that time, she suffered a spine injury.
—Brooklyn Daily Eagle, Vol. XCII, No. 306, Thursday, 3 November 1932, Page 2, column 7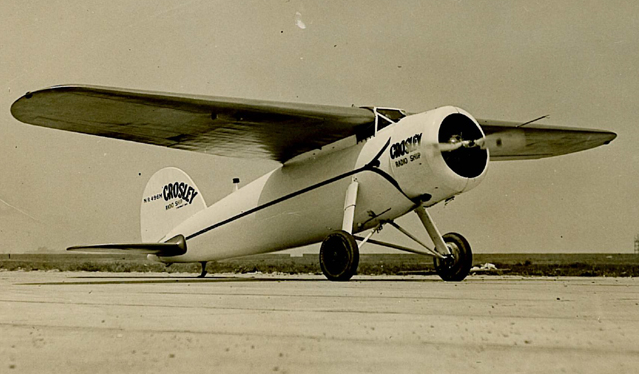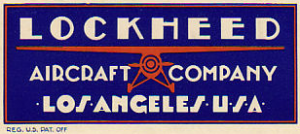 Built by the Lockheed Aircraft Company, Burbank, California, the Vega was a single-engine high-wing monoplane with fixed landing gear. It was flown by a single pilot in an open cockpit and could be configured to carry four to six passengers.
Designed by John Knudsen ("Jack") Northrop and Gerrard Vultee, the Vega was a very state-of-the-art aircraft for its time. It used a streamlined monocoque fuselage made of spiral strips of vertical grain spruce pressed into concrete molds and held together with glue. The prototype flew for the first time 4 July 1927 at Mines Field, Los Angeles, California. It used a streamlined monocoque fuselage made of molded plywood. The wing and tail surfaces were fully cantilevered, requiring no bracing wires or struts to support them.
The techniques used to build the Vega were very influential in aircraft design. It also began Lockheed's tradition of naming its airplanes after stars and other astronomical objects.
The Model 5 Vega is 27 feet, 6 inches (8.382 meters) long with a wingspan of 41 feet (12.497 meters) and overall height of 8 feet, 2 inches (2.489 meters). Its empty weight is 2,595 pounds (1,177 kilograms) and gross weight is 4,500 pounds (2,041 kilograms).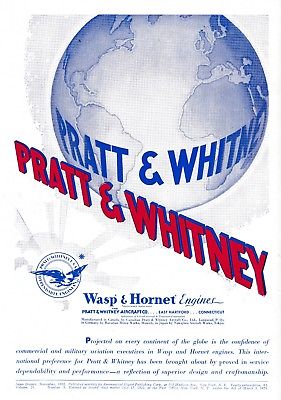 Nichols' airplane was powered by an air-cooled, supercharged 1,343.804-cubic-inch-displacement (22.021 liter) Pratt & Whitney Wasp C nine-cylinder radial engine with a compression ratio of 5.25:1. It was rated at 420 horsepower at 2,000 r.p.m. at Sea Level, burning 58-octane gasoline. The engine drove a two-bladed controllable-pitch Hamilton Standard propeller through direct drive. The Wasp C was 3 feet, 6.63 inches (1.083 meters) long, 4 feet, 3.44 inches (1.3-7 meters) in diameter and weighed 745 pounds (338 kilograms).
The standard Vega 5 had a cruising speed of 165 miles per hour (266 kilometers per hour) and maximum speed of 185 miles per hour (298 kilometers per hour). The service ceiling was 15,000 feet (4,572 meters). Range with standard fuel tanks was 725 miles (1,167 kilometers).
© 2019, Bryan R. Swopes