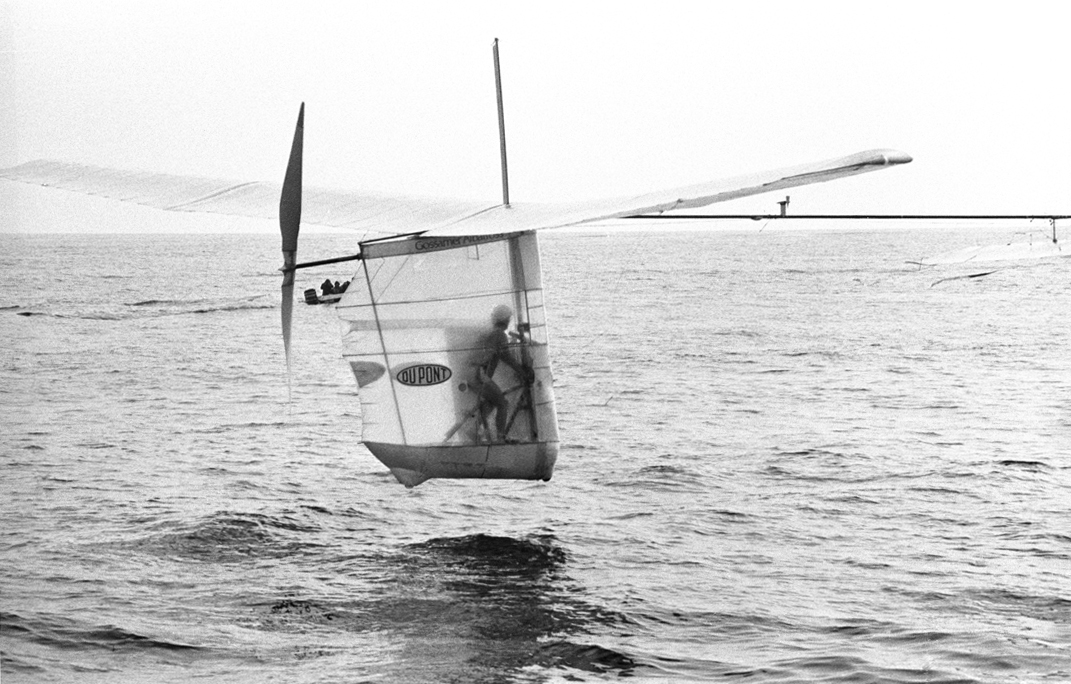 12 June 1979: The human-powered airplane, Gossamer Albatross, built by AeroVironment, Inc., of Simi Valley, California, flew across the English Channel from The Warrens, near Folkstone, Kent, England, to Cap Griz-Nez, France, 22.26 miles (35.82 kilometers) in 2 hours, 49 minutes. He established two Fédération Aéronautique Internationale (FAI) World Record: Straight Distance, 35.82 kilometers (22.26 miles)¹ ; Duration, 2 hours, 49 minutes.²
The pilot/powerplant of Gossamer Albatross was long-distance bicyclist Bryan Lewis Allen. Allen pedaled at a constant 75 r.p.m.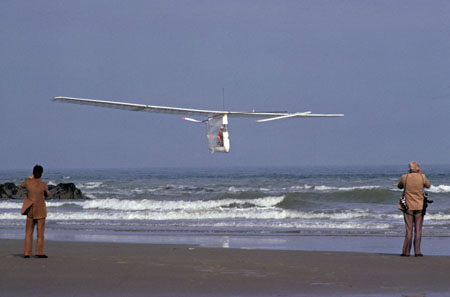 The aircraft was designed by Paul Beattie MacCready, Jr., Ph.D., and weighed just 70 pounds (31.8 kilograms), empty.
The two-way radio link failed right after takeoff. Unexpected winds made the flight an hour longer than planned and Allen used all of his water. Batteries powering the instruments ran down. A chase boat was prepared for Allen to abort the flight, but he continued to France.
Bryan Lewis Allen was born 13 October 1952 at Tulare, California. He attended Tulare Union High School and then College of the Sequoias and California State University, Bakersfield, earning a bachelor of science degree. Allen is employed as a software engineer for the Mars Reconnaissance Orbiter at the NASA Jet Propulsion Laboratory, Pasadena, California.
Paul Beattie MacCready, Jr., was born 29 September 1925. He graduated from Yale University with a bachelor's degree in physics, and then earned a master's in physics from the California Institute of Technology, Pasadena, California. In 1952, Caltech awarded MacReady a doctorate in aeronautics.
Dr. MacReady received the Collier Trophy for 1979 from the National Aeronautic Association, "For the concept, design and construction of the Gossamer Albatross, which made the first man-powered flight across the English Channel—with special recognition to Bryan Allen, the pilot."
Dr. Paul B. MacReady died 25 August 2007 at Pasadena, California.
The Gossamer Albatross is a human-powered high-wing canard monoplane constructed primarily of carbon fiber tubing, expanded polystyrene foam, Mylar® and Kevlar®, with wire bracing. A single pilot in a gondola provides power to a two-bladed fixed-pitch propeller, pedaling at 75 r.p.m., through a bicycle-type gear-reduction drive mechanism.
The airplane is 50 feet, 6 inches (15.392 meters) long, with a wingspan of 93 feet, 10 inches (28.600 meters) and overall height of 16 feet, 4 inches (4.978 meters). It has an empty weight of 70 pounds (31.8 kilograms), and a gross weight at takeoff of 215 pounds (97.5 kilograms). Its maximum speed is 15 miles per hour (24 kilometers per hour).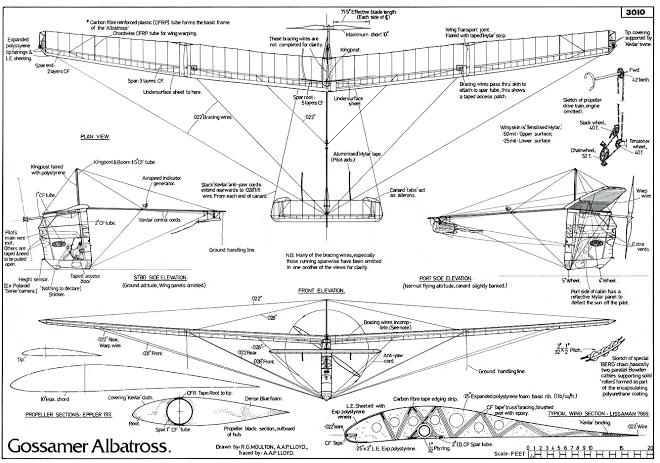 Gossamer Albatross is in the collection of the Stephen F. Udvar-Hazy Center, Smithsonian Institution National Air and Space Museum.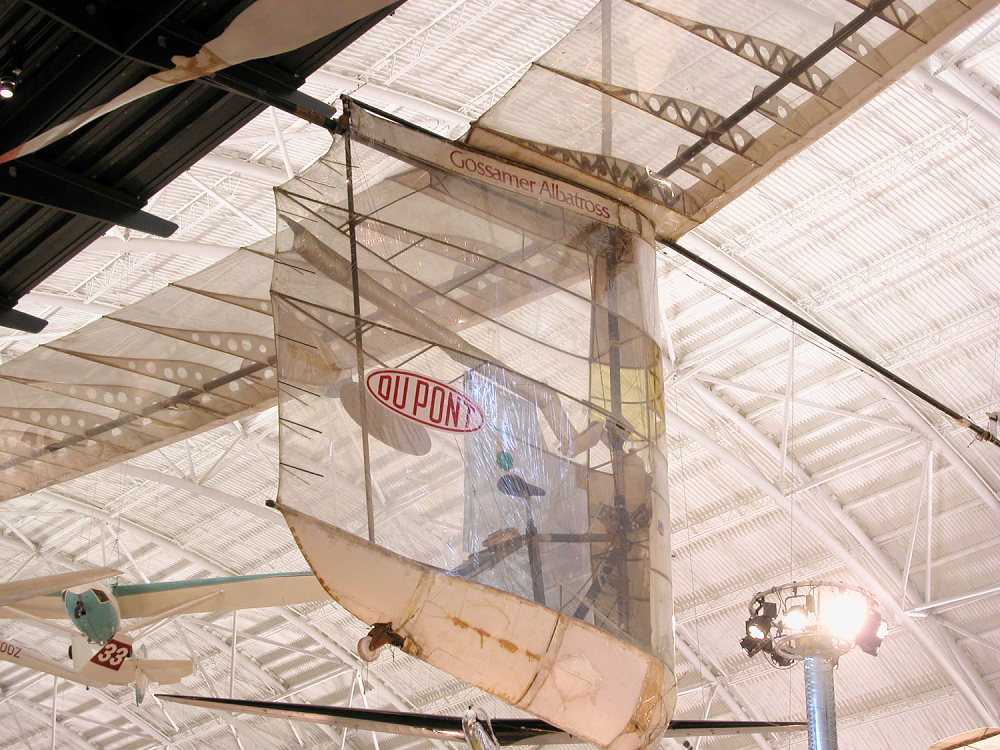 ¹ FAI Record File Number 392
² FAI Record File Number 393
© 2017, Bryan R. Swopes