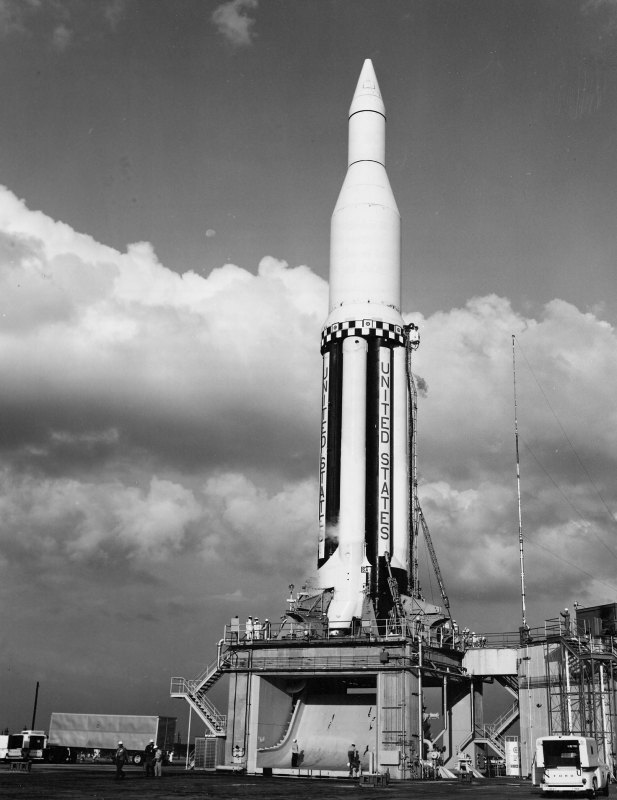 27 October 1961: At 15:06:04 UTC, (10:06 a.m., EST) the first Saturn C-1 heavy launch vehicle (Saturn I, SA-1) lifted off from Launch Complex 34 at Cape Canaveral, Florida. This was a test of the first stage, only. The upper stages were dummies.
The Saturn C-1 was bigger than any rocket built up to that time. Early versions of the three-stage rocket were 162 feet (49.4 meters) tall. with a maximum diameter of 21.39 feet (6.52 meters). All-up weight was 1,124,000 pounds (509,838 kilograms).
The first stage of SA-1 was built by the Marshall Space Flight Center (MSFC) at Huntsville, Alabama. The S-I stage was built up with a Jupiter rocket fuel tank in the center for liquid oxygen, surrounded by eight Redstone rocket tanks filled with RP-1 propellant. It was powered by eight Rocketdyne Division H-1 engines rated at 165,000 pounds of thrust (733.96 kilonewtons), each. Total thrust for the first stage was 1,320,000 pounds (5,871.65 kilonewtons).
The first stage had been test fired 20 times before being transported to Cape Canaveral by barge.
The Douglas Aircraft Company-built S-IV second stage was 40 feet ( meters) long and 18 feet ( meters) in diameter. It was powered by six Pratt & Whitney RL-10 engines producing a total of 90,000 pounds of thrust (400.34 kilonewtons). These engines were fueled with liquid hydrogen and liquid oxygen.
The S-V third stage was 29 feet ( meters) tall and 10 feet ( meters) in diameter. It used two RL-10 engines for 30,000 pounds of thrust (133.45 kilonewtons).
For the first flight, SA-1, the S-!V second stage and S-V third stage were dummies. The S-IV was filled with 90,000 pounds (40,823 kilograms) of water for ballast. The S-V third stage,  carried 100,000 pounds (45,359 kilograms) of water.
The Saturn C-1 weighed 925,000 pounds (419,573 kilograms). It contained 41,000 gallons (155,200 liters) of RP-1, a refined kerosene fuel, with 66,000 gallons (249,837 liters) of liquid oxygen oxidizer— 600,000 pounds (272,155 kilograms) of propellants.
SA-1 reached a maximum altitude of 84.8 miles (136.5 kilometers) and impacted in the Atlantic Ocean 214.8 miles (345.7 kilometers) down range. The duration of the flight was 15 minutes, 0 seconds.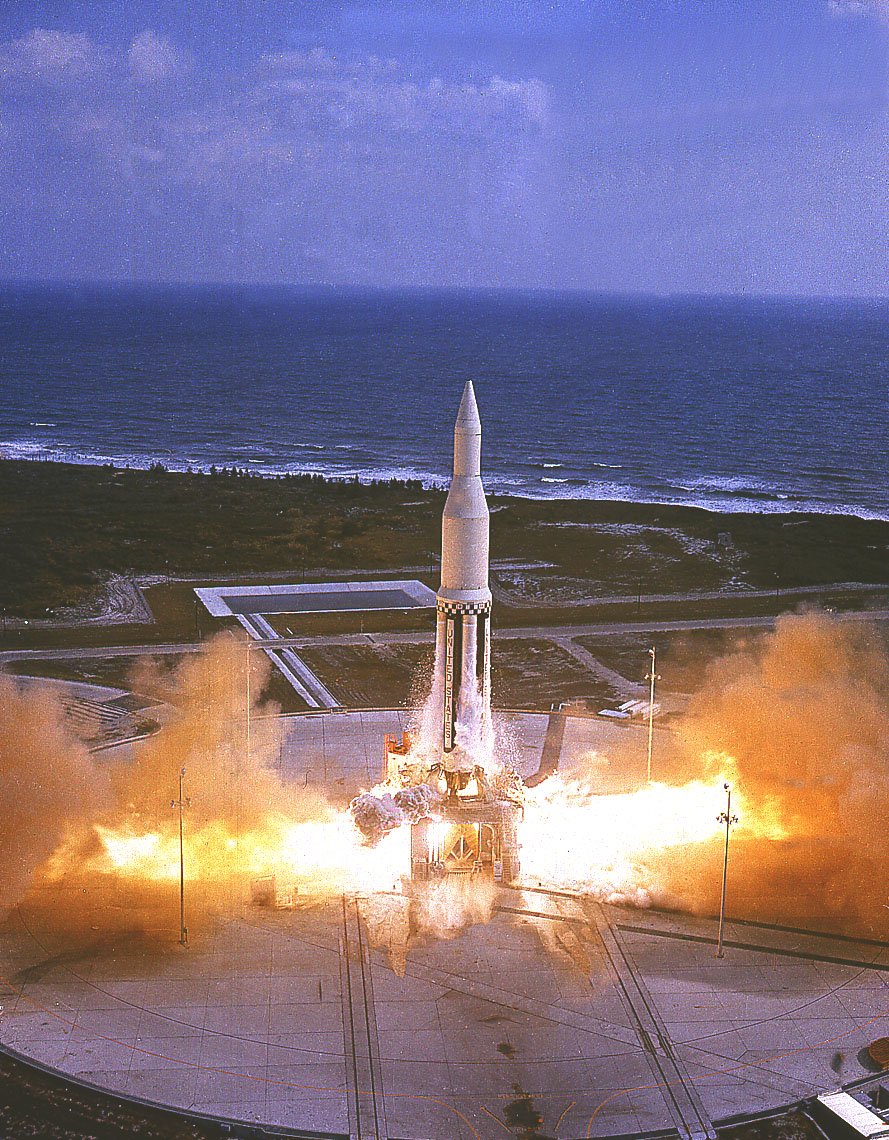 © 2017, Bryan R. Swopes
by