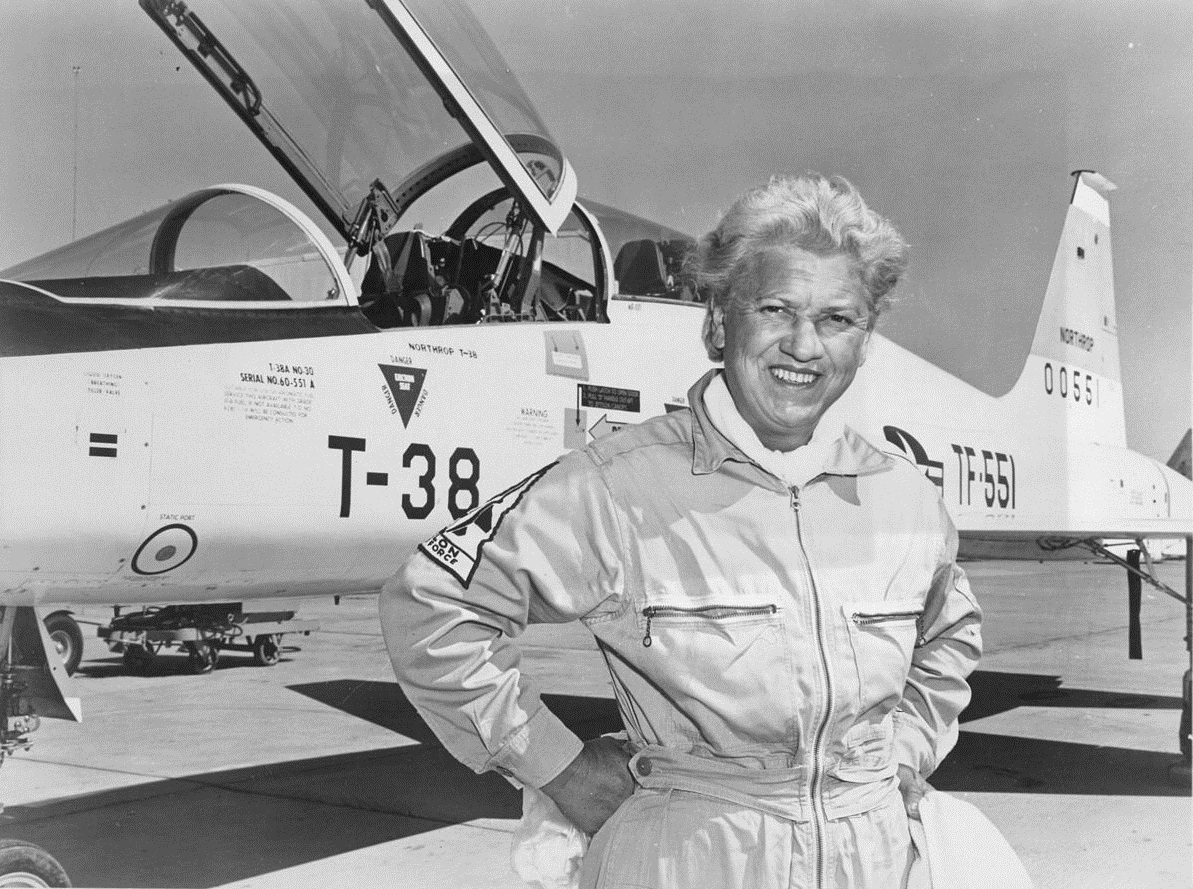 6 October 1961: During a two-month series of speed, distance and altitude record attempts at Edwards Air Force Base, California, Jackie Cochran set a Fédération Aéronautique Internationale (FAI) World Record for Speed Over a Closed Circuit of 100 Kilometers Without Payload, flying a Northrop T-38A-30-NO Talon, 60-0551. Her average speed over the 62-mile circular course was 1,262.188 kilometers per hour (784.287 miles per hour).¹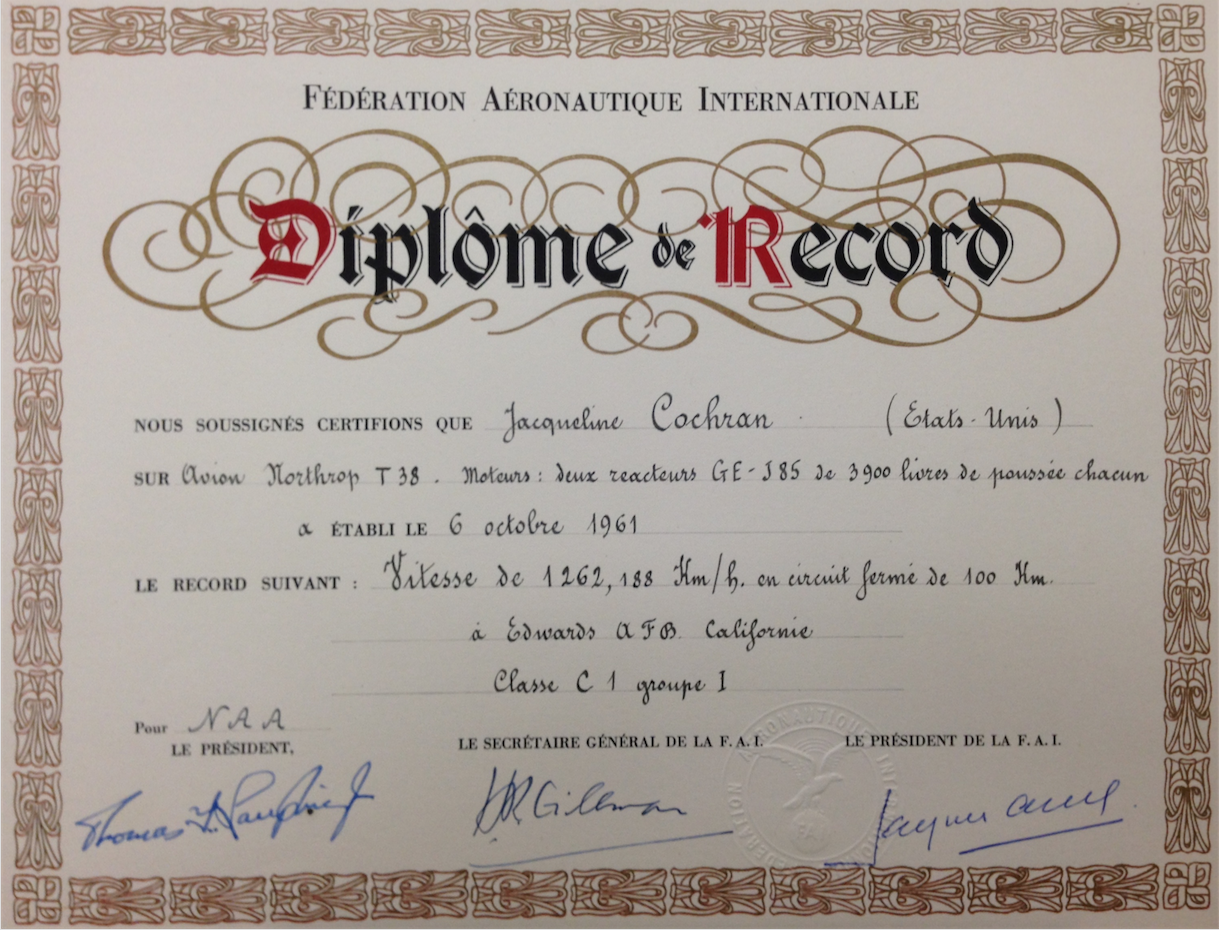 Jackie's friend, famed Air Force test pilot Colonel Chuck Yeager, kept notes during the series of record attempts:
September 29: Edwards AFB. Flew the aircraft today to include a practice run on the 100 kilometer course. Jackie did a fine job at 1.2 Mach. Looks like this will be a piece of cake. Aircraft was okay. Average speed 742 miles per hour. Jackie was in the altitude chamber today with the pressure suit (CSU 4/P). Everything went fine and maximum altitude was 65,000 feet. This is the first time a woman was taken up in the chamber in a pressure suit. CSU 4/P was the type of suit.
October 3: Tried a run today but weather moved in from 26,000 to 37,000 feet. Very good landing. Airspeed system iced up and Jackie stalled the aircraft at 35,000 feet. Made a no-sweat recovery.
October 4: Ran the 100 kilometer for record at 1 pm. The first run wasn't too good but had an average speed of 763 mph. A pylon was cut so the run was voided. Second run was 740 mph. Very poor. Another flight was made at 5:30 pm but both runs were pretty sorry. Jackie was a little late on all of the corrections. Jackie doesn't seem to be in too good a physical or mental state.
October 5: I flew in the backseat of the T-38 with Jackie on a practice run of the 100 kilometer. I talked her around the course 2 times with a little help on the stick. First run was 782 mph and second run was 787. I think I know what has been Jackie's trouble on the 100 km. During the flight as she starts gaining a little altitude, she lets off on the back pressure on the stick to stop climbing and this causes the turn to become larger. Jackie and I spent two hours talking this over. She finally understands that in order to fly a constant circle, if the airplane starts to climb, she must increase the bank angle and let off on the back pressure a little and let the nose drop but still hold the same rate of turn. This is what makes the 100 km so hard to fly. Jackie still has a touch of the flu.
October 6: Jackie felt better today and after a delay caused by communication trouble, she flew one of the most perfect runs that has ever been flown on the 100 km course. She learned her lesson well. The record speed was 784 mph. She held 1/4 mile outside the course the entire trip. I was very pleased to watch the reaction of the timers and radar people. I think they expected another 10 or 15 trips like the F-105 tricks. She made one hell of a good flight.
— Brigadier General Charles E. Yeager, U.S. Air Force, quoted in Jackie Cochran: An Autobiography, by Jacqueline Cochran and Maryann Bucknum Brinley, Bantam Books, New York, 1987, Pages 306–307.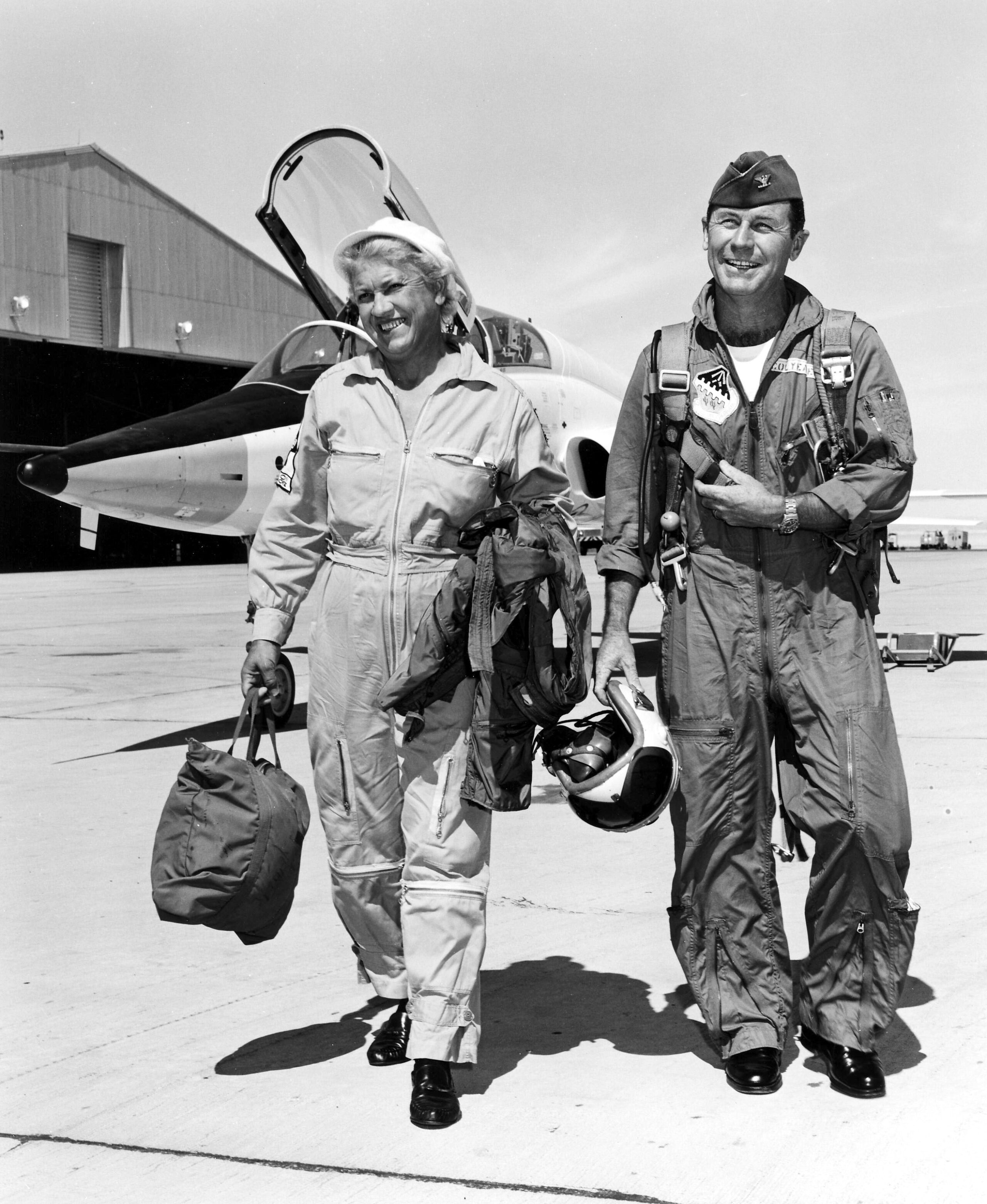 The Northrop T-38A Talon is a two-place, twin-engine jet trainer capable of supersonic speed. It is 46 feet, 4 inches (14.122 meters) long with a wingspan of 25 feet, 3 inches (7.696 meters) and overall height of 12 feet, 10 inches (3.912 meters). The trainer's empty weight is 7,200 pounds (3,266 kilograms) and the maximum takeoff weight is 12,093 pounds (5,485 kilograms).
The T-38A is powered by two General Electric J85-GE-5 turbojet engines. The J85 is a single-shaft axial-flow turbojet engine with an 8-stage compressor section and 2-stage turbine. The J85-GE-5 is rated at 2,680 pounds of thrust (11.921 kilonewtons), and 3,850 pounds (17.126 kilonewtons) with afterburner. It is 108.1 inches (2.746 meters) long, 22.0 inches (0.559 meters) in diameter and weighs 584 pounds (265 kilograms).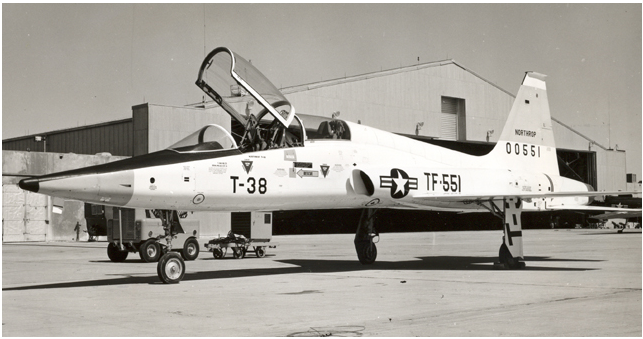 It has a maximum speed of Mach 1.08 (822 miles per hour, 1,323 kilometers per hour) at Sea Level. The Talon's service ceiling of 55,000 feet (16,764 meters) and it has a maximum range of 1,093 miles (1,759 kilometers).
In production from 1961 to 1972, Northrop has produced nearly 1,200 T-38s. As of January 2014, the U.S. Air Force had 546 T-38A Talons in the active inventory. It also remains in service with the U.S. Navy, and the National Aeronautics and Space Administration.
Jackie Cochran's record-setting T-38 is in the collection of the Smithsonian Institution, National Air and Space Museum.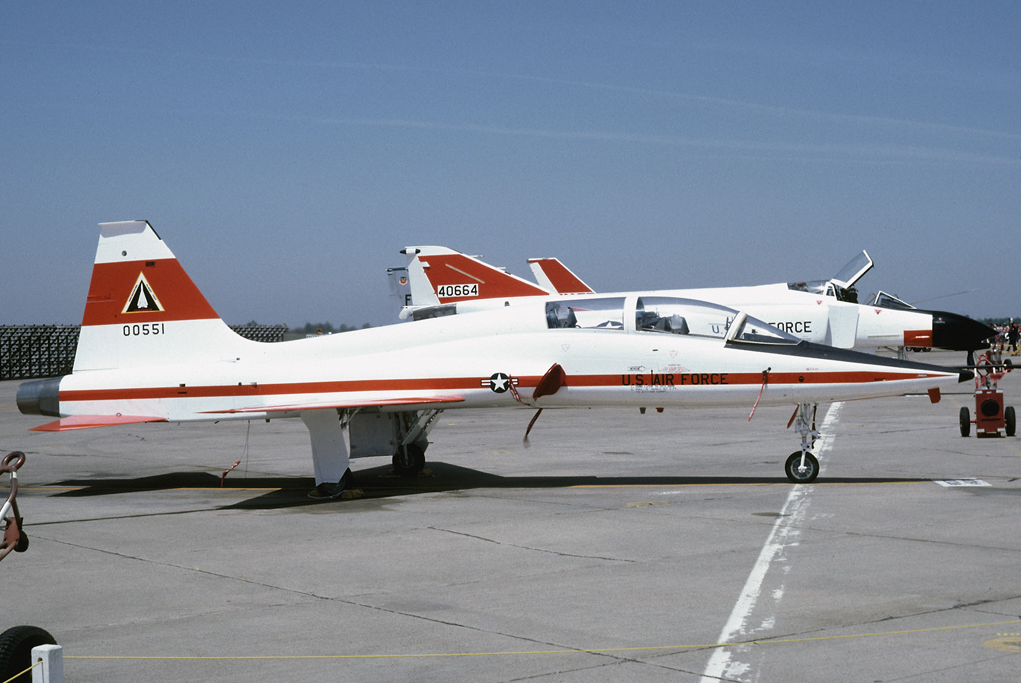 ¹ FAI Record File Number 13036
© 2017, Bryan R. Swopes