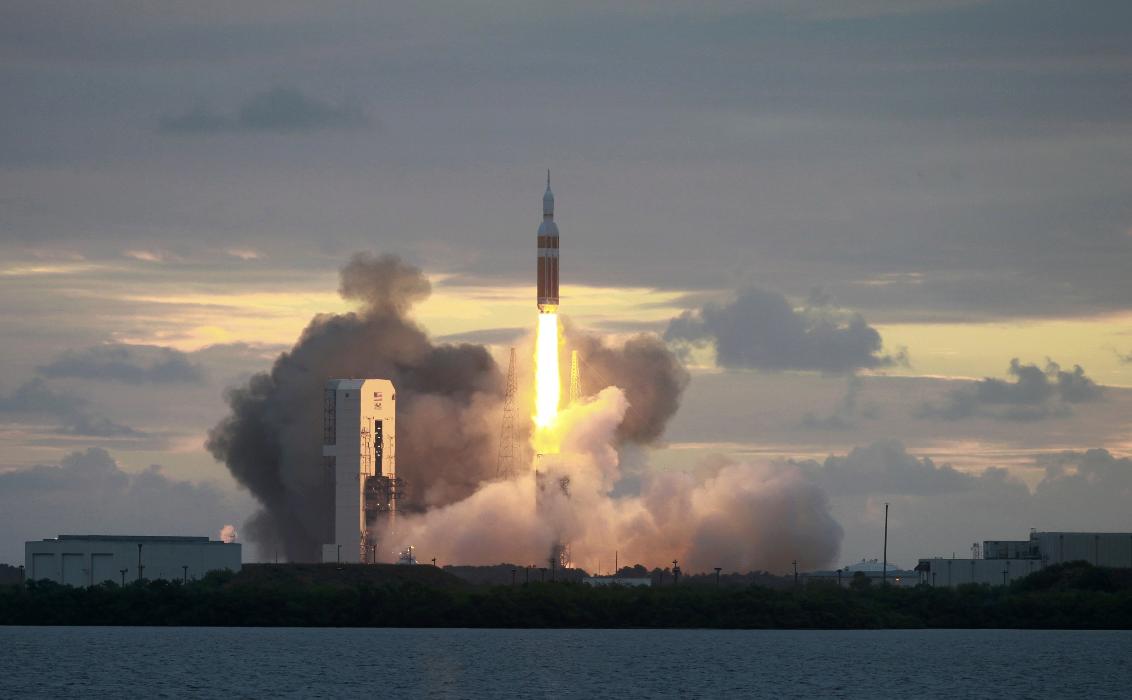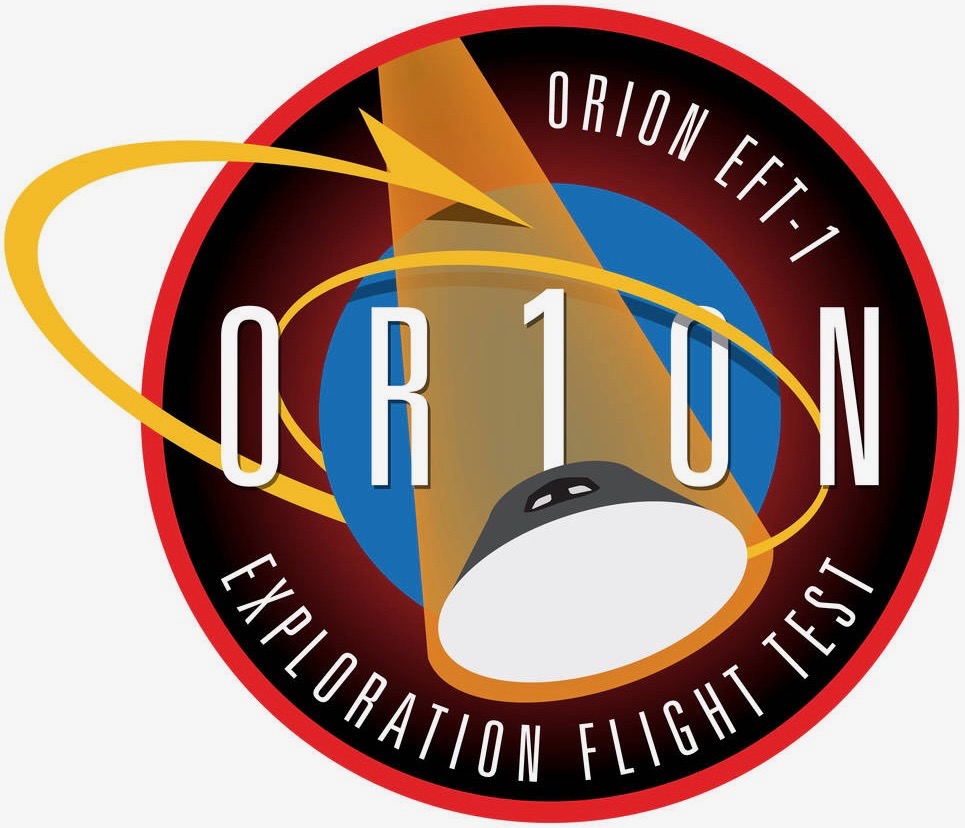 5 December 2014: At 7:05 a.m., EST, a United Launch Alliance Delta IV Heavy carried the first Lockheed Martin Corporation Orion spacecraft, EFT-1, into Earth orbit.
This was the first test flight of the new deep space vehicle. There were no astronauts aboard.
Liftoff weight of the Orion/Delta IV Heavy was 1,630,000 pounds (739,356 kilograms).

The Orion Multi-Purpose Crew Vehicle is produced by Lockheed Martin Corporation, and consists of a Launch Abort System, Crew Module, Service Module and a Stage Adapter. Gross weight at liftoff is 78,010 pounds (35,385 kilograms). The Crew Module accommodates 4 astronauts. Its gross liftoff weight is 22,900 pounds (10,387 kilograms), and landing weight is 20,500 pounds (9,299 kilograms). The crew area has a volume of 316 cubic feet (8.95 cubic meters).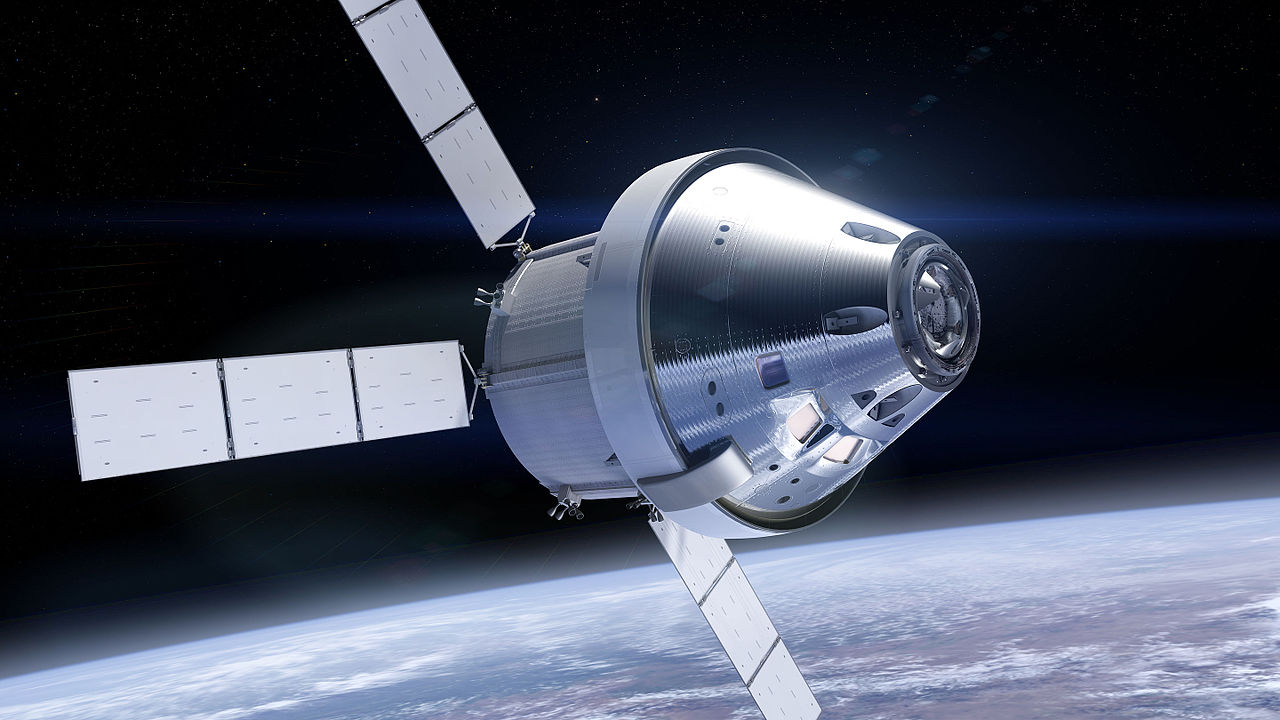 A series of eight parachutes decelerates the Orion Crew Module on re-entry. Touch-down speed is planned for less than 20 miles per hour (32 kilometers per hour).
On its second orbit, the space craft reached an altitude of approximately 3,600 miles (5,794 kilometers). This allowed the vehicle's re-entry speed to exceed 20,000 miles per hour (32,187 kilometers per hour), generating heat shield temperatures of over 4,000 °F. (2,204 °C.)
The Orion completed two orbits and landed in the eastern Pacific Ocean, approximately 650 miles (1,046 kilometers) southwest of San Diego, California.

The Delta IV Heavy combines a Delta IV two-stage liquid-fueled rocket with two Common Core Boosters. It is capable of placing a 63,471 pound (28,790 kilograms) payload into Low Earth Orbit.
The Delta IV Common Booster Core is 134.0 feet (40.8 meters) long and 16 feet, 10.0 inches (5.131 meters) in diameter. They are each powered by an Aerojet Rocketdyne RS-68A engine, producing 705,250 pounds of thrust (3,137.11 kilonewtons), at Sea Level, each, giving the Delta IV Heavy a total of 2,115,750 pounds of thrust (9,411.32 at liftoff. The RS-68A is 17.1 feet (5.21 meters) long, 8.0 feet (2.44 meters) in diameter, and weighs 14,870 pounds (6,745 kilograms).

The Delta IV Heavy's second stage is 42.8 feet (13.05 meters) long, and is also 16 feet, 10.0 inches in diameter. It uses an Aerojet Rocketdyne RL-10B-2 engine, producing 24,750 pounds of thrust (110.09 kilonewtons) of thrust. The RL-10B-2 is 13.6 feet (4.15 meters) long, 7.0 feet (2.13 meters) in diameter, and weighs 611 pounds (277 kilograms).
All engines are fueled with liquid oxygen and liquid hydrogen.
47–49 seconds after liftoff, depending on launch profile, the first stage (center CBC) engine throttles down to 54.5%, while the boosters remain at full throttle. After 235 seconds of flight, the booster engines throttle down to 54.5%, and 7 seconds later, cut off. The boosters are jettisoned at 245 seconds. 1 second later, the first stage RS-68 throttles up to 108.5%. It cuts of at 328 seconds, and the first and second stage separate at 334 seconds. The second stage engine ignites at 347 seconds, and cuts off at 411–421 seconds.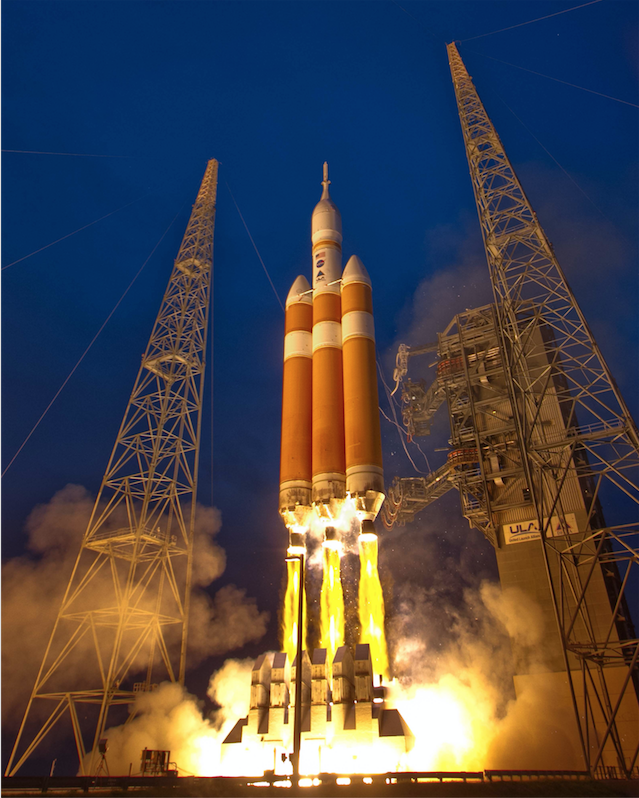 © 2016, Bryan R. Swopes