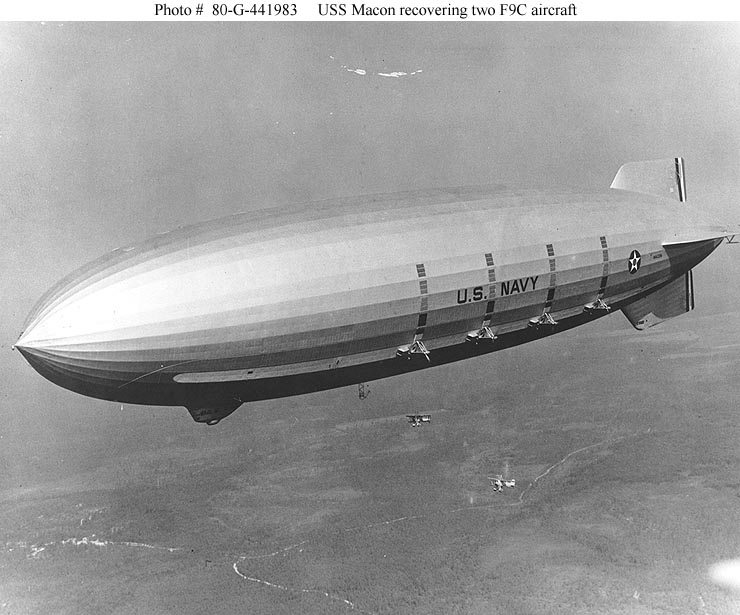 12 February 1935: The United States Navy rigid airship USS Macon (ZRS-5), under the command of Lieutenant Commander Herbert Victor Wiley, crashed into the Pacific Ocean off Monterey Bay, on the central California coastline. The airship soon sank to the sea floor, approximately 1,500 feet (457 meters) below. Of the crew of 76 men, 74 survived.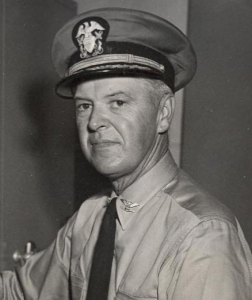 Lieutenant Commander Wiley was a 1915 graduate of the United States Naval Academy, Annapolis, Maryland. He had previously served aboard the U.S. Navy's first rigid airship, USS Shenandoah (ZR-1) and then commanded USS Los Angeles (ZR-3), 1929–1930. He had been assigned as executive officer of USS Akron (ZRS-4) and had been one of only 3 crew members to survive the wreck of that airship off the coast of New Jersey, 4 April 1933. He took command of USS Macon in June 1934.
During World War II, Captain Wiley commanded Destroyer Squadron 29 (consisting of thirteen Clemson-class "flush-deck" destroyers) with the Asiatic Fleet, and later, the Colorado-class battleship USS West Virginia (BB-48). He rose to the rank of rear admiral before retiring in 1947.
USS Macon was built by the Goodyear-Zeppelin Corporation at Akron, Ohio. It was launched 21 April 1933, and commissioned 23 June 1933.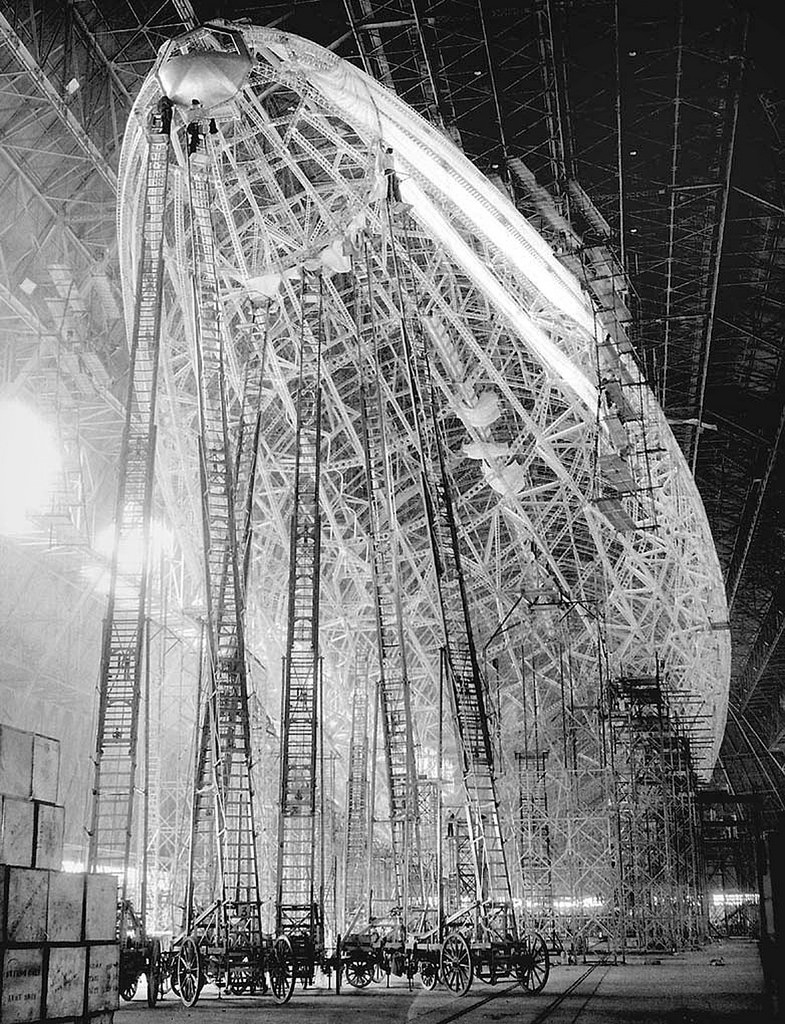 Macon was constructed of duralumin ring frames and girders, covered with a fabric envelope. The rigid airship was 785 feet (239.3 meters) long with a maximum diameter of 132 feet, 10 inches (40.488 meters). The overall height was 146 feet, 2 inches (44.552 meters). The airship displaced 7,401,260 cubic feet of air (209,580 cubic meters). Lift was provided by 6,500,000 cubic feet (184,060 cubic meters) of non-flammable helium gas contained in 12 rubberized fabric gas cells.
Macon had a dead weight of 108.2 tons (98,157 kilograms) and a useful lift of 160,644 pounds (72,867 kilograms).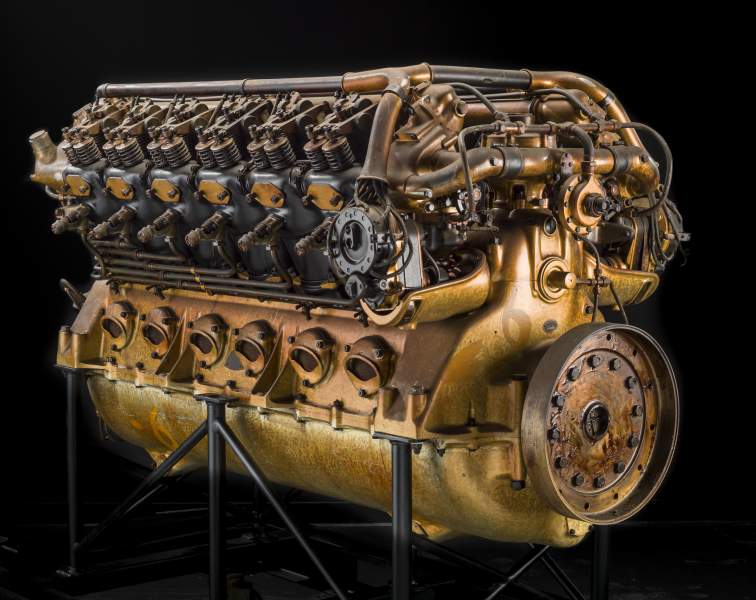 Propulsion was provided by eight water-cooled, fuel-injected, 33.251 liter (2,029.077-cubic-inch-displacement) Maybach VL-2 overhead valve 60° V-12 gasoline engines producing a maximum 570 horsepower at 1,600 r.p.m., each, or 450 horsepower at 1,400 r.p.m. for cruise. In addition to gasoline, the VL-2 could also use blau gas (similar to propane) as fuel. The engines were reversible and drove Allison Engineering Co. out-drives, which turned three-bladed fixed-pitch, rotatable propellers. The VL-2 is 6 feet, 5 inches (1.96 meters) long, 3 feet, 0 inches (0.91 meters) wide and 3 feet, 2 inches (0.97 meters) high. It weighs 2,530 pounds (1,148 kilograms).
The airship had a maximum speed of 75.6 knots (87.0 miles per hour, 140.0 kilometers per hour).
USS Macon was armed with eight Browning .30-caliber machine guns for defense. It also carried five Curtiss-Wright Airplane Division F9C-2 Sparrowhawk reconnaissance airplanes in an internal hangar bay. These were small single-place, single-engine biplanes, with a length of 20 feet, 7 inches (6.274 meters) and wingspan of 25 feet, 5 inches (7.747 meters). The Sparrowhawk had an empty weight of 2,114 pounds (959 kilograms) and loaded weight of 2,776 pounds (1,259 kilograms).
The F9C-2 was powered by an air-cooled, supercharged, 971.930-cubic-inch displacement (15.927 liter) Wright Aeronautical Division Whirlwind R-975E-3 (R-975-11, -24 or -26) nine-cylinder radial engine with a compression ratio of 6.3:1. The R-975E-3 had a normal power rating of 420 horsepower at 2,200 r.p.m., and 440 to 450 horsepower at 2,250 r.p.m. for takeoff, depending on variant. These were direct drive engines which turned two-bladed propellers. They were 3 feet, 7.00 inches to 3 feet, 7.47 inches (1.092–1.104 meters) long, 3 feet, 11 inches to 3 feet, 11.25 inches (1.143–1.149 meters) in diameter, and weighed from 660 to 700 pounds (299–317.5 kilograms).
The Sparrowhawk had a maximum speed of 176 miles per hour (283 kilometers per hour), a range of 297 miles (478 kilometers) and a service ceiling of 19,200 feet (5,852 meters).
The airplane was armed with two fixed Browning .30-caliber machine guns, synchronized to fire forward through the propeller arc.
Four of Macon's fighters, Bureau of Aeronautics serial numbers A9058–A9061, were lost when the airship went down.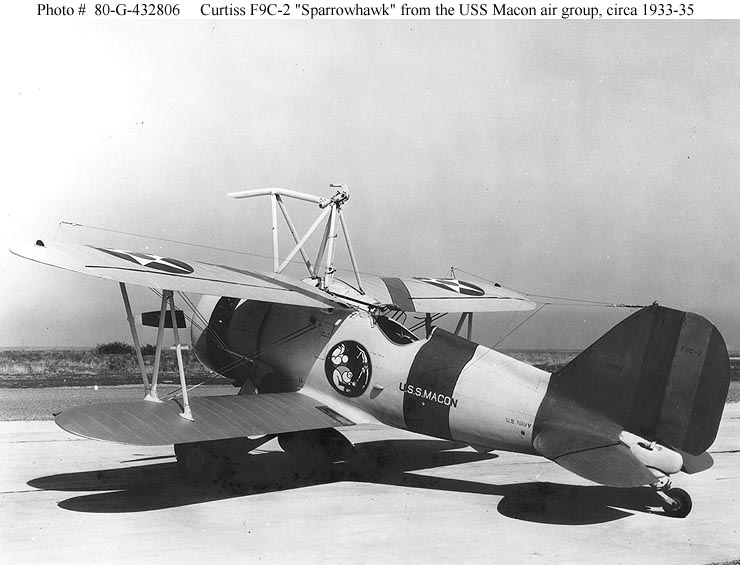 During an earlier transcontinental flight, USS Macon had encountered severe turbulence while crossing mountains in Arizona. A diagonal girder in one of the ring frames failed. Temporary repairs were made, but permanent repairs were deferred until the next scheduled overhaul.
On 12 February 1935, the airship flew into a storm near Point Sur, California. The ring frame failed and the upper vertical fin was lost. Pieces of broken girders punctured several of the aft helium cells.
With the loss of helium, Macon lost rear buoyancy and began to settle. To compensate, all engines were run at full power and ballast was released. The airship began to climb with a nose-up pitch angle. When it passed 2,800 feet (853.4 meters) altitude, it reached its Pressure Altitude Limit. At this point, expanding helium began to vent from the gas cells. Macon continued rising until reaching 4,850 feet (1,478.3 meters), by which time it had lost so much helium that the engines could no longer keep it airborne and it again began to settle toward the ocean's surface. The descent took twenty minutes.
One sailor jumped from the airship, but did not survive the fall. Another swam back to the sinking ship to collect personal belongings and drowned. The rest of the crew was rescued by the light cruiser USS Richmond (CL-9).
USS Macon was the U.S. Navy's last rigid airship. For the next twenty years, all lighter-than-air craft were non-rigid "blimps".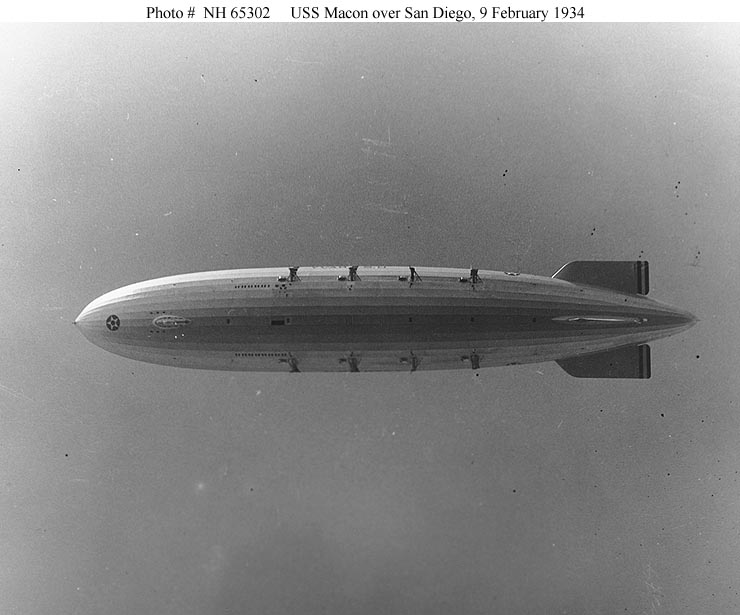 © 2017, Bryan R. Swopes
by