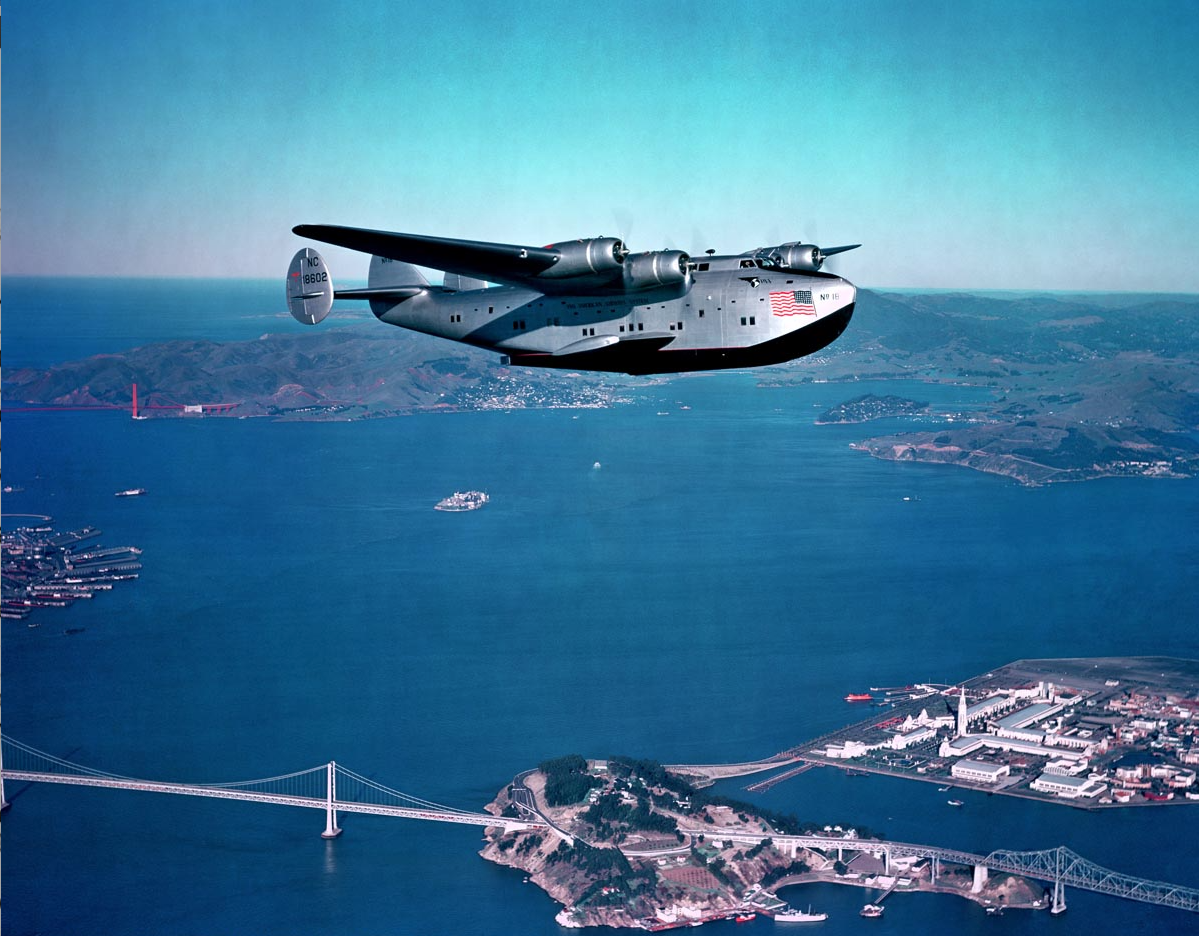 3–4 November 1945: On the evening of Saturday, 3 November 1945, the Boeing 314 Honolulu Clipper, NC18601, departed Honolulu, Oahu, Territory of Hawaii, enroute to San Francisco, California. The flying boat was under the command of Captain Sanis E. ("Robby") Robbins, Pan American Airways, with First Officer Wally Reed, Second Officer Dunbar Carpenter, Radio Officer Jack B. Crawford, First Engineer Dan W. Broadwater, Second Engineer Robert J. Dernberger. There were 13 passengers and 10 crew members on board. The flight to San Francisco was expected to take 11 hours.
Approximately 5 hours into the flight, the number 3 engine (starboard wing, inboard) began to backfire. It was shut down and the propeller feathered. Captain Robbins decided to return to Hawaii. A short while later, the number 4 engine (starboard wing, outboard) also started to malfunction. It continued to run but eventually it was also shut down.
With two engines inoperative, the airplane was unable to maintain altitude. At 11:07 p.m. local, Captain Robbins, in total darkness, brought the flying boat to a "masterful"  landing on the relatively calm surface of the Pacific Ocean. There were no injuries. The airplane suffered minor damage to the port sea wing, and started taking on water.
California Clipper, NC18602, another Boeing 314, also enroute to San Francisco, orbited Honolulu Clipper's position to guide rescue ships to scene. The following message was broadcast from Pearl Harbor:
PAN AMERICAN CLIPPER DOWN AT SEA AT 040935Z POSITION 2749N 14802W. PLANE IN GOOD CONDITION. IS ABLE TO COMMUNICATE ON [frequency deleted] KCS VOICECALL C18601 ON [frequency deleted] KCS. INVESTIGATE SIGHTINGS REPORT PERTINENT INFO TO ORIGINATOR.
Freighter S.S. John Henry Payne sighted flares fired from the flying boat and quickly arrived on scene. The ship took all of the passengers on board. Ten crew stayed aboard flying boat.
USS Manila Bay (CVE 61), a Casablanca-class escort aircraft carrier under the command of Captain Leon Johnson, was approximately 60 miles (97 kilometers) away, and had been ordered to take charge of efforts to salvage the airplane.
On arrival, a whale boat was sent to remove the remaining crew members from the flying boat. Wind and waves had increased and it was feared that the boat might damage the hull of the flying boat, so a rubber life raft was used to transfer the Clipper's crew to the whale boat. Aircraft mechanics were sent from Manila Bay to attempt to repair the airplane, but were not successful.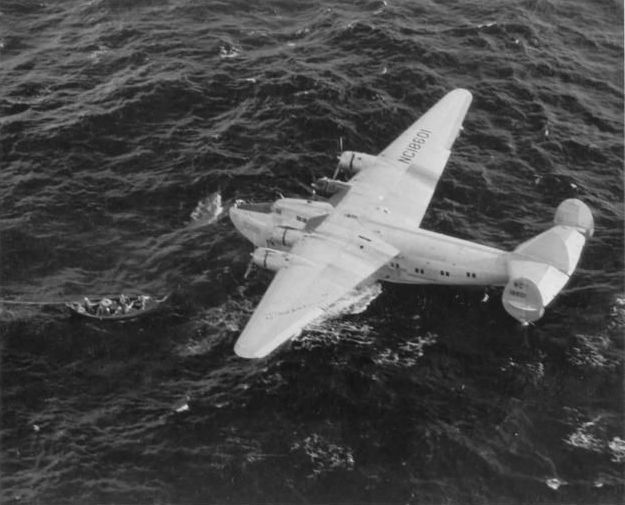 Plans were made to rig the airplane for towing. 200 fathoms (1,200 feet/366 meters) of 6-inch (15.2 centimeter) diameter hawser was rigged from the aircraft carrier to the nose of the flying boat. Stabilizing lines were tied to the propeller hubs of the outboard engines. Manila Bay began towing the Honolulu Clipper and was gradually able to increase speed to 6 knots (7 miles per hour/11 kilometers per hour). About an hour after sunset, at about 7:30 p.m., the tow line parted.
Darkness and rising seas made it impossible to rig a new tow. Manila Bay stood by awaiting arrival of USS San Pablo (AVP-30) (Commander Charles Robert Eisenbach), a Barnegat-class seaplane tender, on Tuesday, 6 January, then departed for Pearl Harbor.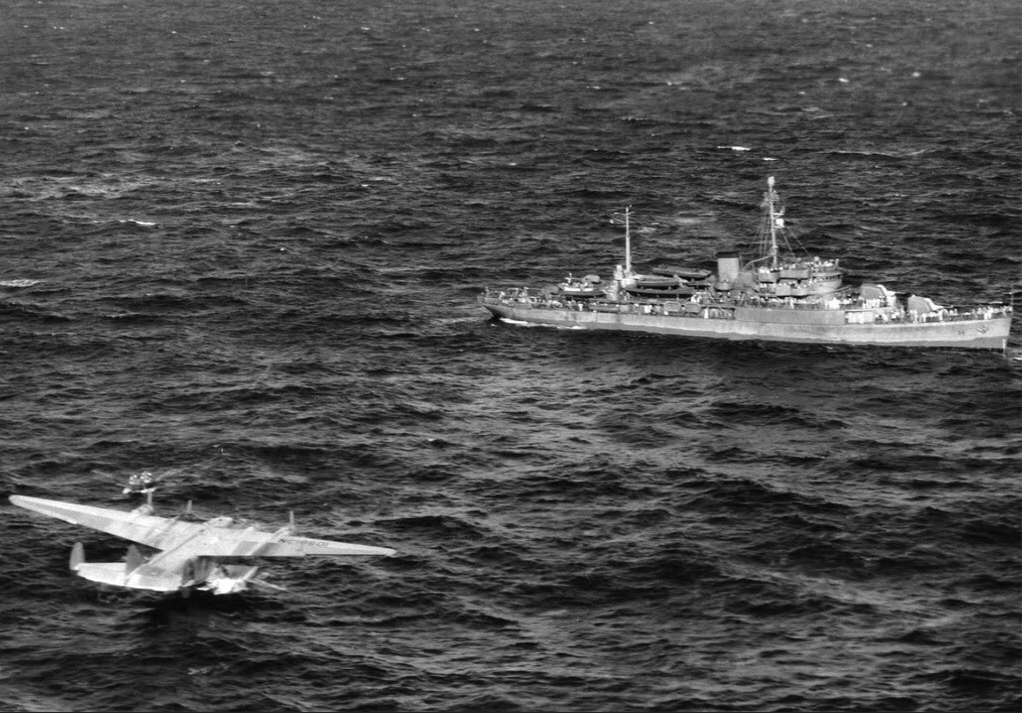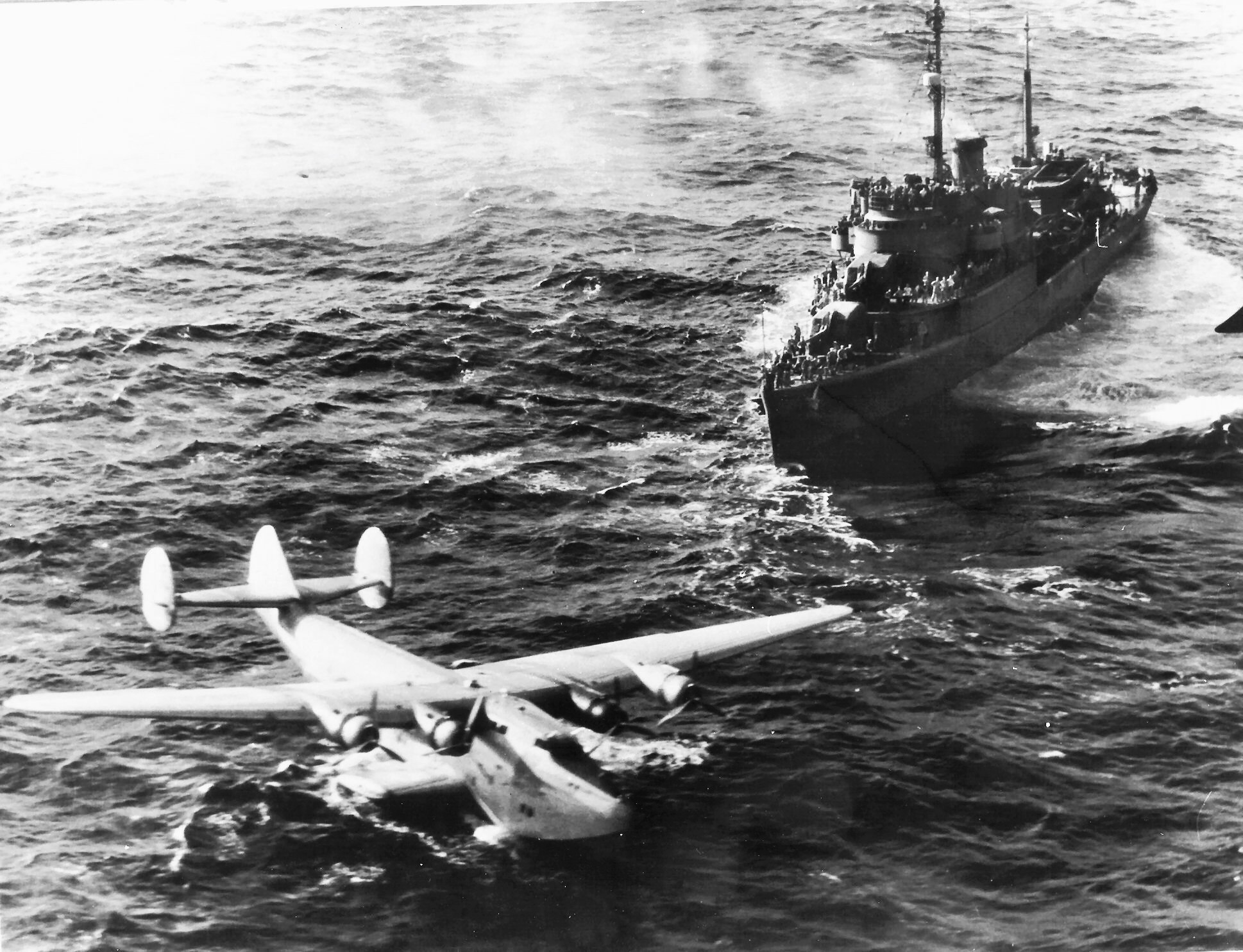 During the several days that Honolulu Clipper was afloat in the open ocean, weather increased to the point that it was considered too hazardous to approach it in a small boat, so the aviation tender closed on the airplane directly to try to take it on tow. Unfortunately, San Pablo hit the clipper and caused significant damage.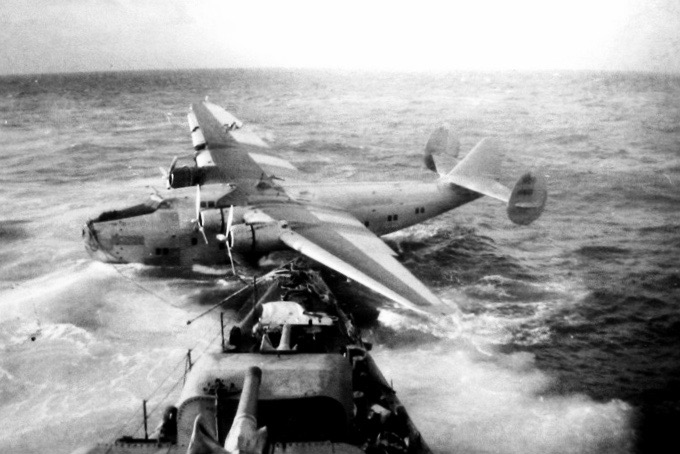 With salvage impossible, the derelict Honolulu Clipper was now considered a hazard to navigation. It was sunk by 20 mm gun fire from San Pablo.
Honolulu Clipper was the prototype for the Boeing Model 314 series flyjng boat. It had been designed to carry a maximum of 76 passengers and a crew of 10 a distance of 5,200 miles at 184 miles per hour. The design used the wings and engine nacelles of Boeing's experimental Model 294 (XB-15) very long-range heavy bomber.
The Boeing Model 314 was a large four-engine, high-wing monoplane flying boat designed and built by the Boeing Airplane Company to take off and land on water. It was 106 feet (32.309 meters) long with a wingspan of 152 feet (46.330 meters). It had a maximum take off weight of 82,500 pounds (37,421 kilograms).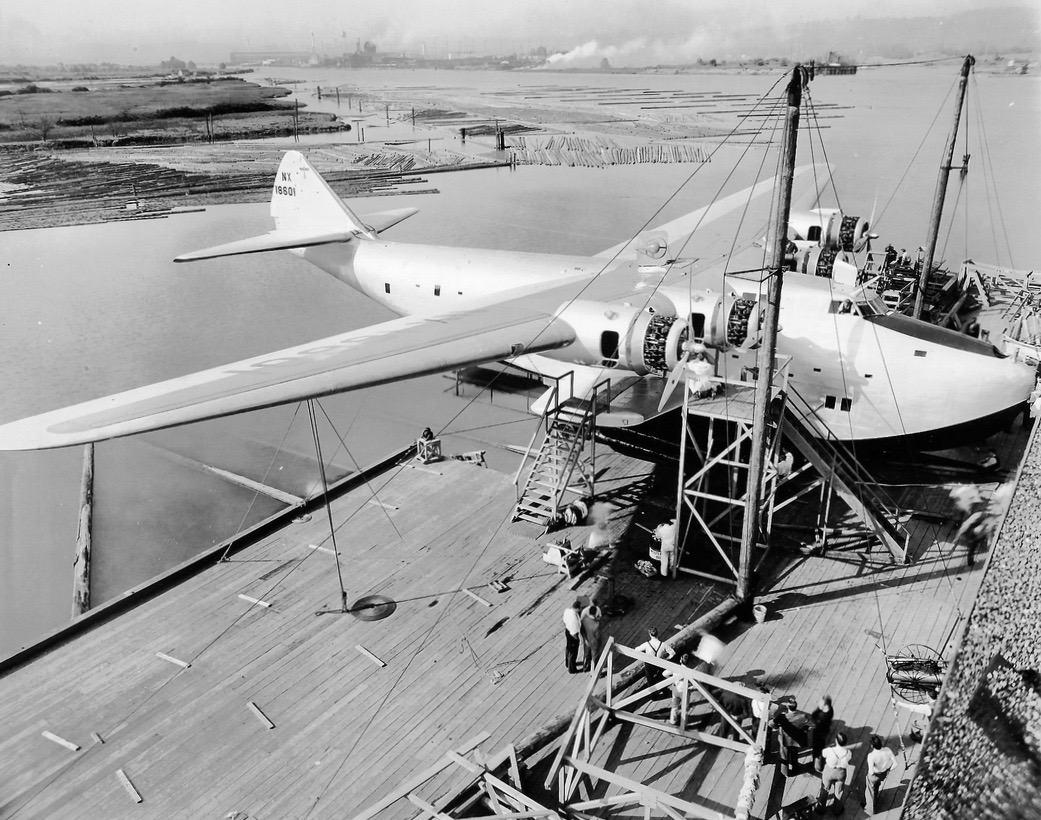 The airplane was built at Boeing's Plant 1, then transported by barge to Elliot Bay. It carried experimental registration NX18601. Test pilot Edmund Turney ("Eddie") Allen made the first flight of the prototype on 7 June 1938. He reported that the flying boat had insufficient rudder control and that he had to vary engine power to turn it. The prototype was modified to a twin-tail configuration.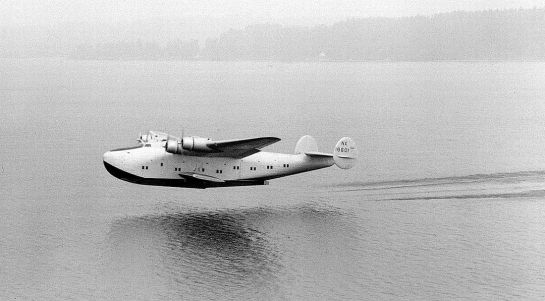 With two vertical fins and rudders, control was improved, but was still insufficient. A third, center, fin was added and this became the production configuration.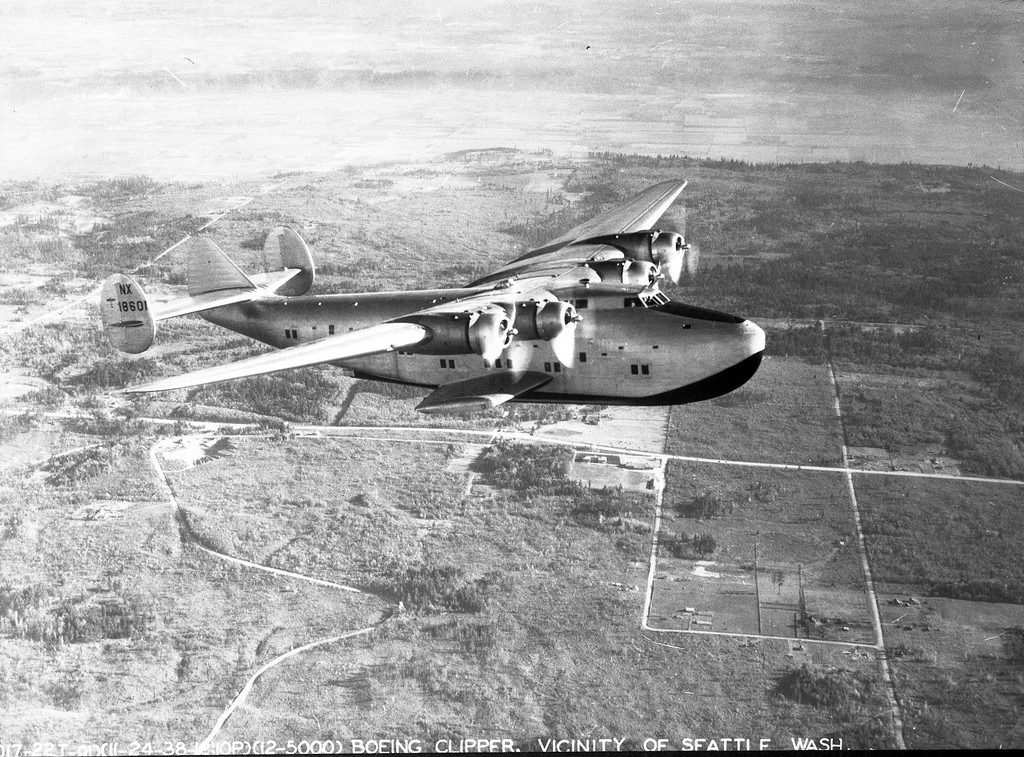 The Boeing 314 was powered by four air-cooled, supercharged, 2,603.737-cubic-inch-displacement (42.668 liter) Wright Aeronautical Division Cyclone 14 GR2600A2, two-row, 14-cylinder radial engines with a compression ratio of 7.1:1. They were rated at 1,200 horsepower at 2,100 r.p.m., and 1,550 horsepower at 2,400 r.p.m. for takeoff, burning 91/96 octane gasoline. These engines (also commonly called "Twin Cyclone") drove three-bladed Hamilton Standard Hydromatic full-feathering constant-speed propellers with a diameter of 14 feet (4.267 meters) through a 16:9 gear reduction. The GR2600A2 was 5 feet, 2.06 inches (1.576 meters) long and 4 feet, 7 inches (1.387 meters) in diameter. It weighed 1,935 pounds (878 kilograms). The engines could be serviced in flight, with access through the wings.
The Boeing 314 had a maximum speed of 199 miles per hour (320 kilometers per hour), with a range of 3,685 miles (5,930 kilometers) at its normal cruising speed of 183 miles per hour (295 kilometers per hour). Its service ceiling was 13,400 feet (4,084 meters). The fuel capacity was 4,246 gallons (16,073 liters).
Boeing built six Model 314 and another six 314A flying boats for Pan American Airways and British Overseas Airways Corporation. Pan Am paid $549,846.55 for each 314, about $9,545,726.07 in 2017 dollars, and Boeing lost money on every one sold.
Honolulu Clipper was leased to the United States Navy by Pan American Airways, 17 December 1942, and assigned Bureau of Aeronautics serial number ("Bu. No.") 48227. The airplane continued to be operated by Pan Am crews.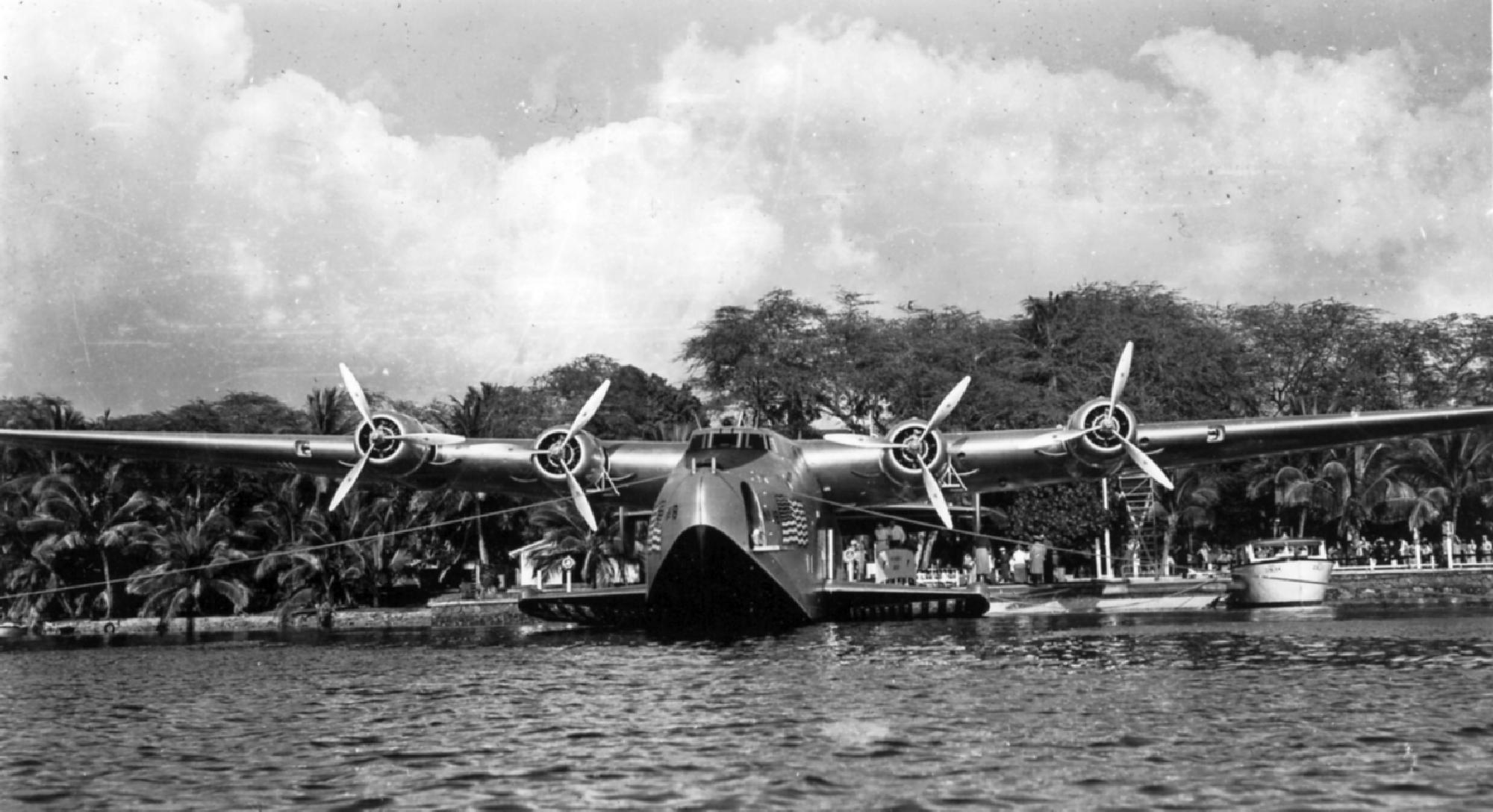 Sanis E. ("Robby") Robbins was born at Matthews, Indiana, 17 September 1898. He was the sixth of seven children of William S. Robbins, a real estate agent, and Sarah Ellen Brokaw Robbins.
Robbins enlisted as a Private, United States Army, at Camp Dodge, Iowa, 26 June 1916. He was promoted to Private First Class on 1 August 1916, and to Corporal, 18 December 1916. Corporal Robbins was hospitalized at Brownsville, Texas, 4–23 January 1917. He was released from military service at Fort Des Moines, Iowa, 20 February 1917, shortly before the United States entered World War I. A 1920 Air Service Information Circular listed Second Lieutenant Sanis E. Robbins as a pursuit pilot, residing at Cassia, Florida.
Robby Robbins married Miss Virginia J. Bing. They would have three children.
Robbins was commissioned as a Lieutenant Commander, United States Naval Reserve, 15 September 1940. He held this rank until at least 1955.
Captain Sanis E. Robbins died at Palo Alto, California, 8 August 1961, at the age of 62 years. He was buried at the Golden Gate National Cemetery, San Bruno, California.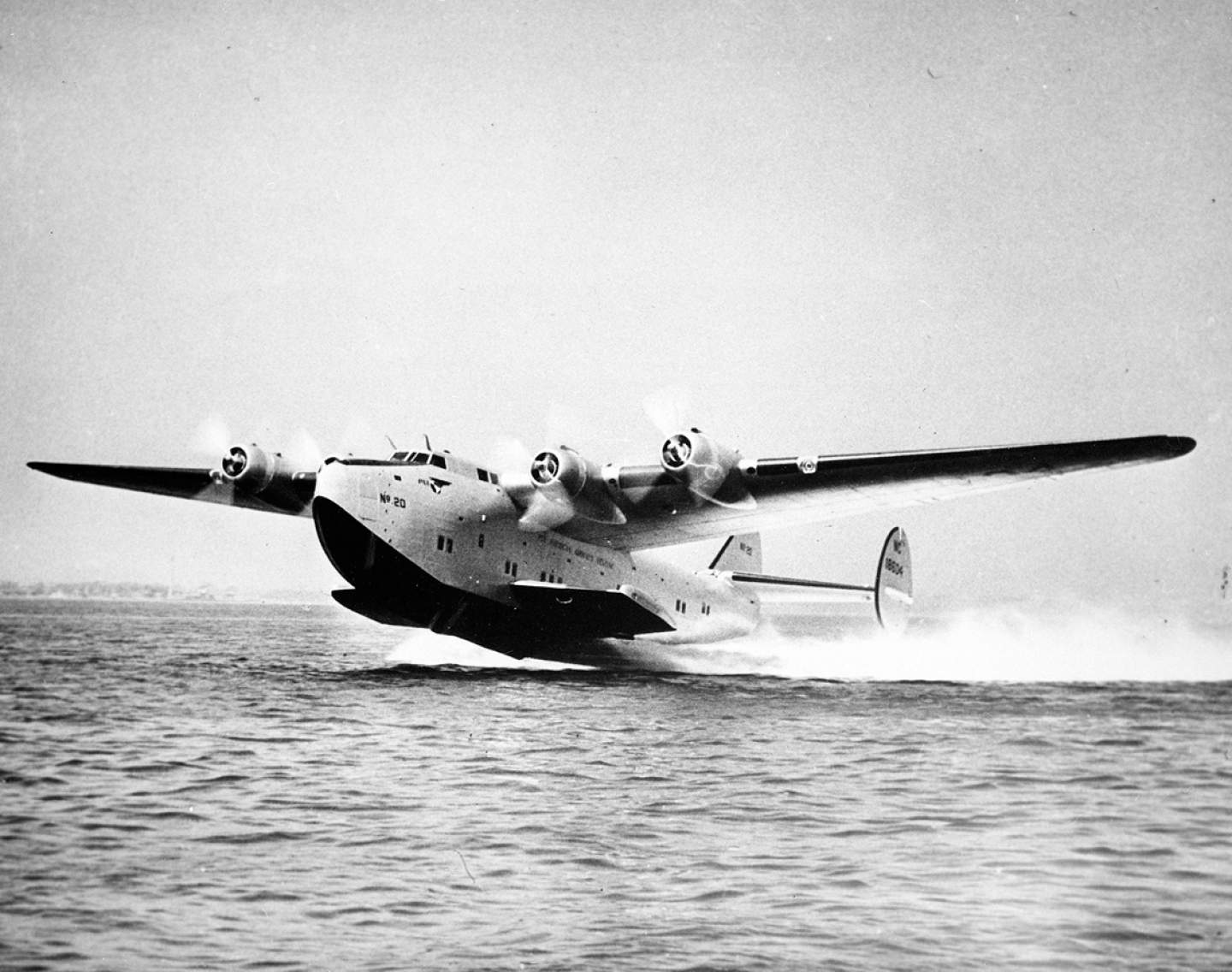 © 2017, Bryan R. Swopes