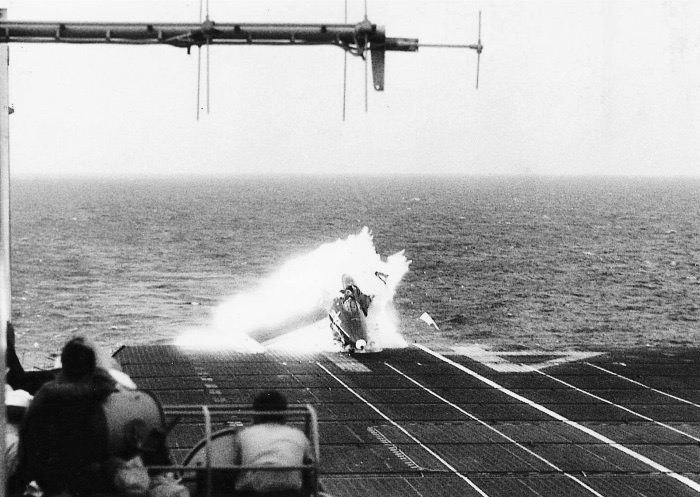 23 June 1951: Operating in the Atlantic Ocean off the Virginia Capes, the United States Navy aircraft carrier USS Midway (CVB-41) was conducting suitability trials of the Grumman F9F-5 Panther. Commander George Chamberlain Duncan, commanding Fighter Squadron 51 (VF-51) was in the cockpit of Bu. No. 125228. Having made a successful landing aboard Midway, Duncan took off to make another approach and landing.
Just short of the flight deck, the Panther dropped below the correct approach. Duncan tried to pull up, but the fighter struck the ramp and broke in half. The aircraft exploded in flames. The forward section slid down the deck. Duncan, though burned, was quickly rescued.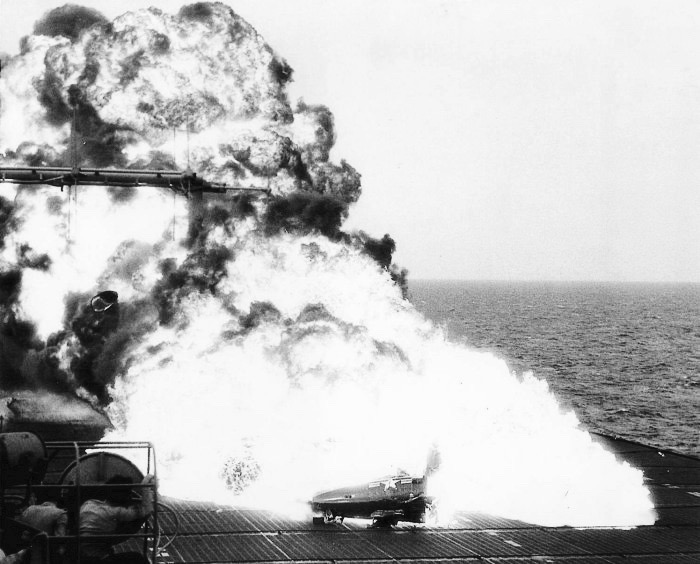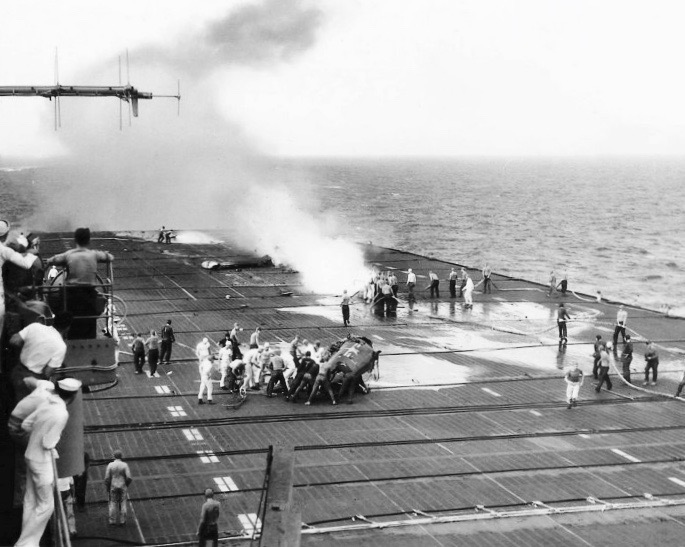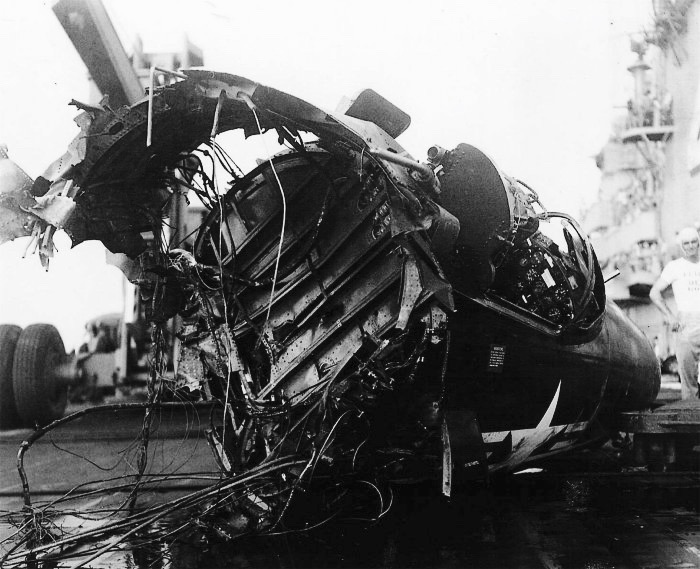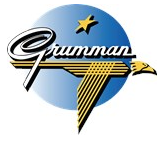 The Grumman F9F-5 Panther was a single-seat, single-engine turbojet powered fighter designed for operation from the U.S. Navy's aircraft carriers. It was 38 feet, 10½ inches (11.849 meters) long, with a wingspan of 38 feet, 0 inches (11.528 meters)— not including wing tanks. Its overall height was 12 feet, 4 inches (3.759 meters). The wings could be hydraulically folded to reduce the span for storage aboard ship. The F9F-5 weighed 10,147 pounds (4,603 kilograms) empty, and had a gross weight of 17,766 pounds (8,059 kilograms). The maximum takeoff weight (MTOW) was 18,721 pounds (8,492 kilograms).
The F9F-5 was powered by a Pratt & Whitney JT7 (J48-P-6 or -6A) engine, a license-built version of the Rolls-Royce Tay. It was a single-shaft turbojet with a single-stage centrifugal-flow compressor, 9 combustion chambers and a single-stage axial-flow turbine. The J48-P-6 was rated at 6,250 pounds of thrust (27.80 kilonewtons), and 7,000 pounds (31.14 kilonewtons) with water injection.
The  F9F-5 Panther had a cruise speed 481 miles per hour (774 kilometers per hour). Its maximum speed was 604 miles per hour (972 kilometers per hour) at Sea Level. Its service ceiling was 42,800 feet (13,045 meters), and the range was 1,300 miles (2,092 kilometers).
The Panther was armed with four M3 20 mm autocannon placed in the nose. It could carry up to 3,465 pounds (1,361 kilograms) of bombs or eight 5-inch (12.7 centimeters) rockets on four hardpoints under each wing.
The XF9F-2 prototype first flew 21 November 1947. 1,382 F9F Panthers were produced and they remained in service with the U.S. Navy and Marine Corps until 1958. 619 of these were the F9F-5 variant. A swept wing version, the F9F-6 through F9F-9J Cougar, was also produced.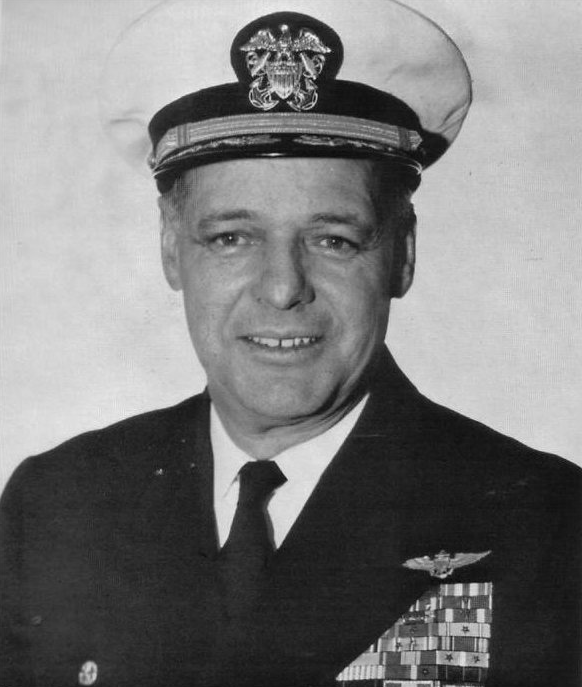 George Chamberlain Duncan was born at Tacoma, Washington, 11 Feb 1917. He was the first of three children of of George W. Duncan, a mining camp supplier, and Frances Delarsh Chamberlain Duncan. Duncan attended Stadium High School in Tacoma. He played on the football and swim teams. He was also a member of the glee club, and during his senior year, portrayed "Oliver le Dain" in the comic opera, "The Vagabond King." He was a member of the school's glider and architecture clubs. Duncan graduated in 1934.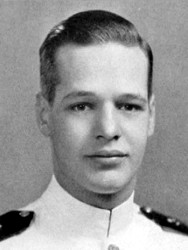 George Duncan entered the United States Naval Academy, Annapolis, Maryland, as a midshipman, 18 July 1935. He graduated 1 June 1939 and was commissioned an Ensign, United States Navy. Ensign Duncan served aboard the Colorado-class battleship USS West Virginia (BB-48) from June 1939 to August 1941.
Ensign Duncan married Miss Agnes Wirt Tawresey at Washington, D.C., 30 August 1941. They would have four children, three sons, George, Jr., Richmond, Alfred, and a daughter, Agnes.
Ensign Duncan was next assigned to the Northampton-class heavy cruiser USS Louisville (CA-28), serving aboard in 1942 and 1943.
Duncan was promoted to the rank of lieutenant (junior grade), 1 June 1942. Two weeks later, 15 June 1942, he was promoted to lieutenant (temporary).
Lieutenant Duncan underwent flight training at NAS Pensacola. Following graduation he was assigned to Fighting Squadron Fifteen (VF-15) aboard USS Essex (CV-9). Duncan was promoted to lieutenant commander (temporary) 15 March 1944.
On 13 September 1944, Lieutenant Commander Duncan was engaged in aerial combat over the central Philippine Islands. He was credited with destroying an enemy medium bomber and two fighters, shared credit for a second bomber shot down, and damaged a third fighter. He followed this by strafing an airfield and destroying three aircraft on the ground. For these actions, Duncan was awarded the Silver Star.
During the Battle off Cape Engaño on the morning of 25 October 1944, Lieutenant Commander Duncan led VF-15 in an attack against Imperial Japanese Navy warships in the Sibuyan Sea. He scored a direct hit with a bomb on the light carrier IJN Chitose, which, along with a number of other hits, resulted in its sinking at 0937 hours. Duncan was awarded the Navy Cross.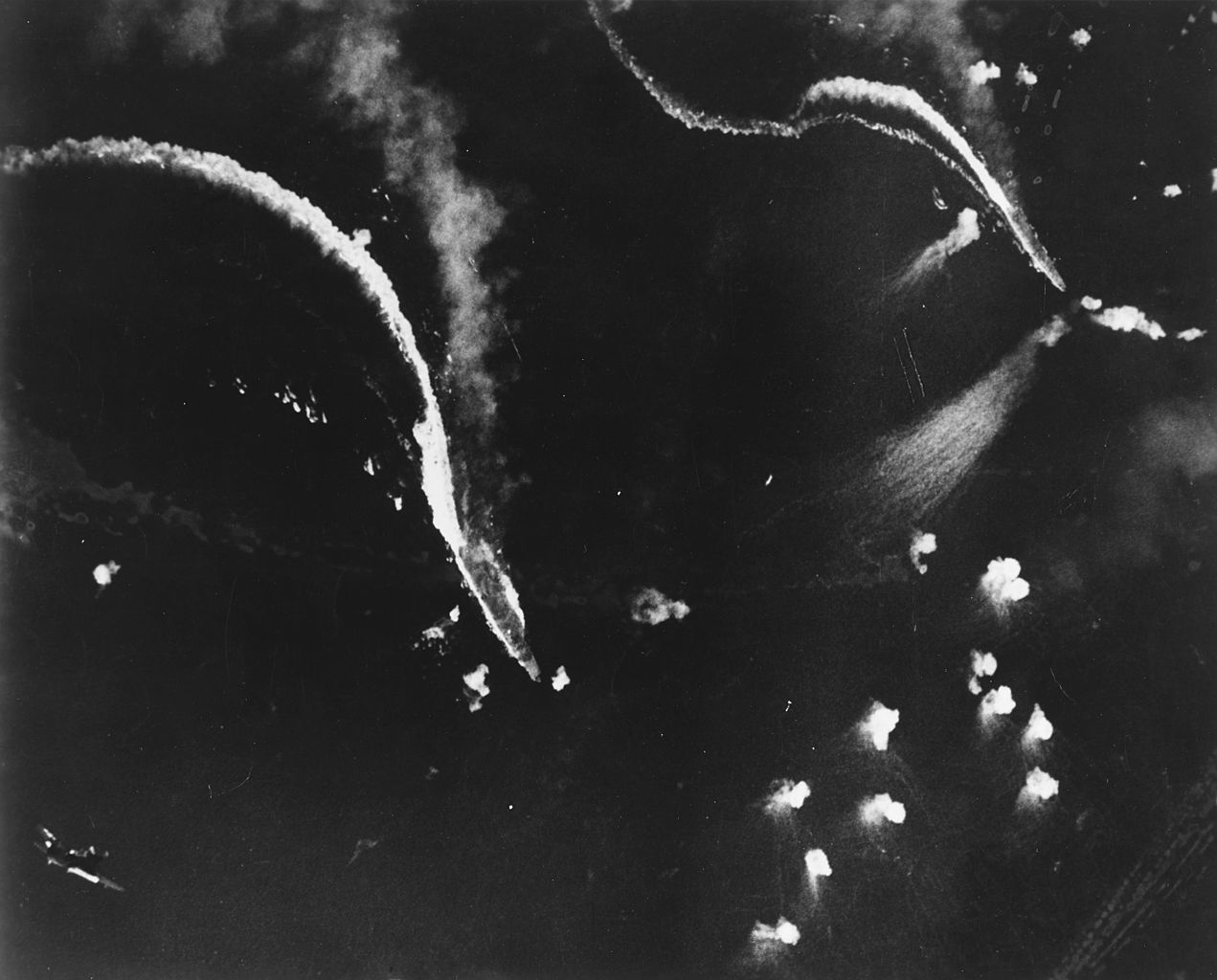 Duncan is officially credited with 13½ enemy aircraft destroyed.
In March 1945, Lieutenant Commander Duncan was assigned to the Naval Postgraduate School at Annapolis, Maryland. In 1949, he graduated from the 48-week Test Pilot Division course at NATC Patuxent River. On 1 June 1949, his rank of lieutenant commander became permanent. On the same day, Duncan was promoted to commander. This was also a permanent rank.
Commander Duncan served as the commander of VF-51 aboard the Essex-class aircraft carrier USS Valley Forge (CVA-45) during the Korean War. He later commanded  VF-101, and was Commander Air Group ("CAG"), Carrier Air Group 5 (CVG-5). He was next assigned as the Head, Fighter Design Branch, Bureau of Aeronautics (BuAir), then, Assistant Director, Aircraft Division, Bureau of Weapons (BuWeps). Returning to sea, Commander Duncan was executive officer of the "supercarrier" USS Forrestal (CV-59). Duncan was promoted to the rank of captain, 1 April 1958.
For a Naval Aviator to be given command of a U.S. Navy aircraft carrier, they generally have to have had command of a "deep-draft" ship. Captain Duncan was given command of the 13,900-ton aircraft stores ship USS Jupiter (AVS-8) from July 1961 to 24 March 1962. Jupiter had a draft of 25 feet, 10 inches (7.874 meters). During this time, Jupiter operated with the 7th Fleet, and was homeported at Yokosuka, Japan.
Captain Duncan assumed command of the Forrestal-class aircraft carrier USS Ranger (CV-61), 7 May 1962, and remained in that assignment until 20 May 1963.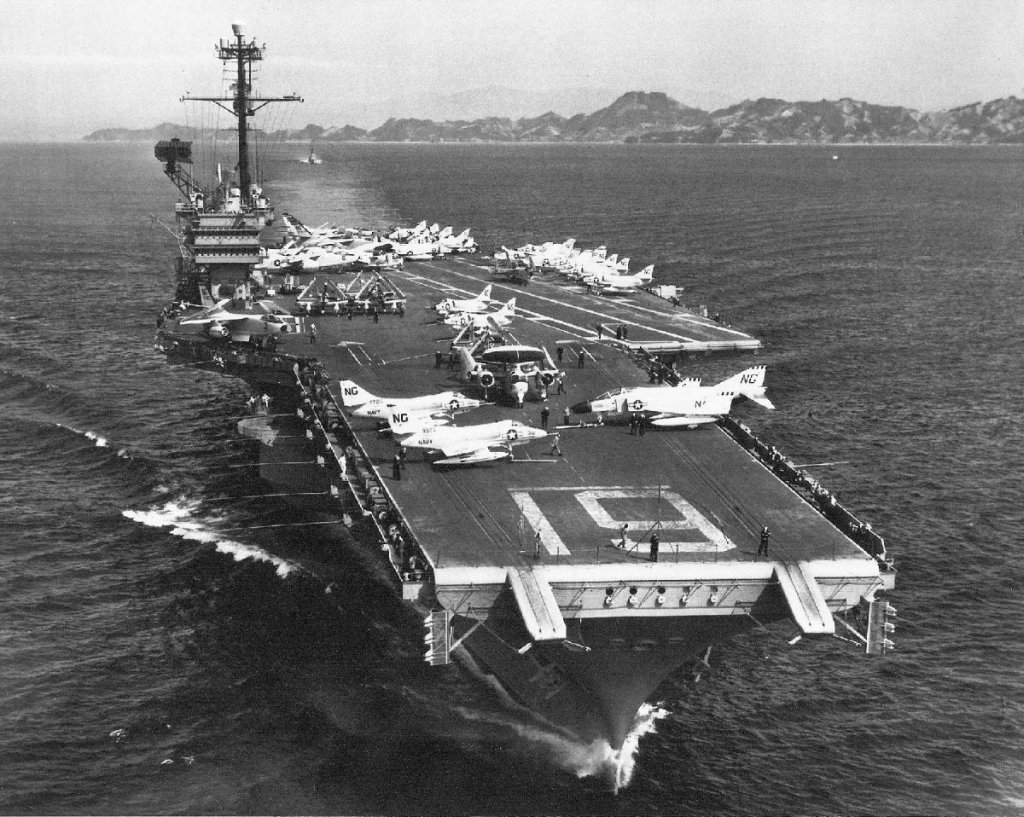 Captain Duncan retired from the United States Navy in December 1967. During his naval career, he had been awarded the Navy Cross, the Silver Star, the Legion of Merit, the Distinguished Flying Cross with one silver star and one gold star (seven awards), and the Bronze Star with Combat "V."
Following his retirement, Duncan attended George Washington University, Washington, D.C., where he earned a degree in law. He was a practicing attorney in Alexandria, Virginia.
Agnes Duncan died in 1972. In 1974, Captain Duncan married Margaret Handy. She died in 1980.
Captain Duncan suffered a fatal heart attack while in a restaurant in Alexandria, Virginia, 15 December 1995, at the age of 77 years. He is buried at the Arlington National Cemetery, Arlington, Virginia, alongside his first wife.
© 2017, Bryan R. Swopes