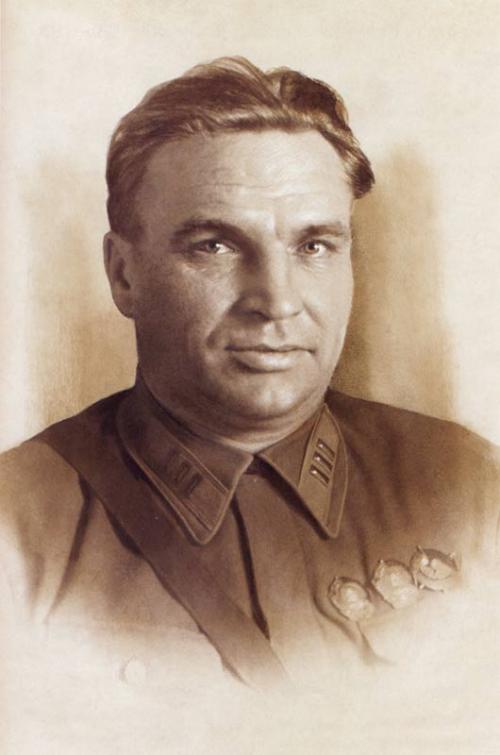 18–20 June 1937: The number 1 prototype Tupolev ANT-25, with pilot Valery Pavlovich Chkalov, Georgy Filippovich Baydukov (co-pilot/radio/navigator) and Alexander Vasilyevich Belyakov (radio/navigator) departed Shchelkovo airfield near Moscow, Russia, at 4:04 a.m. (01:04 GMT), 18 June, and flew north along the E. 38° meridian toward the North Pole, and beyond that, south along the W. 123° meridian toward San Francisco, California, U.S.A.
The Tupolev ANT-25RD was an experimental very long range airplane, built by OJSC Voronezh, intended to set distance records. It also served as a prototype for a long-range bomber, which was designated DB-1.
The ANT-25 was a single-engine low-wing monoplane, primarily of metal construction, with retractable landing gear. The wings and horizontal stabilizer were covered with corrugated sheet metal. The troughs were filled with balsa wood to create a smoother surface. It was flown by a crew of three. The pilot was placed directly behind the engine, followed by a crew rest area, then the navigator/radio operator's station. The copilot flew the airplane from a small enclosed cockpit behind the navigator's station.
The airplane was 13.00 meters (42 feet, 8 inches) long with a wingspan of 34.00 meters (111 feet, 7 inches) long  and overall height of 5.5 meters (18 feet, ½-inch). The very high aspect ratio wing (13:1) has an area of 87.10 square meters (937.54 square feet), because of its length, the wing used steel spars. The ANT-25 had an empty weight of 3,784 kilograms (8,342 pounds) and maximum gross weight of 10,000 kilograms (22,046 pounds).
The ANT-25 was powered by a single liquid-cooled, supercharged, 46.928 liter (2,863.722 cubic inches) Mikulin M-34RD single overhead cam 60° V-12 engine, rated at 830 horsepower. Right and left cylinder banks had different length connecting rods: 190mm vs. 199mm. Drove a three-blade propeller with a diameter of 3.9 meters (12.8 feet) through gear reduction. The pitch of the propeller blades could be adjusted prior to flight.
The ANT-25 cruise speed 165 km/h (103 miles per hour), max, 244 km/h (152 miles per hour), range 10,800 km (6,711 miles) Ceiling 7,850m (25,755 feet)
Tupolev ANT-25 URSS N025
Moscow to Pearson Airfield, Vancouver, Washington
9,130 kilometers (5,673 miles) 63 hours, 16 minutes


4:05 a.m., Moscow (01:05 GMT) Shchelkovo airfield 38°E. → North Pole → 123°W, San Francisco
encountered storm/propeller icing/climb 3,000m
19 June 04:15, researchers at North Pole 1 heard the airplane
over Canadian arctic climbed to 5,750m to clear clouds temps 0° C., O2 limited
19 June 13:50 Canadian coast/turned west/Rocky Mountains/6,100m -20° C.
20 June 00:40 out of O2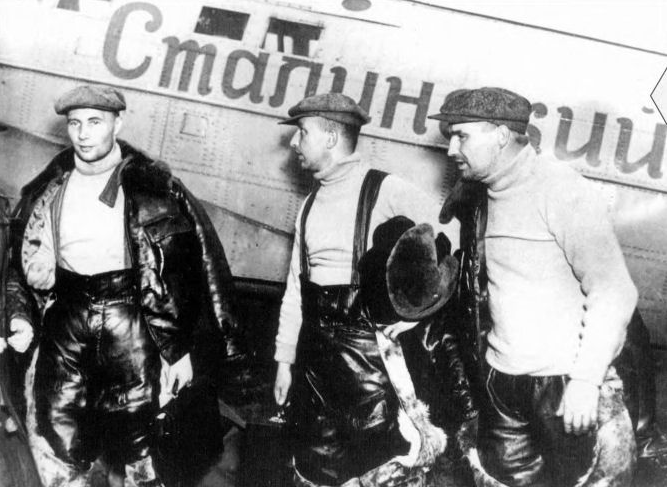 Fly along Pacific coast
Vancouver 20 June 16:20 GT
Headwinds used more fuel; URSS national record
Pres FDR spoke w/ crew for 1+40
Airplane disassembled and shipped back to Soviet Union