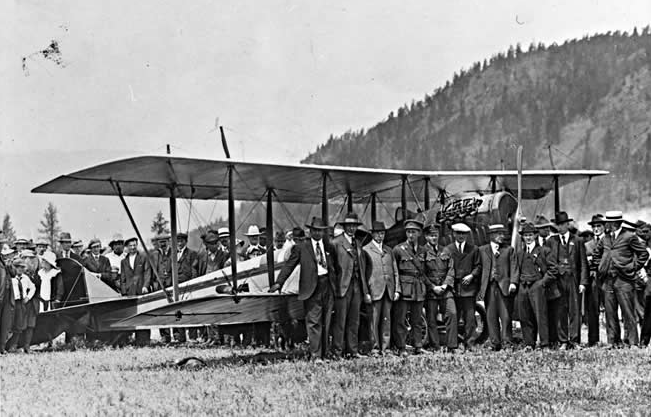 7 August 1919: Captain Ernest Charles Hoy, DFC, a World War I fighter pilot credited with 13 aerial victories, became the first pilot to fly across the Canadian Rockies when he flew from Richmond, British Columbia, to Calgary, Alberta, carrying the mail for the Post Office Department.
Foy's airplane was a single-engine Canadian Aeroplanes Ltd.-built JN-4 "Canuck" two-bay biplane, an independent derivative of the Curtiss Aeroplane and Motor Company JN-3 "Jenny," to the specifications of the Royal Flying Corps. The Canuck had ailerons on upper and lower wings, giving it better roll response than the original Curtiss JN-4. The Canuck was 27 feet, 2½ inches (8.293 meters) long, with an upper wingspan of 43 feet, 7-3/8 inches (13.294 meters) and lower span of 34 feet, 8 inches ( meters). The height was 9 feet, 11 inches (3.023 meters). The empty weight was 1,390 pounds (630 kilograms) and gross weight was 1,930 pounds (875 kilograms).
The Canuck was powered by a water-cooled, normally-aspirated 502.655-cubic-inch-displacement (8.237 liters) Curtiss Aeroplane and Motor Company OX-5 90° V-8 engine with a compression ratio of 4.9:1. This was a direct-drive engine which produced 90 horsepower at 1,400 r.p.m. and turned a two-bladed, fixed-pitch propeller. The OX-5 was 4 feet, 8.75 inches (1.442 meters) long, 2 feet, 5.75 inches (0.756 meters) wide and 3 feet, 0.75 inches (0.932 meters) high. It weighed 390 pounds (177 kilograms).
The Canuck had a cruise speed of 60 miles per hour (97 kilometers per hour) and maximum speed of 74 miles per hour (119 kilometers per hour). Its service ceiling was 11,000 feet (3,353 meters). The standard airplane had a range of 155 miles (249 kilometers). Captain Hoy had an additional 12 gallon (45 liters) fuel tank installed in the airplane's forward cockpit.
Two Canadian newspapers had agreed to offer a cash prize to the first person to make this flight. Captain Hoy was sponsored by the Aerial League of Canada, which purchased the airplane. Supposedly, Hoy was selected to make the flight by winning a coin toss with another pilot.
Captain Hoy took off from Minoru Park in Richmond at 4:13 a.m., carrying 45 specially marked letters and several special editions of the Vancouver Daily World. He made several fuel stops enroute, flew through several mountain passes and finally landed at Bowness Park in Calgary at 8:55 p.m. His flight took 16 hours, 42 minutes.
Ernest Charles Hoy was born at Dauphin, Manitoba, 6 May 1895, the son of Charles and Eliza Lavinia Kitchener Hoy.
Ernest Charles Hoy was 5 feet, 9½ inches (1.765 meters) tall, and weighed 165 pounds (75 kilograms). He had black hair and brown eyes. Hoy enlisted as a private in the 102nd Battalion, Canadian Expeditionary Force, 3 March 1915. The unit arrived in France, 12 August 1916, and fought as part of the 11th Infantry Brigade, 4th Canadian Division. He was transferred to the 3rd Pioneer Battalion, Canadian Engineers. After contracting a serious illness, Private Hoy was sent back to England to recuperate. While there, he volunteered for the Royal Flying Corps. He was trained as a pilot and assigned to No. 29 Squadron.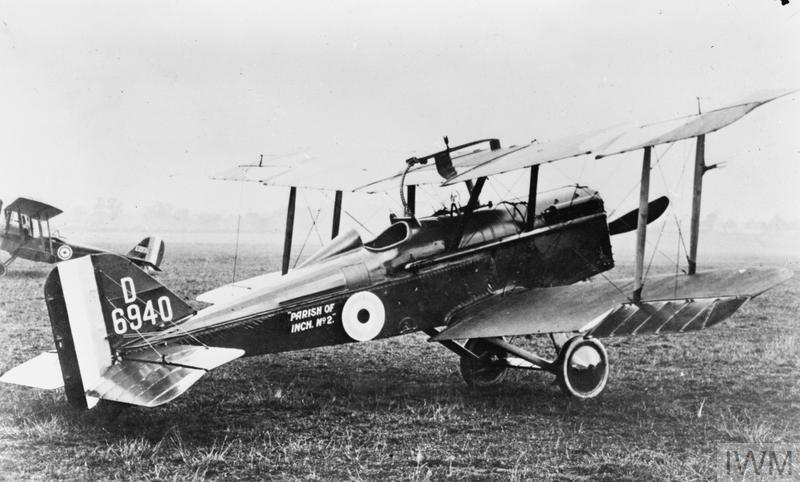 Between 12 August and 27 September 1918, Lieutenant Hoy shot down 13 enemy aircraft (including two balloons) with his Royal Aircraft Factory S.E.5a fighter. After his fourth, Hoy was recommended for the Distinguished Flying Cross. His citation in The London Gazette reads,
Lieut. (A/Capt.) Ernest Charles Hoy.                                                                                                                                    (FRANCE)
A bold and skillful airman who has accounted for four enemy machines and shot down a balloon in flames, displaying at all times a fine fighting spirit, disregarding adverse odds.
—The London Gazette, 3 December 1918, Supplement 31046, Page 14322 at Column 2.
On 26 September 1918, Captain Hoy was shot down by an enemy pilot. He was captured and held as a prisoner of war until the Armistice.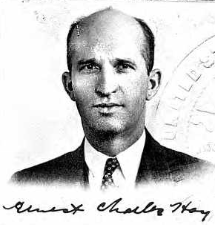 On 12 July 1922, Captain Hoy married Miss Marjorie Day at Vancouver, British Columbia. They emigrated to the United States in 1924 and resided in Newark, New Jersey. They had two children, Ross Kitchener Hoy, born in 1926, and Jane Elizabeth Hoy, born in 1930.
Captain Hoy became a naturalized citizen of the United States of America on 6 July 1939. He worked as a branch manager for an insurance company.
Captain Ernest Charles Hoy died at Toccoa, Georgia, 22 April 1982, just short of his 87th birthday.
© 2017, Bryan R. Swopes