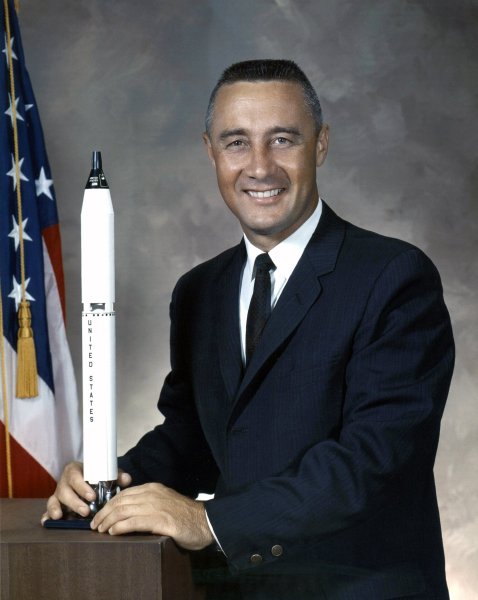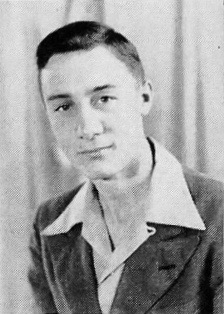 3 April 1926: Virgil Ivan Grissom was born at Mitchell, Indiana, the second of five children of Dennis David Grissom, an electrician, and Cecile King Grissom. "Gus" Grissom attended Mitchell High School, graduating in 1944. He was a member of the Hi-Y Club, the Camera Club, and the Signal Club.
Upon graduation from high school. Virgil I. Grissom enlisted as an aviation cadet in the Air Corps, United States Army, at Fort Benjamin Harrison, Lawrence, Indiana, 9 August 1944. He was assigned to basic flight training at Sheppard Field, Texas, but the War came to an end before he could graduate as a pilot. Then reassigned as a clerk, he requested to be discharged from the Air Corps, which he was in November 1945.
Grissom married Miss Betty Lavonne Moore at Mitchell, Indiana, 6 July 1945. They wood have two sons, Scott and Mark. (In Korea, Grissom named his F-86 Scotty after his first son.)
After the war, Grissom enrolled at Purdue University, Lafayette, Indiana, and in 1950, graduated with the degree of Bachelor of Science in Mechanical Engineering.
He then re-joined the U.S. Air Force in 1950 and was trained at Randolph Air Force Base, Texas, and Williams Air Base, Arizona, where he specialized as a fighter pilot.  He was commissioned as a second lieutenant, U.S. Air Force, in March 1952.
Lieutenant Grissom was assigned to he 334th Fighter Interceptor Squadron, 4th Fighter Interceptor Wing, based at Kenpo Air Base (K-14), in the Republic of South Korea. He flew 100 combat missions in the North American Aviation F-86 Sabre. Grissom was promoted to first lieutenant, 11 March 1952. he requested to fly another 25 combat missions, but that was declined and he returned to the United States. Lieutenant Grissom was then assigned as a flight instructor at Bryan Air Force Base, Texas.
Grissom attended a one year program at the Air Force Institute of Technology at Wright-Patterson Air Force Base, Dayton, Ohio, and earned a second bachelor's degree in aircraft engineering. He was then sent to the Air Force Test Pilot School at Edwards Air Force Base, California (Class 56D). After completion, he was assigned as a fighter test pilot back at Wright-Patterson.
One of 508 pilots who were considered by NASA for Project Mercury, Gus Grissom was in the group of 110 that were asked to attend secret meetings for further evaluation. From that group, 32 went on with the selection process and finally 18 were recommended for the program. Grissom was one of the seven selected.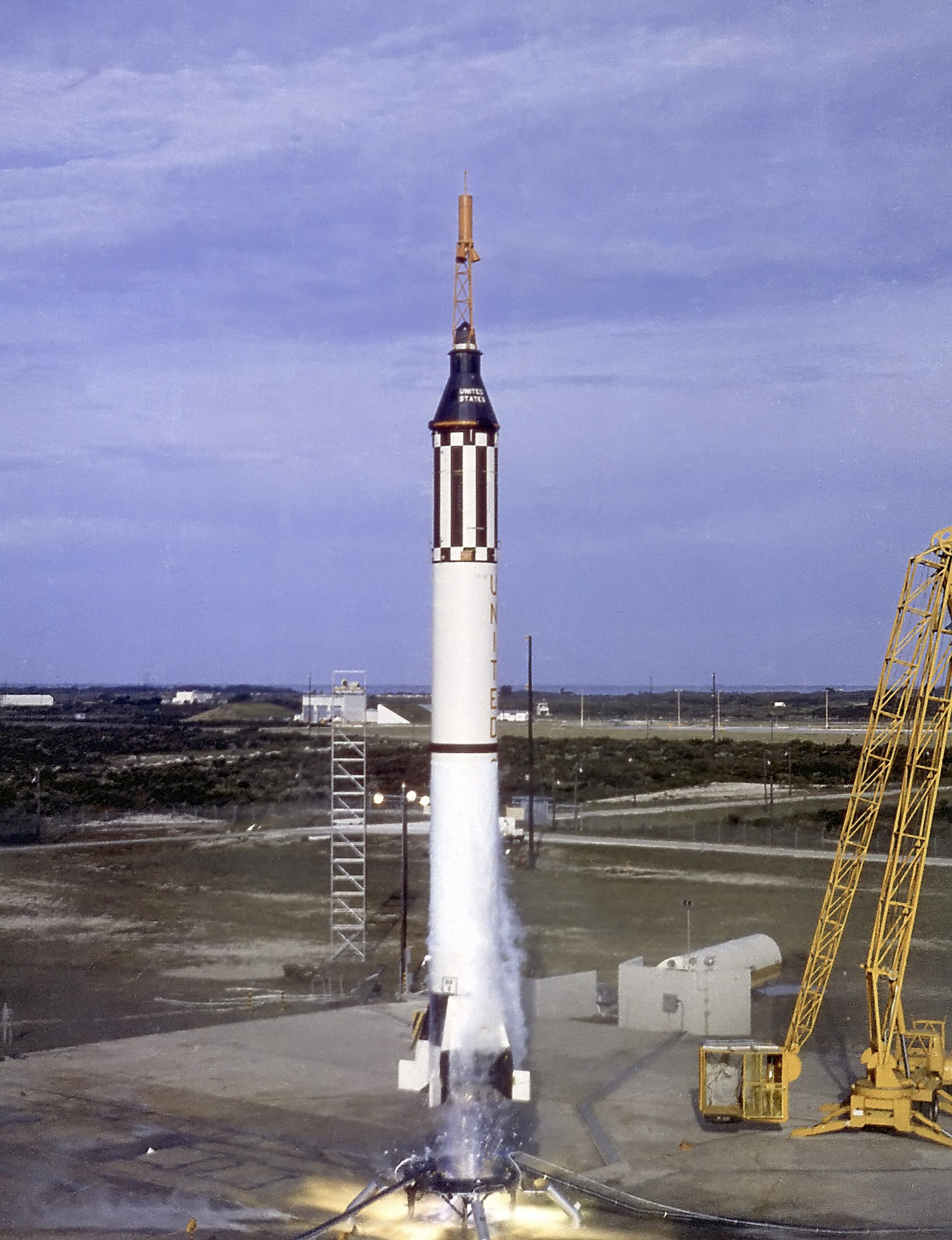 Major Grissom was the second American to "ride the rocket" aboard Mercury-Redstone 4. He named his space capsule Liberty Bell 7. The spacecraft reached a maximum altitude of 102.8 nautical miles (118.3 statute miles, 190.4 kilometers) and traveled 262.5 nautical miles (302.1 statute miles, 486.2 kilometers) down range. During the 15 minute, 37 second, flight, Grissom was weightless for 5:00 minutes.
Next he orbited Earth as commander of Gemini III along with fellow astronaut John Young. He was back-up commander for Gemini VI-A, then went on to the Apollo Program.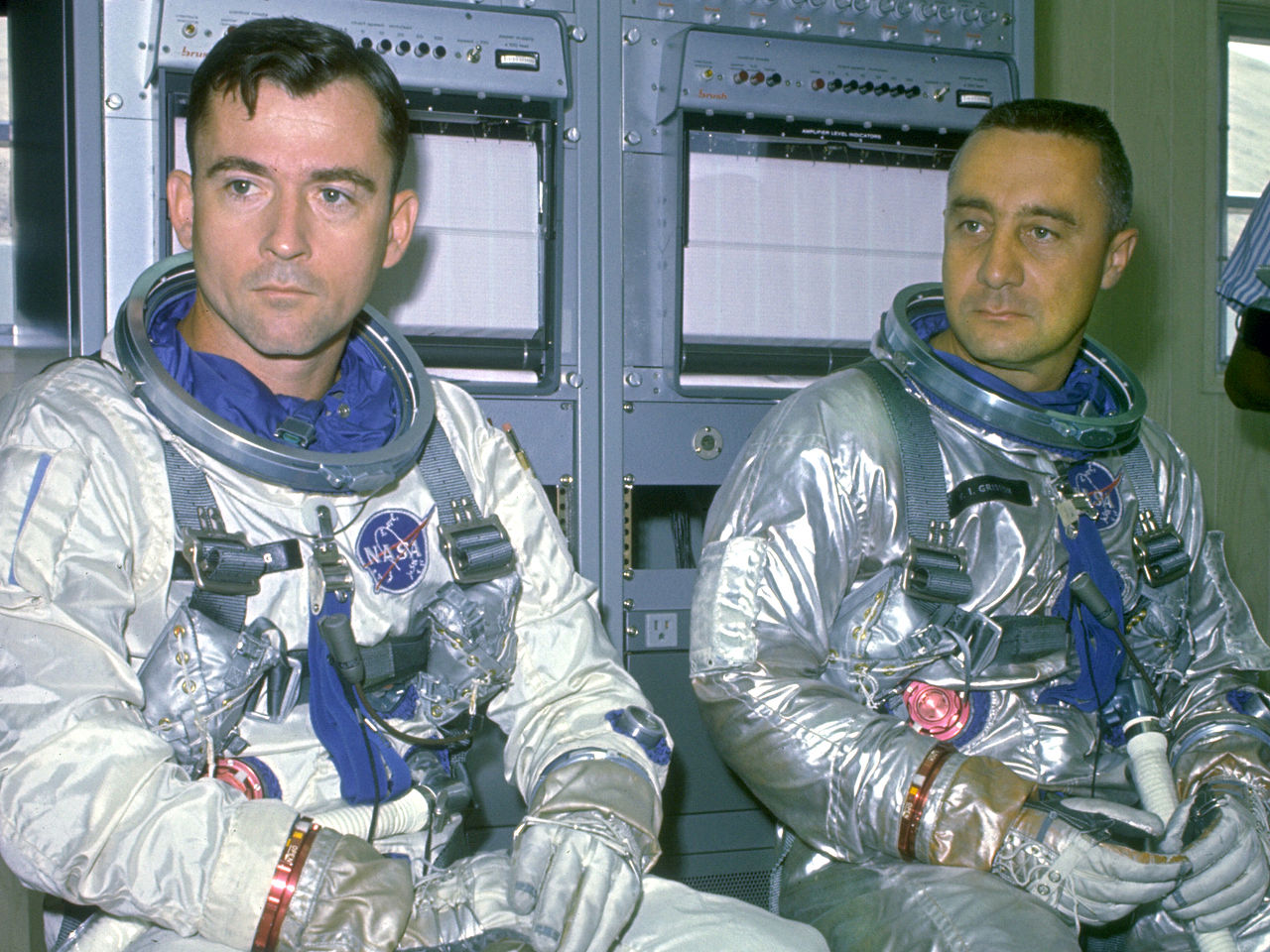 Gus Grissom was selected as the commander for Apollo I in January 1968. This was to be the first manned flight of the Apollo spacecraft. Ed White and Roger Chaffee were the other members of the flight crew.
As commander of AS-204 (Apollo I), LCOL Virgil I. Grissom, USAF was killed along with Ed White and Roger Chafee during a test on the launchpad, 27 January 1967.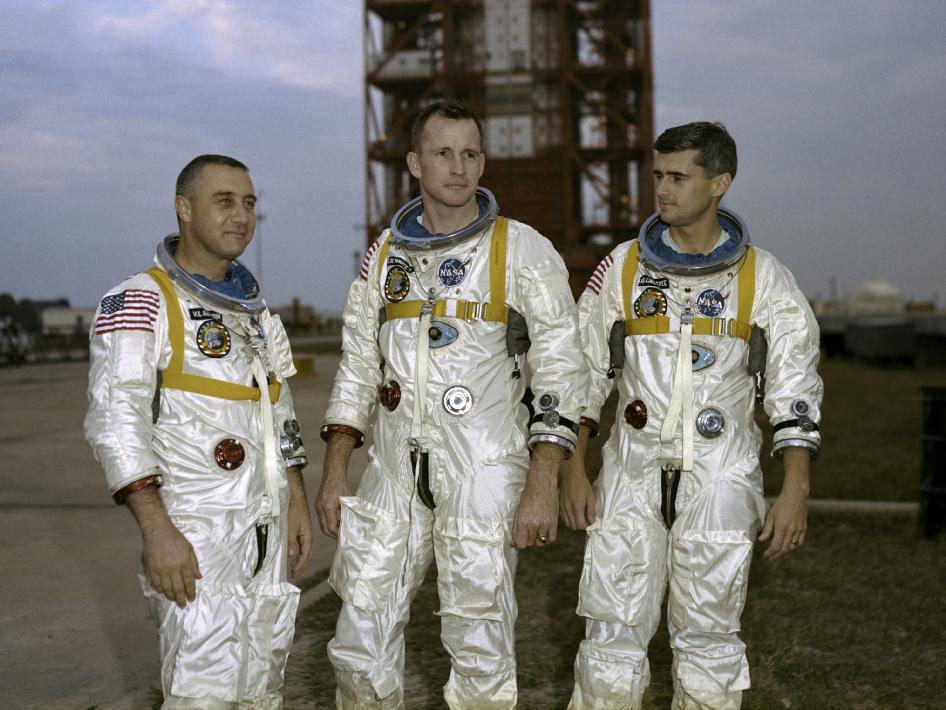 Gus Grissom was an Air Force Command Astronaut with over 4,600 hours flight time. He was the first American astronaut to fly into space twice, and logged 5 hours, 7 minutes of space flight. For his military service, Grissom was awarded the Distinguished Flying Cross; the Air Medal with one bronze oak leaf cluster (two awards); the American Campaign medal; the World War II Victory Medal; teh Korean Service Medal; the United Nations Korea medal, and the Korean War Service Medal of the Republic of South Korea. For his NASA service, he was awarded the Congressional Space Medal of Honor (posthumous); the NASA Distinguished Service Medal (two awards); and the NASA Exceptional Service Medal.
Had he lived, it is very possible that Grissom would have commanded the first Apollo mission to land on The Moon.
The remains of Lieutenant Colonel Virgil Ivan Grissom, United States Air Force, NASA Astronaut, are buried at the Arlington National Cemetery, Arlington, Virginia.
© 2018, Bryan R. Swopes