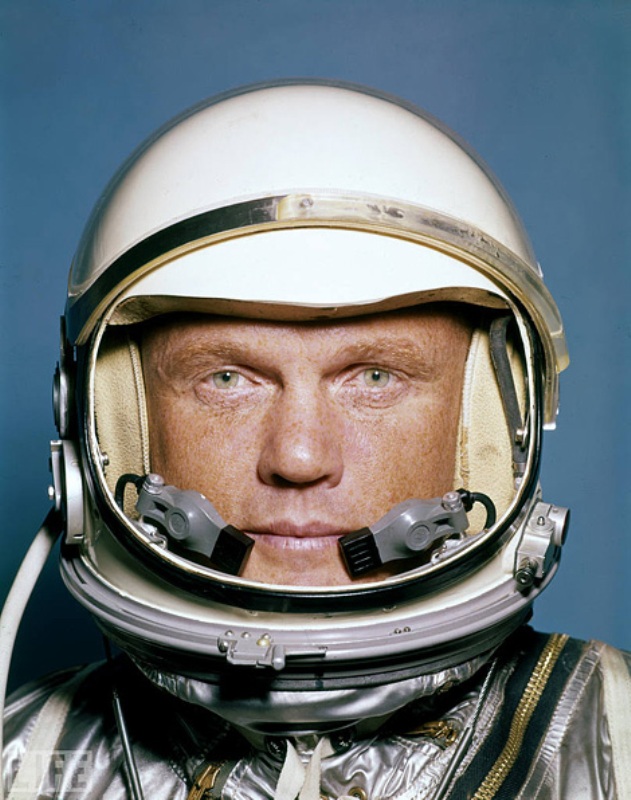 John Glenn, one of the original seven astronauts selected by NASA for Project Mercury, was a personal hero of mine. As a young boy growing up in Southern California, less than three miles from Rocketdyne's engine test stands in Santa Susana, I followed the progress of all the astronauts. I recall having a map pinned to my wall, showing the orbital path of Friendship 7 as Glenn made his historic three orbits of the Earth. All of the astronauts, and the X-15 test pilots at Edwards, were heroes to me, but for some reason, John Glenn was special.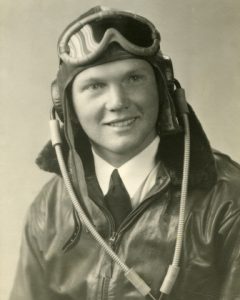 John Herschel Glenn, Jr., was born at Cambridge, Ohio, 18 July 1921, the first of four children of John Herschel Glenn, a plumber, and Clara Teresa Sproat Glenn. The Glenn family resided in New Concorde, Ohio. Glenn attended New Concord High School, graduating in 1939, and then enrolled at Muskingum College, also in New Concord, where he majored in engineering. While in college, he learned to fly.
Soon after the United States entered World War II, John Glenn enlisted in the United States Navy as a Naval Aviation Cadet, 28 March 1942. He transferred to the Marine Corps while still in flight training, and after qualifying as a Naval Aviator, was commissioned as a Second Lieutenant, U.S. Marine Corps Reserve, 16 March 1943.
On 6 April 1943, Lieutenant Glenn married Miss Anna Margaret Castor, also from New Concorde. They would have two children, Carolyn Ann Glenn and John David Glenn.
In October 1943, Glenn was promoted to First Lieutenant. Initially assigned as a transport pilot flying the Douglas R4D-1 Skytrain with Marine Utility Squadron 315 (VMJ-315) in the Pacific, he was transferred to Marine Fighter Squadron 155 (VMF-155). He flew 59 combat missions with the Chance Vought F4U Corsair in the Marshall Islands.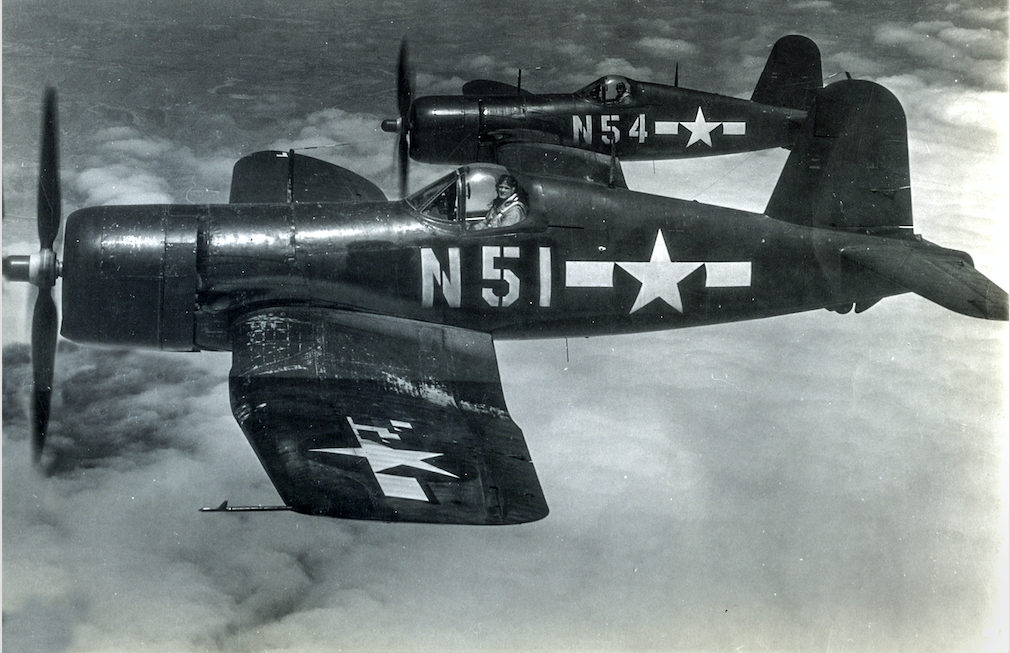 In 1945, Glenn was assigned to Marine Fighter Squadron 218 (VMF-218), again flying an F4U-4 Corsair, patrolling China with the 1st Marine Division. Lieutenant Glenn was promoted to the rank of Captain in July 1945.
In 1946, Captain Glenn, was transferred from the USMCR to the regular Marine Corps, retaining his temporary rank. On 7 August 1947, the rank of Captain was made permanent.
Captain Glenn served as an advanced flight instructor at NAS Corpus Christi, Texas, from June 1948 to December 1950. With the Korean War, Glenn was assigned to Marine Fighter Squadron 311 (VMF-311), which flew the Grumman F9F-2 Panther.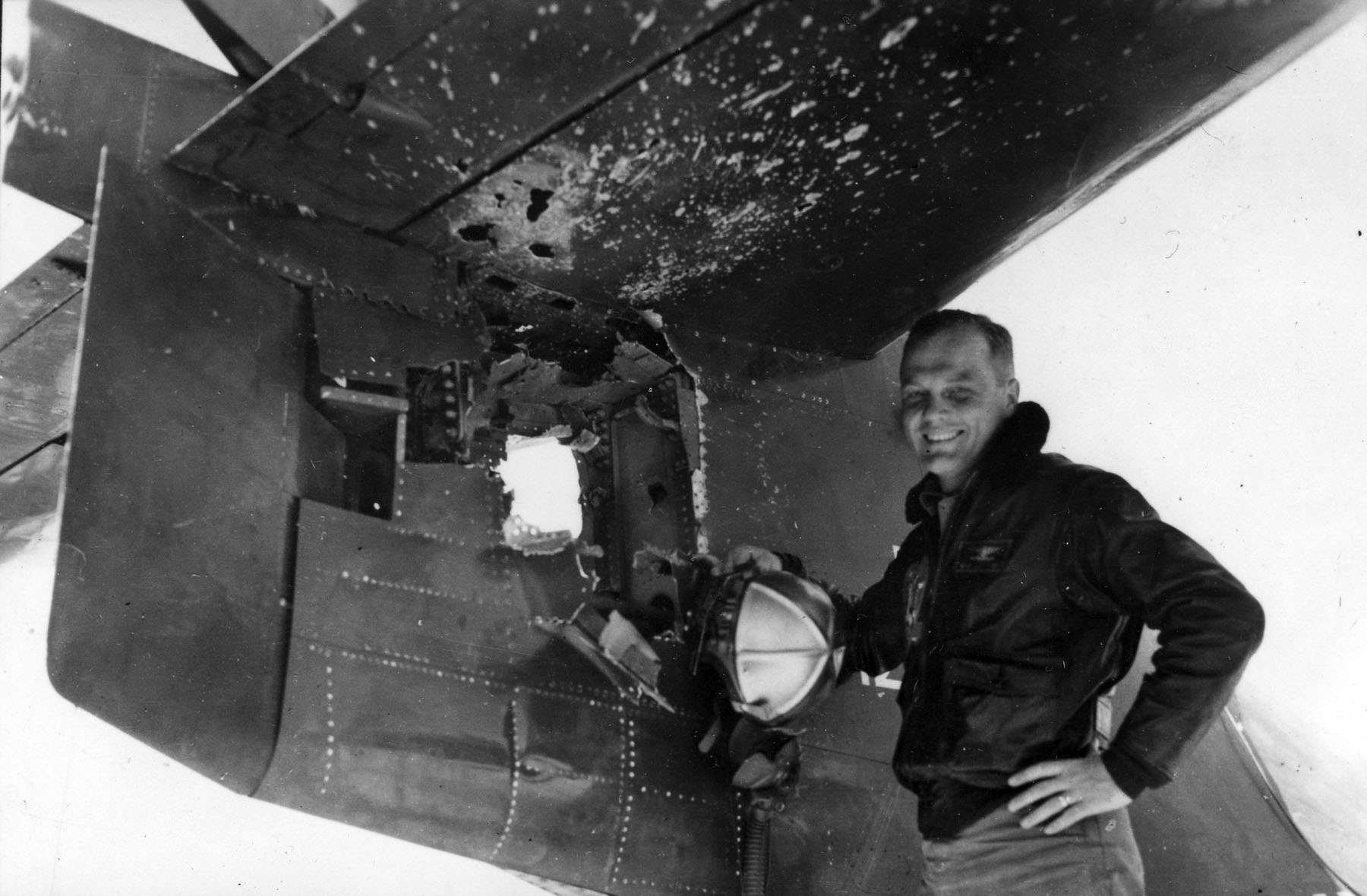 Captain Glenn few 63 combat missions with VMF-311. He was promoted to the rank of Major, 28 June 1952. He served as an exchange officer with the U.S. Air Force, flying a North American Aviation F-86F Sabre with the 25th Fighter Interceptor Squadron, 51st Fighter Interceptor Wing at K-13, an air base at Suwon, Republic of Korea. In July 1953, Glenn shot down three enemy Mikoyan-Gurevich MiG 15 jet fighters.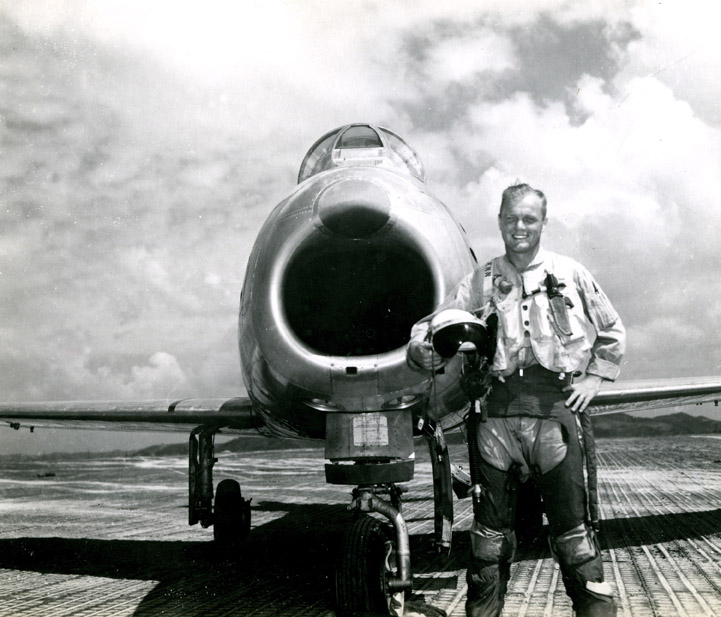 Major Glenn trained at the U.S. Navy Test Pilot School at NATC Patuxent River, Maryland, in 1954, and from 1956 to 1959, was assigned to the Bureau of Aeronautics, Fighter Design Branch.
On 16 July 1957, Major Glenn flew a Chance Vought F8U-1P Crusader from NAS Los Alamitos, on the coast of southern California, to Floyd Bennet Field, Brooklyn, New York, in 3 hours, 23 minutes, 8.4 seconds, averaging 725.25 miles per hour (1,167.18 kilometers per hour). Thomas S. Gates, Jr., Secretary of the Navy, presented Major Glenn the Distinguished Flying Cross.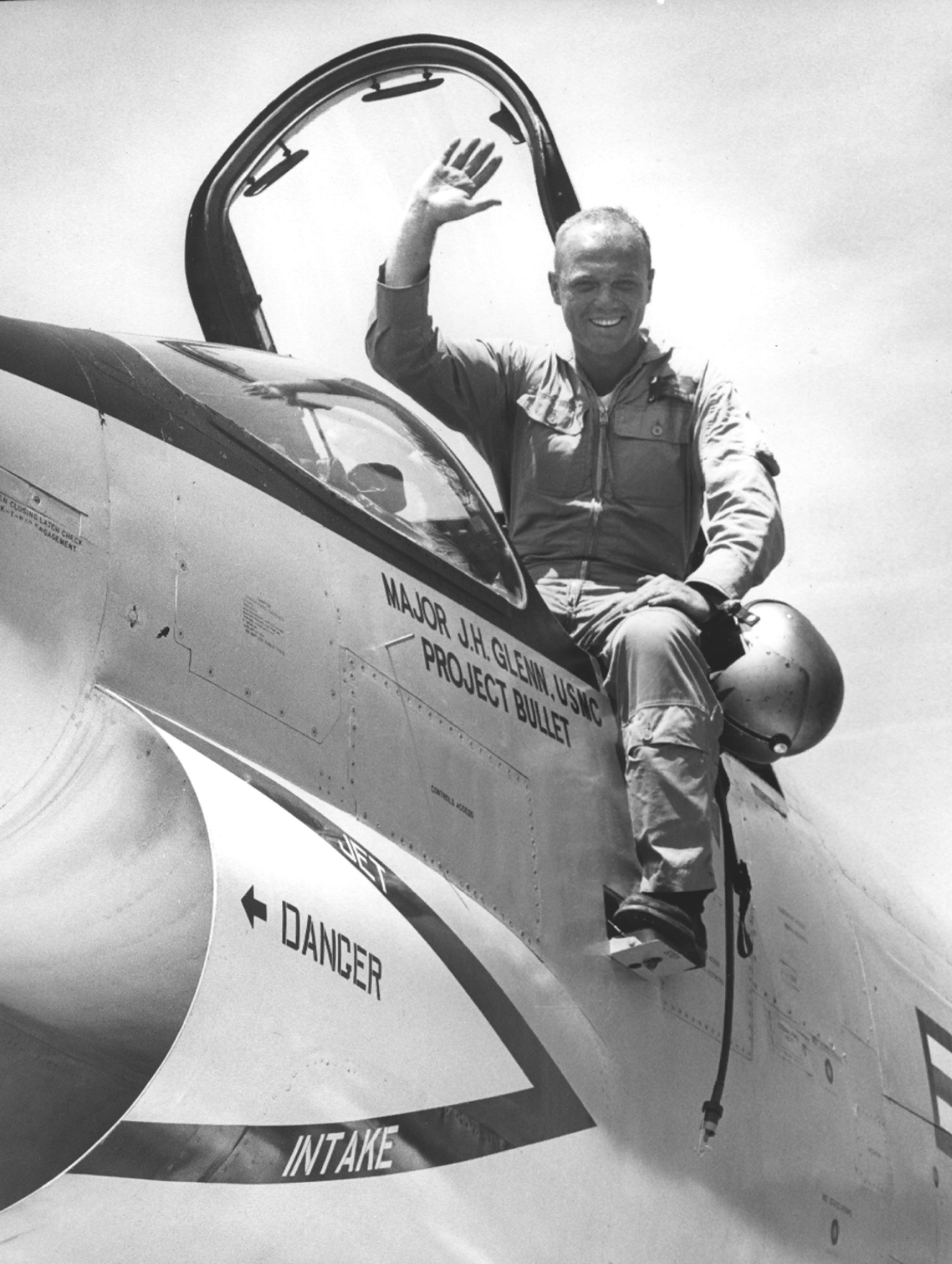 Major Glenn was promoted to the rank of Lieutenant Colonel, 1 April 1959. He was selected as an Astronaut with the National Aeronautics and Space Administration's Project Mercury and joined the NASA Space Task group at the Langley Research Center. Lieutenant Colonel Glenn was the senior officer and the oldest member of "The Mercury 7."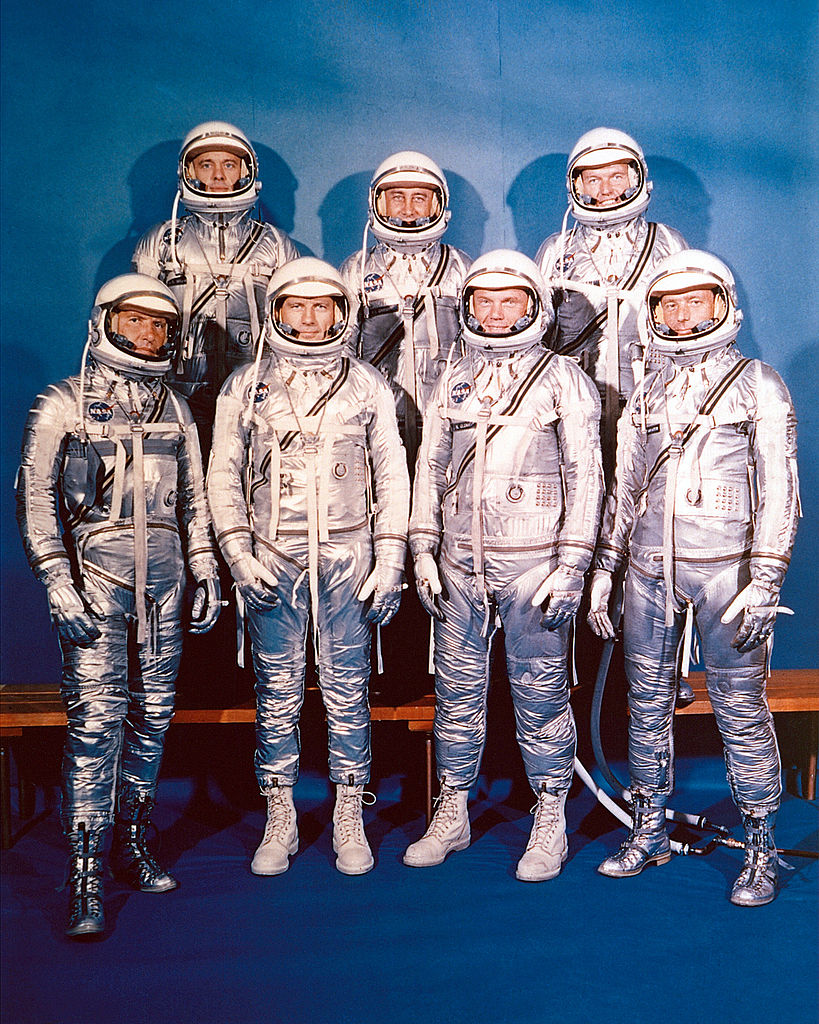 At 9:47:39 a.m., Eastern Standard Time (14:47:39 UTC), 20 February 1962, Mercury Atlas 6 lifted off from Launch Complex 14, Cape Canaveral Air Force Station, Cape Canaveral, Florida. This was the third launch of a manned Mercury spacecraft, and the first time that an Atlas rocket had been used.
Aboard the Mercury was John Glenn, making his first space flight. He had named the capsule Friendship 7. Alan Shepard and Gus Grissom had each made a suborbital flight, but Glenn was going into Earth orbit.
Each orbit took 88 minutes, 19 seconds. The spacecraft's altitude ranged from 100 miles (161 kilometers) to 162.2 miles (261 kilometers).
During the 4 hour, 55 minute, 23 second flight, Friendship 7 orbited the Earth three times, and traveled 75,679 miles (121,794 kilometers). John Glenn was the first American astronaut to orbit the Earth. (Cosmonaut Yuri Gagarin had orbited the Earth 12 April 1961.)
After re-entry, the capsule parachuted into the Atlantic Ocean, splashing down only six miles from the recovery ship, USS Noa (DD-841).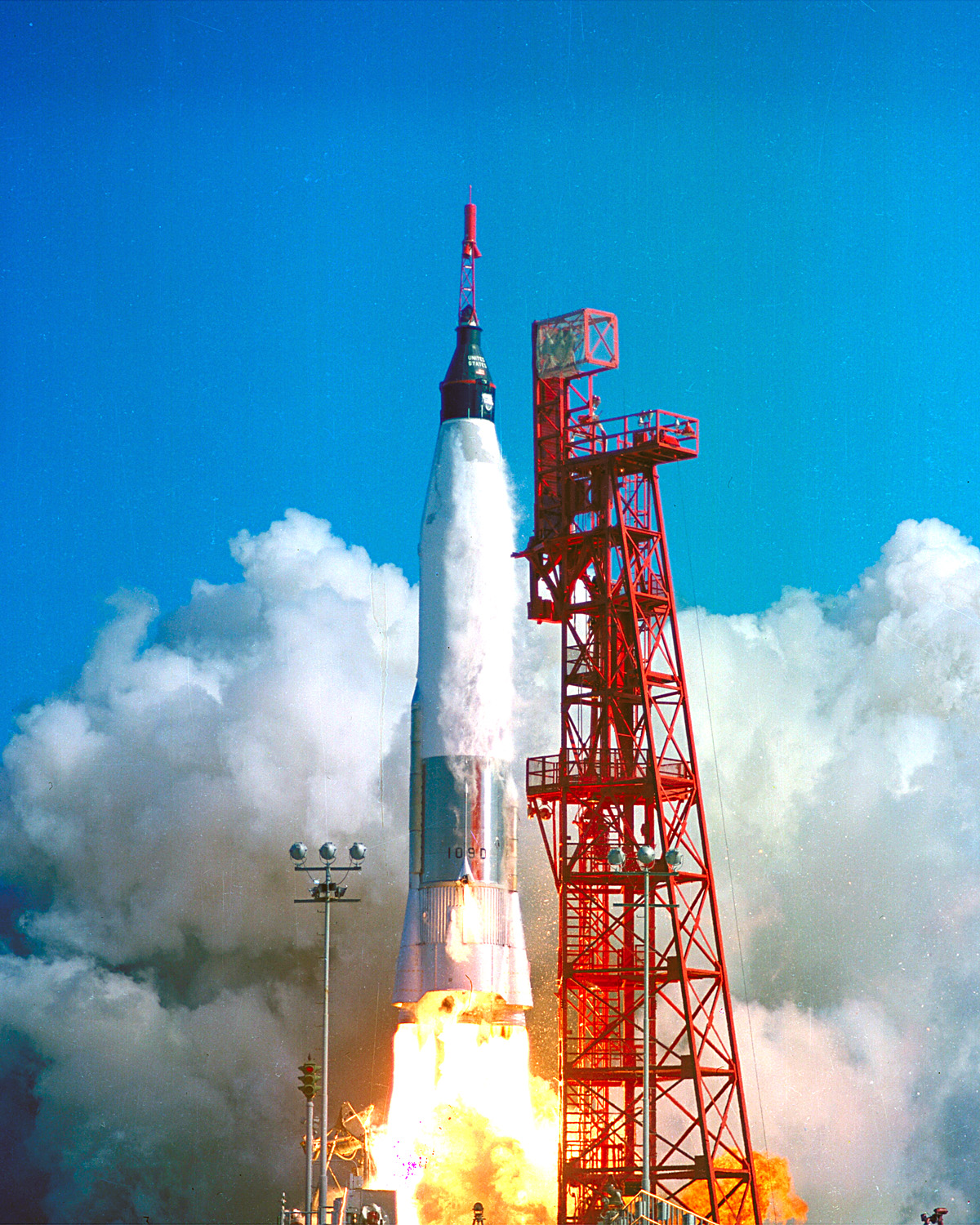 When the Space Task Group was moved to the Manned Spacecraft Center at Houston, Texas, in 1962, John Glenn was involved in the layout and design of spacecraft cockpits and function of controls. On 16 January 1964, John Glenn resigned from NASA. He was promoted to the rank of Colonel in October 1964, then he retired from the Marine Corps 1 January 1965, after 23 years of military service.
Glenn worked in private industry for several years before beginning a career in politics. In 1974, he was elected to the United States Senate, representing his home State of Ohio. He served in the United States Congress from 24 December 1974 to 3 January 1999.
John Glenn wasn't finished with spaceflight, though. From 29 October to 7 November 1998, Senator Glenn served as a NASA Payload Specialist aboard Space Shuttle Discovery (OV-103) during Mission STS-95. At the age of 77 years, John Glenn was the oldest person to fly in space.
During his two space flights, John Glenn orbited the Earth 137 times. His total time in space is 10 days, 49 minutes, 25 seconds (240:49:25).
In late November 2016, Glenn was admitted to Ohio State University Wexner Medical Center at Columbus, Ohio. He died there, 8 December 2016, at the age of 95 years.
John Herschel Glenn, Jr., Naval Aviator, Fighter Pilot, Test Pilot, Record-setter, Astronaut. Colonel, United States Marine Corps. United States Senator. American Hero.
Godspeed, John Glenn.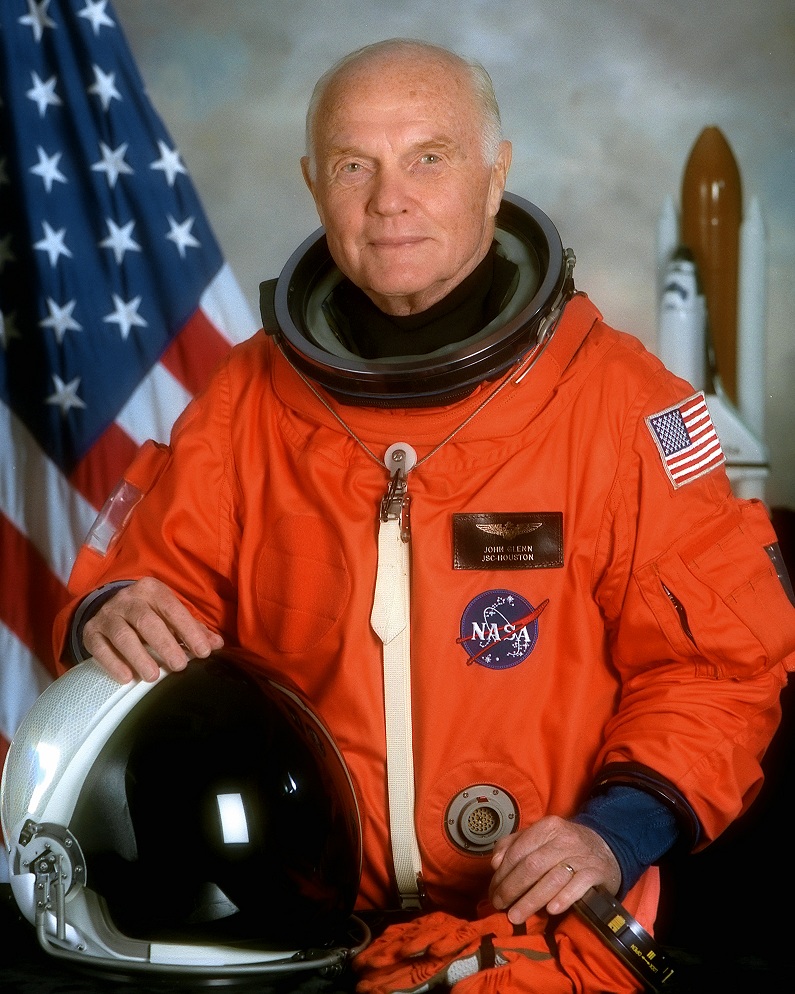 © 2016 Bryan R. Swopes