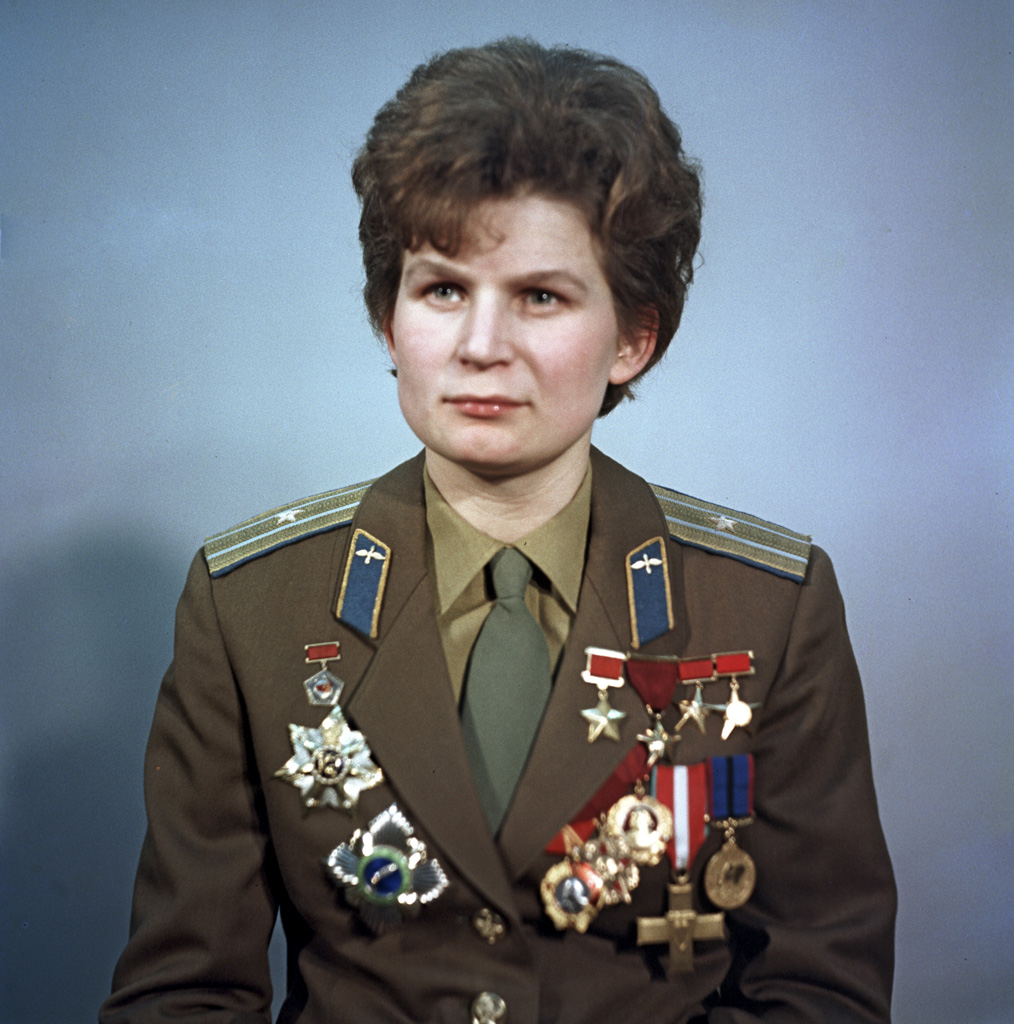 16 June 1963, 09:29:52 UTC: Cosmonaut Valentina Vladimirovna Tereshkova (Валенти́на Влади́мировна Терешко́ва) was launched aboard Vostok 6 from Gagarin's Start, Baikonur Cosmodrome, Kazakhstan. The spacecraft was a Vostok 3KA and the launch vehicle was a Vostok 8K72K rocket. She was the first human female in space.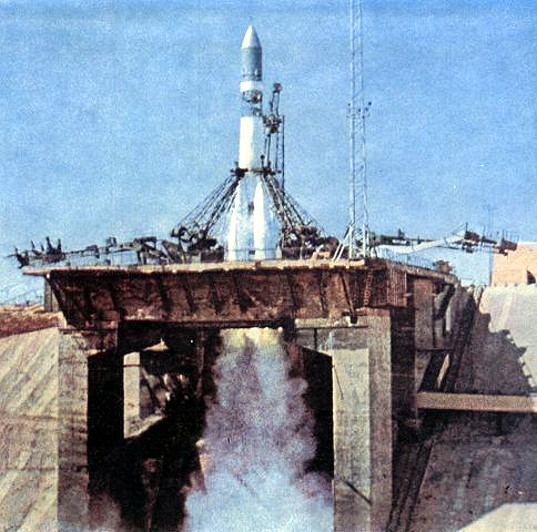 Prior to her acceptance in the cosmonaut corps, Tereshkova had been a textile worker. She was also an amateur parachutist. The qualifications for the Soviet space program were that the women be parachutists under the age of 30 years, less than 170 centimeters (5 feet, 7 inches) tall and weigh less than 70 kilograms (154.3 pounds). After an extensive training program with included pilot training in the Mikoyan Gurevich MiG 15UTI fighter and 120 parachute jumps, Tereshkova and three other women were commissioned as Junior Lieutenants in the Soviet Air Force.
Vostok 5 with Cosmonaut Valery Fyodorovich Bykovsky had been launched two days earlier on the same orbital path. During their flights they came within approximately 5 kilometers (3.1 miles) of each other.
Valentina Tereshkova completed 48 orbits of the Earth, reaching a maximum altitude of 212 kilometers (131.7 miles). Vostok 6 re-entered the atmosphere and Tereshkova parachuted from the capsule near the Pavinskiy Collective Farms, Altai Krai (approximately 150 miles/240 kilometers southwest of Novosibirsk), landing at 08:20 UTC, 19 June 1963. The total duration of her flight was 2 days, 22 hours, 50  minutes.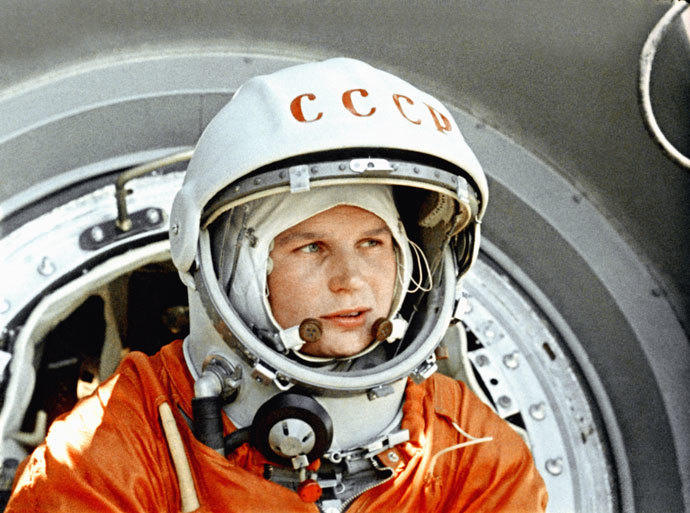 For her support of the Russian invasion of Ukraine, in 2022, the United States of America placed Tereshkova on the Specially Designated Nationals and Blocked Persons List. Her assets were frozen and U.S. persons are prohibited from dealing with her.
The Vostok 3KA spacecraft consisted of a spherical crew module and a service module. It could support one person in a full-pressure suit for a maximum of 10 days. There were two view ports. The Vostok used pressurized gas jets for attitude control while in orbit, but was not capable of changing its orbit. The vehicle had a total height of 4.40 meters (14 feet, 5¼ inches) and total mass of 4,730 kilograms (10,428 pounds). The descent module diameter was 2.3 meters (7 feet, 6½ inches) and had a mass of 2,460 kilograms (5,423 pounds).
On descent, the cosmonaut used an ejection seat to leave the capsule prior to Earth landing, and parachuted to the ground.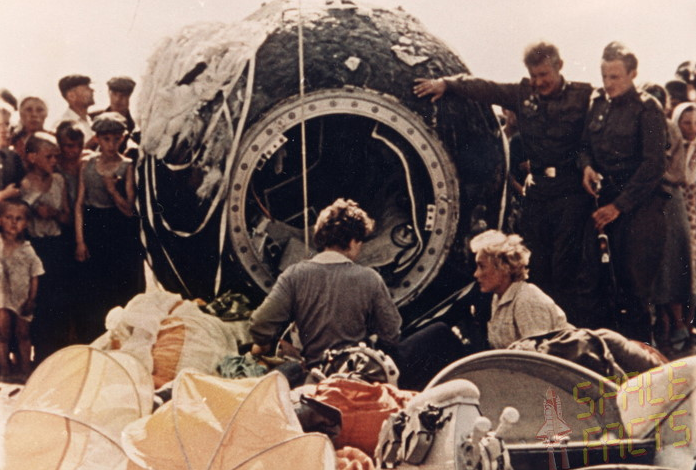 The Korolev Design Bureau Vostok 8K72K launch vehicle was a three-stage liquid-fueled rocket developed from the Soviet R-7 "Semyorka" intercontinental ballistic missile, using RP-1, a highly refined form of kerosene, and liquid oxygen as propellant. It was 38.36 meters (125 feet, 10 inches) tall and had a maximum diameter of 10.3 meters (33 feet, 9 inches). Total mass at liftoff was 287,375 kilograms (633,553 pounds).
The first stage consisted of four boosters surrounding a central core. Each was powered by one Glushko Design Bureau RD-108 (8D75) engine with four combustion chambers and exhaust nozzles. The RD-108 was rated at 713.600 kilonewtons of thrust (160,424 pounds-force) at Sea Level. Burn time was 118 seconds. The second stage used one RD-108 engine fired for 301 seconds. The third stage had one Kosberg Design Bureau RD-0109 engine rated at 54.520 kilonewtons (12,257 pounds-force) of thrust, with a burn time of 365 seconds.
© 2016, Bryan R. Swopes