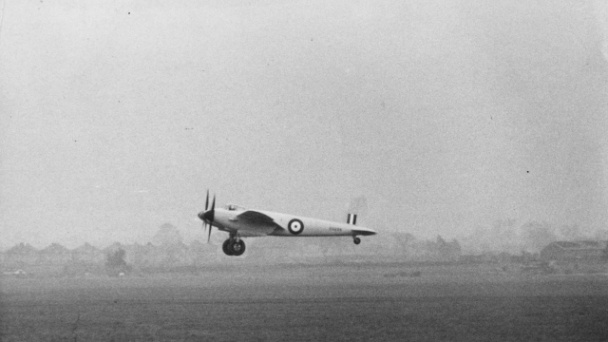 25 November 1940: De Havilland Aircraft Company's Chief Test Pilot, Geoffrey Raoul de Havilland, Jr., and engineer John Walker, made the first flight of the DH.98 Mosquito prototype, E0234, at Hatfield, Hertfordshire, England. The prototype's Royal Air Force identification was W4050. The multi-role combat aircraft was constructed primarily of layers of balsa covered with layers of birch, then a layer of doped cotton fabric. It was powered by two Rolls-Royce Merlin V-12 engines.
The construction materials took advantage of plentiful supplies of wood, and also made workers who were not in the standard metal aircraft industry able to take part.
The prototype was rolled out 19 November 1040, painted overall yellow.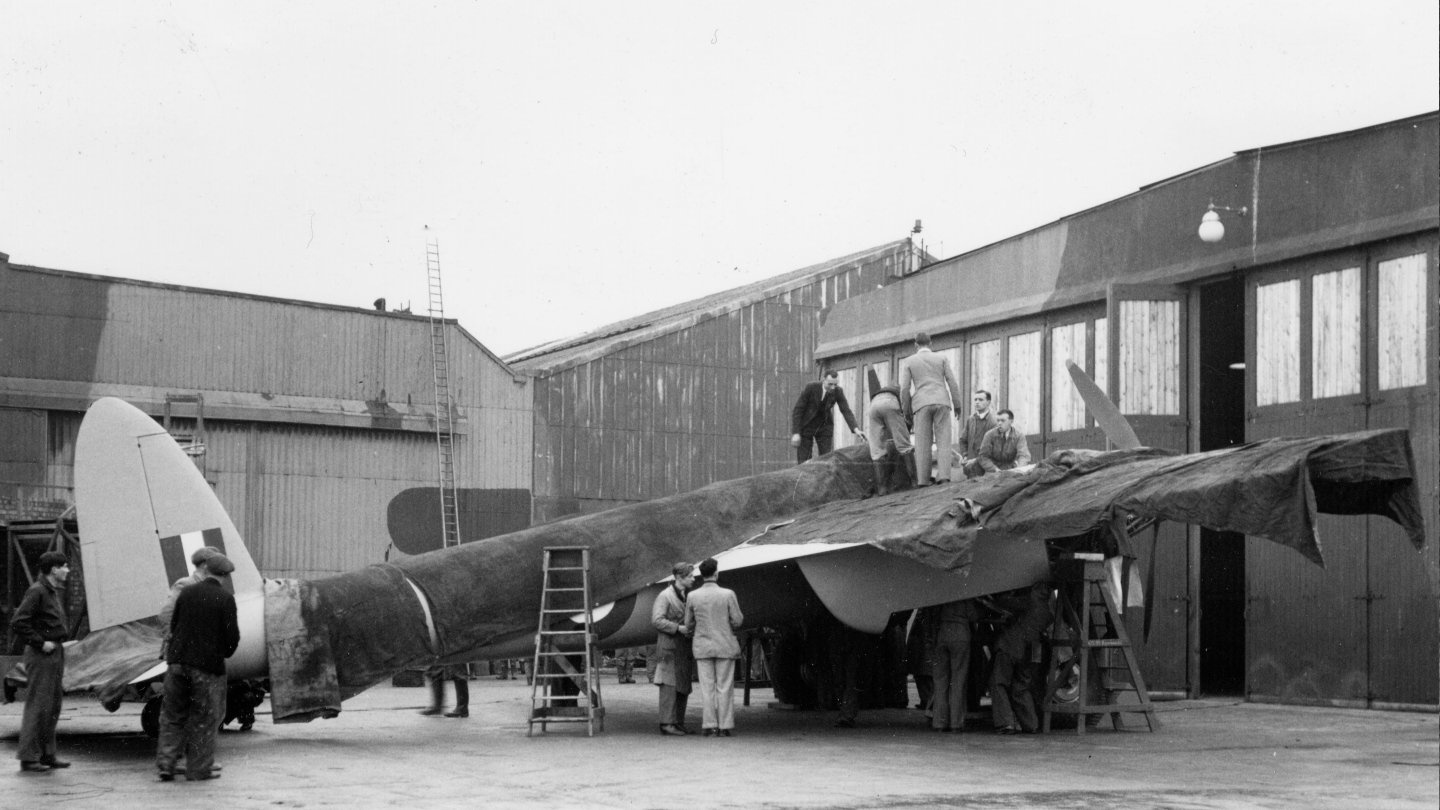 The prototype had a wingspan of 54 feet, 2 inches (16.510 meters), and its gross weight was 19,670 pounds (8,922 kilograms). W4050 was powered by two liquid-cooled, supercharged, 1,648.96-cubic-inch-displacement (27.01 liter) Rolls-Royce Merlin Mk.21 single overhead camshaft (SOHC) 60° V-12 engines, producing 1,460 horsepower at 3,000 r.p.m. at 10,000 feet (3028 meters), with 10 pounds (0.69 Bar) of boost, and driving three-bladed de Havilland Hydromatic propellers through a gear reduction.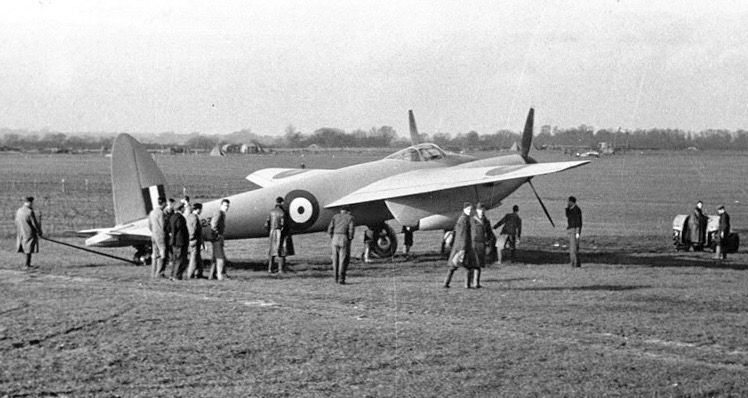 The DH.98 had been predicted to be 20 miles per hour (32 kilometers per hour) faster than the Supermarine Spitfire, but was actually much faster. In testing, the prototype reached 392 miles per hour (631 kilometers per hour) at 22,000 feet (6,706 meters). Improvements were continuously made, and with 2-stage superchargers, W4050 reached a maximum 437 miles per hour (703 kilometers per hour). The DH.98 prototype had a service ceiling of 34,000 feet (10,363 meters) and range of 2,180 miles (3,500 kilometers).
The production fighter variant, the Mosquito F. Mk.II, was 41 feet, 2 inches (12.548 meters) long with a wingspan of 54 feet, 2 inches (16.510 meters) and height of 15 feet, 3 inches (4.648 meters) in 3-point position. The wings had 1½° incidence with approxmatey 2½° dihedral. The leading edges were swept aft 2½°. The total wing area was 436.7 square feet (40.6 square meters). The fighter's empty weight was 13,356 pounds (6,058 kilograms) and the maximum takeoff weight was 18,649 pounds (8,459 kilograms). The Mk.II had a total fuel capacity of 553 gallons.
The Mk.II had a cruise speed of 265 miles per hour (426 kilometers per hour) at 15,000 feet (4,572 meters) and maximum speed of 380 miles per hour (612 kilometers per hour) at 21,400 feet (6,523 meters).
Mosquito bomber variants could carry four 500 pound bombs, or two 2,000 pound bombs, but were otherwise unarmed. Fighters were equipped with four Hispano Mk.II 20 mm autocannon and four Browning .303-caliber Mk.II machine guns in the nose.
6,411 DH.98 Mosquitoes were built in England, 1,134 in Canada and 212 in Australia. It was produced in bomber, fighter, night fighter, fighter bomber and photo reconnaissance versions.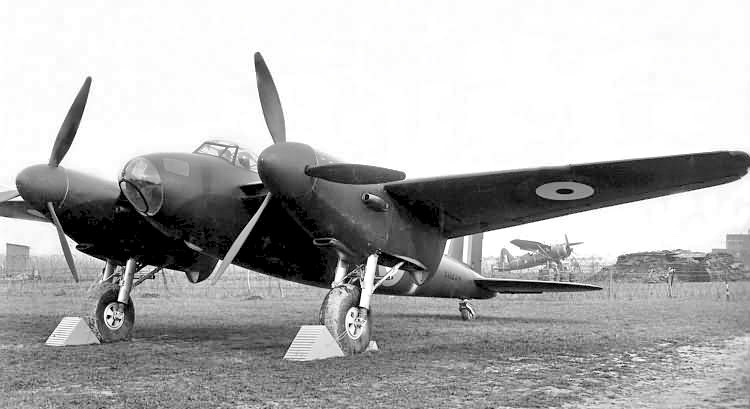 W4050's (the prototype's Royal Air Force identification) fuselage was damaged while taxiing at Boscombe Down, 24 February 1941, and had to be replaced with one intended for a second prototype, W4051. It remained at de Havilland and was used to test different engines, armaments and versions. After a series of tests conducted in December 1943, the prototype Mosquito was permanently grounded. It was used as an instructional airframe and later placed in storage.
In September 1958, W4050 was turned over to the de Havilland Aircraft Heritage Centre. Today, the restored prototype DH.98 Mosquito is at the museum at London Colney, Hertfordshire, England.

© 2020, Bryan R. Swopes