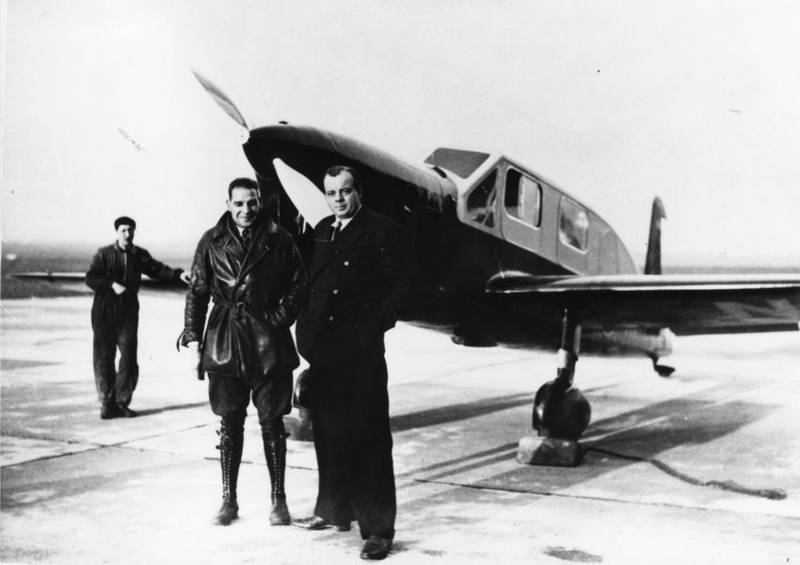 29 December 1935: Early in the morning, Antoine Marie Jean-Baptiste Roger comte de Saint Exupéry took off from Aéroport de Paris–Le Bourget  enroute to Saïgon, Cochin-China, as a participant in the long distance Paris-to-Saïgon "raid," or air race.
The race was sponsored by the Aéro-Club de France, which had offered a prize of ₣1,200,000 (franc français), approximately £16,000 or $70,000, to the winner, providing the finishing time was less than 90 hours. The distance was estimated at 13,800 miles (22,209 kilometers). Any airplane type could be entered in the race as long as it had an official airworthiness certificate and a flight crew of two, or a single pilot with an autopilot.
Antoine de Saint Exupéry was accompanied by André Prévot as the navigator and flight engineer. The airplane was a red and white Caudron C.630 Simoun, c/n 7042.20. It was registered to Saint Exupéry on  9 April 1935 as F-ANRY, a representation of his name ("ANtoine de Saint ExupéRY"). He had flown the Simoun 8,000 miles (12,875 kilometers) in the eight months he had owned it, ". . .and her engine had not skipped a beat; not a bolt in her had loosened."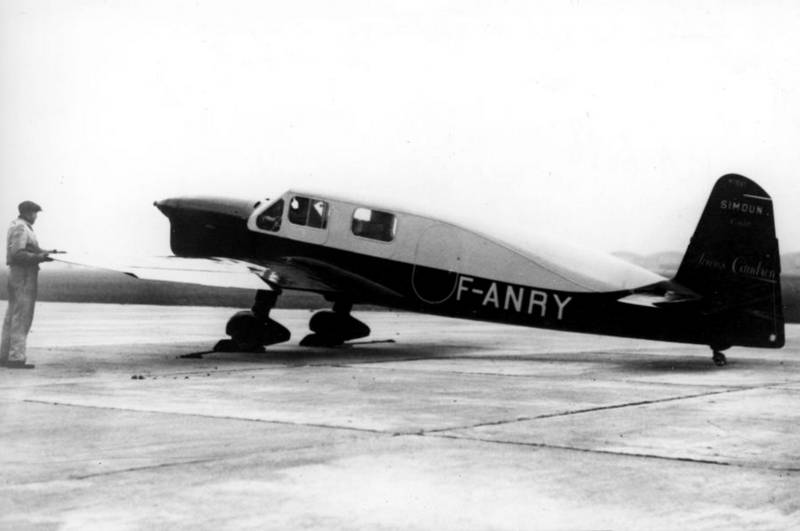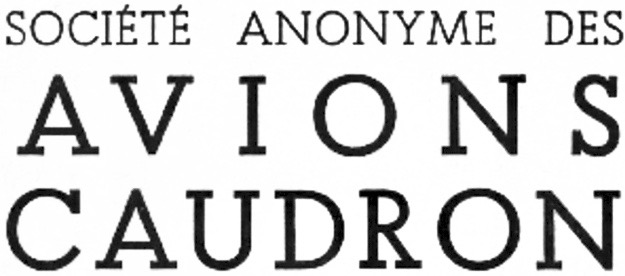 The Société des Avions Caudron C.630 Simoun was a four-place, single-engine, low-wing monoplane with fixed landing gear. It was built of wood, with the surface of the wings and fuselage covered in plywood sheet then covered with doped fabric. Carefully curved aluminum sheet metal covered the top and bottom of the fuselage. The C.630 was 8,70 meters (28 feet, 6½ inches) long with a wingspan of 10,40 meters (34 feet, 1½ inches) and height of 2,25 meters (7 feet, 4½ inches). The airplane's gross weight was 1,230 kilograms (2,712 pounds).

The engine was an air-cooled, normally-aspirated 9.500 liter (579.736 cubic-inch-displacement) Renault Bengali 6 Pdi inverted inline six-cylinder overhead-valve (OHV) engine with a compression ratio of 5.75:1. It was rated at 180 cheval vapeur (177.5 horsepower) at 2,200 r.p.m. The left-hand-tractor, direct-drive engine turned a two-bladed, metal Helices Ratier variable-pitch propeller. The propeller could be set to coarse pitch by a mechanic prior to takeoff, then an air bladder mechanism could change it to fine pitch for cruise flight. The Bengali 6Pdi weighed 205 kilograms (452 pounds).

The C.630 had a maximum speed of 310 kilometers per hour (193 miles per hour). The service ceiling was 7,500 meters (24,606 feet) and normal range was 1,260 kilometers (783 miles). Twenty C.630s were built before production changed to the slightly improved C.631.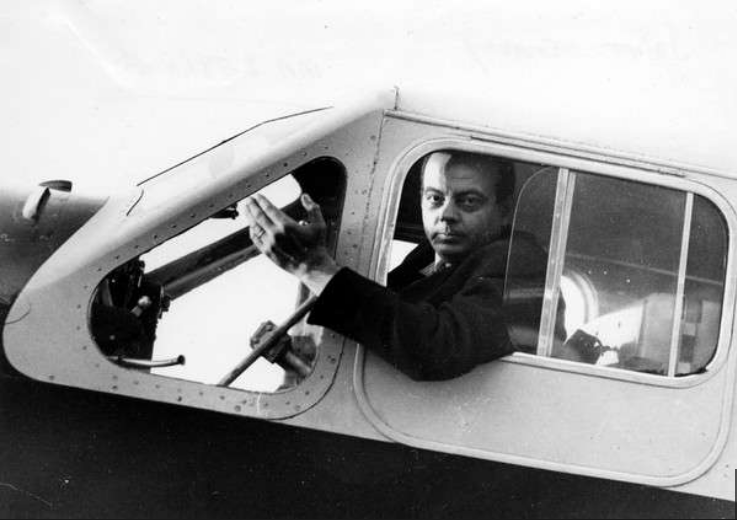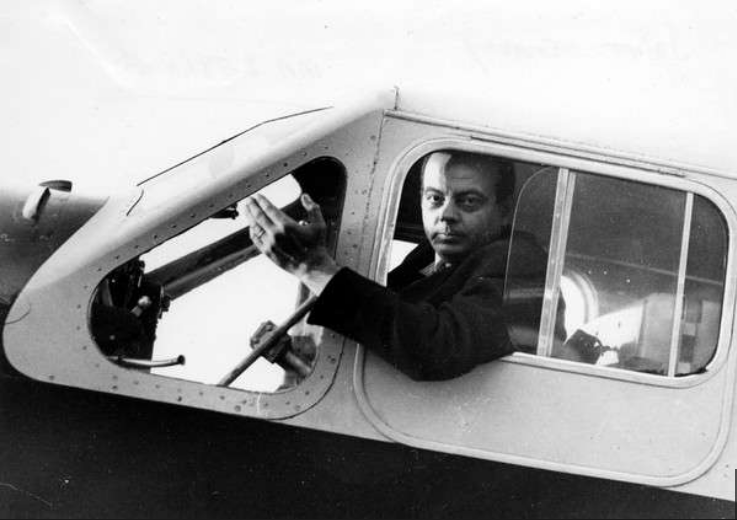 After taking off at Paris, Saint Exupéry followed the Seine to the valley of the Loire and continued south, crossing the southern coast of France near Marseilles. The fliers had been over the Mediterranean Sea for a short while when they saw fuel leaking from the left wing. Prévot calculated that they had lost 20 gallons (76 liters) of fuel. They turned back and landed at Marignane to repair the leak and refuel before continuing. Saint Exupéry wrote, "I drank a cup of coffee while the time lost hurt like an open wound."
Once again heading across the Mediterranean toward Tunis, they encountered low clouds and heavy rain which forced them down to just 60 feet (18 meters) over the water. They flew along the coast of Sardinia as the weather improved.
F-ANRY crossed the coast of Africa at Bizerte, Tunisia, and about fifteen minutes later landed to refuel. With two hours of daylight remaining, Saint Exupéry and Prévot took off again, now heading toward Benghazi, Libya. They landed there at 11:00 p.m., local time, and in just twenty minutes the airplane had been refueled and once more, they were airborne.
Flying east after moonset, Saint Exupéry and Prévot were in total darkness. After three hours a faint glow of his navigation lights on the airplane's wingtips told Saint Exupéry that he had flown into clouds, with visibility measured in just feet.
At a time when there were no navigation aids, pilots had to navigate by their compass, airspeed indicator and clock. Though Saint Exupéry had met with meteorologists to plan his flight, there was no way to update the weather information after takeoff. He had no way of knowing whether an expected tailwind had held, or if it had changed; was his speed across the ground faster or slower than planned? Had the wind blown him right or left of course? Had the atmospheric pressure changed, causing his altimeter to read higher or lower than the airplane actually was? Flying across the emptiness of the  Sahara Desert with no landmarks, in total darkness and now just a few feet of visibility, he and Prévot could only guess at their position.
4 hours, 15 minutes after taking off from Benghazi, the C.630 crashed into gently rising terrain at 170 miles per hour (274 kilometers per hour).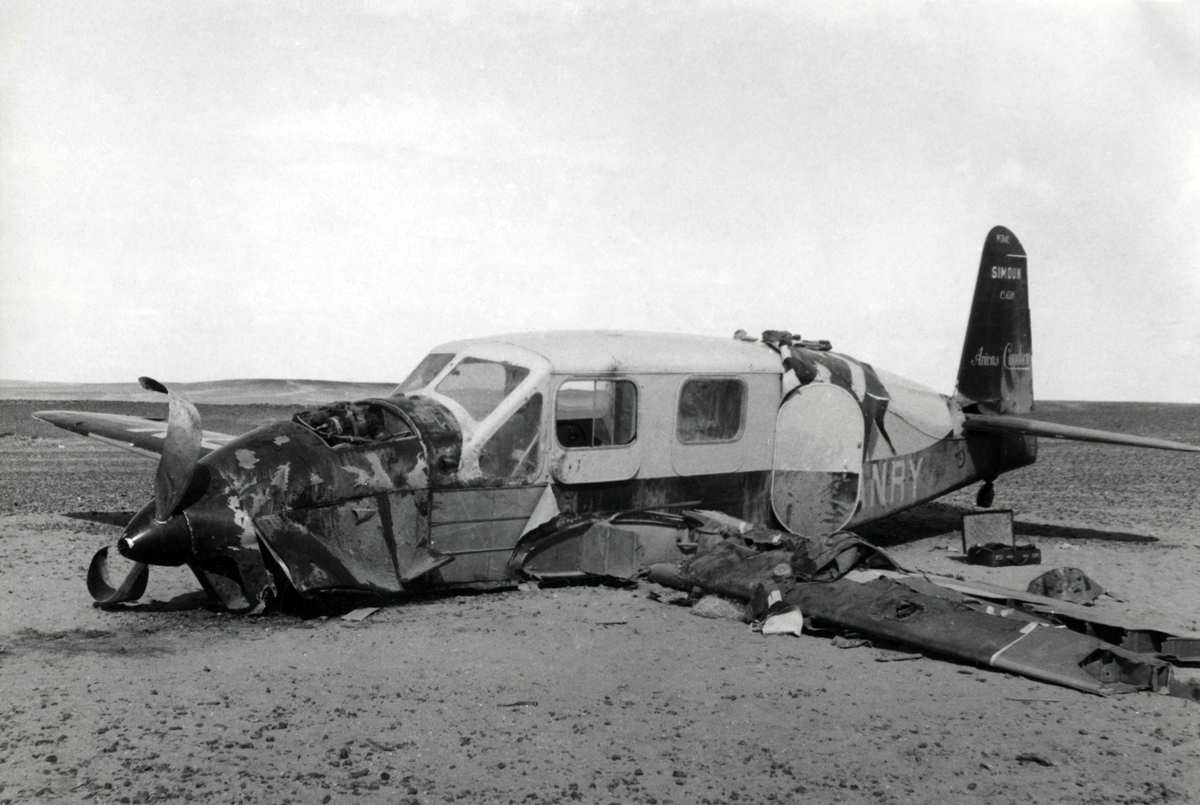 The airplane had slid 250 yards across the surface of the plateau and was heavily damaged, but Saint Exupéry and Prévot were unhurt. However, their water was lost. They were left with ". . . a pint of coffee in a battered thermos flask and half a pint of white wine. . . There were some grapes, too, and a single orange."
Without food or water, Antoine de Saint Exupéry and Andre Prévot wandered across the desert searching for help. They followed mirages, and frequently recrossed their own tracks. They always returned to the wreck of the Simoun. They experienced delusions.
After four days, they were rescued by Bedouin tribesmen.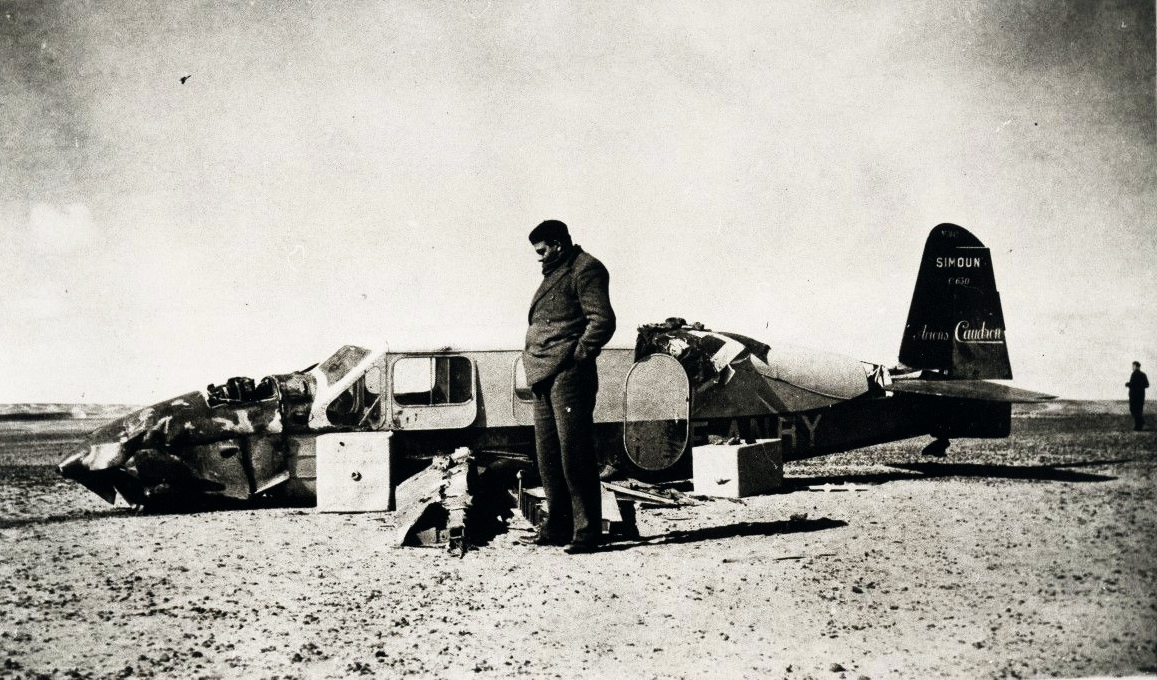 The location of the crash is uncertain, but is believed to be near Wadi el Natrûn in Egypt, west of the Nile Delta.
Saint Exupéry wrote about the experience in Wind, Sand and Stars, published in 1939. It was the basis for his famous novella, The Little Prince.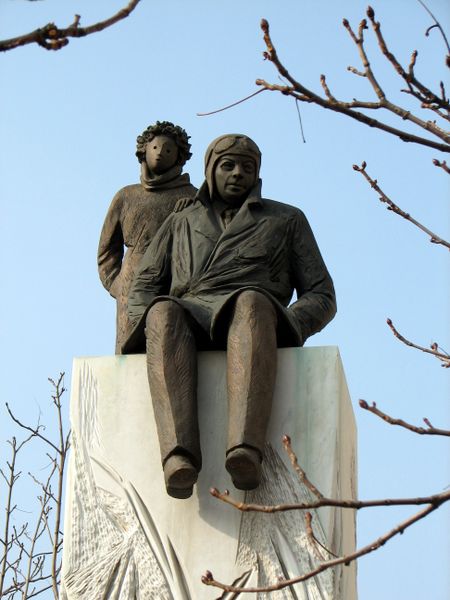 TDiA's Highest Recommendation: Wind, Sand and Stars, by Antoine de Saint-Exupéry, translated from the French by Lewis Galantière, Houghton Mifflin Harcourt Publishing Company, New York, New York 10016.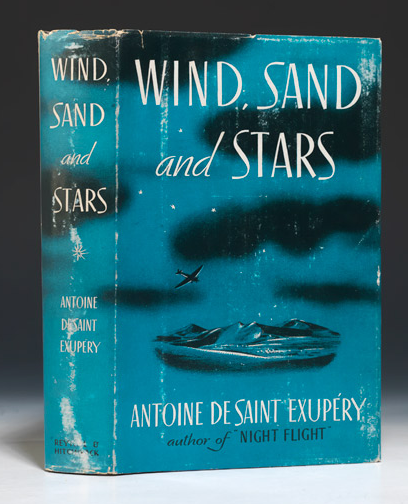 © 2018, Bryan R. Swopes