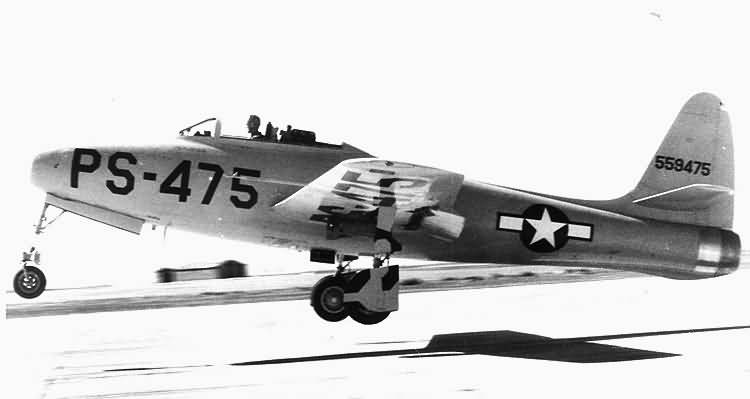 28 February 1946: At Muroc Army Airfield, California, (now, Edwards Air Force Base) the first of three prototype Republic Aviation Corporation  XP-84 Thunderjet fighter bombers, serial number 45-59475, made its first flight with company test pilot Wallace Addison Lien in the cockpit.
Alexander Kartveli, Chief Engineer of the Republic Aviation Corporation, began working on the XP-84 during 1944 as a jet-powered successor to the company's P-47 Thunderbolt fighter bomber. The prototype was completed at the factory in Farmingdale, New York, in December 1945. It was then partially disassembled and loaded aboard Boeing's prototype XC-97 Stratofreighter and flown west to Muroc Army Airfield in the high desert of southern California. It was reassembled and prepared for its first flight.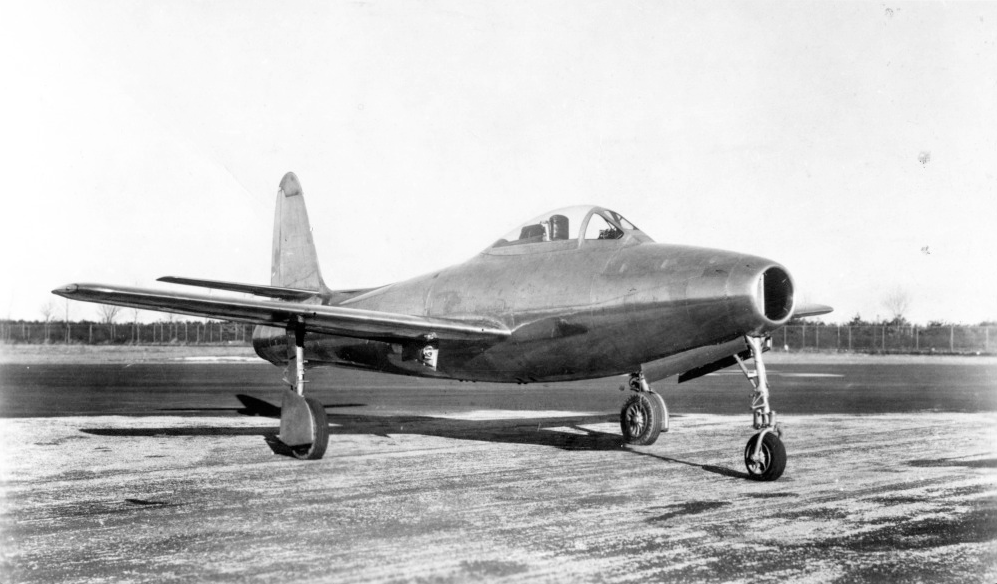 The XP-84 was 37 feet, 2 inches (11.328 meters) long, with a wingspan of 36 feet, 5 inches (11.100 meters) and overall height of 12 feet, 10 inches (3.912 meters). The wings had a total area of 260 square feet ( square meters). The leading edges were swept aft to 6° 15′. The angle of incidence was 0° with -2° of twist and 4° dihedral. The airplane had an empty weight of 9,080 pounds (4,119 kilograms) and gross weight of 13,400 pounds (6,078 kilograms).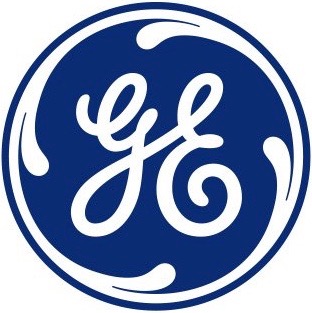 The XP-84 was powered by a General Electric J35-GE-7 engine. The J35 was a single-spool, axial-flow turbojet engine with an 11-stage compressor and single-stage turbine. The J35-GE-7 was rated at 3,750 pounds of thrust (16.68 kilonewtons) at 7,700 r.p.m. (5-minute limit). The engine was 14 feet, 0.0 inches (4.267 meters) long, 3 feet, 4.0 inches (1.016 meters) in diameter and weighed 2,400 pounds (1,089 kilograms).
The XP-84 had a cruise speed of 440 miles per hour (708 kilometers per hour) and maximum speed of 592 miles per hour (953 kilometers per hour). The service ceiling was 35,000 feet (10,668 meters), which it could reach in approximately 13 minutes. The maximum range was 1,300 miles (2,092 kilometers).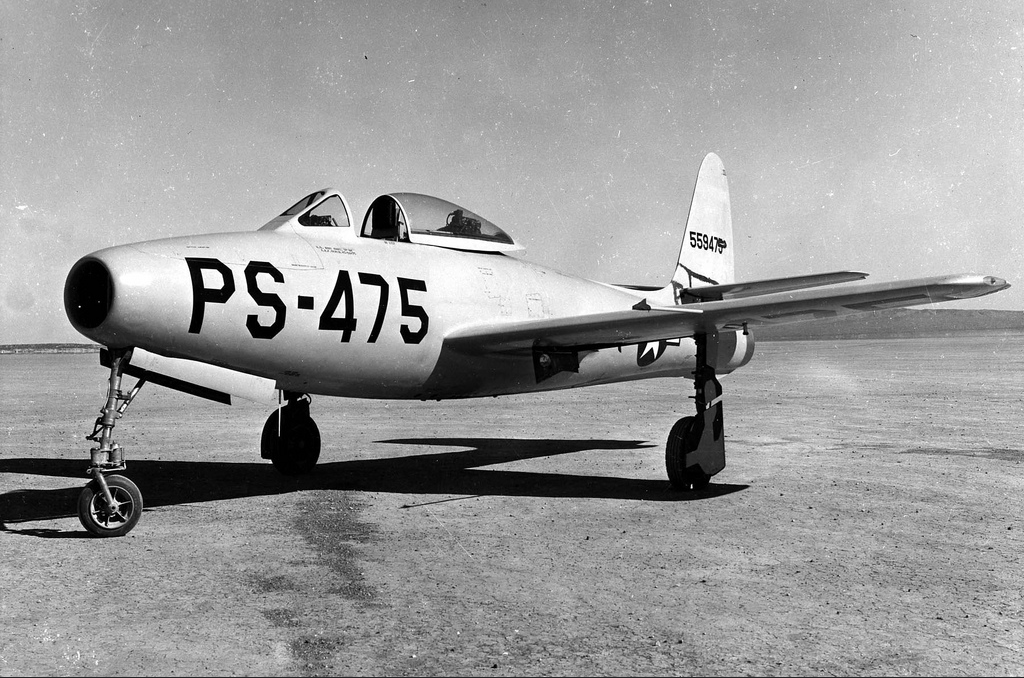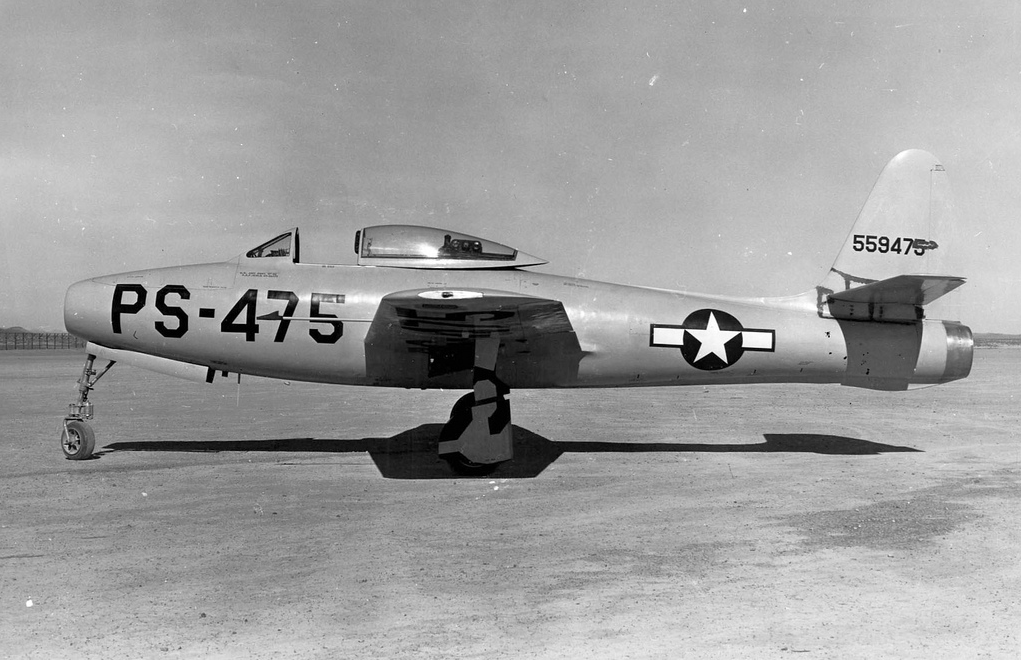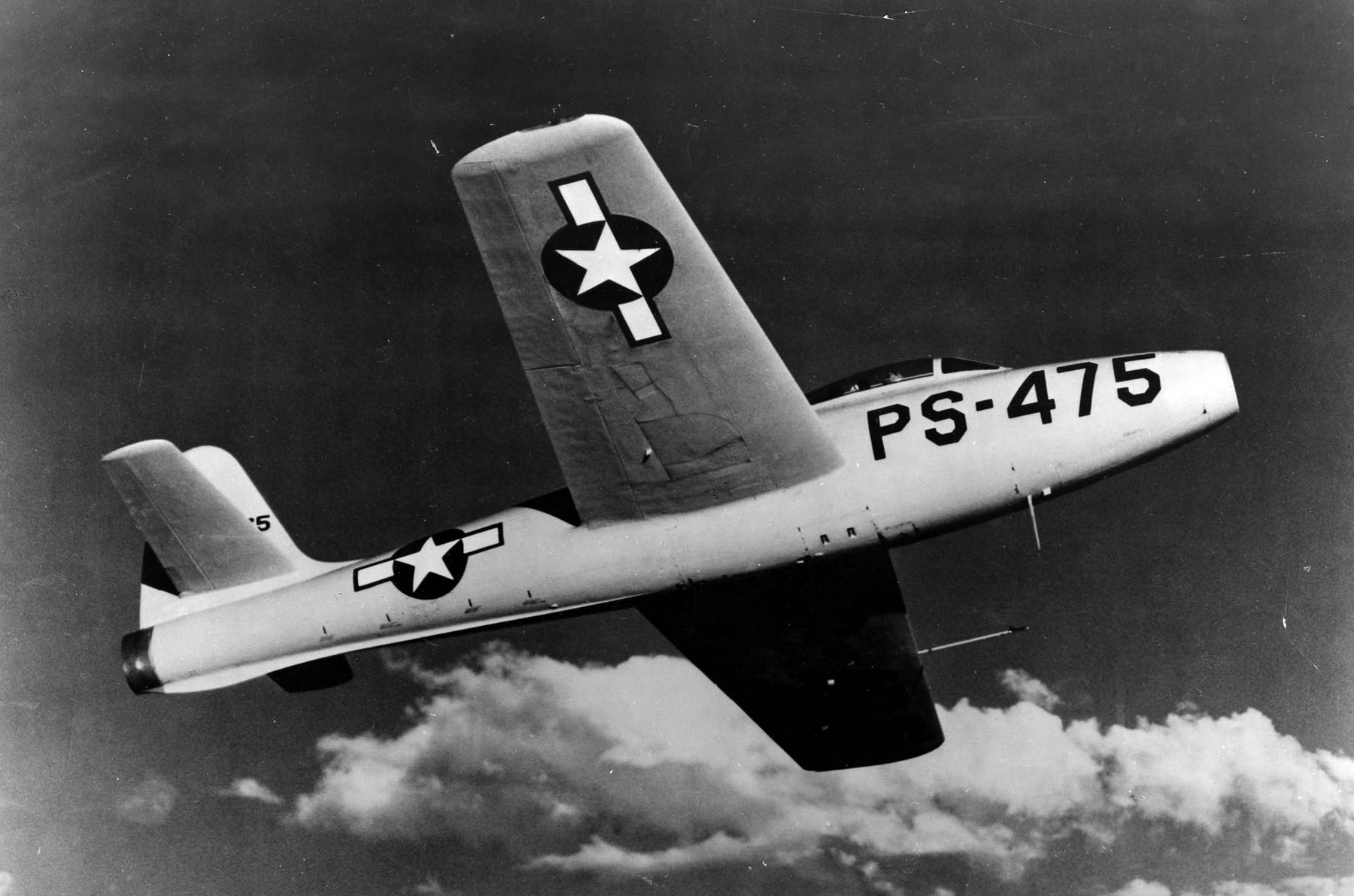 Wallace Addison Lien was born at Alkabo, in Divide County, at the extreme northwest corner of North Dakota, 13 August 1915. He was the second of six children of Olaf Paulson Lien, a Norwegian immigrant and well contractor, and Elma Laura Richardson Lien.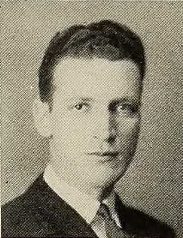 Wally Lien graduated from the University of Minnesota Institute of Technology 17 June 1939 with a Bachelor's Degree in Mechanical Engineering (B.M.E.). He was a president of the Pi Tau Sigma (ΠΤΣ) fraternity, a member of the university's cooperative book store board, and a member of the American Society of Mechanical Engineers (A.S.M.E.). He later studied at the California Institute of Technology (CalTech) at Pasadena, California, and earned a master's degree in aeronautical engineering.
Lien worked as a an engineer at a steel sheet mill in Pennsylvania. He enlisted in the  the United States Army at Pittsburgh, Pennsylvania, 18 February 1941. He was accepted as an aviation cadet at Will Rogers Field, Oklahoma City, Oklahoma, 11 November 1941. 26 years old, Lien was 6 feet, 2 inches (1.88 meters) tall and weighed 174 pounds (79 kilograms). During World War II, Lien remained in the United States, where he served as a test pilot at Wright Field, Dayton, Ohio. He conducted flight tests of the Bell YP-59A Airacomet and the Lockheed XP-80 Shooting Star. Having reached the rank of Major, he left the Air Corps, 16 February 1946. Lien then worked for the Republic Aviation Corporation, testing the XP-84. A few months later, Lien went to North American Aviation, where he made the first flight of the the XFJ-1 Fury, 11 September 1946
Wally Lien married Miss Idella Muir at Elizabeth, New Jersey, 26 December 1946. They would have two children.
Wallace Addison Lien died at Colorado Springs, Colorado, 28 October 1994, at the age of 79 years. He was buried at the Shrine of Remembrance Veterans Honor Court, Colorado Springs, Colorado
© 2019, Bryan R. Swopes