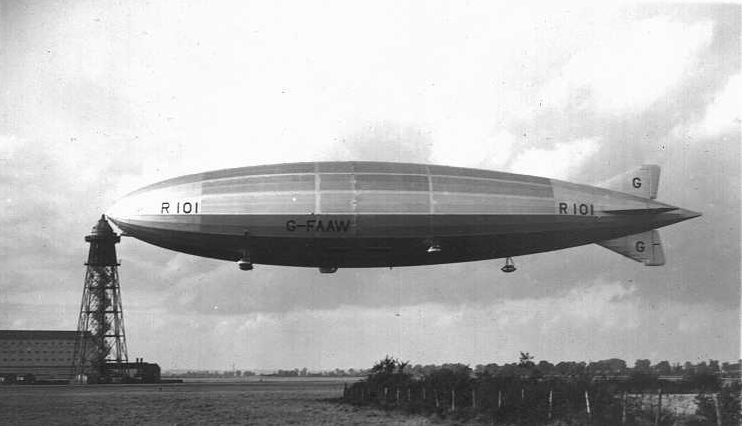 5 October 1930: Two days after receiving its Certificate of Airworthiness from the Air Ministry, the British rigid airship R.101, registration G-FAAW, was on its maiden voyage from Cardington, Bedfordshire, England, to Karachi, India, with 12 passengers and a crew of 42. The new airship was under the command of Flight Lieutenant Herbert Carmichael ("Bird") Irwin, A.F.C., Royal Air Force, a highly experienced airship commander.
Among the passengers were Lord Thomson, Secretary of State for Air, Sir Sefton Brancker, Director of Civil Aviation, and several senior Royal Air Force officers who had been involved in the planning and development of the airship.
R.101 was the largest aircraft that had been built up to that time. Not until the Hindenburg was built five years later would there be anything bigger. Its teardrop shape and been developed in wind tunnel testing and actual flights with R33, which had been extensively modified to obtain detailed flight data.
R.101 required a minimum flight crew of fifteen: a first officer, two second officers, two helmsmen and ten engineers.
The airship was 777 feet, 2½ inches (236.893 meters) long and 131 feet, 9 inches (40.157 meters) in diameter. The airship had an overall height of 141 feet, 7 inches (43.155 meters). Built of stainless steel girders which were designed and constructed by Boulton & Paul Ltd., and covered with doped fabric, buoyancy was created by hydrogen gas contained in bags spaced throughout the envelope. The airship had an empty weight of 113 tons (114,813 kilograms), and 169.85 tons (380,464 kilograms) of gross lift capacity.
The maximum gas capacity of the airship was 5,508,800 cubic feet (155,992 cubic meters). The hydrogen weighed 71.2 pounds per 1,000 cubic feet (32.3 kilograms/28.3 cubic meters).
The airship's fuel capacity was 9,408 gallons (42,770 liters) and it carried 215 gallons (977 liters) of lubricating oil.

R.101 was powered by five steam-cooled, 5,131.79-cubic-inch-displacement (84.095 liters) William Beardmore & Company Ltd. Tornado Mark III inline 8-cylinder heavy-oil compression-ignition (diesel) engines. These were developed from railroad engines. Each engine weighed 4,773 pounds (2,165 kilograms). They could produce 650 horsepower, each, at 935 r.p.m., but because of vibrations resulting from the very long crankshaft, engine speed was reduced to 890 r.pm., which decreased power output to 585 horsepower. Two of the engines, designated Mark IIIR, could be stopped then restarted to run in the opposite direction to slow or reverse the airship.
The engines turned 16 foot (4.877 meter) diameter two-bladed wooden propellers, which gave R101 a maximum speed of 71 miles per hour (114.3 kilometers per hour), with a sustained cruising speed of 63 miles per hour (101.4 kilometers per hour).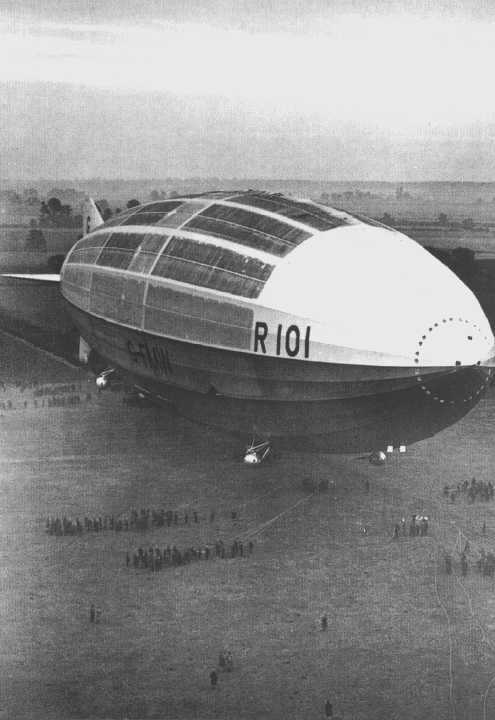 R.101 departed its base at Cardington, Bedfordshire, on 4 October and soon encountered rain and high winds which continually blew it off course. The course was constantly adjusted to compensate and by 2:00 a.m., 5 October, the airship was in the vicinity of Beauvais Ridge in northern France, "which is an area notorious for turbulent wind conditions."
At 0207 hours, R.101 went into an 18° dive which lasted approximately 90 seconds before the flight crew was able to recover. It then went into a second 18° degree dive and impacted the ground at 13.8 miles per hour (22.2 kilometers per hour). There was a second impact about 60 feet (18 meters) further on and as the airship lost buoyancy from the ruptured hydrogen bags, it settled to the ground. Escaping hydrogen was ignited and the entire airship was engulfed in flames.
Of the 54 persons on board, only 8 escaped, but 2 of those would soon die from injuries in the hospital at Beauvais.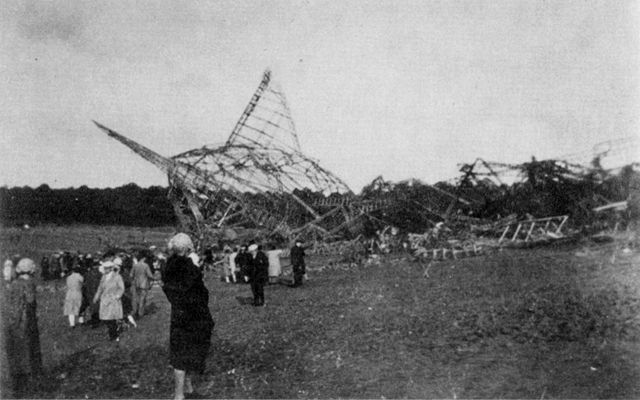 This was a national disaster. The dead were honored with a state funeral, and all 48 lay in state at the Palace of Westminster.
The cause of the crash of R.101 is uncertain, but it is apparent that for some reason it rapidly lost buoyancy forward. It was considered to have been very well designed and built, but as it was state-of-the-art, some of the design decisions may have led to the disaster.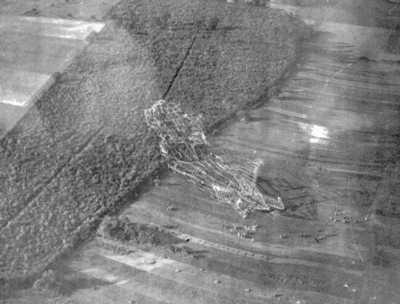 © 2018, Bryan R. Swopes