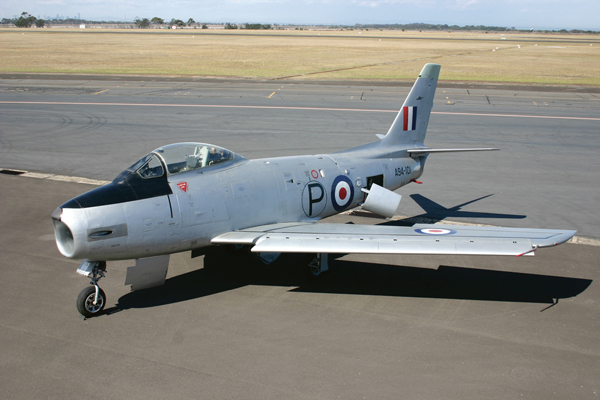 14 August 1953: Near Avalon Field, Geelong, Victoria, Australia, Flight Lieutenant William H. Scott, Royal Australian Air Force, the 28-year-old Chief Test Pilot of the Government Aircraft Factories, put the new Commonwealth Aircraft Corporation, Pty. Ltd., prototype into shallow dive from 25,000 feet (7,620 meters) over Port Phillip Bay. This was the new airplane's sixth test flight. Scott passed 670 miles per hour (1,078 kilometers per hour) and broke the "sound barrier." A triple sonic boom was heard throughout the Melbourne area.
The aircraft was the CA-26 Sabre, A94-101. The Australian-built Sabre had made its first flight 1 August, also with Flt. Lt. Scott in the cockpit. After about a week there were reports of sonic booms in the area around Melbourne.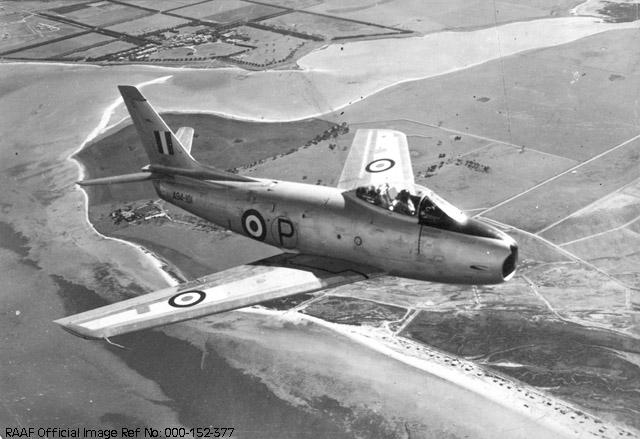 Based on the highly successful North American Aviation F-86F Sabre, the C.A.C. variant used a license-built Rolls-Royce Avon RA.7 turbojet with 7,350 pounds of thrust. The Sabre's fuselage had to be extensively redesigned to allow installation of the new engine. Although it was about the same size as the J47 it replaced, the Avon needed a much larger intake duct. And because it weighed less than the J47, it had to be moved aft to maintain the Sabre's center of gravity. Only about 40% of the original structure remained.
Other changes were replacing the fighter's basic armament of six .50-caliber Browning machine guns with two 30 mm ADEN revolver cannon. In testing, it was found that the muzzle blast of the ADEN cannons could cause the engine to flame out. "Maxim" shock wave baffles were installed to eliminate the problem.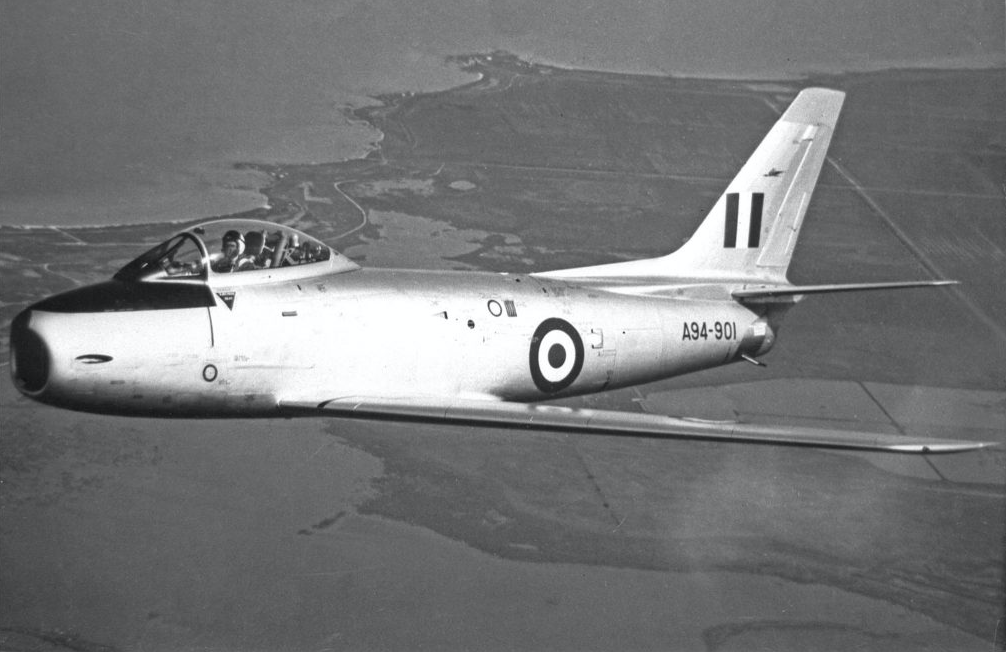 The aircraft, often called the "Avon Sabre," was put into production as the CA-27 Sabre Mk 30. Twenty-two aircraft were built in the version. With the introduction of the Mark 31, the original Sabres were upgraded to the new standard. Sixty-nine Sabre Mk 32 fighters were built with the Avon 25 engine and increased fuel capacity.
The CA-27 was in service with the Royal Australian Service from 1954 until 1971. Several were transferred to Malaysia and Indonesia and operated for those countries until 1982.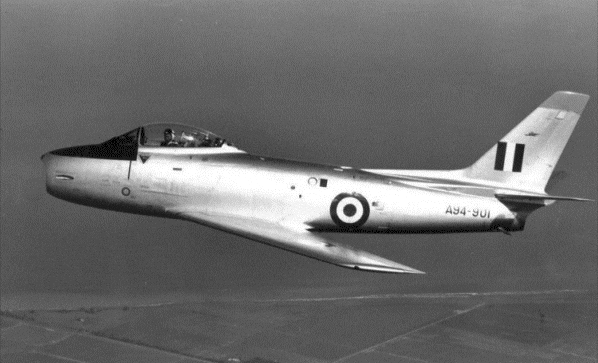 The prototype CA-26 Sabre, A94-901, flew with several RAAF squadrons, including the 76 Squadron "Black Panthers" Aerobatic Team, 1961–1965. It was withdrawn from service in 1966. The Sabre was restored by Hawker de Havilland at Bankstown Airport, before being sent to the Historical Aircraft Restoration Society Museum ("HARS") at Illawarra Regional Airport, south of Sydney, New South Wales, Australia. The airplane is again in the livery of the "Black Panthers."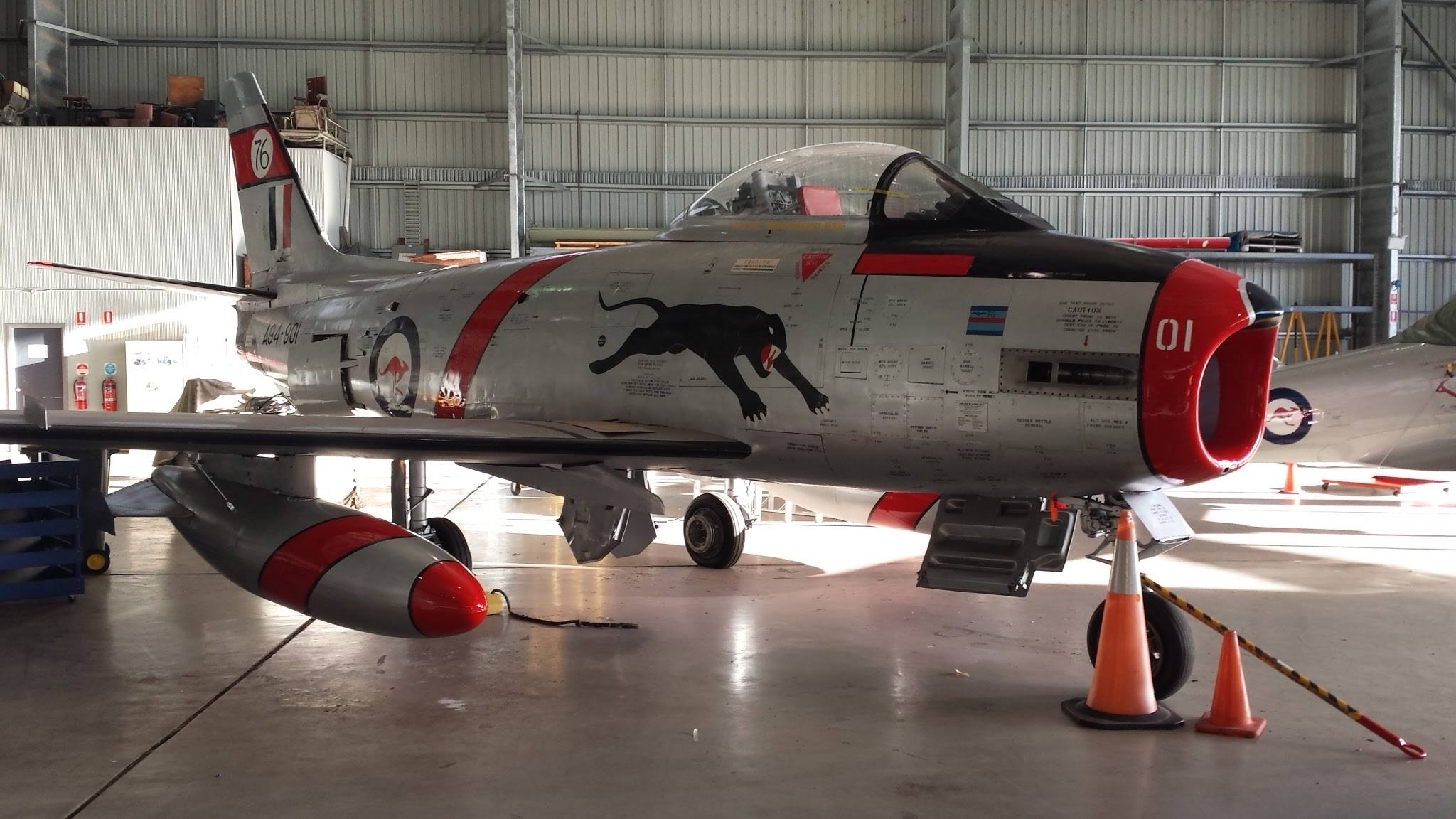 © 2018, Bryan R. Swopes