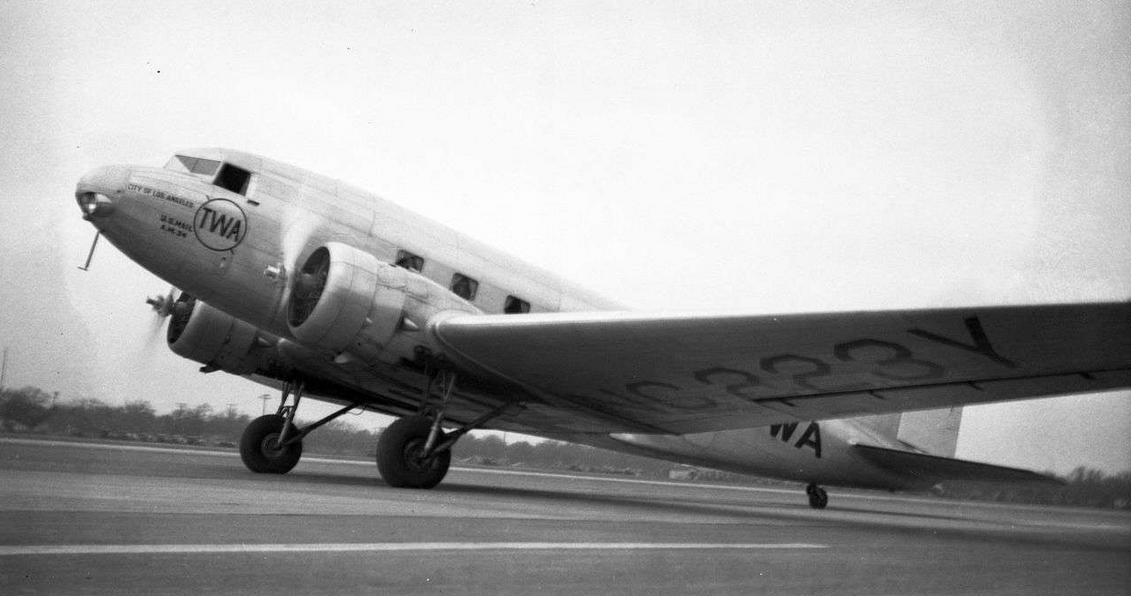 18–19 February 1934: The final commercial air mail flight before United States Army took over the U.S. air mail set a new transcontinental speed record. An estimated 15,000 people were present at the Grand Central Air Terminal to witness the takeoff.
Because of a controversy as to how several long-term air mail contracts had been issued by the U.S. Postal Service, President Franklin Delano Roosevelt cancelled all of the commercial contracts by executive order, then ordered the U.S. Army to take over flying of the mail.
The airplane, the prototype Douglas Commercial Model 1 (DC-1), NC223Y, took off from Glendale, California, under the command of William John ("Jack") Frye, vice president and chief pilot of Transcontinental and Western Air, Inc. Two other T.W.A. pilots, Silas Amos ("Si") Morehouse and Paul Ernest Richter, Jr., completed the flight crew. Also aboard were Edward Vernon ("Eddie") Rickenbacker, president of Eastern Air Transport, the leading US. fighter ace of World War I. Six journalists rode as passengers during the flight. Approximately 3,300 pounds (1,497 kilograms) of mail were carried.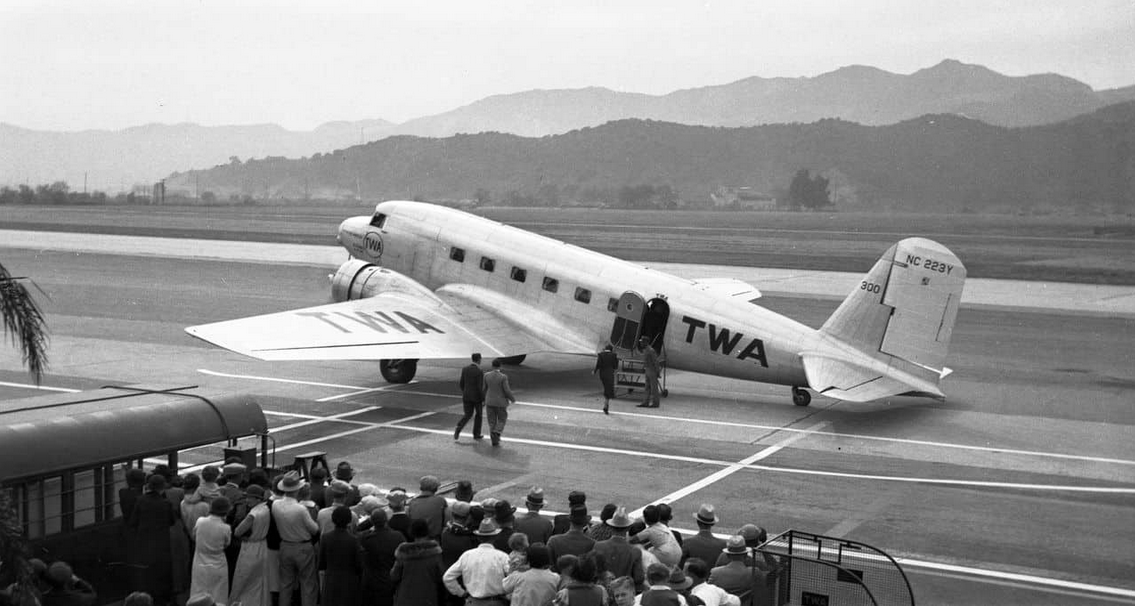 The route of the flight was from Glendale, California, to Albuquerque, New Mexico; Kansas City, Kansas; Columbus, Ohio; and Newark, New Jersey. The DC-1, named City of Los Angeles, departed Grand Central Air Terminal at 8:56 p.m., Pacific Standard Time (04:56 UTC) and arrived at Newark after a total elapsed time of 13 hours, 4 minutes, 20 seconds. The refueling stops at Albuquerque, Kansas City and Columbus were approximately ten minutes each.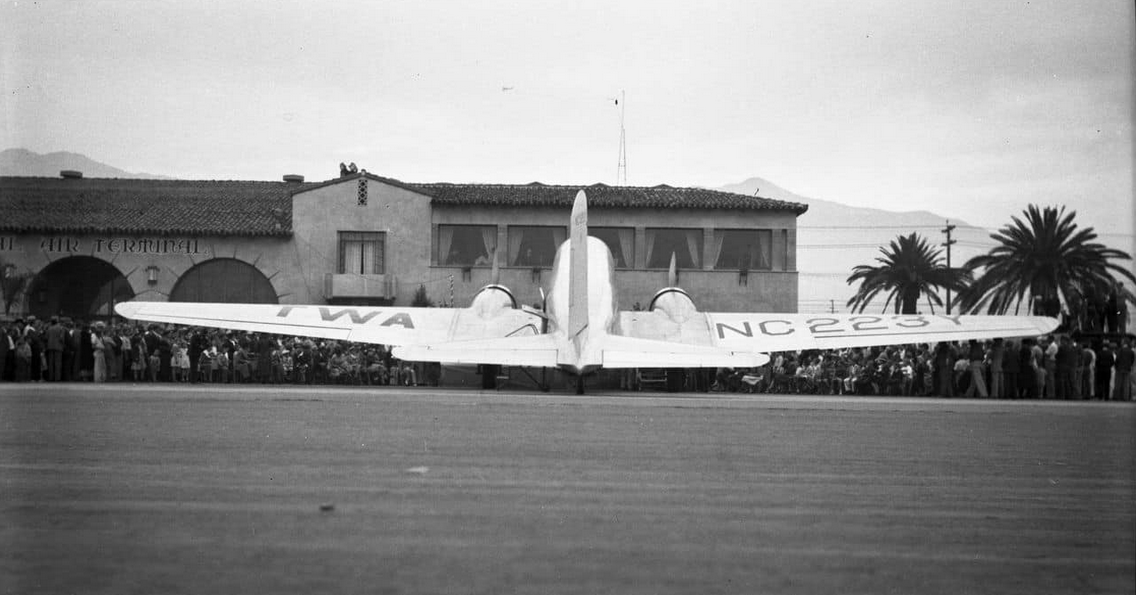 The Los Angeles Times reported:
SKY TRAVEL MARK SET
NEW YORK TRIP TIME SLASHED
Latest T.-W.A. Liner Reaches Goal in Thirteen Hours, Four Min., Twenty Sec.
Best Passenger Transport Run Eclipsed by More than Six Hours
     [Aviation writer for the Los Angeles Times, Jean Bosquet, on invitation of officials of Transcontinental and Western Air, Inc., represented this newspaper on the history-making, record-smashing flight of the air line's new Douglas transport plane from Los Angeles to New York.]
BY JEAN BOSQUET
     NEW YORK, Feb. 19. (Exclusive) Los Angeles to New York in thirteen hours, four minutes and twenty seconds.
     Incredible as it may seem, an air liner of Transcontinental and Western Air, Inc., constituting herself a winged representative of the American aviation industry, accomplished today the feat of carrying a capacity load of passengers and air mail across the continent in slightly more than thirteen hours, faster than the best previous time of a passenger plane in coast-to-coast flight by more than six hours.
     Shattering all existing speed and efficiency records for multimotored transport aircraft, the T.-W.A. liner City of Los Angeles performed the amazing gesture designed, in part, to impress the Federal government with the high efficiency attained by civilian aviation in the United States.
DEBUT AND CHALLENGE

    The performance of the Douglas monoplane, making its maiden flight across the continent, served as a protest against the government decree threatening the existence of the aviation industry by cancellation of air-mail contracts held by major air lines.
     The great gray liner's epochal flight was at once a debut and a challenge.
     Slipping through the night skies, the swift monoplane rushed over almost 1500 miles of continent between Los Angeles and Kansas City in seven hours and eight minutes, elapsed time, maintaining an average of 210 miles an hour. A ten-minute stop was made at Albuquerque for refueling. The 715 miles between Los Angeles and the New Mexico point were spanned in three hours and fifteen minutes, 220 miles an hour being her average speed. Normal flying time for this run, in ships to be replaced next April by a fleet of these Douglas planes,is at present more than seven hours.
DETAILS OF FLIGHT

     The City of Los Angeles took off from Grand Central Air Terminal in 8:56 p.m. yesterday and reached Albuquerque as 12:11 a.m. today, Pacific standard time. Three hours and forty-four minutes were required for the next leg of the maiden flight, to Kansas City, which point was reached at 4:05 a.m., Pacific standard time.
     Refueling in ten minutes, the T.W.A. transport sped eastward, reaching Newark less than six hours after taking off from Kansas City and that following a stop at Columbus, O.
     At Columbus the landing was made in a flurry of snow. Undaunted by threat of storm, the angle of the blades on the flashing controllable-pitch propellers was changed and the mighty craft stuck its nose into the flurries and climbed like a condor until it road above the storm at 18,500 feet.
     At Lebanon, Pa., it had dropped to 14,000 feet and, riding the radio beam through a dull and cloudy sky, it soared into Newark under a broken ceiling of approximately 7000 feet.
SHIP STEAM-HEATED

     When the ship had reached its highest altitude, some of the six news writers and cameramen on board were seized with violent headaches. The portable oxygen tank was brought out and everybody had a few whiffs "to bring down the altitude." Outside sleet smacked the metal sides of the aircraft and the temperature was 30 deg. below zero. Inside it was warm and cozy—the ship is steam-heated.
     From Columbus to a point east of Allentown, Pa., somewhat off the regular course, the plane was flying completely blind, depending on the radio beacons. Near the Delaware Water Gap the weather was clearing and the transport made its landing without difficulty before the fog caught up with it.
STOP ELIMINATED

     A third stop scheduled for Pittsburgh was eliminated, when the storm made it advisable to take on a heavier load of fuel at Columbus for the direct hop to New York.
     Although a sixty-mile tail wind at the 18,500-foot level enabled the aircraft to increase its speed to between 240 and 260 miles an hour, the plane for most of the distance was not helped by favoring winds. For the most part, according to Capt. Rickenbacker, there were cross winds. Fair weather was encountered most of the distance to Columbus.
     The amazing performance was unexpected even to T.W.A. officials, who had hoped their new liner would make the flight in fifteen hours with favorable weather. Aviation circles nationally were astonished by the speed of the transport, product of scientific engineering genius of the Southland.
SPLENDID SHOWING

     It was as though the great ship were aware of the trust reposed in her by her owners and by the rest of the nation's aviation industry as well, when she roared out of Los Angeles, swept majestically over 12,000-foot mountain peaks and burst into the mist of morning over Kansas City.
     It was not alone the tremendous speed of the sleek liner which stood out as her flight progressed. She astonished a group of newspapermen and surprised even the flight host, Capt. Eddie Rickenbacker, World War ace, with the quiet of her luxurious cabin, her steadiness in flight over mountain country, and the ease with which she sped on her course, the roaring of her two Wright Cyclones heard but faintly in her cabin.
     As she made her record-smashing way eastward her passengers slept in reclining chairs held steadier than berths in railroad trains.
LAST MAIL CARGO
     In the after compartment of the liner was the last consignment of mail to be carried by civilian aircraft, the governmental order canceling air-mail contracts taking effect three hours after the ship took off in Los Angeles.
     Veteran pilots forming the liner's crew grimly hummed "The Last Round-up" as they sent the swift craft into the east.
     The  nine-ton monoplane with her 3300-pound pay load swept over treacherous terrain which now must be spanned by army aircraft and pilots ill-equipped for the task.
      Leaving Los Angeles the craft climbed to a height of 14,000 feet, rushing upward at the rate of 600 feet a minute at a speed of 190 miles an hour. Soon she was clearing the loftiest mountain peaks along her course by at least 2000 feet, disdainfully soaring over them.
VETERAN AVIATORS

     At her controls when the City of Los Angeles began her flight were Jack Frye, veteran airman and vice president of T.-W.A.; Paul Richter, superintendent of operations for the line's western region, and Si Morehouse, senior pilot of T.-W.A. The combined flight hours of the three veterans totaled more than 15,000. Commenting on this during the flight, Capt. Rickenbacker pointed out the perilous undertaking of the army pilots now flying the mails with averages of less than 400 hours each.
     Other pilots replaced Richter and Morehouse as division points were reached, but Frye remained in the ship's control room throughout her record breaking flight.
—Los Angeles Times, Vol. III, 20 February 1934, Page 1, Column 6, and Page 2, Column 4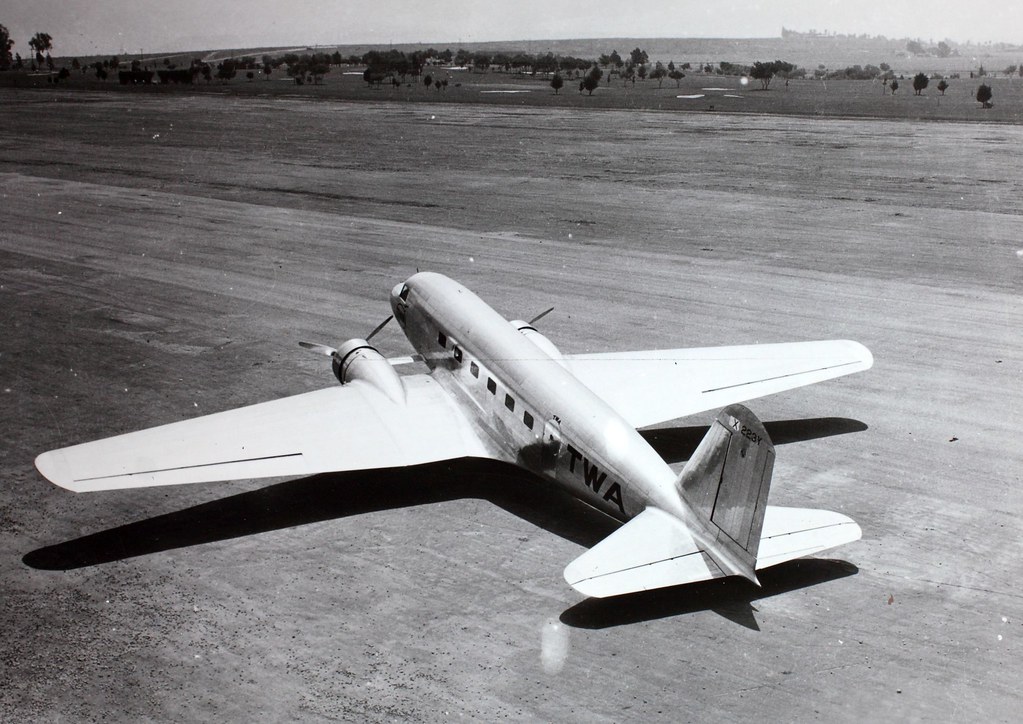 The Douglas DC-1 was a prototype commercial transport, built by the Douglas Aircraft Company, Santa Monica, California. It was a twin-engine, all-metal, low-wing monoplane with conventional landing gear. It had a flight crew of two pilots, and seats for 12 passengers.
The new airplane had been requested by Transcontinental and Western Air, Inc., in August 1932. Originally intended as a three-engine transport, the new airliner was required to have a maximum speed of at least 185 miles per hour (298 kilometers per hour) and a service ceiling of 21,000 feet (6,400 meters). It would be required to take off from Winslow, Arizona—at 4,941 feet (1,506 meters) above Sea Level, the highest airfield in the T.W.A. route system. It was required to carry more passengers than the Boeing Model 247, and to have a landing speed of 65 miles per hour (105 kilometers per hour).
The DC-1 was 60 feet, 0 inches (11.288 meters) long, with a wing span of 85 feet, 0 inches (25.908 meters), and height of 16 feet, 0 inches (4.877 meters). Its empty weight was 11,780 pounds (5,343 kilograms), and gross weight, 17,500 pounds (7,938 kilograms).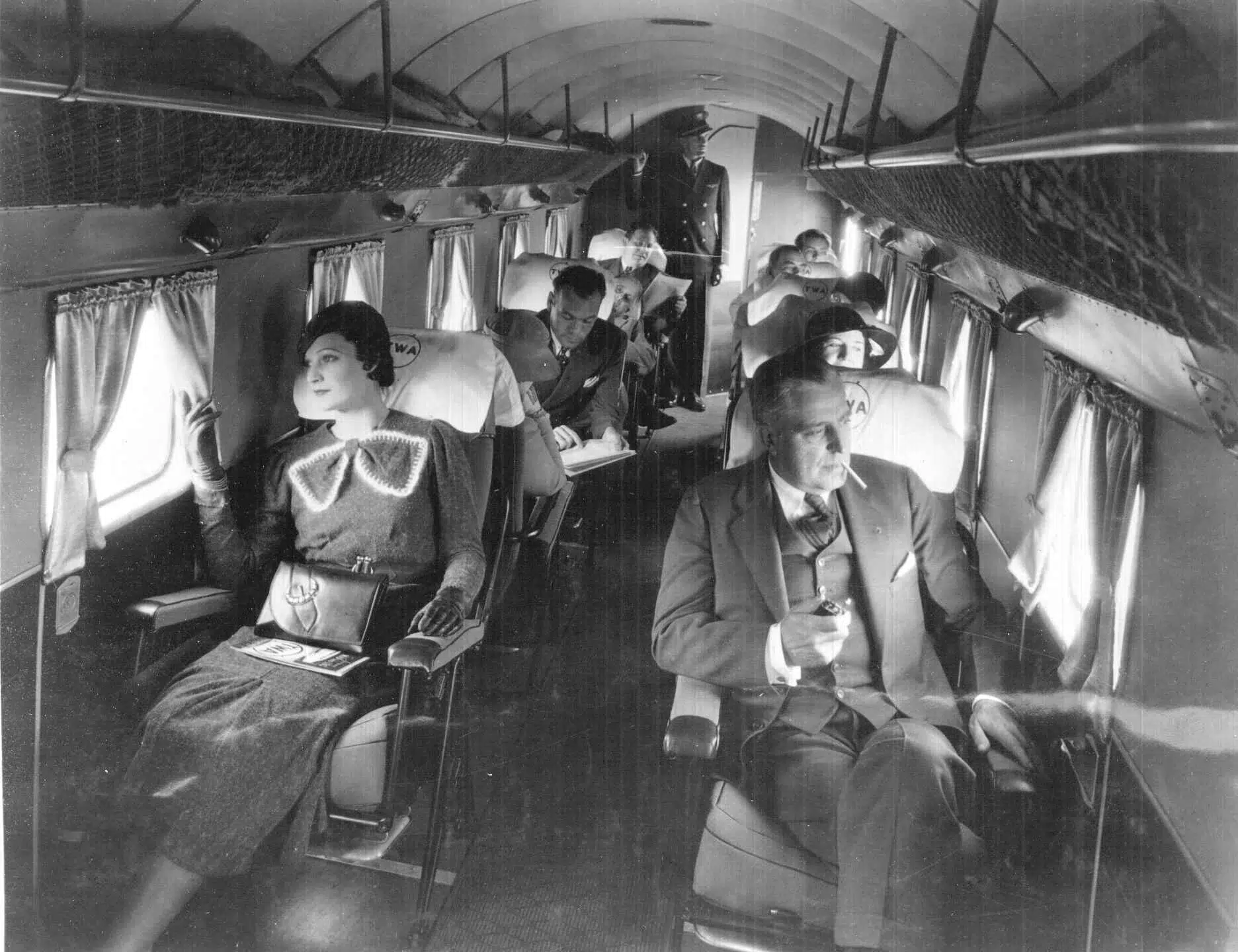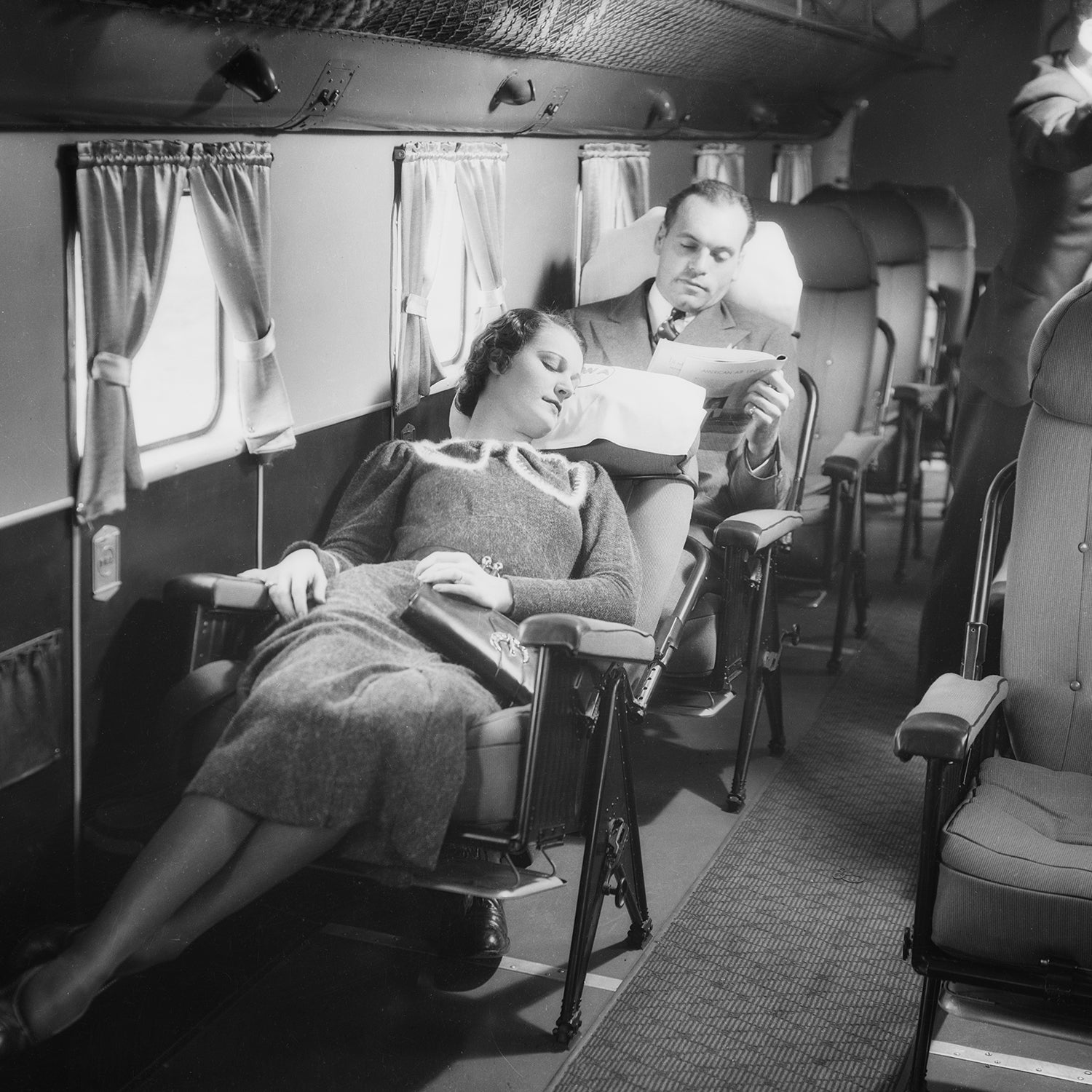 The DC-1 was powered by two supercharged, air-cooled, Wright Cyclone SGR-1820-F3 nine-cylinder radial engines, These engines had a compression ratio of 6.4:1 and required 87-octane gasoline. They were rated at 700 horsepower at 1,950 r.p.m. They turned three-bladed variable-pitch propellers through a 16:11 gear reduction. The -F3 was 3 feet, 11-3/16 inches (1.199 meters) long, 4 feet, 5¾ inches (1.365 meters) in diameter, and weighed 1,047 pounds (475 kilograms).
The DC-1 had a cruise speed of 190 miles per hour (306 kilometers per hour) and maximum speed of 210 miles per hour (338 kilometers per hour). Its range was 1,000 miles (1,609 kilometers), and the service ceiling was 23,000 feet (7,010 meters).
Only one DC-1 was built. It was rolled out of its hangar 22 June 1933. Registered X223Y, it made its first flight, 1 July 1933, at Clover Field, Santa Monica, California, with test pilots Carl Cover and Fred Herman in the cockpit.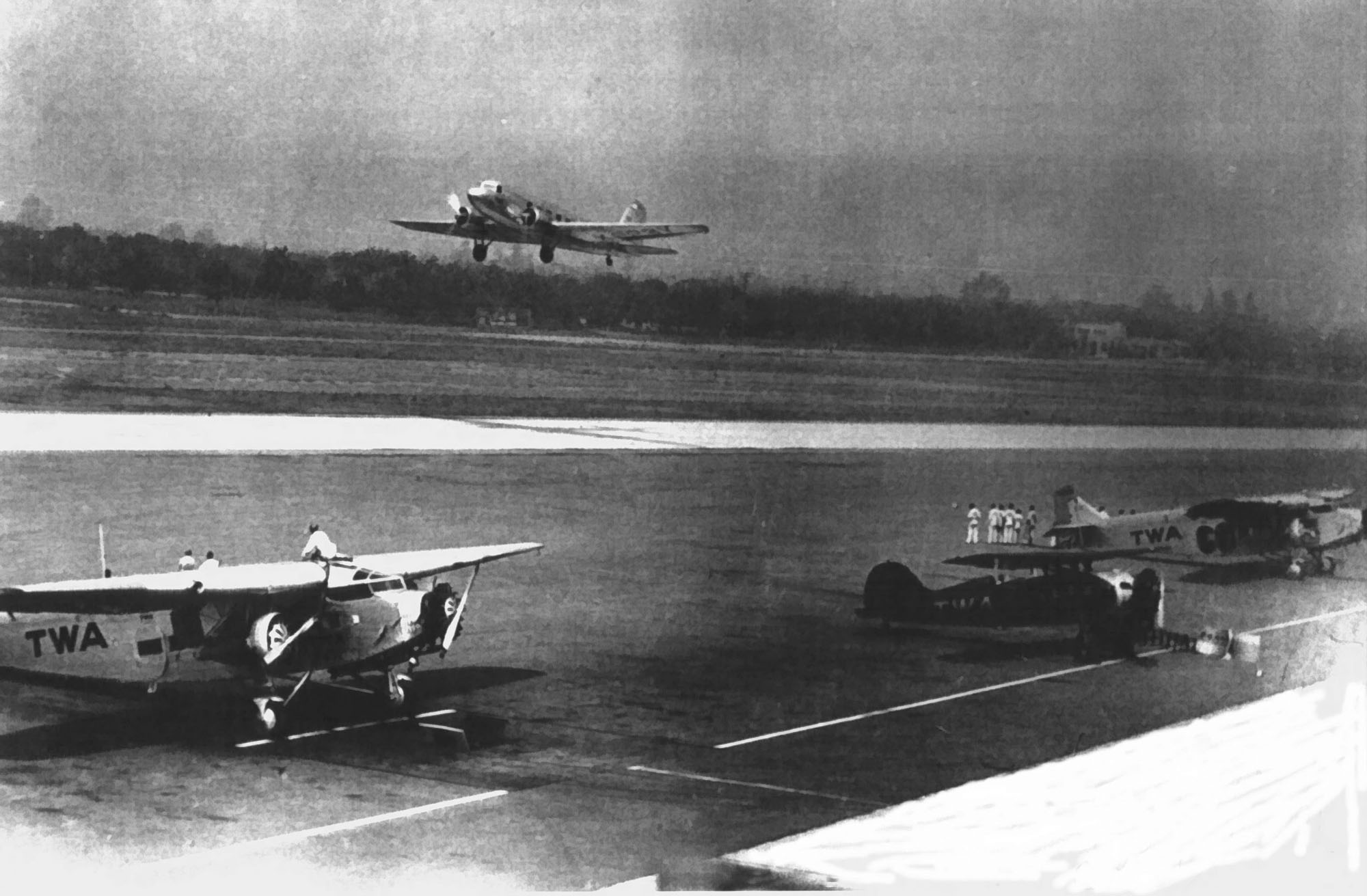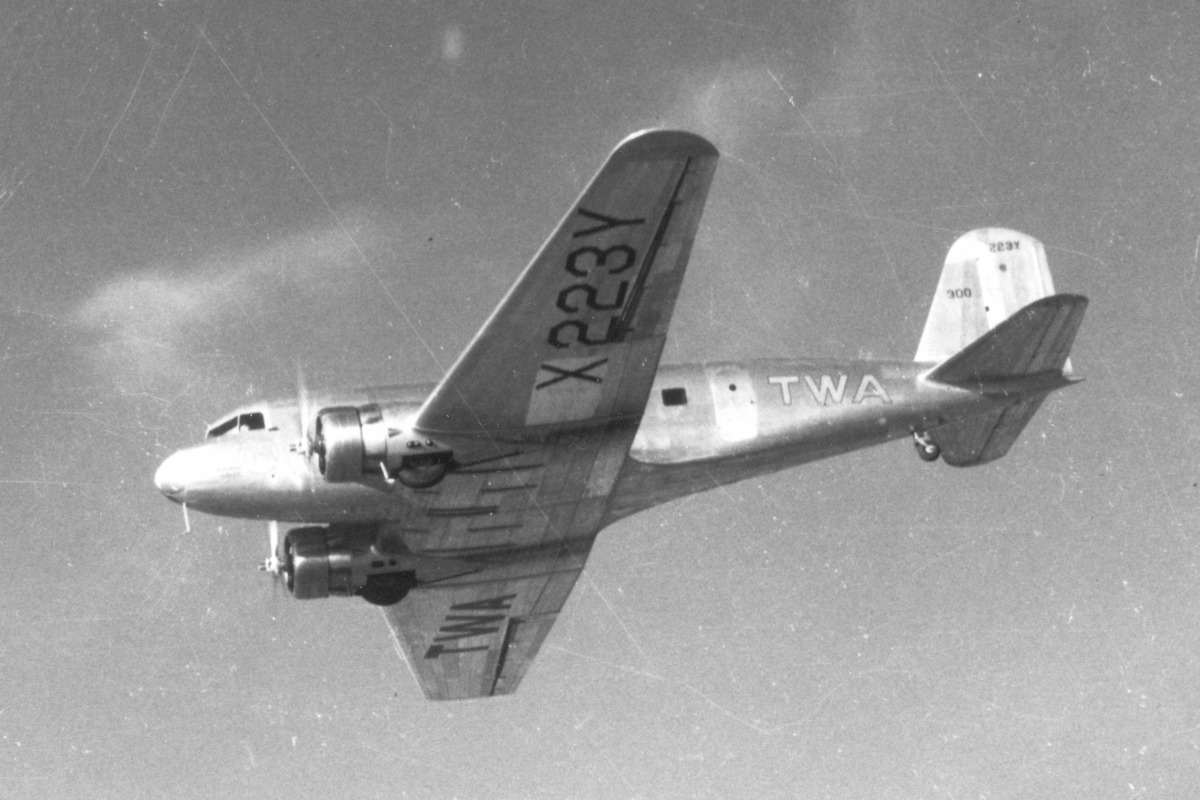 NC223Y was retired from passenger service in 1936. T.W.A. loaned it to the U.S. government for  high altitude research. It was then sold to Howard Hughes. In May 1938 NC223Y was sold to Viscount Forbes of the United Kingdom, 27 May 1938, transported across the Atlantic aboard a freighter, then registered G-AFIF, 25 June 1938. The airplane was re-sold to France in September 1938.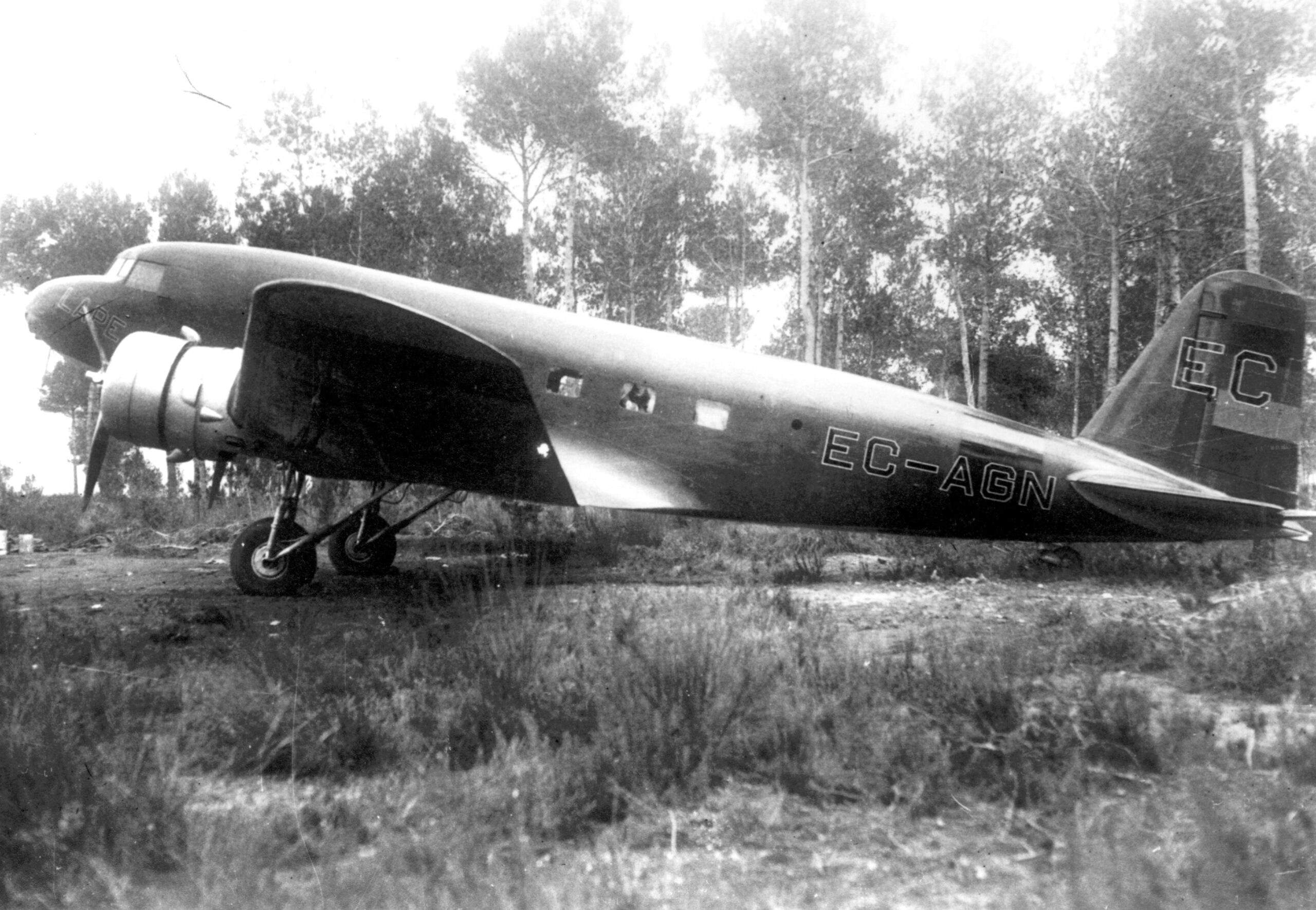 The DC-1 was again sold, this time to Spanish Republican government, and operated by Lineas Aéreas Postales Espanolas, also known as LAPE. The airplane made a forced landing at Malaga, Spain, in December 1940. It was damaged beyond repair.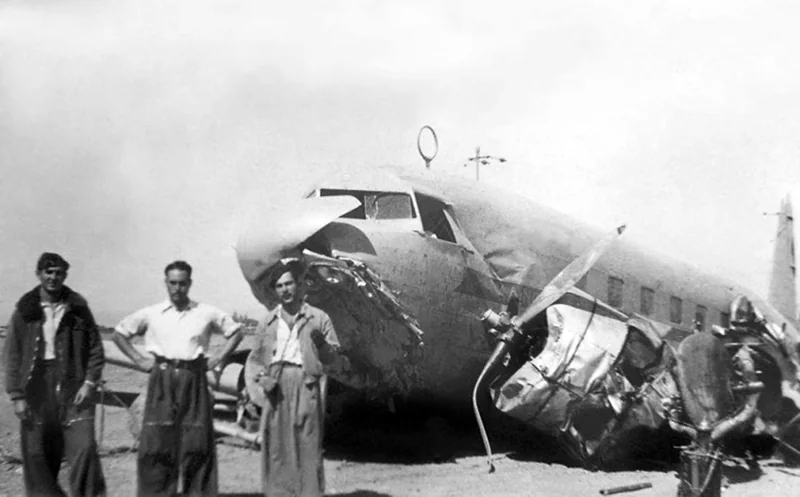 The single DC-1 prototype led to an order for 20 improved 14-passenger DC-2s for T.W.A. This, in turn, resulted in the development of the legendary Douglas DC-3.
© 2023, Bryan R. Swopes