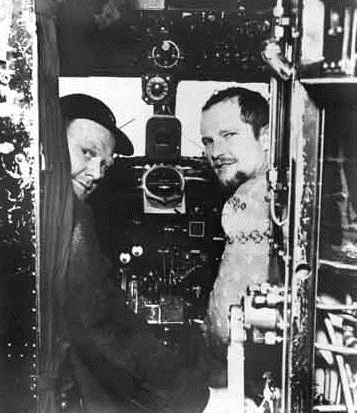 3 May 1952: A ski-equipped United States Air Force Douglas C-47A Skytrain, piloted by Lieutenant Colonels William P. Benedict and Joseph O. Fletcher, USAF, was the first airplane to land at the North Pole.¹ The navigator was 1st Lieutenant Herbert Thompson. Staff Sergeant Harold Turner was the flight engineer and Airman 1st Class Robert L. Wishard, the radio operator.
Also on board was Arctic research scientist Dr. Albert P. Crary and his assistant, Robert Cotell. Additional personnel were Fritza Ahl, Master Sergeant Edison T. Blair and Airman 2nd Class David R. Dobson.
Colonel Fletcher was commanding officer of the 58th Strategic Reconnaissance Squadron, Eielson Air Force Base, Fairbanks, Alaska. He was responsible for establishing Drift Ice Stations within the polar ice cap for remote weather observation bases. Ice Island T-3 was renamed Fletcher's Ice Island in his honor. He became a world authority on Arctic weather and climate. Various geographic features, such as the Fletcher Abyssal Plain in the Arctic Ocean, and the Fletcher Ice Rise in the Antarctic are also named for him.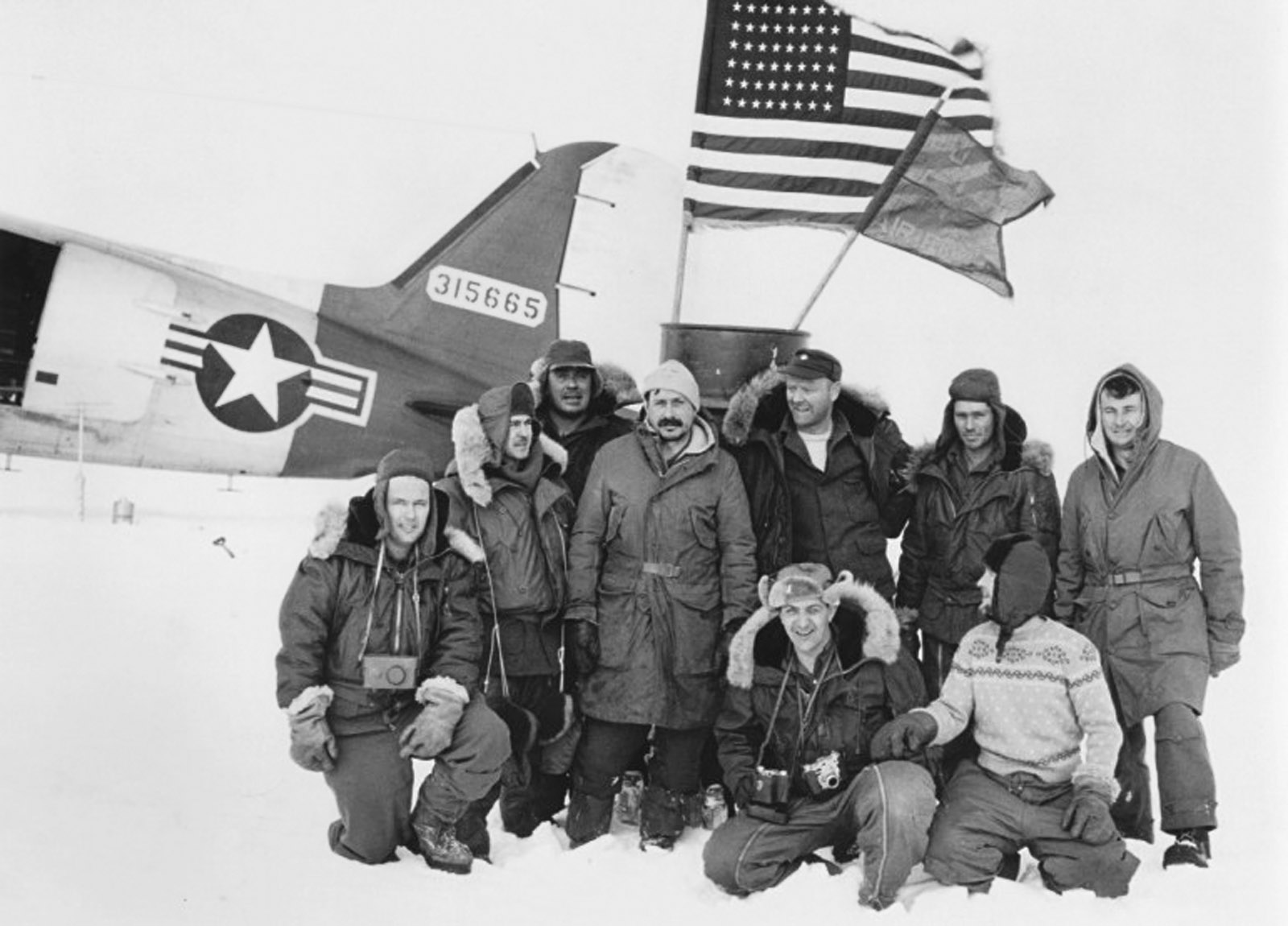 The airplane flown on this expedition was Douglas C-47A-90-DL Skytrain 43-15665.
The Douglas C-47 in the photograph below is similar to the Skytrain that Benedict and Fletcher landed at the North Pole, however it is a screen image from the RKO/Winchester Pictures Corporation motion picture, "The Thing from Another World," which was released just one year earlier, 29 April 1951. Howard Hawks' classic science fiction film involves an Air Force C-47 Skytrain crew that flies in support of a remote Arctic research station.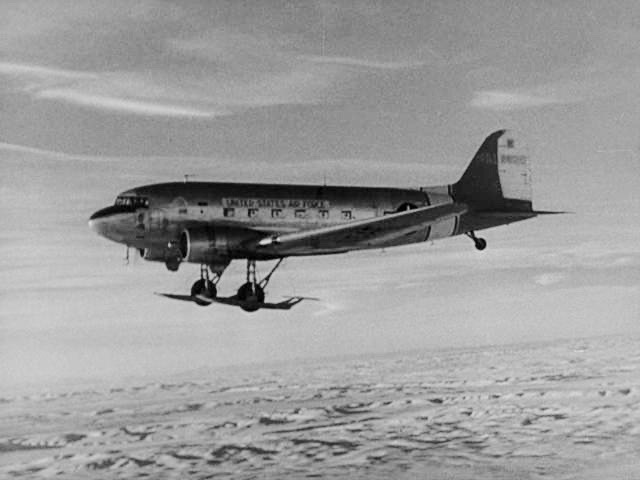 The Douglas C-47A Skytrain is an all-metal twin-engine, low wing monoplane transport with retractable landing gear. It was operated by a minimum flight crew of two pilots, a navigator and a radio operator. The wing is fully cantilevered and the fuselage is of semi-monocoque construction. Control surfaces are fabric-covered.
The C-47 is 64 feet, 5½ inches (19.647 meters) long with a wingspan of 95 feet (28.956 meters) and height of 17 feet (5.182 meters). Empty weight of the C-47A is 17,257 pounds (7,828 kilograms) and the maximum takeoff weight is 29,300 pounds (13,290 kilograms).²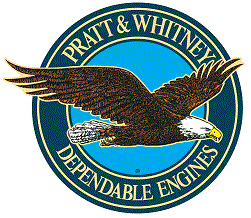 The C-47A is powered by two 1,829.4-cubic-inch-displacement (29.978 liter) air-cooled, supercharged R-1830-92 (Pratt & Whitney Twin Wasp S1C3-G) two-row 14-cylinder radial engines. These were rated at 1,200 horsepower at 2,700 r.p.m. at Sea Level for takeoff. The maximum continuous rating for normal operation was 1,060 horsepower at 2,550 r.pm., up to 7,500 feet (2,286 meters). Each engine drives a three-bladed Hamilton Standard Hydromatic constant-speed full-feathering propeller with a diameter of 11 feet, 6 inches (3.505 meters) through a 16:9 gear reduction. The R-1830-92 is 48.19 inches (1.224 meters) long, 61.67 inches (1.566 meters) in diameter, and weighs 1,465 pounds (665 kilograms).
The C-47 has a cruising speed of 185 miles per hour (298 kilometers per hour) at 10,000 feet (3,048 meters) and service ceiling of 24,100 feet (7,346 meters).
The C-47-DL could carry 6,000 pounds (2,722 kilograms) of cargo, or 28 fully-equipped paratroopers. Alternatively, 14 patients on stretchers could be carried, along with three attendants.
43-15665 crashed on Fletcher's Ice island 3 November 1952. It has since sunk to the floor of the Arctic Ocean.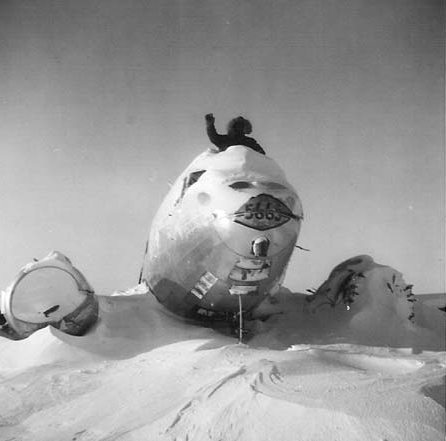 ¹ At least one source states that a Soviet expedition aboard three Lisunov Li-2 transports (a license-built Douglas DC-3) landed near the North Pole on 23 April 1948.
² Data from AAF Manual 51-129-2, Pilot Training Manual for the C-47 Skytrain
© 2019, Bryan R. Swopes