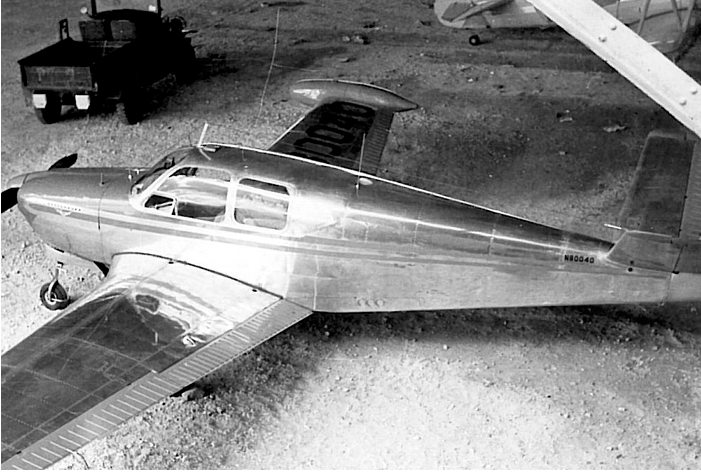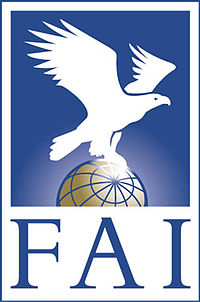 13 January 1949: William P. Odom set a Fédération Aéronautique Internationale (FAI) World Record for Distance in a Straight Line when he flew a Beechcraft Model 35 Bonanza, N80040, named Waikiki Beech, from Honolulu, Oahu, Territory of Hawaii, to Oakland, California, an official distance of 3,873.48 kilometers (2,406.87 miles).¹
The Chicago Daily Tribune reported the event:
Odom Flight from Hawaii Sets Light Plane Record
Hops Pacific to Oakland in 22 Hours
Oakland, Cal., Jan. 13 (Special)—Flyer Bill Odom set a new light plane record today in a flight across the Pacific from Hawaii, but dwindling gasoline supplies forced him to cut short his eastward flight and he landed here at 6:38 p.m. (8:38 Chicago time).
Odom, who had planned to continue on to Teterboro, N.J., 5,285 miles from his starting place in Hawaii had been in the air 22 hours and six minutes. He left Honolulu at 6:32 p.m. Wednesday (10:32 p.m. Wednesday Chicago time).
The flight over the Pacific, more than 2,300 miles, broke the light plane record of 2,061 miles set by two Russian flyers, A. Goussarov and V. Glebov Sept. 23, 1937, from Moscow to Krasnoyarsk. The record is recognized by the International Aeronautical federation for light planes, first category, 397–549 cubic inches engine displacement.
Uses Most of Fuel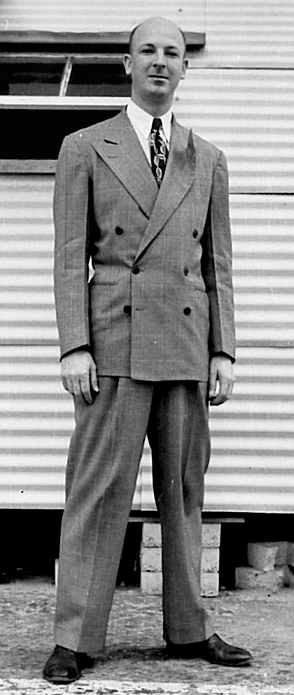 Odom was two hours behind schedule and had only about 80 out of his 260 gallons of gasoline when he passed over the Golden Gate at 4:27 p.m. (6:27 p.m. Chicago time.) Head winds had taken a heavy toll of his gasoline load.
He radioed that he intended to add as much mileage as possible to his record before landing. He kept on, reaching Reno, Nev. where ice on his wings and a snowstorm on the airport forced him to turn back.
He then headed for Sacramento airport but no civil aeronautics administration officials were there and he landed at Oakland. There, the plane and its instruments were sealed.
"Boy, am I tired," Odom said.
He covered more than 2,500 miles from Honolulu to Reno, but as he did not land at Reno the record will remain about 2,300 miles, the distance from Honolulu to Oakland.
Odom had bucked headwinds since he switched his single engined Beechcraft's course south to fly over San Francisco instead of Seattle. He said he changed his course by mistake this morning. Somehow, he said, he lost his PBY escort from Honolulu and veered to the right.
He first had hunted out and ridden winds that took him northeast toward Seattle, but 1,800 miles out of Hawaii he hit a high pressure area that gave him for a time, tailwinds that enabled him to conserve gasoline.
Late Model Plane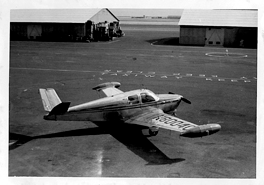 Odom's plane is a post-war model with a V-type tail, a tricycle landing gear that tucks up into the wings, a tiny little 185 horsepower, six cylinder unsupercharged engine. Its total weight with fuel, pilot, emergency gear, radio, and full equipment at take-off was only 3,750 pounds. It is an all-metal, low-wing monoplane which in its standard form can carry four passengers including pilot.
For his flight Odom had extra radio and a 100 gallon fuel tank installed in the cabin. Each wing tip also has a specially made fuel tank carrying 60 gallons, making 120 gallons total in those two containers. The normal tankage for the Bonanza is 40 gallons.
Odom holds the around the world flight record of 73 hours, 5 minutes and 11 seconds, set Aug. 11, 1947, from Chicago to Chicago in a converted A-20 bomber.
—Chicago Daily Tribune, Vol. CVIII, No. 12, Friday, January 14, 1949, Page 1, Column 7.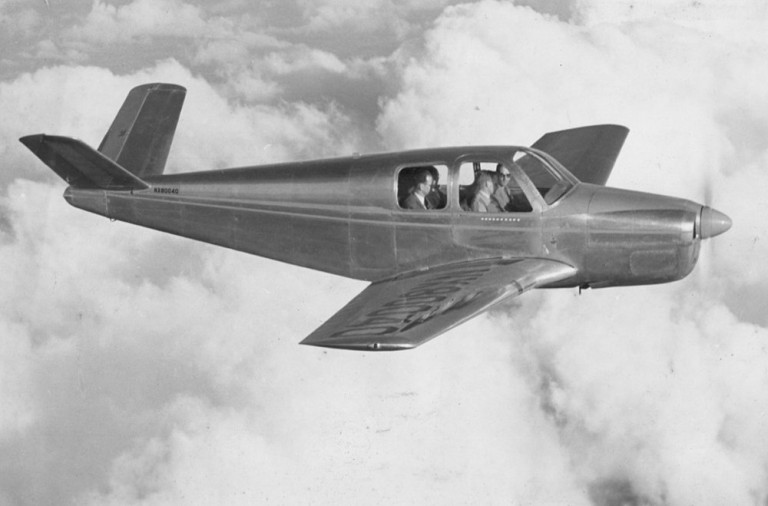 N80040 was the fourth prototype Beechcraft Model 35 Bonanza. (The first two were static test articles.)
The Beechcraft Model 35 Bonanza is a single-engine, four-place all-metal light civil airplane with retractable landing gear. The Bonanza has the distinctive V-tail with a 30° dihedral which combined the functions of a conventional vertical fin and rudder, and horizontal tail plane and elevators.
The Model 35 was 25 feet, 2 inches (7.671 meters) long with a wingspan of 32 feet, 10 inches (10.008 meters) and height of 6 feet, 6½ inches (1.994 meters). It had an empty weight of 1,458 pounds (661 kilograms) and gross weight of 2,550 pounds (1,157 kilograms.)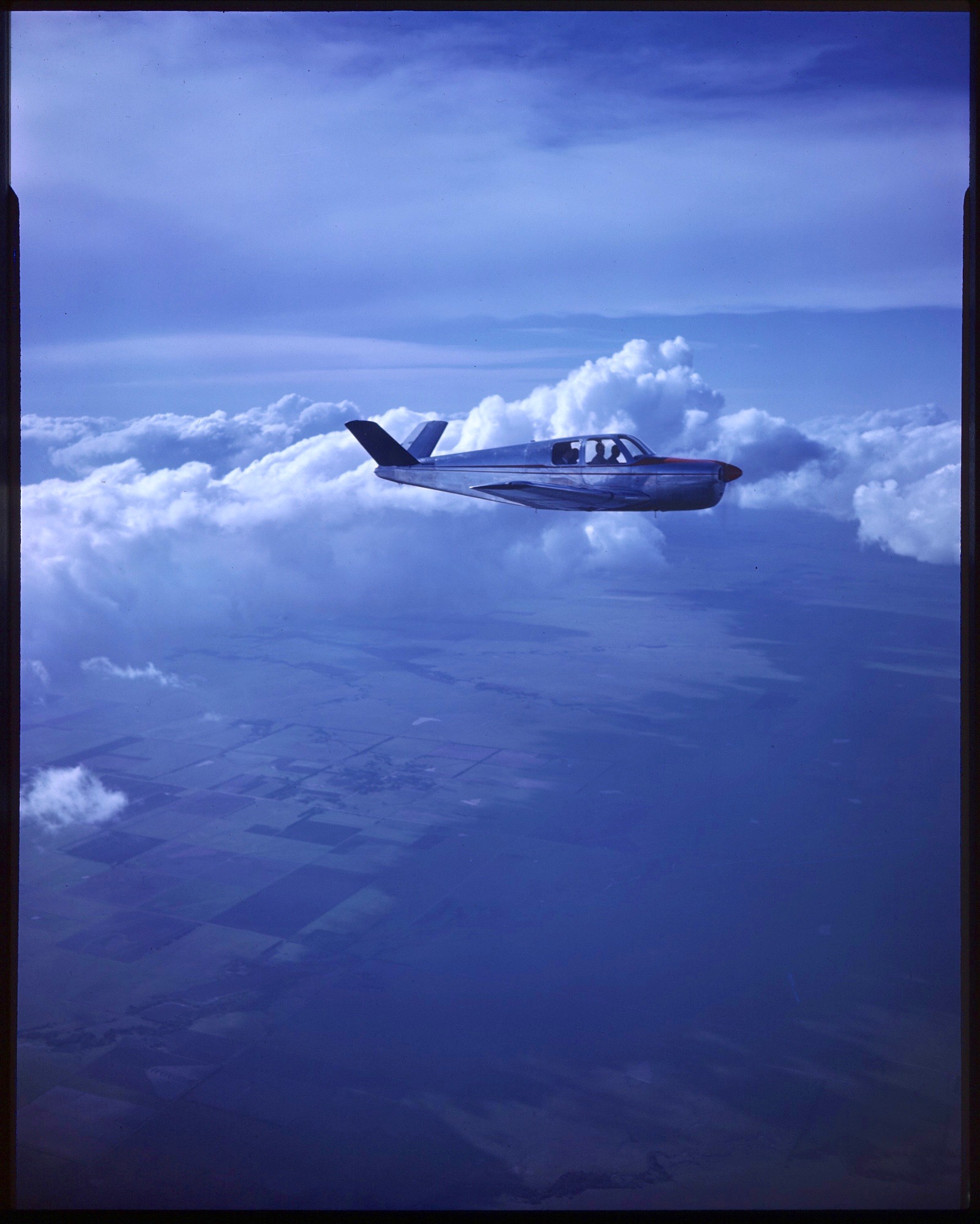 NX80040, s/n 4, and the following production models were powered by an air-cooled, 471.24-cubic-inch-displacement (7.72 liter) Continental Motors, Inc., E185 horizontally-opposed 6-cylinder engine. This engine was rated at 165 horsepower at 2,050 r.p.m. (NX80150, s/n 3, had been equipped with a 125-horsepower Lycoming O-290-A.) The Bonanza had a two-bladed electrically-controlled variable pitch R-100 propeller with a diameter of 7 feet, 4 inches (2.235 meters) made of laminated wood.
The "V-tail Bonanza" had a maximum speed of 184 miles per hour (296 kilometers per hour) at Sea Level, and a cruise speed of 175 miles per hour ( 282 kilometers per hour)at 10,000 feet (3,048 meters). Its service ceiling was 18,000 feet (5,486 meters). With full fuel, 40 gallons (151.4 liters), the airplane had a range of 750 miles (1,207 kilometers).
The Beechcraft 35 was in production from 1947 to 1982. More than 17,000 Model 35s and the similar Model 36 were built.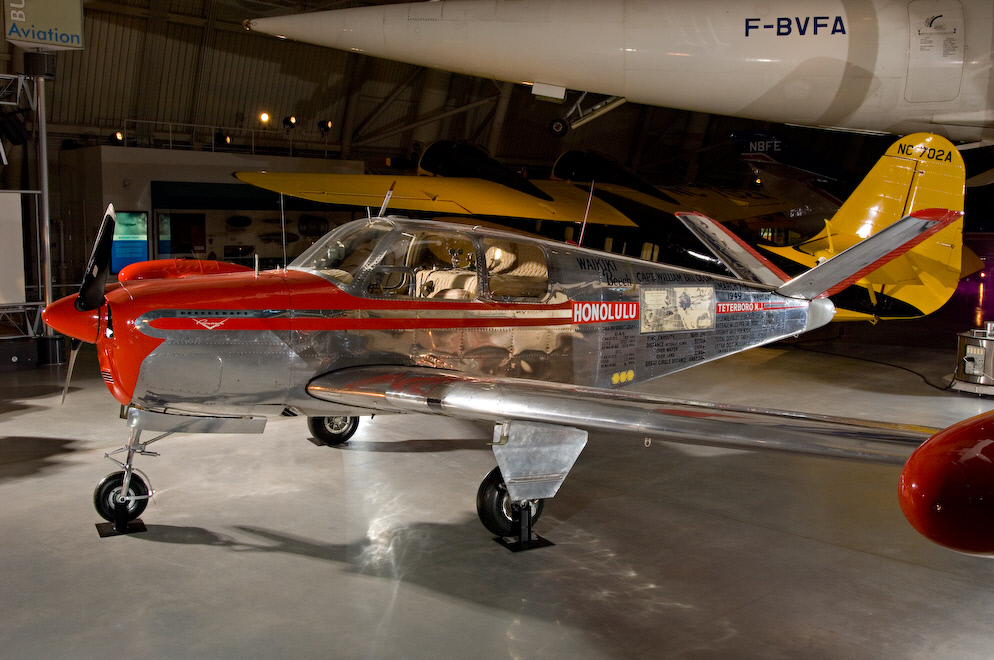 William Paul Odom was born at Raymore, Missouri, 21 October 1919. He was the first of three children of Dennis Paul Odom, a farmer, and Ethel E. Powers Odom.
Odom, then working as an airport radio operator, married Miss Dorothy Mae Wroe at Brentwood, Pennsylvania, 3 December 1939.
During World Ward II, from 1944 to 1945, Odom flew for the Chinese National Aviation Corporation (CNAC), flying "The Hump," the air route over the Himalayas from India to China.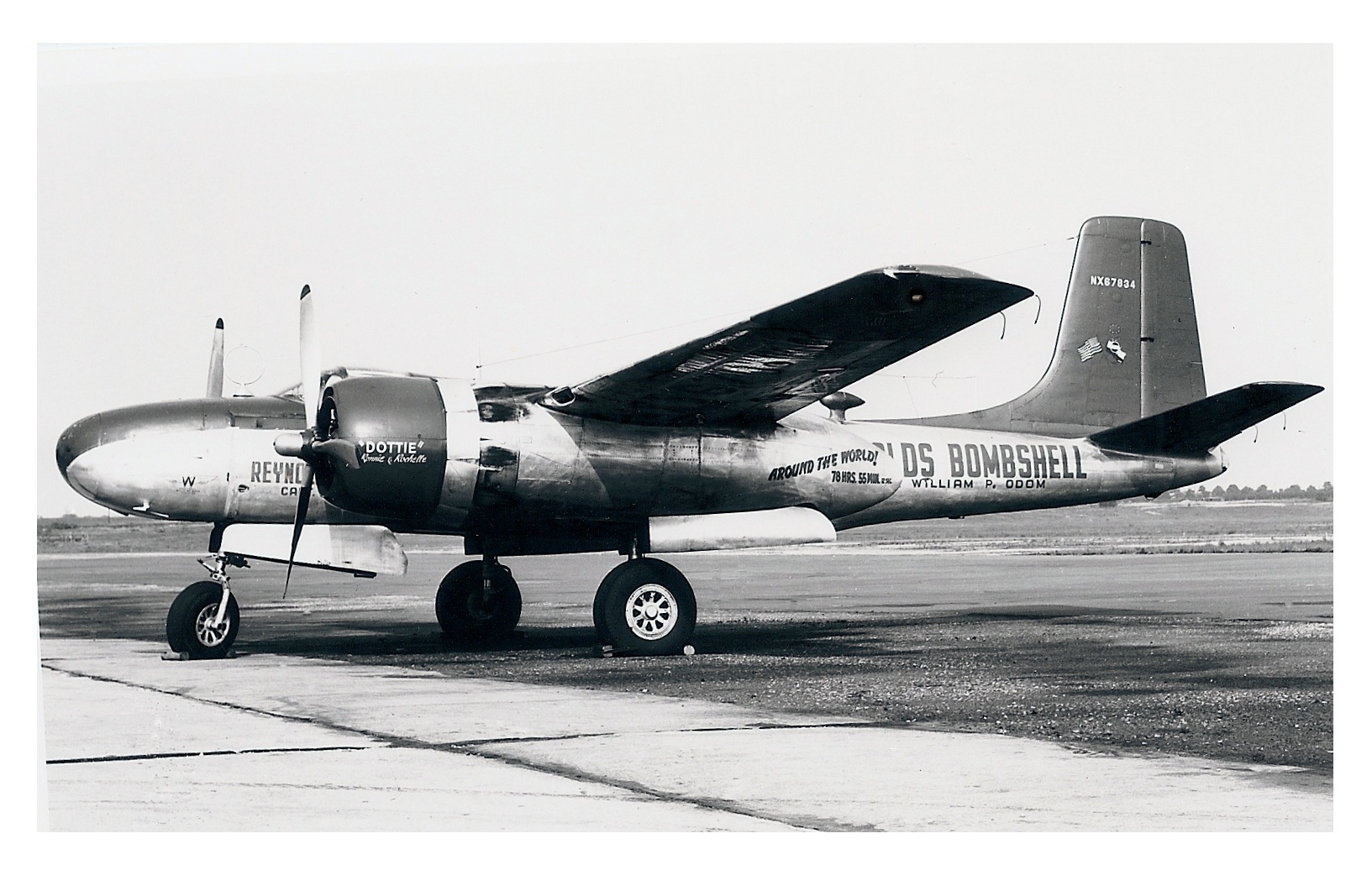 Bill Odom had flown a Douglas A-26 Invader named Reynolds Bombshell around the world in 3 days, 6 hours, 55 minutes, 56 seconds, 12–16 April 1947. He made a second around the world flight, 7–11 August 1947, again flying the A-26. The duration of this second trip was 3 days, 1 hour, 5 minutes, 11 seconds. Neither flight was recognized as a record by the FAI.
In April 1948, Odom flew a former U.S. Navy Consolidated RY-1, Bu. No. 67798 ² for the Reynolds Boston Museum China Expedition. The expedition ended abruptly and Odom flew the airplane out of China to Japan without authorization from either nation. He and the airplane's owner, Milton Reynolds, were taken into custody and the airplane impounded.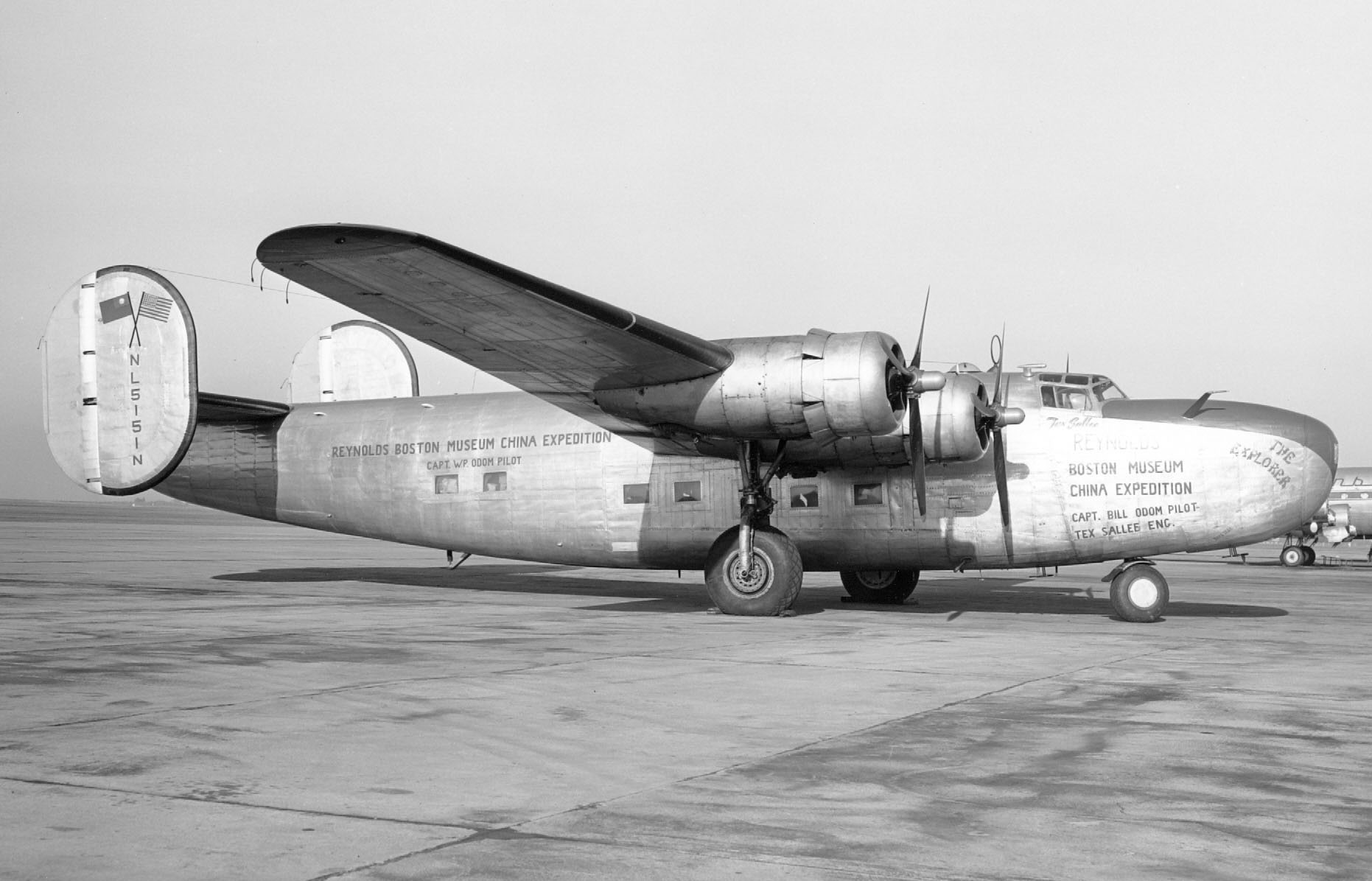 On 8 March 1949, Odom made another FAI World Record flight with Waikiki Beech, from Honolulu to Teterboro, New Jersey, 7,977.92 kilometers (4,957.25 miles).³
With these records and record attempts, Bill Odom persuaded Jackie Cochran to buy a radically-modified P-51C Mustang named Beguine (NX4845N) for him to fly at the 1949 National Air Races at Cleveland Municipal Airport, Ohio.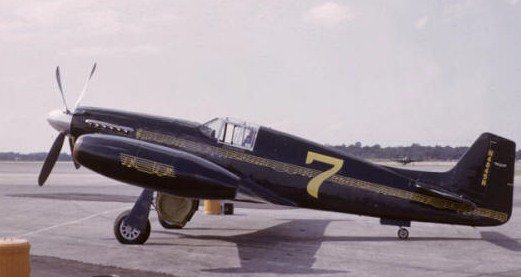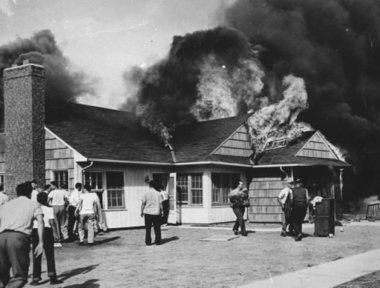 Though he had never flown in a pylon race, Odom had qualified the P-51 Beguine for the 105 mile Sohio Trophy Race, held 3 September 1949. He won that race, averaging 388.393 miles per hour (625.058 kilometers per hour. He had also entered the Thompson Trophy Race, qualifying with a speed of 405.565 miles per hour (652.694 kilometers per hour.)
The Thompson Trophy Race was held on 5 September. On the second lap, Odom's P-51 went out of control and crashed into a house near the airport. Bill Odom, along with a woman and child on the ground, were killed.
William Paul Odom's remains were buried at the Friendship Cemetery, Columbus, Mississippi.
¹ FAI Record File Number 14512
² The airplane was originally ordered as a C-87A-CF Liberator Express transport for the U.S. Army Air Forces, serial number 43-30570, but was one of three which were transferred to the U.S. Navy.
³ FAI Record File Number 9112
© 2019, Bryan R. Swopes