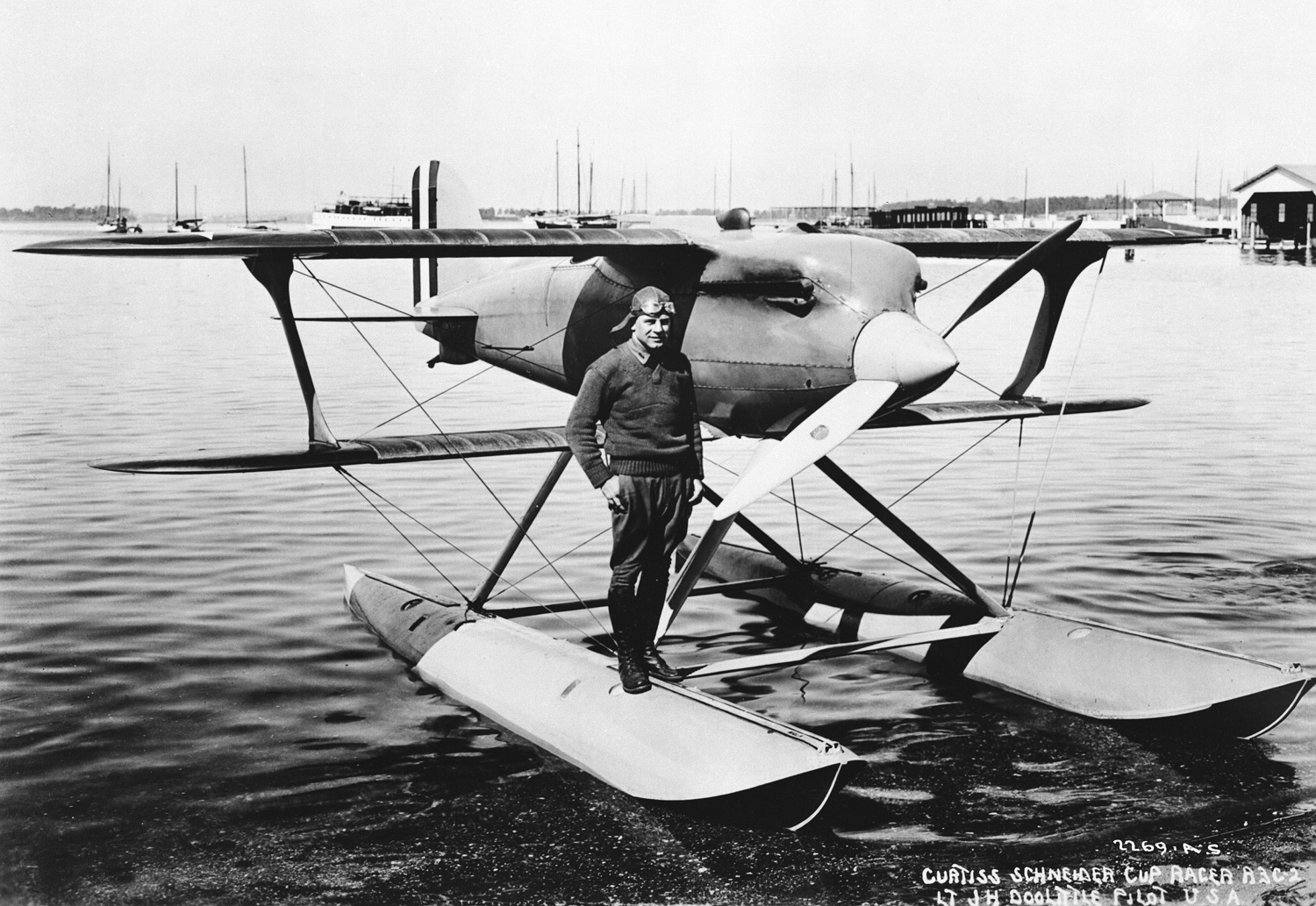 26 October 1925: Lieutenant James Harold Doolittle, Air Service, United States Army, won the Coupe d'Aviation Maritime Jacques Schneider (commonly called the Schneider Trophy) when he placed first flying his Curtiss R3C-2 float plane over a 217-mile (349 kilometer) course near Bay Shores on Chesapeake Bay, Maryland.
Doolittle's average speed for the seven laps around the triangular race course was 232.57 miles per hour (374.29 kilometers per hour). The second-place airplane, a Gloster-Napier III flown by Captain Hubert Broad, averaged 199.16 miles per hour (320.52 kilometers per hour).
Doolittle also set two Fédération Aéronautique Internationale (FAI) world records during the race: World Record for Speed Over 100 Kilometers, with an average speed of 377.83 kilometers per hour (234.77 miles per hour);¹  World Record for Speed Over 200 Kilometers, 377.16 kilometers per hour (234.36 miles per hour).²  On the following day, Doolittle set a third FAI record: World Record for Speed Over a 3 Kilometer Course, 395.5 kilometers per hour (245.75 miles per hour).³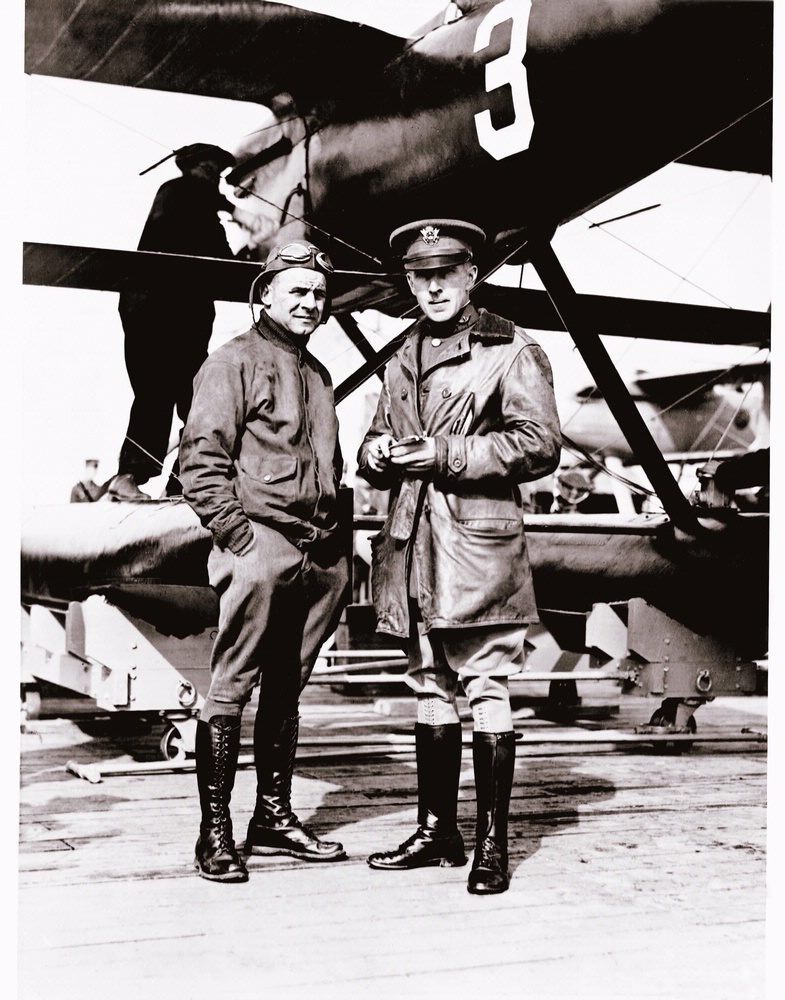 A contemporary news article commented on Jimmy Doolittle's performance: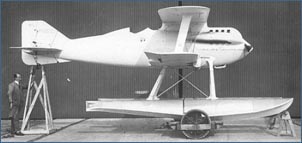 ". . . according to reports Lieut. Doolittle's cornering was superb, and must have been to a great extent responsible for the excellent performance. Reports from America—coming, it is thought, from a reliable source—indicate that one particular engine out of the 12 built for the Pulitzer and Schneider Trophy races proved exceptionally good, as will often happen in a batch of engines, and it is believed that this engine was fitted in Doolittle's Curtiss-Army Racer. This fact, taken in conjunction with the masterly handling of the machine, would seem to account for the wholly unexpected average speed maintained, which was, of course, far and away ahead of the speeds of the British and Italian competitors."
—FLIGHT, The Aircraft Engineer & Airships, No. 879 (No. 44, Vol. XVII.) October 29, 1923 at Page 703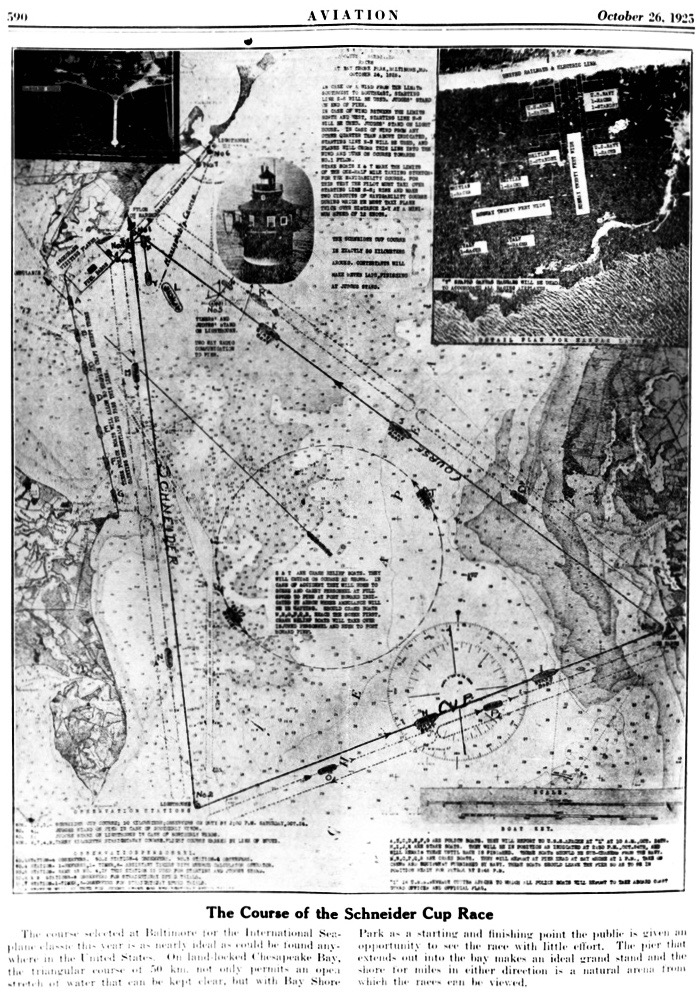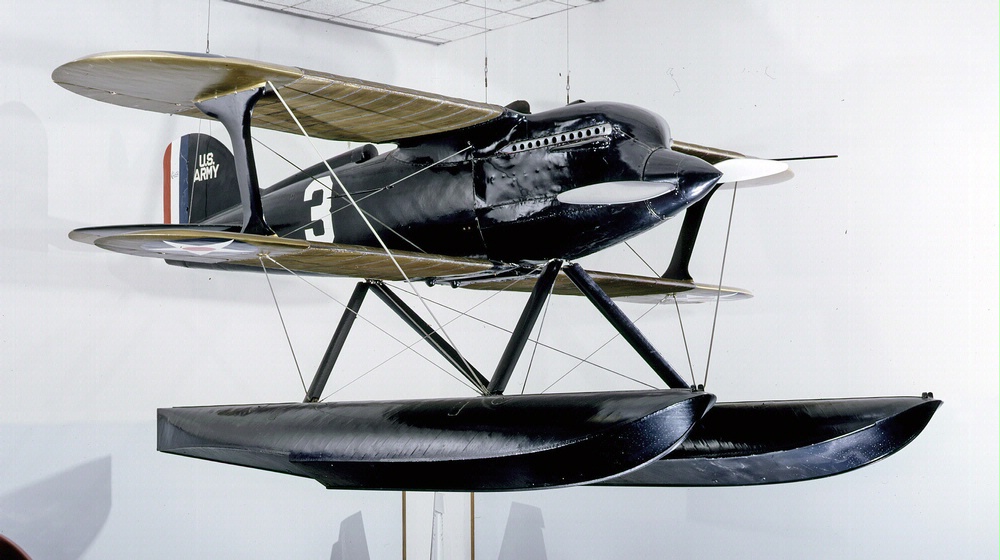 The R3C-2 was a single-engine, single-seat, single-bay biplane, equipped with pontoons for taking off and landing on water. It was built especially for air racing. Two R3Cs were built for the United States Navy and one for the Army. (The Army aircraft is identified by a Navy Bureau of Aeronautics serial number ("Bu. No.") A-7054. It does not seem to have been assigned an Air Service serial number.) The airplane and its V-1400 engine were both built by the Curtiss Aeroplane and Motor Company, which had been founded by Glenn Hammond Curtiss. The R3C-2 was converted from the R3C-1, the land plane configuration which had been flown by Lieutenant Cyrus Bettis, AS, USA, to win the Pulitzer Trophy Race just two weeks earlier.
The RC3-2 is 22 feet long (6.706 meters), an increase of 2 feet, 3.5 inches (0.698 meters) over the R3C-1 configuration, resulting from the replacement of the fixed wheeled landing gear with the single-step pontoons. The upper wing span is 22 feet (6.706 meters), with a chord of 4 feet, 8¼ inches (1.429 meters). The lower wing span is 20 feet (6.096 meters) with a chord of 3 feet, 3¾ inches (1.010 meters).  Weight empty was 2,135 pounds (968 kilograms) and maximum takeoff weight was 2,738 pounds (1,242 kilograms).
Constructed of wood, the fuselage has four ash longerons and seven birch vertical bulkheads. The framework is covered with two layers of 2-inch (51 millimeter) wide, 3/32-inch (2.38 millimeter) thick spruce strips. These were placed on a 45° diagonal from the fuselage horizontal centerline, with the second layer at 90° to the first. These veneer strips were glued and tacked to the frame. The fuselage was then covered with doped fabric. The wings and tail surfaces are also of wood, with spruce ribs and a covering of spruce strips.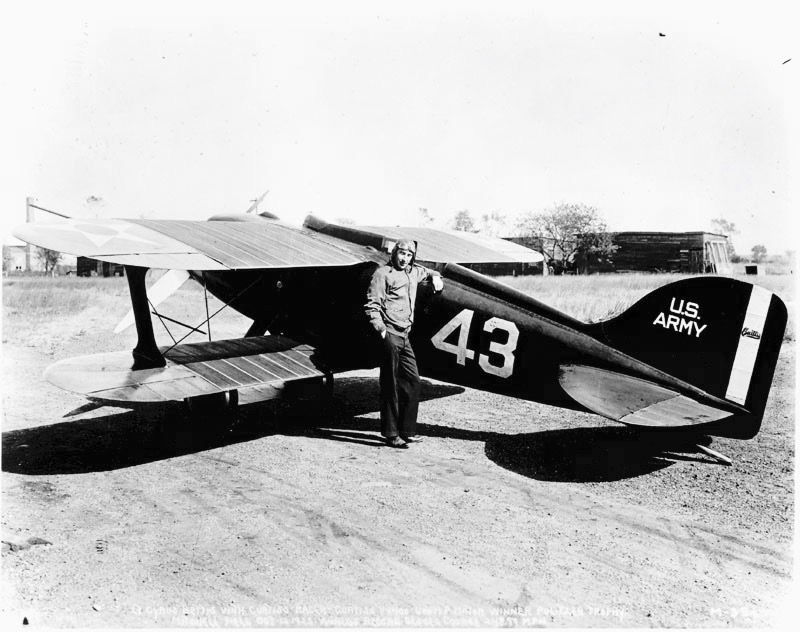 The single-bay wings are wire braced and contain surface radiators made of thin brass sheeting. The radiators contained 12 gallons (45.4 liters) of water, circulating at a rate of 75 gallons (283.9 liters) per minute. By using surface radiators to cool the engine, aerodynamic drag was reduced.
The Curtiss V-1400 engine was developed from the earlier Curtiss D-12. It was a water-cooled, normally aspirated, 1,399.91-cubic-inch-displacement (22.940 liter), dual overhead cam (DOHC) 60° V-12, with a compression ratio of 5.5:1. The V-1400 was rated at 510 horsepower at 2,100 r.p.m., and could produce 619 horsepower at 2,500 r.p.m. It was a direct-drive engine and turned a two-bladed duralumin fixed-pitch propeller with a diameter of 7 feet, 8 inches (2.337 meters). The propeller was designed by Sylvanus Albert Reed, Ph.D. The V-1400 engine weighed 660 pounds (299 kilograms).
The R3C-2 had a fuel capacity of 27 gallons (102 liters). Its range was 290 miles (467 kilometers).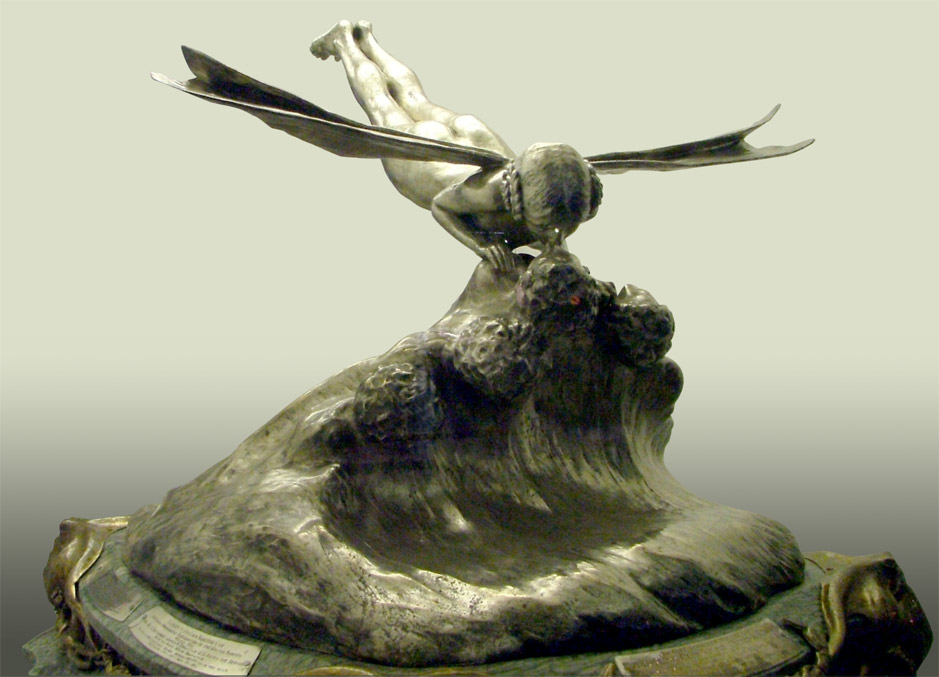 Jimmy Doolittle was one of America's foremost pioneering aviators. He set many records, won air races, tested and developed new flying equipment and techniques.
He was a highly-educated military officer, having earned his Bachelor of Arts from the University of California Berkeley School of Mines, and M.S and D.Sc. degrees in Aeronautical Engineering from the Massachusetts Institute of Technology.
During World War II, Colonel Doolittle planned and led the famous Halsey-Doolittle Raid against Japan, 18 April 1942, for which he was awarded the Medal of Honor.
As a brigadier general, he commanded 12th Air Force in North Africa. Promoted to major general, he was given command of the 15th Air Force in the Mediterranean Theater, and commanded 8th Air Force as a lieutenant general, 1943–1945.
After the war, Lieutenant General Doolittle was placed on the inactive list. On 4 April 1985, by Act of Congress, James H. Doolittle was promoted to General. General Doolittle is the only person to have been awarded both the Congressional Medal of Honor and the Presidential Medal of Freedom.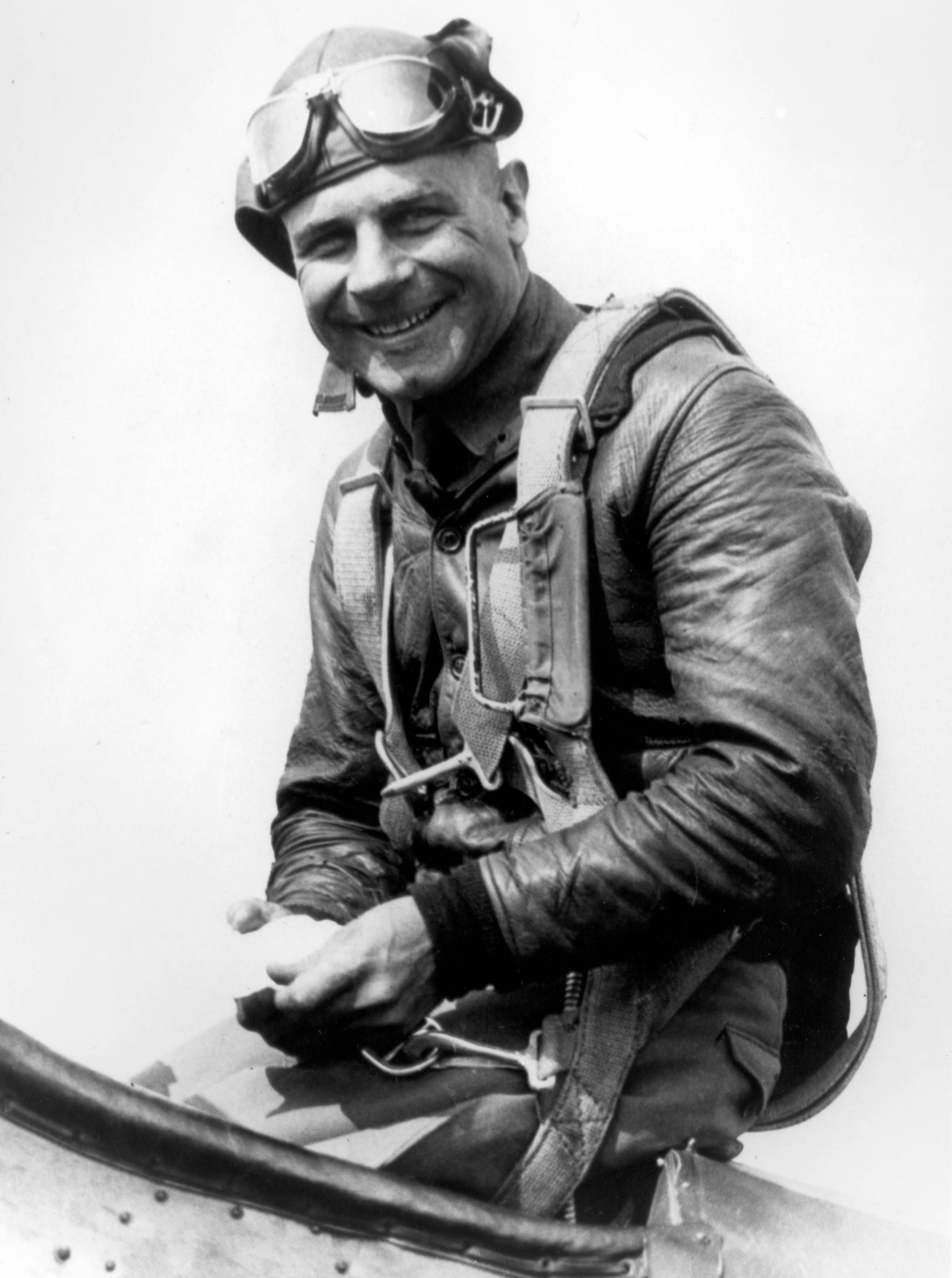 ¹ FAI Record File Number 11866
² FAI Record File Number 11867
³ FAI Record File Number 11868
© 2018, Bryan R. Swopes