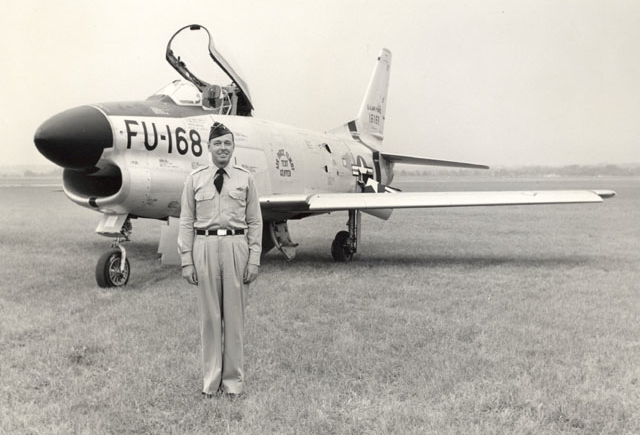 2 September 1953: Colonel J. Stanley Holtoner, U.S. Air Force, flew a production North American Aviation F-86D-35-NA Sabre, serial number 51-6168, to a Fédération Aéronautique Internationale (FAI) World Speed Record over a 100 kilometer course at Vandalia, Ohio, averaging 1,110.75 kilometers per hour (690.188 miles per hour).¹ Colonel Holtoner was the commanding officer of the Air Force Flight Test Center, Edwards Air Force Base, California. He was awarded the Thompson Trophy.
On the previous day, Captain Harold E. Collins flew another F-86D Sabre, 51-6145, setting an FAI World Speed Record over a 15 kilometer straight course of 1,139.219 kilometers per hour (707.878 miles per hour).²
The F-86D was an all-weather interceptor developed from North American Aviation F-86 Sabre day fighter. It was the first single-seat interceptor, and it used a very sophisticated—for its time—electronic fire control system. It was equipped with search radar and armed with twenty-four unguided 2.75-inch (70 millimeter) Mk 4 Folding-Fin Aerial Rockets (FFAR) rockets carried in a retractable tray in its belly. The rockets could be fired in salvos of 6, 12 or 24. They had a 6 pound (2.7 kilogram) high explosive warhead and used a proximity fuse.
The F-86D was larger than the F-86A, E and F fighters, with a longer and  wider fuselage. It was also considerably heavier. The day fighter's sliding canopy was replaced with a hinged "clamshell" canopy. A large, streamlined radome was above the reshaped engine intake.
The F-86D Sabre was 40 feet, 3¼ inches (12.275 meters) long with a wingspan of 37 feet, 1½ inches (11.316 meters), and overal height of 15 feet, 0 inches (4.572 meters). The first production variant, F-86D-1-NA, had an empty weight of 13,677 pounds (6,204 kilograms) and gross weight of 16,292 pounds (7,390 kilograms).
The F-86D was equipped with a General Electric J47-GE-17 turbojet engine, rated at 5,425 pounds of thrust, or 7,500 pounds with afterburner. (Aircraft completed after 1954 were equipped with a J47-GE-33.) It had a top speed of 692 miles per hour (1,114 kilometers per hour) at Sea Level (0.909 Mach).
The F-86D had a range of 330 miles (531 kilometers) and a service ceiling of 49,750 feet (15,164 meters). Its rate of climb was 12,150 feet per minute (61.7 meters per second).
Between December 1949 and September 1954, 2,505 F-86D Sabres (sometimes called the "Sabre Dog") were built by North American Aviation. There were many variants ("block numbers") and by 1955, almost all the D-models had been returned to maintenance depots or the manufacturer for standardization. 981 of these aircraft were modified to a new F-86L standard. The last F-86D was removed from U.S. Air Force service in 1961.
After its service with the United States Air Force, F-86D 51-6168 was transferred to the Greek Air Force. In 2009, it was photographed, stripped and sitting on its belly, at Agrinion Airport (AGQ), Greece.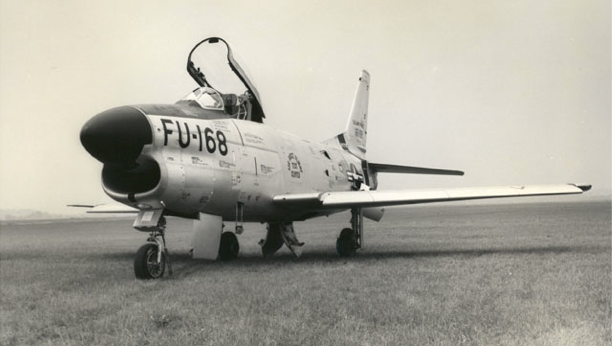 ¹ FAI Record File Number 10428
² FAI Record File Number 8868
© 2017, Bryan R. Swopes
by