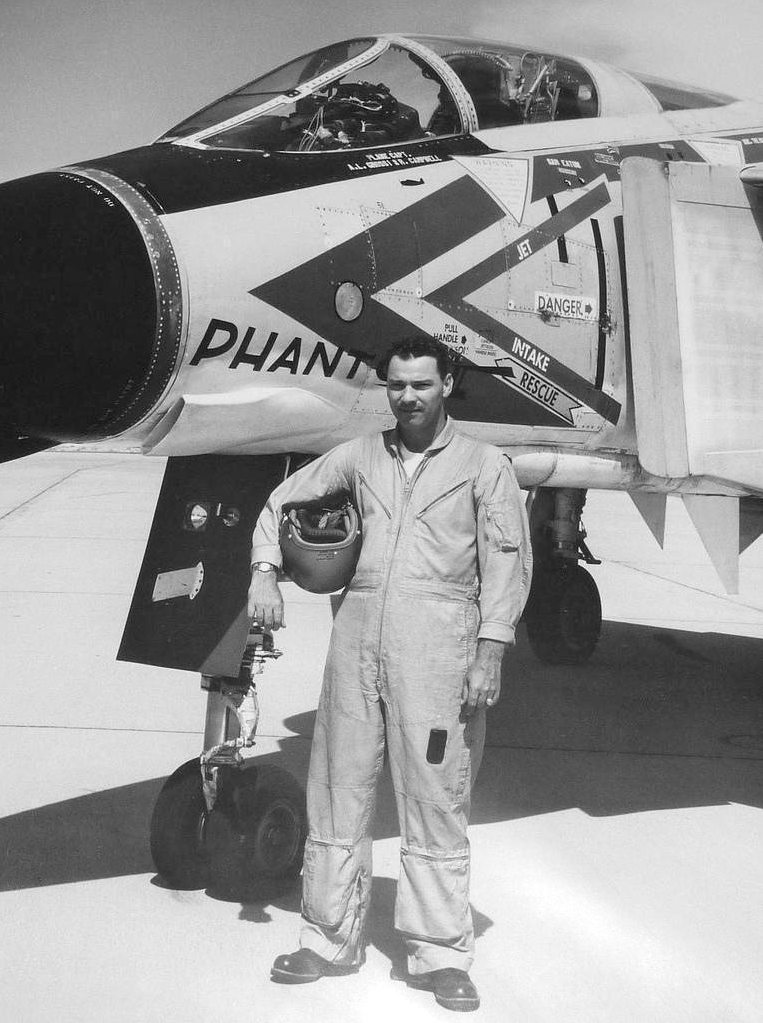 25 September 1960: At Edwards Air Force Base, California, Commander John Franklin ("Jeff") Davis, United States Navy, flew a McDonnell F4H-1 Phantom II to a Fédération Aéronautique Internationale (FAI) World Record for Speed Over a Closed Circuit of 100 Kilometers Without Payload, averaging 2,237.37 kilometers per hour (1390.24 miles per hour).¹ Commander Davis flew the 62-mile circular course at an altitude of 45,000 feet (13,716 meters).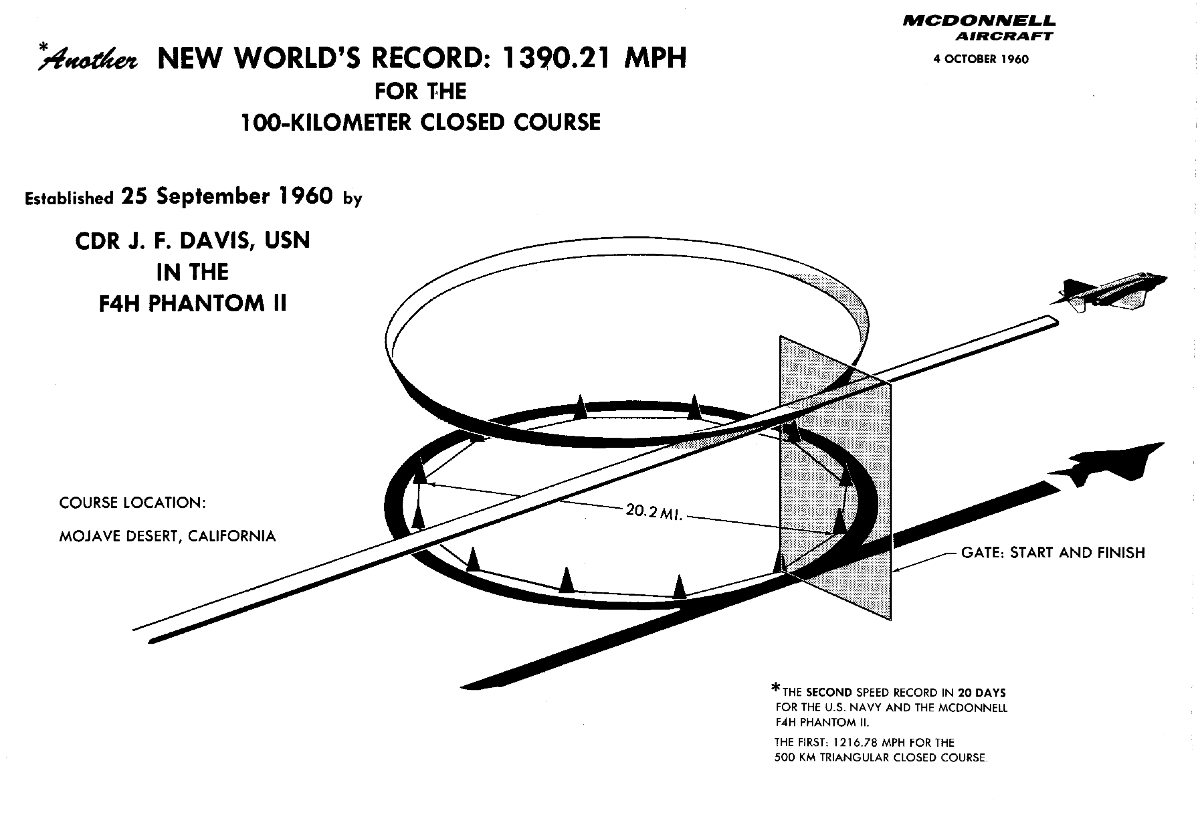 "On 25 September 1960 Davis flew the shorter, 100-kilometer course at 1,390.24 miles per hour, roughly Mach 2.2. He went around the course in a continuous circle, at 70° of bank and three g's. The heavy bank put the honeycomb structure of the right stabilator directly in the engine exhaust the entire way around, but it held on. These two flights demonstrated the brute strength of the airframe and the sophistication of the F4H navigation system around the curves."
— Engineering the F-4 Phantom II: parts into systems, by Glenn E. Bugos, Naval Institute Press, Annapolis, Maryland, 1996, Chapter 5 at Page 104.

John Franklin Davis was born at Chicago, Illinois, 4May 1921. He was the son of John E. Davis and Bernice B. McNair Davis.
On 11 July 1940, John Franklin Davis was admitted to the United States Naval Academy, Annapolis, Maryland, as a Midshipman. He graduated and was commissioned an Ensign, United States Navy, 9 June 1943. Ensign Davis served aboard the battleship USS New York (BB-34). He was promoted to Lieutenant (junior grade), 1 September 1944. He was promoted to Lieutenant, 1 April 1946.
Also in 1946, Lieutenant Davis qualified as a Naval Aviator. He was assigned as a pilot VF-74 aboard USS Midway (CVB-41). During the early 1950s, Lieutenant Davis served as operations officer for VF-191 aboard USS Oriskany (CVA-34). The squadron was equipped with the swept-wing Grumman F9F-6 Cougar. He then commanded VF-191, flying the Chance Vought F8U Crusader. Commander Davis was then assigned to the Bureau of Weapons as project officer for the McDonnell F4H Phantom II.
Following that assignment, Commander Davis was selected as executive officer of the Midway-class aircraft carrier, USS Coral Sea (CVA-43).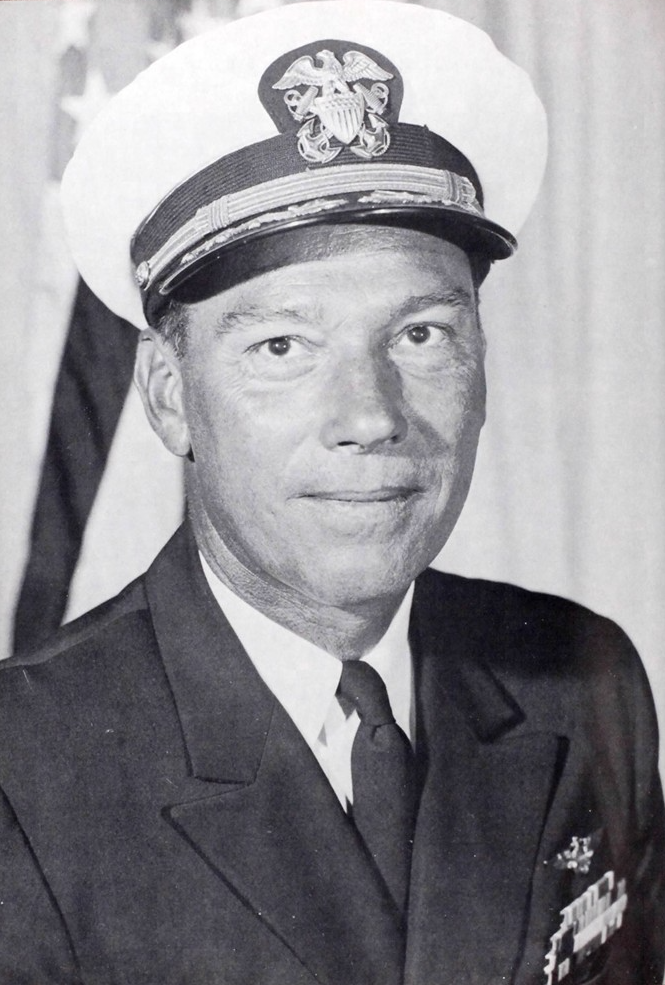 United States Navy aircraft carriers are traditionally commanded by Naval Aviators, but they usually are required to have experience commanding a "deep-draft" ship. Early in his career, Captain Davis had served aboard the 27,000-ton USS New York. He was given command of the Haskell-class attack transport USS Talladega (APA-208) from 10 April 1965 through 1966. From 30 September 1968 to 15 November 1969, Captain Davis commanded the supercarrier USS Kitty Hawk (CV-63) during combat operations in Southeast Asia.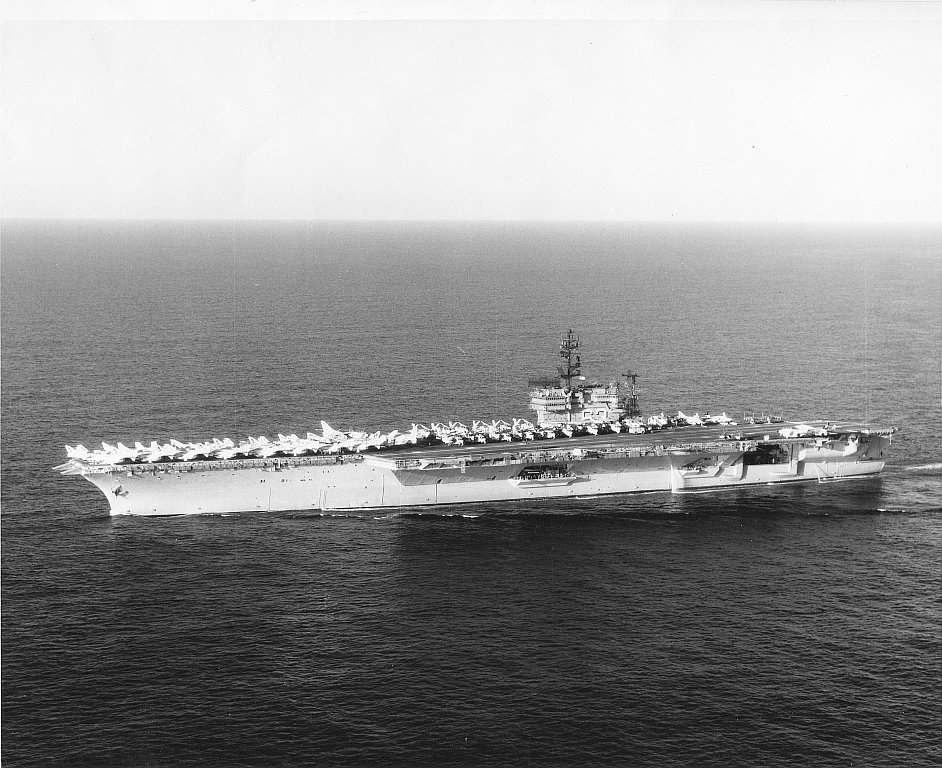 Captain Davis was married to the former Miss Bonnie Adair of Bay St. Louis, Mississippi. They had six children.
Captain John Franklin Davis, United States Navy (Retired), died at Marrero, Louisiana, 16 May 1993. His ashes were spread at sea from his last command, USS Kitty Hawk.
¹ FAI Record File Number 8898
© 2017, Bryan R. Swopes