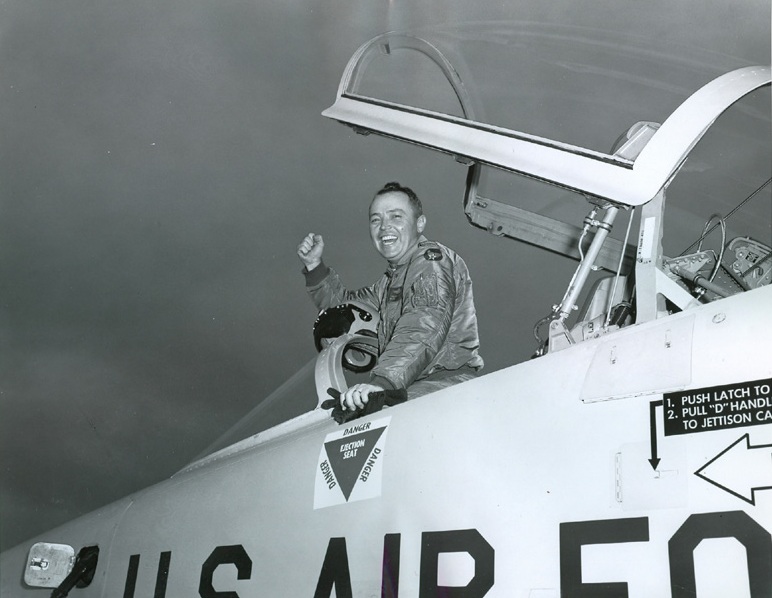 18 February 1962: At Edwards Air Force Base, California, Major Walter Fletcher Daniel set four Fédération Aéronautique Internationale (FAI) time-to-altitude records with a Northrop T-38A-40-NO Talon, serial number 61-0849.
The supersonic trainer reached 3,000 meters (9,843 feet) in 35.624 seconds ¹; 6,000 meters (19,685 feet) in 51.429 seconds ²; 9,000 meters (29,528 feet) in 1 minute, 04.758 seconds ³; and 12,000 meters (39,370 feet) in 1 minute, 35.610 seconds ⁴.
The Northrop T-38A Talon is a two-place, twin-engine jet trainer capable of supersonic speed. It is 46 feet, 4 inches (14.122 meters) long with a wingspan of 25 feet, 3 inches (7.696 meters) and overall height of 12 feet, 10 inches (3.912 meters). The trainer's empty weight is 7,200 pounds (3,266 kilograms) and the maximum takeoff weight is 12,093 pounds (5,485 kilograms).
The T-38A is powered by two General Electric J85-GE-5 turbojet engines. The J85 is a single-shaft axial-flow turbojet engine with an 8-stage compressor section and 2-stage turbine. The J85-GE-5 is rated at 2,680 pounds of thrust (11.921 kilonewtons), and 3,850 pounds (17.126 kilonewtons) with afterburner. It is 108.1 inches (2.746 meters) long, 22.0 inches (0.559 meters) in diameter and weighs 584 pounds (265 kilograms).
It has a maximum speed of Mach 1.08 (822 miles per hour, 1,323 kilometers per hour) at Sea Level. The Talon's service ceiling of 55,000 feet (16,764 meters) and it has a maximum range of 1,093 miles (1,759 kilometers).
In production from 1961 to 1972, Northrop has produced nearly 1,200 T-38s. As of January 2014, the U.S. Air Force had 546 T-38A Talons in the active inventory. It also remains in service with the U.S. Navy, and the National Aeronautics and Space Administration.
The record-setting T-38, 61-0849, was retired to The Boneyard at Davis-Monthan Air Force Base, Tucson, Arizona, in 1993. It was later removed from storage and assigned to the 415th Flight Test Flight, Randolph Air Force Base, Texas, where it remained until March 2007. It is now on display at the Air Force Flight Test Museum, Edwards Air Force Base, California.
Walter Fletcher Daniel was born in 1925. He entered the U.S. Army Air Corps in 1943 and was trained as a fighter pilot. He was assigned to fly North American P-51 Mustangs and Republic P-47 Thunderbolts in post-war Germany. During the Korean War he served as a reconnaissance pilot of RF-51s and RF-80 Shooting Stars.
Walter Daniel graduated from the U.S. Air Force Experimental Test Pilot School in 1954 and was assigned to Wright-Patterson Air Force Base and later Edwards Air Force Base, where he was involved in flight testing all of the Century-series fighters. (F-100–F-106) It was while at Edwards that he flew the T-38A to set the time-to-altitude records.
By 1965, Colonel Daniel was the Chief of Flight Test Operations for the Lockheed YF-12A and SR-71A Blackbird Mach 3 aircraft. He set five world speed records and an altitude record and was awarded the Mackay Trophy.
After attending the Air War College, Daniel entered combat crew training in the McDonnell F-4 and RF-4 Phantom II, and was appointed Deputy Commander for Operations of the 432d Tactical Reconnaissance Wing at Udorn RTAFB. He flew 70 combat missions over North Vietnam.
In 1971 Colonel Daniel assumed command of the 75th Tactical Reconnaissance Wing (soon redesignated 67th TRW). He was promoted to brigadier general in 1972 and served as Inspector General, Air Force Systems Command.
Walter Fletcher Daniel was a member of the Society of Experimental Test Pilots. A command pilot, he had flown over 6,000 hours in more than 75 different aircraft types. General Daniel died 13 September 1974 at the age of 49 years. He is buried at the Arlington National Cemetery.
¹ FAI Record File Number 8718
² FAI Record File Number 8604
³ FAI Record File Number 8599
⁴ FAI Record File Number 8719
© 2017, Bryan R. Swopes
by