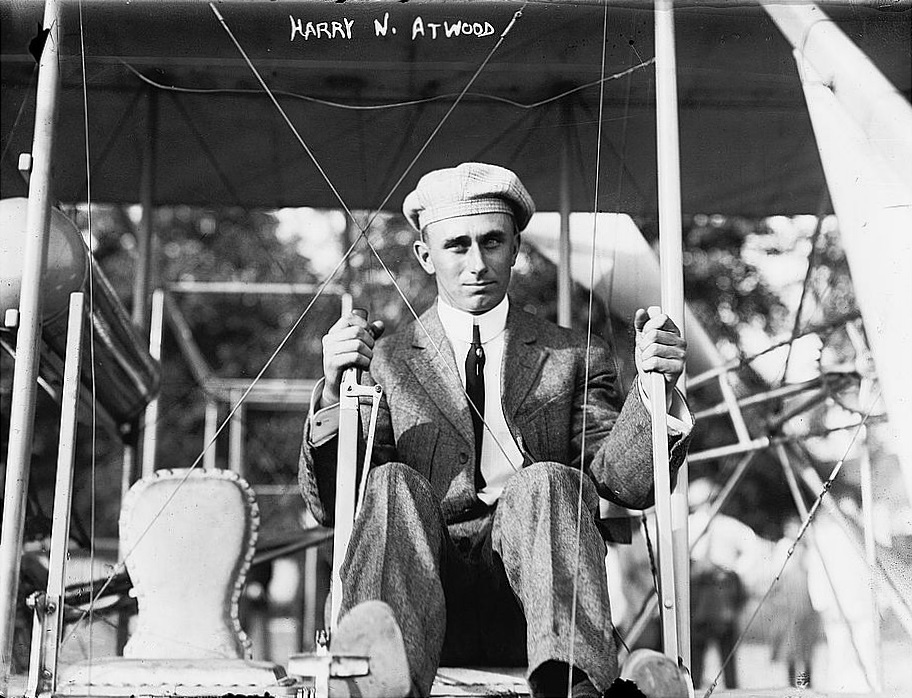 14 July 1911: Three months after learning to fly at the Wright Flying School, Huffman Prairie, Ohio, Harry Nelson Atwood flew from Boston to Washington, D.C., a distance of 576 miles (927 kilometers) over 14 days, and completed the final leg from College Park, Maryland, by landing his Wright Model B airplane on the South Lawn of the White House. President William Howard Taft and his secretary, Charles Dewey Hilles (former Assistant Secretary of the Treasury), were watching from the south portico.
President Taft presented Atwood with a gold medal from the Aero Club of Washington. Atwood's mother was also present at the ceremony.
Atwood's airplane was a Wright Model B, which he had named Moth. The Wright Model B was a two-place, single-engine biplane. The elevator was at the rear, rather than in canard position as had been the earlier Wright airplanes. (This configuration was known as "headless.") Roll control was through the Wright Brother's patented wing-warping system. It was 26 feet (7.925 meters) long with a wingspan of 39 feet (11.887 meters). It weighed 800 pounds (363 kilograms) empty and had a gross weight of 1,250 pounds (567 kilograms).
The Model B was powered by a single water-cooled, fuel-injected, 240.528 cubic-inch-displacement (3.942 liter) Wright vertical overhead-valve inline four-cylinder gasoline engine with 2 valves per cylinder and a compression ratio of 4.165:1. It produced 32 horsepower at 1,310 r.p.m. During three years of production (1908–1911) Wright "4-40" engines were built that operated from 1,325 to 1,500 r.p.m. Power output ranged from 28 to 40 horsepower. These engines weighed from 160 to 180 pounds (72.6–81.6 kilograms).
Two 8½ foot (2.591 meters) diameter, two-bladed, counter-rotating propellers, driven by a chain drive, are mounted behind the wings in pusher configuration. They turned 445 r.p.m.
The Wright Model B had a maximum speed of approximately 40 miles per hour (64 kilometers per hour) and its range was 110 miles (177 kilometers).
Approximately 100 Model B aeroplanes were built by the Wrights and under license by Burgess from 1910 to 1914. Three are known to exist.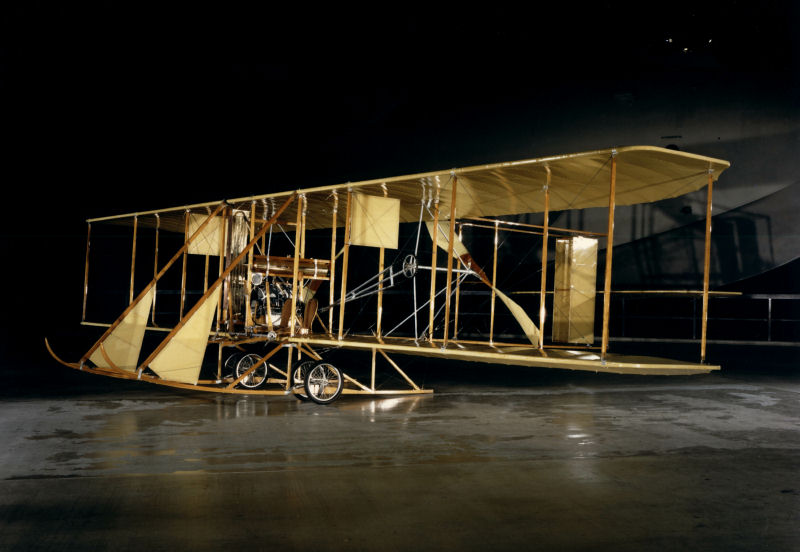 Harry Nelson Atwood was born in the family home at Roxbury, a suburb of Boston, Massachusetts, 15 November 1883. He was the first of two children of Samuel Shurtleff Atwood, a coal dealer, and Florence Nelson Atwood, of Nantucket.
Harry Atwood attended the Massachussetts Instititute of Technology at Cambridge, Massachussetts, from 1903 to 1908, where he studied electrical engineering and was a member of the Phi Beta Epsilon (ΦΒΕ) fraternity.
He married his first wife, Sarah Matilda Jenkins at Lynn, Mass, 7 February 1906. They would have two children, but divorced after several years. On 2 March 1914, Atwood married Ruth Satherwaite at Reading, Pennsylvania. After Ruth Atwood died in 1920, he married her sister-in-law, Helen Louise Kestner Sattherwaite, widow of Ruth's brother, 16 June 1922. They were soon divorced, and in May 1923, Helen Kestner Atwood traveled to Europe as a Red Cross social worker. Atwood next married Mary E. Dalton, who died soon after their son was born. Atwood's fifth wife was Nellie Dow. They had a daughter, and remained together until Atwood's death.
Atwood remained in the aviation industry as an inventor and research scientist. He died at District Memorial Hospital, Valleytown Township, Andrews, North Carolina, 14 July 1967, 56 years to the day after his landing on the White House lawn. Harry Nelson Atwood was buried at the Hanging Dog Baptist Church Cemetery, Murphy, North Carolina.
© 2017, Bryan R. Swopes