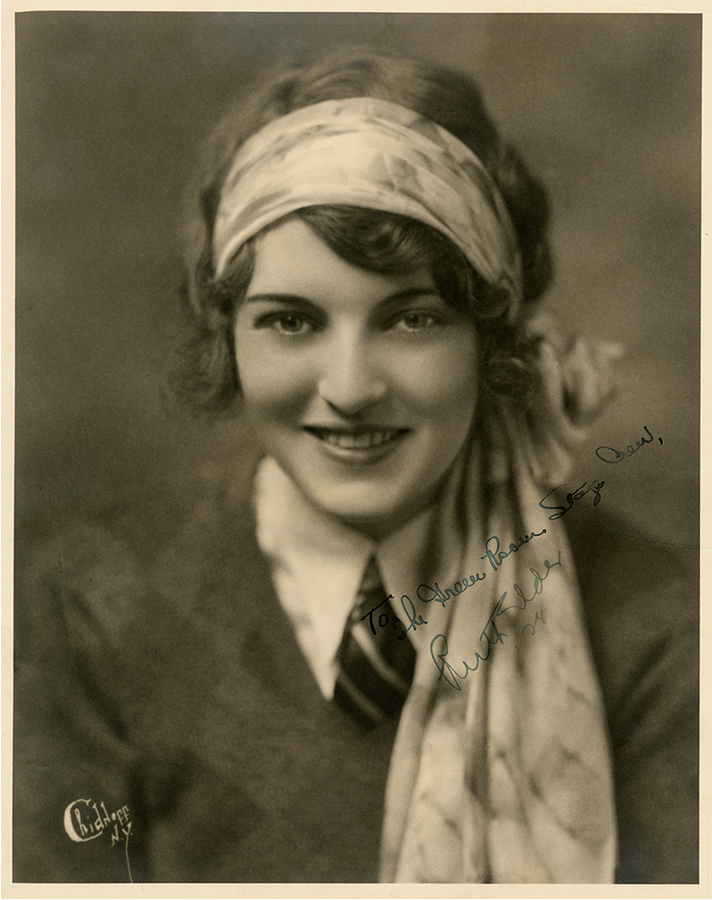 11 October 1927: After a week's wait for suitable weather, at 5:04 p.m. Eastern Standard Time (22:04 UTC), Ruth Elder and George William Haldeman departed Roosevelt Field, Long Island, New York, aboard a Stinson SM-1 Detroiter named American Girl. Their destination was Le Bourget Airport, Paris, France, across the North Atlantic Ocean. Rather than following the Great Circle Route flown by Charles A. Lindbergh five months earlier, Elder and Haldeman planned to follow shipping lanes. They would fly east for 1,240 miles (1,996 kilometers) and then turn to the northeast toward Paris. The flight was estimated to cover 3,600 miles (5,794 kilometers). The airplane carried enough fuel for it to remain airborne for 44 hours.
Ruth Elder was the first woman to attempt a transatlantic flight.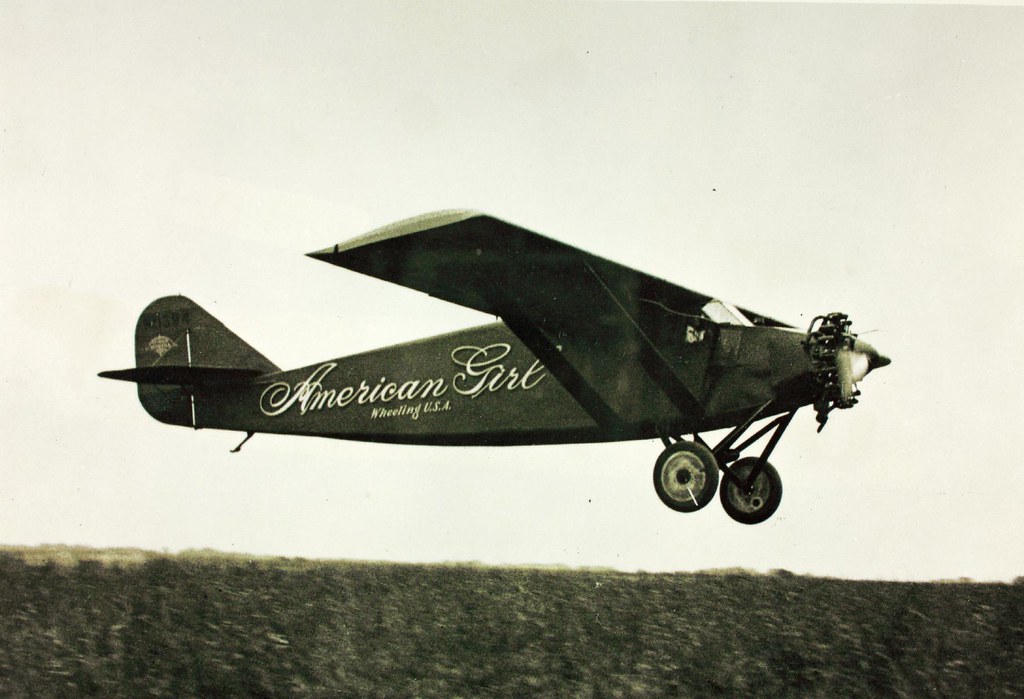 About an hour after takeoff, they encountered a storm system, which would take them south of their intended course. It would be another eight hours before they cleared the storm. At 10:30 p.m. on the 11th, the steamship S.S. American Banker reported sighting an airplane at N. 41.00, W. 65.04, flying on a course of 080°.
The following morning, 12 October, an oil line on the airplane's Wright Whirlwind engine cracked. Losing oil, it was unlikely that they would make landfall on the eastern side of the Atlantic. At about 10:30 a.m., they saw a tanker, S.S. Barendrecht, then approximately 325 miles (523 kilometers) northeast of the Azores, and ditched in the ocean nearby.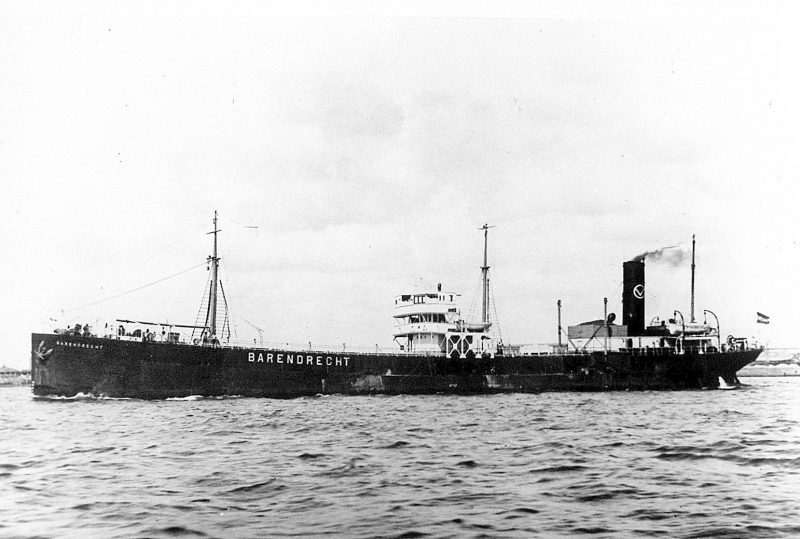 Elder and Haldeman were rescued, uninjured. The ship's crew made an attempt to lift the airplane from the water, but it caught fire and had to be released.
When reporting the rescue by radio, the position of the Barendrecht was given as "N. 43.34, W. 21.39"
Barendrecht changed course and took the pair to the Azores. They were later flown to Spain, and finally arrived in Paris on 28 October.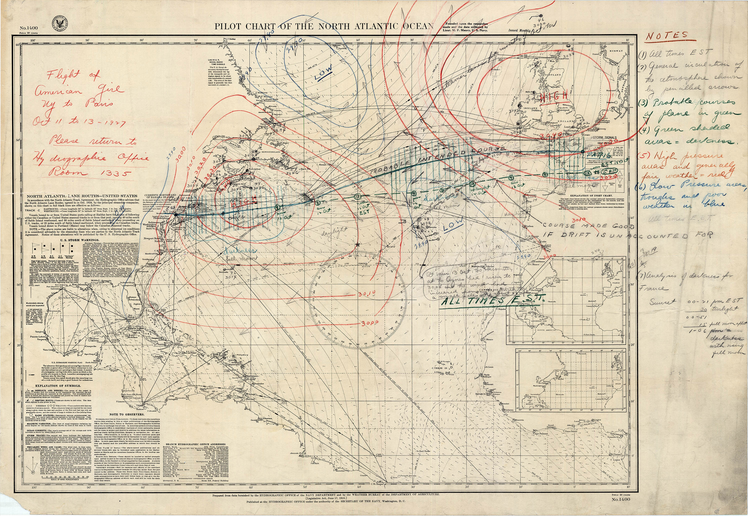 Ruth Elder was born 8 September 1902 ¹ at Anniston, Alabama. She was the fourth of five children of James Oscar Elder, a farmer, and Sarah J. McClellan Elder. She grew up in Anniston, attending the Quintard Avenue Public School. After high school she studied stenography. She later worked in a dental office in Lakeland, Florida.
In Lakeland, she met George Haldeman, a pilot, who in 1925 began teaching her to fly. Soon they were flying stunts at carnivals and county fairs. Miss Elder's U.S. private pilot license number was 675. When she passed a required medical examination, the U.S. Army medical officer said that she was "the most perfect physical specimen of  the American girl I have ever seen." Newspapers called her the "Miss America of the Air."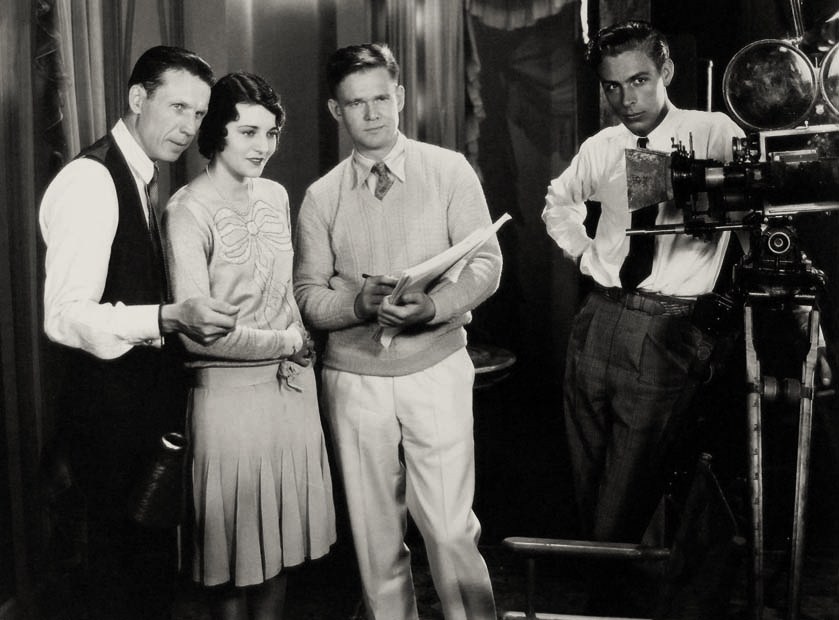 Following the attempted transatlantic flight, Miss Elder went to California where she appeared in two silent movies. "Moran of the Marines" was released one year after her takeoff from Paris, 13 October 1928. The film starred Richard Dix as "Michael Moran" and Elder portrayed "Vivian Marshall." The second film "The Winged Horseman," was released about six months later. It starred Hoot Gibson as "Skyball Smith," and Elder as "Joby Hobson." For these two movies, Elder was paid about $250,000. In an interview in the mid-1930s, she said, "The money slipped through my fingers and soon there was nothing."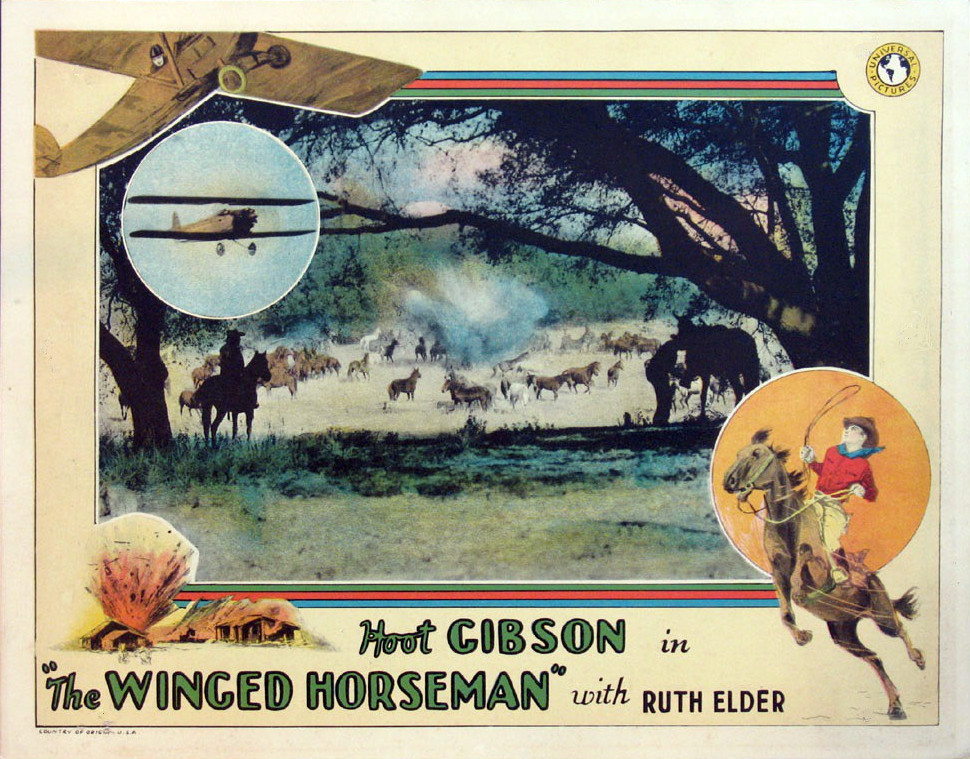 Ruth Elder was married six times. In the 1950s she was employed as a secretary for Howard Hughes' aircraft company.
She died in San Francisco, California, 9 October 1977. Her remains were cremated and the ashes were spread over the ocean.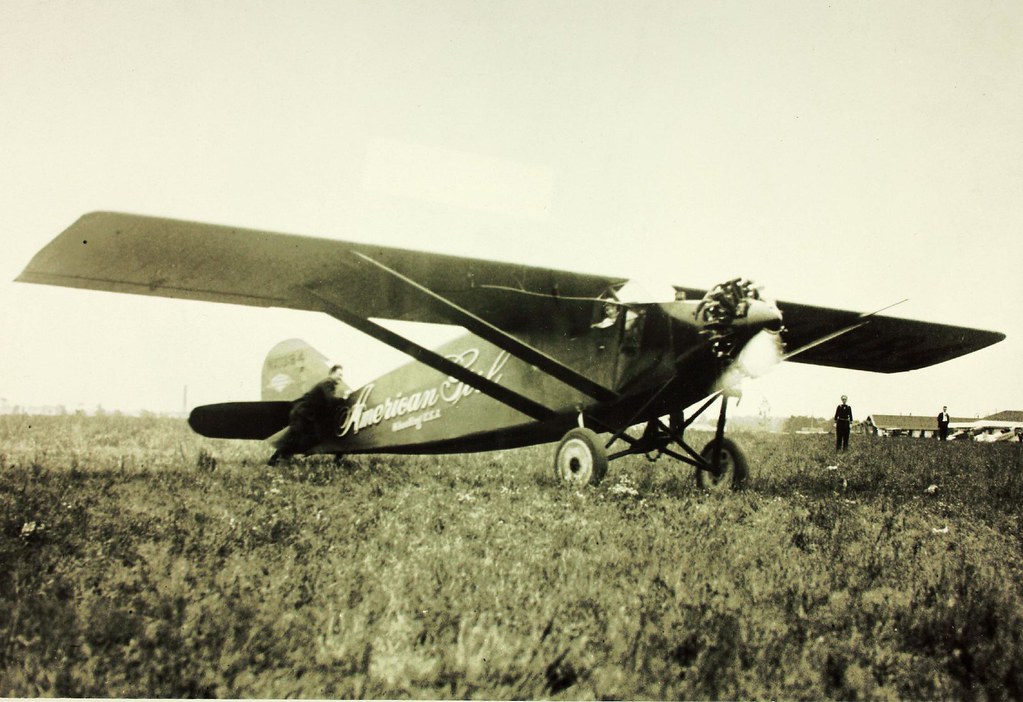 The Stinson SM-1 was a six-place, single-engine, high-wing strut-braced monoplane, derived from the company's earlier SB-1 Detroiter biplane. It was built at the Stinson Aircraft Corporation factory in Northville, Michigan. Miss Elder's Stinson was serial number M-207. Modified with extra fuel tanks for the transatlantic flight, it was registered NX1384. The airplane was paid for by investor's from Wheeling, West Virginia. It was registered to Wheeling Aero Exhibitors Inc.
The SM-1 was 32 feet (9.754 meters) long with a wingspan of 45 feet, 10 inches (13.970 meters) and height of 8 feet, 3 inches (2.515 meters). The wing had a chord of 7 feet, 0 inches (2.134 meters) and an area of 292 square feet (21.13 square meters). It used a Stinson M-6 airfoil. The standard production airplane had an empty weight of 1,970 pounds (894 kilograms) and gross weight of 3,485 pounds (1,581 kilograms). The fuselage was built of welded chrome-moly steel tubing while the wing was built of wood spars and ribs. The airplane was covered with doped fabric. The angle of the vertical fin could be adjusted on the ground, and the horizontal stabilizer was adjustable in flight.
The first 36 SM-1s were powered by an air-cooled, normally-aspirated 787.26-cubic-inch-displacement (12.901 liter) Wright Aeronautical Corporation Model J-5C Whirlwind nine-cylinder radial engine, serial number 7331. This was a direct-drive engine with a compression ratio of 5.1:1.
The J-5 was built with a cylindrical cast aluminum crankcase and steel cylinder barrels with integral cooling fins. The cylinder head was cast aluminum with a hemispherical combustion chamber, which allowed larger valves and improved combustion efficiency. There were two valves per cylinder, actuated by pushrods and rocker arms.
The Wright J-5C was rated at 200 horsepower at 1,800 r.p.m., and 220 horsepower at 2,000 r.p.m. The engine was 2 feet, 10 inches (0.864 meters) long and 3 feet, 9 inches (1.143 meters) in diameter. It weighed 508 pounds (230.4 kilograms).
The Stinson SM-1 had a cruising speed of 105 miles per hour (169 kilometers per hour) and maximum speed of 122 miles per hour (196 kilometers per hour). Its ceiling was 14,000 feet (4,267 meters). With a fuel capacity of 90 gallons (341 liters), it had a range of 700 miles (1,127 kilometers).
Contemporary newspapers reported that American Girl weighed 5,680 pounds (2,576 kilograms) at takeoff and carried 520 gallons (1,968 liters) of gasoline.
The Stinson SM-1 sold for $12,000–12,500. More than 100 were built.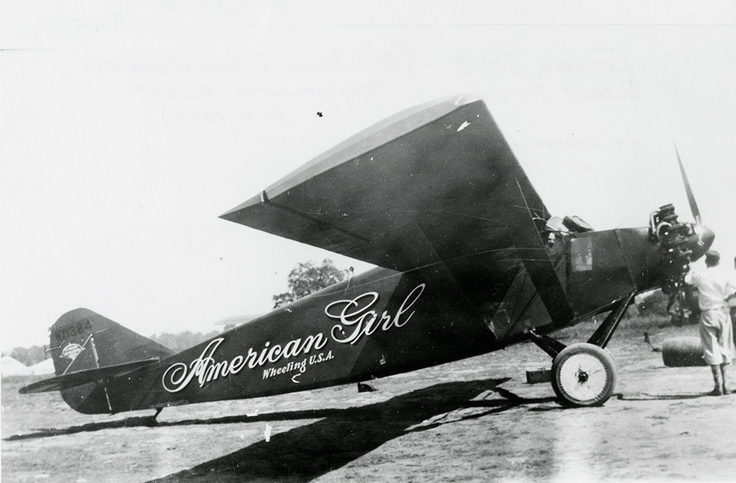 ¹ Sources vary as to Elder's year of birth, with most citing 1902. A 1910 U.S. Census form, dated 5 May 1910, lists her age as 7 years, supporting the 1902 date. The 1920 Census form, dated 2 January 1920, however, gives her age as 16, which suggests that she was born in 1903. A 12 October 1927 newspaper article gives her date of birth as "September 12, 1902." When she returned to the United States aboard S.S Aquitania after her unsuccessful transatlantic flight, the U.S. government form, LIST OF UNITED STATES CITIZENS, required by immigration officials at the port of entry (in this case, the Port of New York), gives Elder's date of birth as "Sept. 8th 1904." The following year, 1928, again returning from France, this time aboard S.S. France, her date of birth on the U.S. passenger entry form list her date of birth as "Sept.8-1904-Anniston-Alabama." She traveled from New York to Los Angeles aboard S.S. Pennsylvania in 1932, and her date of birth on the passenger list is given as "9/8/04." Arriving from Mexico aboard an airplane in 1933, her age is listed as "27," which would mean that she had been born in 1906.
© 2023, Bryan R. Swopes