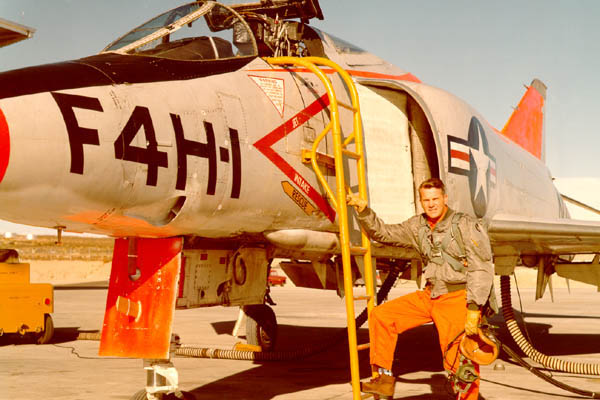 27 May 1958: At Lambert Field, St. Louis, Missouri, McDonnell Aircraft Corporation test pilot (and future company president) Robert C. Little made the first flight of the YF4H-1 prototype. The twin-engine Mach 2+ airplane was the first pre-production model of a new U.S. Navy fleet defense interceptor that would be developed into the legendary F-4 Phantom II fighter bomber.
The flight lasted 22 minutes. Little had planned to go supersonic but a leak in a pressurized hydraulic line caused him to leave the landing gear extended as a precaution, should the back-up hydralic system also have a problem. This limited the maximum speed of the prototype to 370 knots (426 kilometers per hour). A post-flight inspection found foreign-object damage to the starboard engine.
Initially designated XF4H-1 and assigned Bureau of Aeronautics serial number ("Bu. No.") 142259, the identifier was changed to YF4H-1. It had been in development for over five years based on a company proposal to the Navy.
The production F4H-1 Phantom II (redesignated F-4B Phantom II in 1962) was 58 feet, 3¾ inches (17.764 meters) long with a wingspan 38 feet, 5 inches (11.709 meters) and overall height of 16 feet, 3 inches (4.953 meters). It had an empty weight of 28,000 pounds (12,701 kilograms) and gross weight of 44,600 pounds (20,230 kilograms).
The YF4H-1 prototype was powered by two General Electric J79-GE-3A turbojet engines which produced 9,600 pounds of thrust, and 14,800 pounds of thrust with afterburner.  (These are the same engines used in the Lockheed F-104A Starfighter.) Production F4H-1 aircraft had an upgraded J79-GE-8 which was rated at 10,900 pounds of thrust, and 17,000 pounds of thrust with afterburner.
The F4H-1 (F-4B) had a maximum speed of 845 miles per hour (1,360 kilometers per hour) at Sea Level and 1,485 miles per hour (2,390 kilometers per hour) at 48,000 feet (14,630 meters meters). (Mach1.11 and Mach 2.25, respectively). The service ceiling was 62,000 feet (18,898 meters) and maximum range with external fuel was 2,300 miles (3,700 kilometers).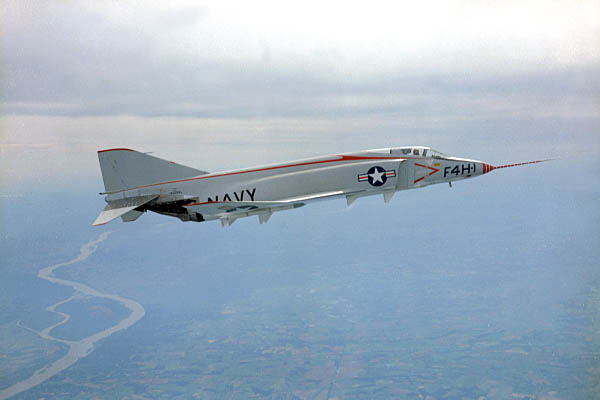 The second prototype YF4H-1, Bu. No. 142260, flown by Commander Larry E. Flint, Jr., USN, set a Fédération Aéronautique Internationale (FAI) World Record for Altitude, 6 December 1959, when it zoom-climbed to 30,040 meters (98,556 feet). 142260, flown by Lieutenant Colonel Robert B. Robinson, USMC, also set an FAI World Record for Speed over a Straight 15/25 Kilometer Course, averaging 2,585.425 kilometers per hour (1,606.509 miles per hour) on 22 November 1961. On 5 December 1961, the same Phantom set an FAI World Record for Altitude in Horizontal Flight at 20,252 meters (66,444 feet) with Commander George W. Ellis, USN, in the cockpit. On 3 April 1962, future astronaut Commander John Watts Young, USN, flew a production F4H-1 Phantom II to set an FAI World Record for Time to Climb to a Height of 25,000 meters (82,021 feet) of 3 minutes, 50.44 seconds.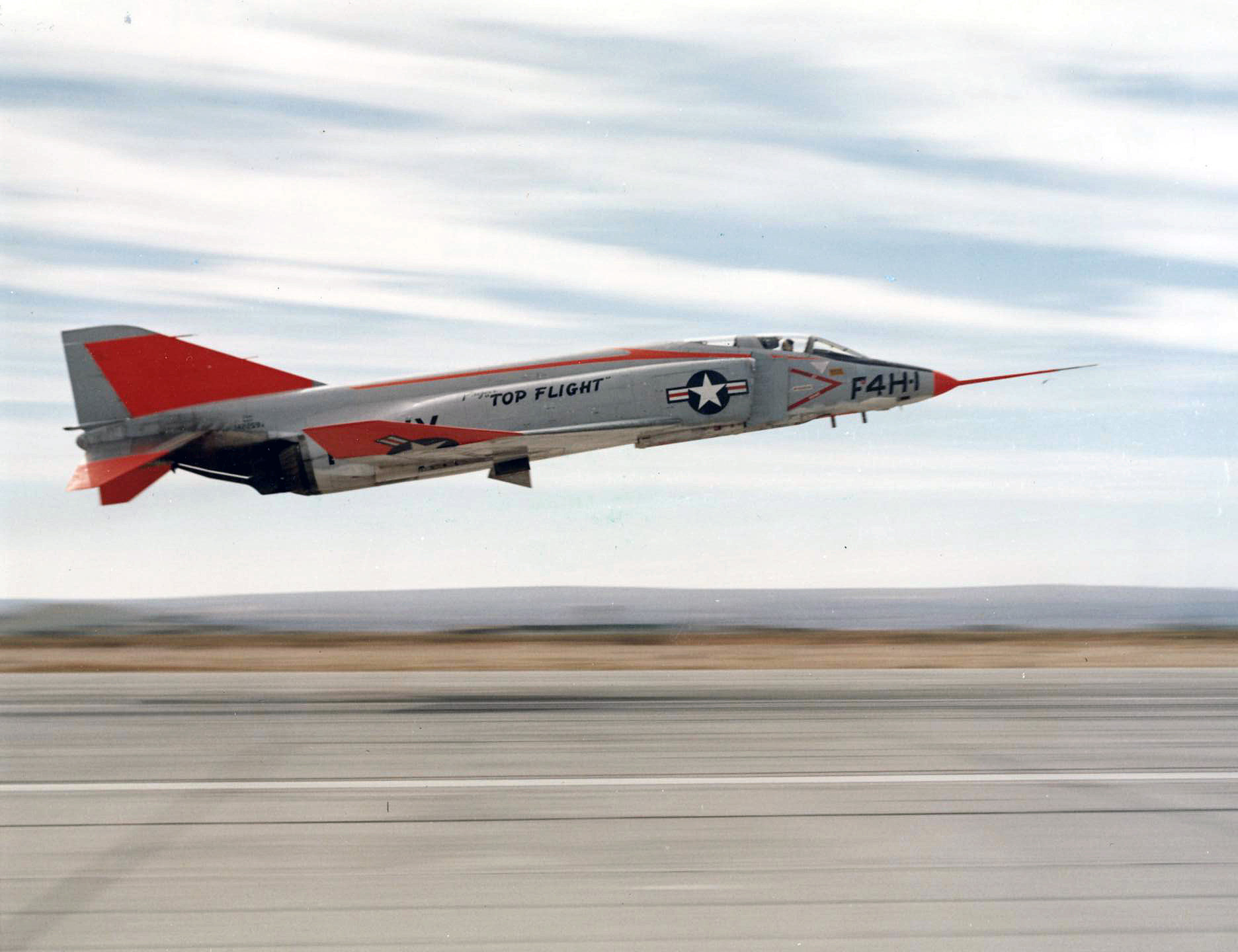 The F-4A through F-4D Phantoms were armed with four AIM-7 Sparrow radar-homing air-to-air missiles, and could carry additional Sparrows or AIM-9 Sidewinder infrared-homing missiles on pylons under the wings. Up to 16,000 pounds (7,257 kilograms) of bombs could be carried on five hardpoints.
McDonnell Aircraft built two YF4H-1 prototypes, followed by 45 F4H-1F (F-4A) Phantom IIs before the F-4B was introduced in 1961. 649 F-4Bs were produced. The initial U.S. Air Force variant was the F-110A Spectre (F-4C Phantom II). McDonnell Douglas delivered its last Phantom II, an F-4E-67-MC, on 25 October 1979. In 21 years, the company had built 5,057 Phantom IIs.
After 11 test flights at St. Louis, Bob Little flew the YF4H-1 west to Edwards Air Force Base in California where more detailed flight testing and evaluation took place. Eventually the airplane was returned to McDonnell where it continued as a test aircraft. On 21 October 1959, a failure of an engine access door led to a series of problems which resulted in the loss of the airplane and death of the pilot, Gerald "Zeke" Huelsbeck.
© 2016, Bryan R. Swopes
by