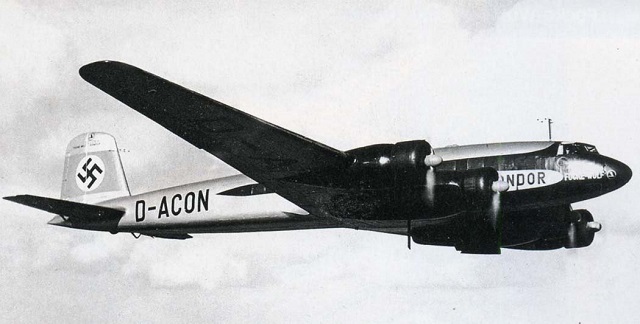 28–30 November 1938: The first prototype Focke-Wulf Fw 200 Condor, D-ACON, flew from Berlin, Germany, to Tokyo, Japan, to demonstrate the long-distance capabilities of the new civil airliner.
The Condor's flight crew was the same as that which had made a previous Berlin–New York transatlantic flight, 10–11 August 1938. Deutsche Luft Hansa Kapitän Alfred Henke, Hauptmann Rudolf Freiherr von Moreau, of the Luftwaffe, co-pilot; Paul Dierberg, flight engineer; Walter Kober, radio operator. Senior radio operator Georg Khone was an additional crew member. (He had originally been scheduled to make the transatlantic flight.) For this flight there  was a single passenger, verkaufsdirecktor (sales director) Heinz Junge.¹
The Condor took off from Flugplatz Berlin-Staaken at 3:53 p.m., on 28 November, and flew to Basra, Kingdom of  Iraq. The Great Circle distance between the two cities is 2,305 miles (3,710 kilometers)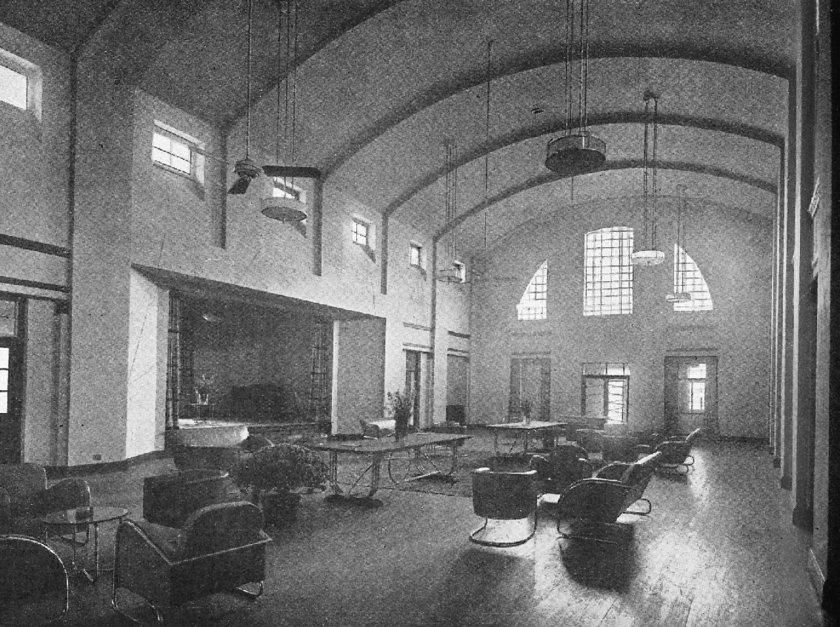 After refueling, the Fw 200 took off for its next destination, Karachi Air Port in the Sindh province of the British India (now, Pakistan). The distance for the second leg of the journey was 1,238 miles (1,993 kilometers).
From Karachi, Captain Henke and his crew flew on to the city of Hà Nội, in the Protectorate of Tonkin, Indochine française. The Great Circle distance for the third leg is 2,480 miles (3,991 kilometers).
The final segment was from Hanoi to Tokyo, Japan, a distance of 2,281 miles (3,671 kilometers). The Condor arrived at Tachikawa Airfield in the western part of Tokyo at 10:40 p.m., 30 November.
The total elapsed time for the journey was 46 hours, 18 minutes, 19 seconds. The actual flight time was 42 hours, 00 minutes. The Condor's average speed from Berlin to Tokyo was 198.308 kilometers per hour (123.223 miles per hour).
Captain Henke and his crew established a Fédération Aéronautique Internationale (FAI) World Record for Speed Over Courses for the journey from Berlin to Hanoi, with an average speed of 243.01 kilometers per hour (150.999 miles per hour).² The total elapsed time, Berlin–Hanoi, was 34 hours, 17 minutes, 27 seconds.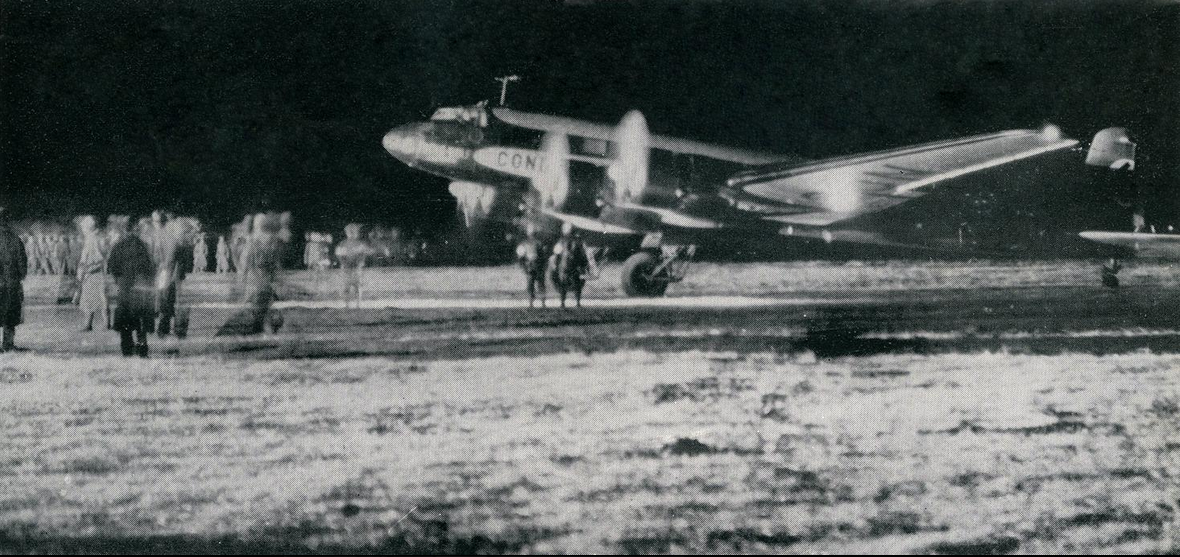 The Condor's crew was received by Emperor Hirohito.
The Japanese airline Nihon Koku Yuso Kabushiki Kaisha (NYKK) agreed to buy five Focke-Wulf Fw 200 airliners. The Imperial Japanese navy expressed interest in a maritime patrol version.
The Associated Press news agency reported:
Nazi Airmen Start Berlin to Tokyo Hop
     Berlin, Nov. 28—(AP)—A fast four-motored Focke-Wulf Condor plane took off today for Tokyo with a crew of five and one passenger, to show the orient, especially Japan, Germany's latest achievements in airplane building.
     With only three stops scheduled en route—at Basra, Iraq; Karachi, India, and Hanoi, French Indo-China—it was expected that the entire distance of 9,300 miles would be covered in from 50 to 55 hours.
     Lufthansa officials, however, declared no record would be sought. They said the flight was intended to return the visit of Japan's "Divine Wind," which flew here in April, 1937.

     But no secret was made of the fact that Japan has been negotiating for purchase of German commercial planes, for which reason the big Condor was chosen to show its paces.
     Officials said it would return by way of Batavia, capital of the Netherlands East Indies, and Amsterdam in order to show the Royal Dutch air line that its time of six days between those points can be lowered to four.
     The Germans may make a side -trip to Manchoukuo, where purchase of German planes is also being negotiated.
     It was expected they would be back in Berlin by December 17.

—Wisconsin Rapids Daily Tribune, Vol. XXV, No. 7790, Monday, 28 November 1938, Page 3, Column 1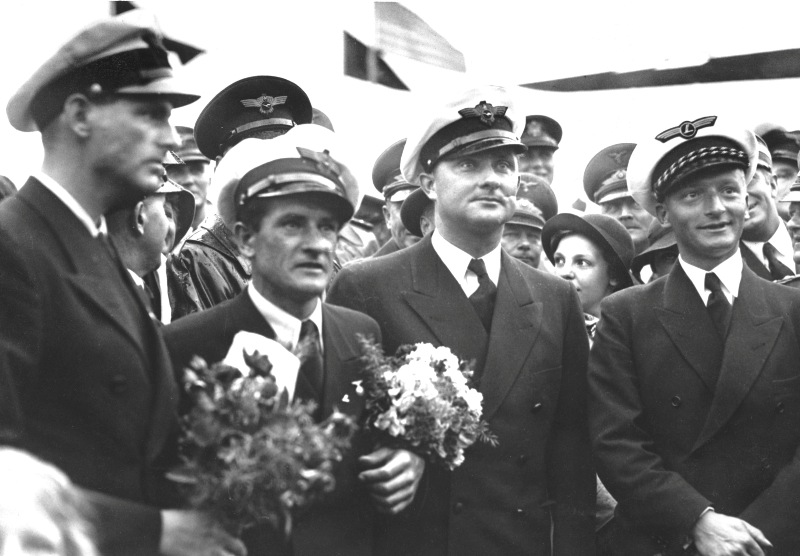 The United Press reported:
Nazi Plane Ends Berlin-Tokyo Hop
(United Press by Radio)
     TOKYO, Nov. 30.—A German Focke-Wulf "Condor" type plane arrived here today after a two-day hop from Berlin. The plane made the trip to survey possibilities of regular passenger service between Berlin and Tokyo.
—The Honolulu Advertiser, Vol. 83, 1 December 1938, Page 8, Column 8
The Chicago Tribune reported:
GERMAN FLYERS REACH TOKIO IN 47 HOUR FLIGHT
(Chicago Tribune Press Service.)
     TOKIO, Nov. 30.—Completing an 8,375 mile flight from Berlin to Tokio in 46 hours and 41 minutes, five German airmen and one passenger landed their plane at 10:35 o'clock tonight on Tachikawa army airfield on the outskirts of Tokio. The plane, a four-motor Focke-Wulf Condor capable of carrying twenty-six passengers, left Berlin on Monday.
     The silver colored monoplane made only three stops en route, at Basra, Iraq; Karachi, India, and Hanoi, French Indo-China. It averaged 180 miles and hour, including stopovers. Capt. Alfred Henke said the crew encountered little difficulty. They were in constant radio contact with Japanese stations.
—Chicago Tribune, Vol. XCVII., No. 287, Thursday 30 December 1938. Page 22, Column 5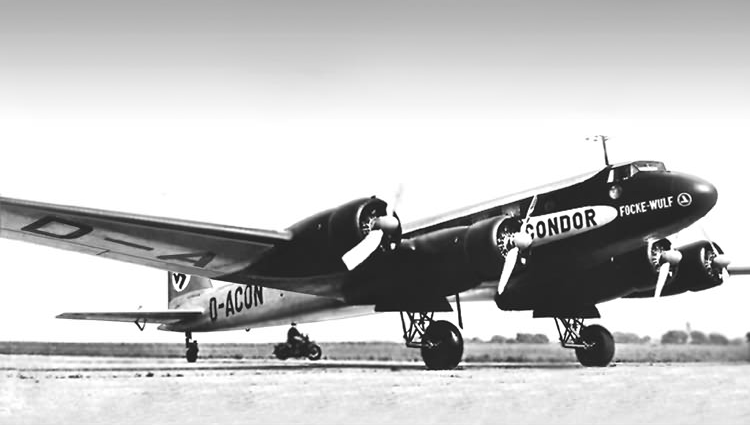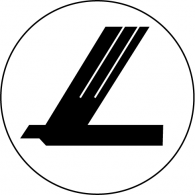 D-ACON was the prototype Condor, designated Fw 200 V1, Werk-Nr. 2000. It had first flown at Neulander Feld, site of the Focke-Wulf plant in Bremen, Germany, 27 July 1937. The test pilot was Kurt Waldemar Tank, an aeronautical engineer and the airplane's designer.
Tank had proposed the airplane to Deutsche Luft Hansa as a long-range commercial transport for routes from Europe to South America. While British and American airlines were using large four-engine flying boats for transoceanic flight, their heavy weight and aerodynamic drag reduced the practical passenger and cargo loadings. A lighter-weight, streamlined land plane would be faster and could carry more passengers, increasing its desirability and practicality. Also, while the flying boats had to make an emergency water landing if one engine failed during the flight, the Focke-Wulf Condor was designed to be able to remain airborne with just two engines.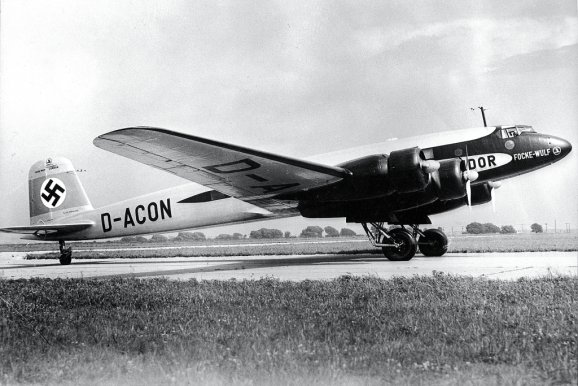 The Fw 200 V1 was an all-metal low-wing monoplane powered by four engines, with retractable landing gear. It had a flight crew of four, and was designed to carry a maximum of 26 passengers. It was 78 feet, 0 inches (27.774 meters) long with a wingspan of 108 feet, 0 inches (32.918 meters) and overall height of 20 feet, 0 inches (6.096 meters). The airliner had an empty weight of 24,030 pounds (10,900 kilograms) and gross weight of 37,479 pounds (17,000 kilograms). This increased to 39,683 pounds (18,000 kilograms) after modification to the Fw 200 S-1 configuration.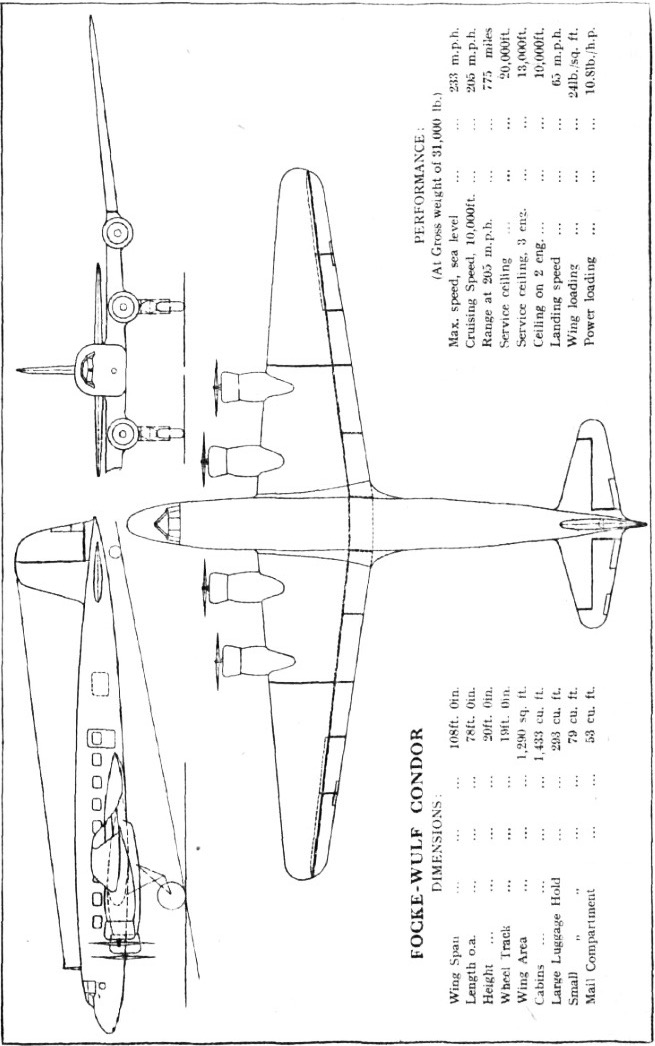 As originally built, the prototype Condor was powered by four air-cooled, supercharged 1,690.537-cubic-inch-displacement (27.703 liters) Pratt & Whitney Hornet S1E-G single-row 9-cylinder radial engines with a compression ratio of 6.5:1 and gear reduction ratio of 3:2. The S1E-G was rated at 750 horsepower at 2,250 r.p.m. to 7,000 feet (2,134 meters), and 875 horsepower at 2,300 r.p.m. for takeoff. It was 4 feet, 1.38 inches (1.254 meters) in diameter, 4 feet, 6.44 inches (1.383 meters) long, and weighed 1,064 pounds (483 kilograms).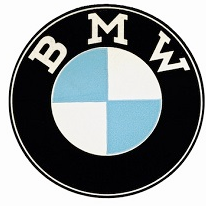 Brandenburg's Pratt & Whitney engines were later replaced by Bayerische Motorenwerke AG BMW 132 L engines. BMW had been producing licensed variants of the Pratt & Whitney Hornet since 1933, and had incorporated their own developments during that time. The BMW 132 had a displacement of 27,72 liters and a gear reduction ratio of 0,62:1, and turned a two-bladed Zweiblatt-Versstellpropeller constant-speed propeller, based on Hamilton-Standard design,  with a diameter of 3,35 m
The Fw 200 V1 had a maximum speed of 233 miles per hour (375 kilometers per hour) at Sea Level. Its cruising speed was 205 miles per hour (330 kilometers per hour) at 10,000 feet (3,048 meters). The airliner's service ceiling was 20,000 feet (6,096 meters). It could maintain level flight at 13,000 feet (3,962 meters) with 3 engines, and 10,000 feet (3,048 meters) with just two engines running. Its range at cruise speed with a 7,000 pound (3,175 kilogram) payload was 775 miles (1,247 kilometers).
For the Berlin-to-New York flight, the Fw 200's fuel capacity was increased to 2,400 gallons (9,084 liters).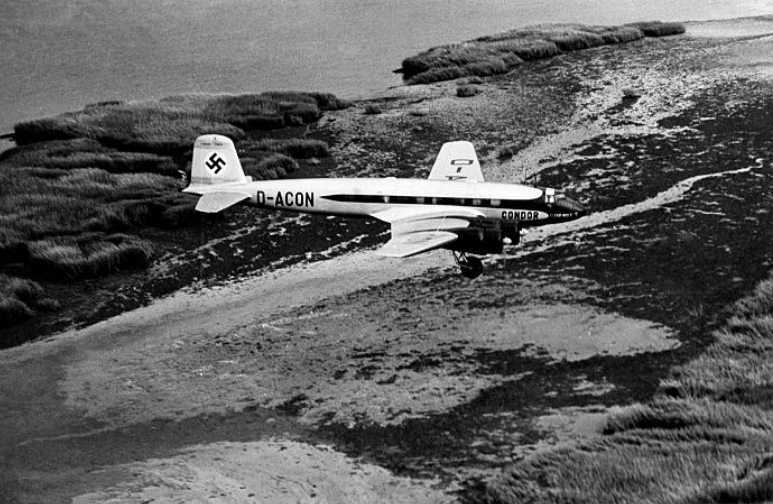 On 6 December 1938, while on approach to Manila, capital city of the Commonwealth of the Philippines, all four of D-ACON's engines stopped. Unable to reach the airfield, the Condor was ditched in Manila Bay. All aboard were quickly rescued. The cause of the engines failing was fuel starvation. One source states that the crew had selected the wrong tanks. Another source says that a fuel line had broken. A third cites a fuel pump failure.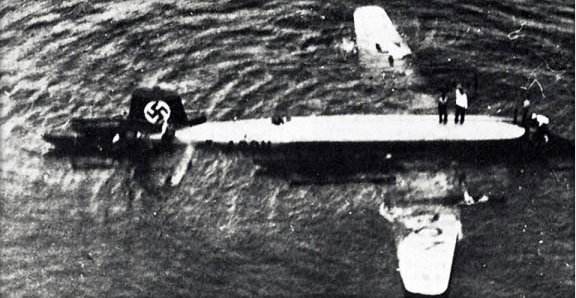 The wreck of the first Condor was recovered, however, the airplane was damaged beyond repair.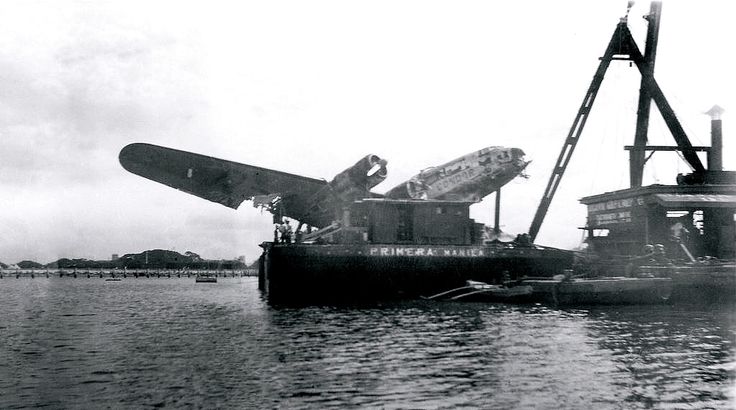 ¹ Following World War II, Heinz Junge, also known as Heinz Junger, was arrested and prosecuted for mistreatment of Allied prisoners of war. He was convicted and sentenced to five years imprisonment.
² FAI Record File Number 8984
© 2018, Bryan R. Swopes