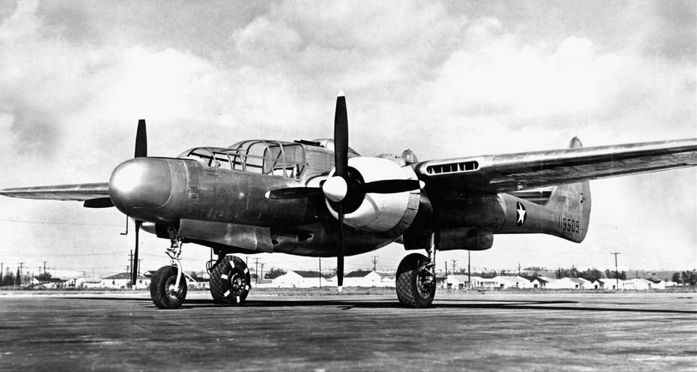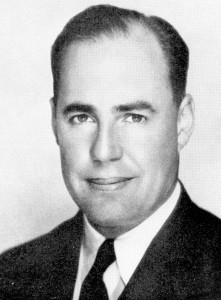 26 May 1942: The prototype Northrop XP-61-NO Black Widow, 41-19509, made its first flight at Northrop Field, Hawthorne, California, with free-lance test pilot Vance Breese at the controls. (Breese had taken the North American Aviation NA-73X, prototype of the Mustang, for its first flight, 20 October 1940.)
The first American airplane designed specifically as a night fighter, the XP-61 was the same size as a medium bomber: 48 feet, 11.2 inches (14.915 meters) long with a wingspan of 66 feet (20.117 meters) and overall height of 14 feet, 8.2 inches (4.475 meters). The prototype was equipped with a mockup of the top turret. Its empty weight was 22,392 pounds (10,157 kilograms), gross weight of 25,150 pounds (11,408 kilograms) and maximum takeoff weight of 29,673 pounds (13,459 kilograms).
The XP-61 was powered by two air-cooled, supercharged, 2,804.4-cubic-inch-displacement (45.956 liter) Pratt & Whitney Double Wasp SSB2-G (R-2800-10) two-row, 18-cylinder radial engines with a compression ratio of 6.65:1. The R-2800-10 had a Normal Power rating of 1,550 horsepower at 2,550 r.p.m. at 21,500 feet (6,553 meters), and 2,000 horsepower at 2,700 r.p.m. for takeoff, burning 100-octane gasoline. They drove four-bladed Curtiss Electric constant-speed propellers which had a 12 foot, 2 inch (3.708 meter) diameter through a 2:1 gear reduction. The R-2800-10 was 4 feet, 4.50 inches (1.334 meters) in diameter, 7 feet, 4.47 inches (2.247 meters) long, and weighed 2,480 pounds (1,125 kilograms), each.
The prototype Black Widow had a top speed of 370 miles per hour (595 kilometers per hour) at 29,900 feet (9,114 meters) and a service ceiling of 33,100 feet (10,089 meters). The maximum range was 1,450 miles (2,334 kilometers).

The night fighter was crewed by a pilot, a gunner and a radar operator. A huge SCA-720 air search radar was mounted in the airplane's nose. The gunner sat above and behind the pilot and the radar operator was in the rear fuselage.
The Black Widow was armed with four Browning AN-M2 .50-caliber machine guns in a remotely-operated upper turret, and four AN-M2 20 mm aircraft automatic cannons, grouped close together in the lower fuselage and aimed directly ahead. This was a superior arrangement to the convergent aiming required for guns mounted in the wings. The fire control system was similar to that used by the B-29 Superfortress. The guns could be fired by either the gunner or the radar operator.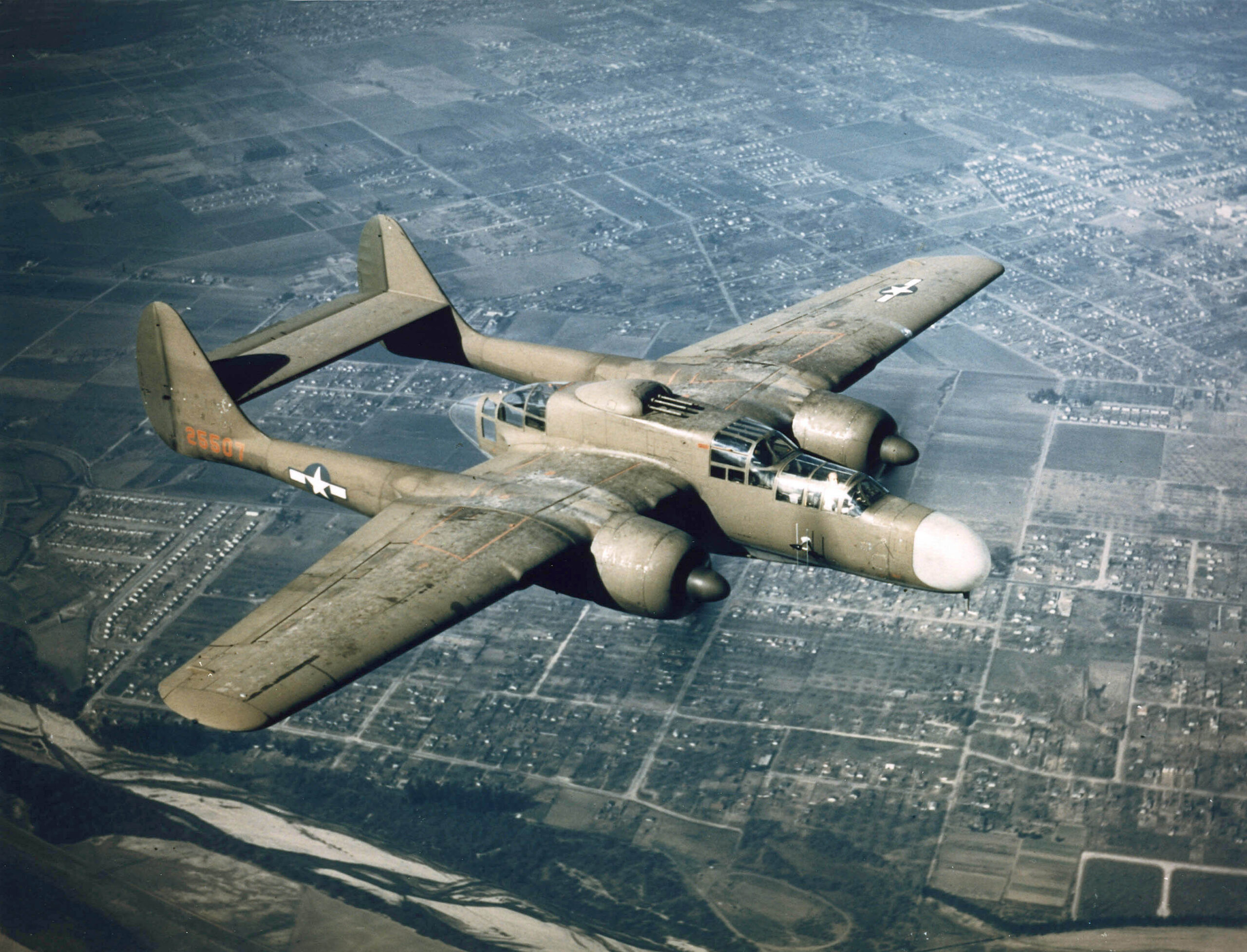 The XP-61 was built with a center "gondola" for the crew, radar and weapons, with the engines outboard in a twin-boom configuration, similar the the Lockheed P-38 Lightning. The Black Widow did not use ailerons. Instead, it had spoilers mounted on the upper wing surface outboard of the engines. Roll control was achieved by raising a spoiler, decreasing lift on that wing and causing it to drop. A similar system was employed on the Boeing B-52 Stratofortress ten years later.
The P-61 got its nickname, Black Widow, from the glossy black paint scheme that scientists at the Massachussetts Institute of Technology (M.I.T.) had determined was the best camouflage for a night fighter. Over 700 P-61s were built, with 36 built as the F-15 photo reconnaissance variant. They served in both the Pacific and European Theaters during World War II, and were also used during the Korean War. After the war, the radar-equipped fighter was used for thunderstorm penetration research.
© 2017, Bryan R. Swopes
by